Best Crypto to Buy Right Now According to Reddit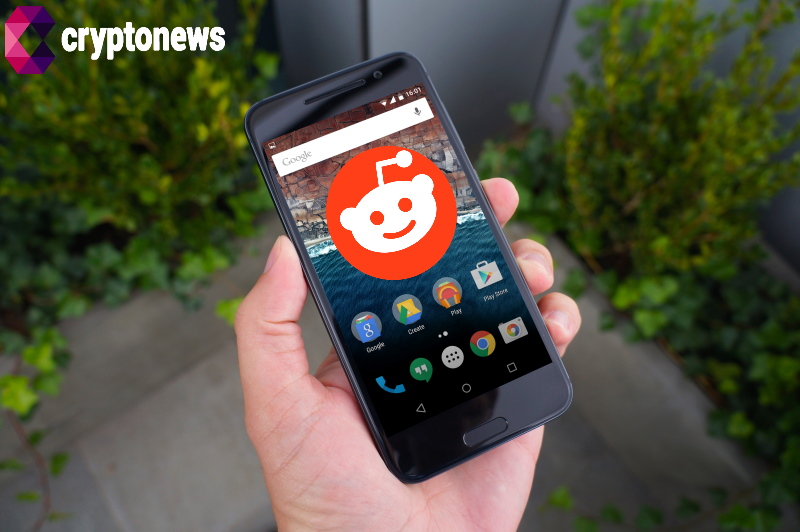 Disclaimer: The Industry Talk section features insights by crypto industry players and is not a part of the editorial content of Cryptonews.com.
Reddit has emerged as one of the best resources for crypto traders, providing a platform for in-depth analysis and discussion.
Even though many Redditors may be biased towards specific projects, the platform still allows eager investors to identify undervalued assets before they hit the mainstream.
With that in mind, this guide discusses the best crypto to buy right now on Reddit, showcasing a selection of top-rated cryptocurrencies before presenting a step-by-step walkthrough of how to invest in a promising crypto project today.
The Best Crypto to Buy Right Now on Reddit - List
Investors wondering how to buy altcoins must first create a watchlist of assets with high-value potential. Reddit is an excellent tool for this since retail traders are often the first to uncover 'diamonds in the rough' within the market.
The list below presents the best crypto on Reddit right now – all of which will be discussed in the following section:
Wall Street Memes - The brainchild of the creators of a renowned NFT collection, Wall Street Memes, is a hot new meme coin with a presale cap of $30,577,000. It offers 30% of its token supply for community rewards. This community-driven project has seen over $25 million in investments in a few months.
Bitcoin BSC - Fast selling presale with $1 million raised in less than one week and sky high yields above 500%. This project places Bitcoin in 2011 on an improved BNB Smart Chain that could prove extremely popular for investors. Entry price is $0.99 and presale hard cap is just over $6 million.
Launchpad XYZ - A platform supporting the mass adoption of users in the Web3 space. This ecosystem gives access to presale listings, a decentralized exchange, fractionalized assets, and P2E hubs.
yPredict - Next-gen crypto analytics and research platform. This ecosystem uses AI technology to offer predictive analytics and models on the future outlook of the digital assets market. $YPRED, the native token, is priced at $0.1 on presale.
Chimpzee - An innovative crypto project, prioritizing environmental preservation while offering ways to earn passive income. Features include Play-to-Earn, Shop-to-Earn, and Trade-to-Earn, accessible via the Chimpzee shop, NFT marketplace, and the Zero Tolerance Game.
Scorpion Casino - SCORP Token Provides Holders Up To $10,000 USDT in Daily Passive Staking Income Depending on Casino's Performance.
XRP20 - Inspired by the XRP token, $XRP20 is a proof-of-stake cryptocurrency. Token holders can stake this token and earn passive income. Priced at $0.000092 on presale, now complete.
BTC20 - Crypto that aims to recreate the excitement of Bitcoin's 2011 days. It has released an initial supply of 6.05 million tokens, each valued at $1. Adopting the eco-friendly Proof-of-Stake model, it enables token holders to earn by staking their tokens. Presale is now complete.
DeFi Coin – Earn static rewards and gain entry to liquidity pools by purchasing $DEFC tokens and joining the DeFi swap DEX.
PancakeSwap – A DEX that trades BEP-20 tokens. The platform is used for yield farming and offers high staking rewards, and charges low fees.
Ethereum – One of the most popular blockchain networks, used for deploying smart contracts and the creation of new decentralized applications.
Bancor – An automated market maker that leverages smart contracts to facilitate trades.
Bitcoin – The world's largest cryptocurrency in terms of market capitalization. The BTC token is still the highest-traded cryptocurrency in the world.
A Closer Look at the Best Cryptos to Invest in on Reddit
Those who opted to invest in Bitcoin a few years back were able to get in at a low price – ensuring they could benefit from the exponential price increases that followed. Although Bitcoin's dramatic price swings may be a thing of the past, there are still many exciting projects that could offer similar returns.
But is cryptocurrency a good investment in 2023?
Let's take a closer look at these top upcoming ICOs and existing crypto projects, discussing what they are, how they work, and their valuation potential for the future.
1. Wall Street Memes - Hot New Meme Token With 30% Token Supply Reserved For Community Rewards, Raised Over $25 Million
Leading the latest wave of meme-coin popularity, Wall Street Bulls, a famous Ethereum NFT collection, has announced their new meme coin, Wall Street Memes ($WSM).
Leveraging their successful NFT collection, which sold out in just 30 minutes in 2021, the team plans to launch $WSM in line with current crypto trends.
The presale for $WSM tokens is ongoing, with each token priced at $0.0337 USDT. The $WSM token has drawn incredible investor interest in a few weeks since its launch, raising over $25 million.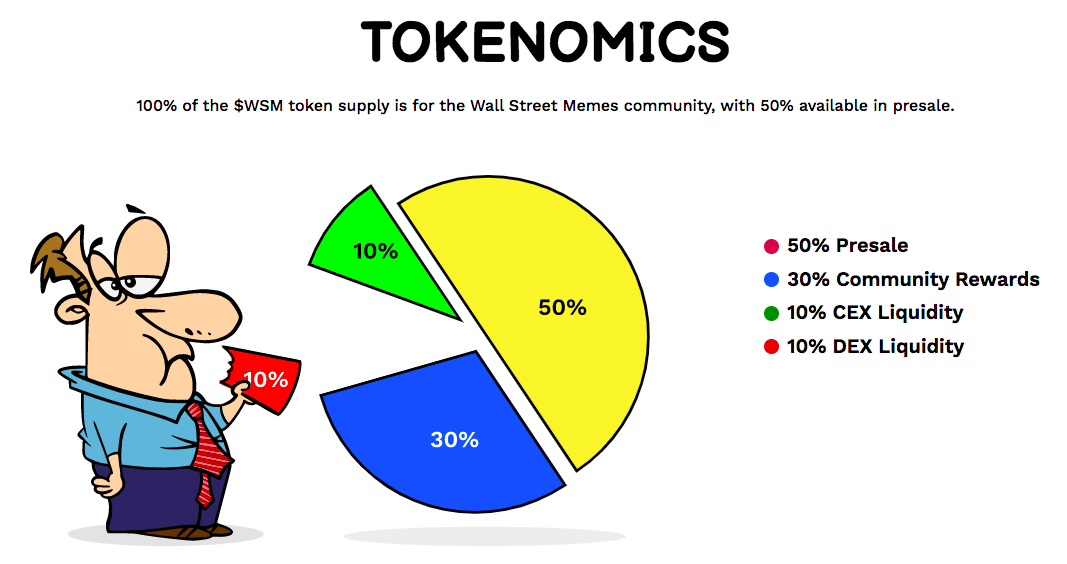 Usually, robust community support can ensure a platform's long-term success despite presale risks. With one million followers across five social media platforms, Wall Street Memes highlights its wide acceptance and solid community backing.
This rapid growth has caught the attention of investors and influential figures like Elon Musk. Given such significant support and fast-paced growth, top crypto exchanges, including big names like Binance, might be interested in listing $WSM.

A cap of 2 billion tokens has been set for the total $WSM supply, and all tokens are reserved for the community. This includes 50% for presale, 30% for community rewards, and 20% for exchange liquidity.
Notably, there's no team allocation, eliminating the risk of a rug pull and making it a fully community-driven project.
Wall Street Memes also offers a $50k airdrop alongside its presale launch. Token holders who join their social media channels, including Discord, can participate in this airdrop.
To get the latest updates, enter the Wall Street Memes Telegram community.
| | |
| --- | --- |
| Presale Started | 26 May 2023 |
| Purchase Methods | ETH, USDT, Credit Card |
| Chain | Ethereum |
| Min Investment | 100 $WSM |
| Max Investment | None |
2. Bitcoin BSC - Top BEP20 Reddit Coin With 500% APY, Combines BTC Tokenomics With BNB Smart Chain, $1M Raised In 7 Days
Bitcoin BSC ($BTCBSC) is a top crypto on Reddit for multiple reasons. The project quickly raised $1 million in its presale in less than 7 days, and offers APY yields to investors that are currently in the region of 508%. These are both strong pointers to the marketing appeal of this project and its functional utility - this is a token that offers both.
Bitcoin BSC is offering investors a chance to invest in Bitcoin as it was in 2011, and seeks to recreate identical conditions on a superior blockchain. This is likely what has captured the interest of so many investors, so soon after its presale launch. After all, many lament not being alerted to coins like Ripple, Bitcoin, and Stellar at an early enough stage, and wish they have the opportunity to do so again.
Bitcoin BSC is not Bitcoin and its price trajectory will follow its own pattern, of course. But Bitcoin replicas can do very well, such as BTC20 which sold out its $6 million hard cap in under 3 weeks and went on to demonstrate price appreciation of 600%.
Bitcoin clones go further than simply recreating conditions similar to a large cap crypto at an earlier date. In the case of Bitcoin BSC, the BNB Smart Chain is used for staking rewards, faster transaction finalization, reduced cost, and a lower overall carbon footprint, which was previously a major criticism of Bitcoin's proof-of-work blockchain.
The 21 million token supply is to be released on a 120 year schedule with a 10 minute block reward system - identical to Bitcoin. So it combines elements of Bitcoin but places the token on a much-improved BNB Smart Chain for smart contract functionality and added utility to investors.
If this project gains further traction on Reddit and social media sites, it could sell out in the next few weeks. The hard cap for this project is just over $6 million, and it is already at the $1 million mark in less than one week.
Before taking part, make sure to read the whitepaper to understand all risks and to follow the project on Twitter and Telegram.
| | |
| --- | --- |
| Presale Started | September 5 2023 |
| Purchase Methods | ETH, USDT, BNB, Credit Card |
| Chain | BNB Smart Chain |
| Min Investment | $10 |
| Max Investment | None |
3. Launchpad XYZ - Cryptocurrency Giving Access to Multiple Web3 Experiences
The next cryptocurrency on our list is a portal for accessing multiple Web3 services and experiences. Launchpad XYZ informs and gives users access to different blockchain technology elements such as the metaverse, P2E hubs, and presales.
The $LPX token, which is currently on presale, can be used and staked within the ecosystem. Launchpad XYZ hosts a decentralized exchange (DEX) where $LPX can be leveraged to gain discounts on trading fees.
On the DEX, members can also trade fractionalized assets. This gives you part ownership in real-world assets offering historical value, such as cars, real estate, and art. The platform also allows members to search through all the NFT marketplaces and curate your own collection through the NFT gallery.
By making users stake $LPX to sell their NFTs on the ecosystem, Launchpad XYZ looks to increase the demand and use cases of the native cryptocurrency. This utility token can also be staked to access data on trading insights. Users can collect in-depth data on some of the top digital assets and compare the liquidity of different exchanges.
Users can browse and watch others participate in top P2E environments through the play-to-earn hub and wager on the outcomes. To learn more about the metaverse, Launchpad XYZ lets members check out other virtual environments through the metaverse experience library.
Finally, one can access Launchpad XYZ's Web3 wallet to trade tokens, interact with other decentralized applications and browse different Web3 experiences. From a total supply of 1 billion, 250 million $LPX tokens have been allocated across 10 presale rounds.
Currently, the token is priced at $0.0445 but will rise to $0.07 by the final round. Launchpad XYZ has raised over $1.5 million since the presale went live. Read the Launchpad XYZ whitepaper to learn more about this project and join the telegram channel.
| | |
| --- | --- |
| Presale Started | 27 April 2023 |
| Purchase Methods | ETH, USDT, Credit Card |
| Chain | Ethereum |
| Min Investment | 100 LPX |
| Max Investment | None |
4. yPredict - Trade Cryptos By Accessing Predictive Models Generated Using AI
yPredict is a cryptocurrency analytics and research platform. $YPRED, the native token, can be used within the ecosystem to purchase predictive models. AI developers and financial quants have created these models accessible through a financial marketplace.

The models offer future outlooks on the cryptocurrency markets. By purchasing a subscription to these models, users can also access various trading insights and data-driven statistics. For instance, one can access yPredict's patent-pending pattern recognition algorithm, which identifies bullish and bearish signals across the top cryptocurrencies.
Moreover, yPredict uses AI methods such as Natural Language Processing to conduct sentiment analysis of different tokens. Along with AI trading signals, the platform gives members access to 25+ charts and technical indicators.
While the $YPRED token is still in its presale, the cryptocurrency may increase in demand due to the different use cases it offers. Firstly, members can generate passive income in multiple ways by staking this token. 10% of all the revenue generated from new subscriptions is sent to existing token holders through a staking pool.
The staking pool also collects 15% of all the swapping fees on the ecosystem. To earn more on yPredict, one can make directional bets on the future of tokens through a play-to-earn ecosystem. Those looking to learn more about cryptocurrencies can access a learn2earn ecosystem.
On this environment, one can study cryptos, complete quizzes, and earn tokens as a reward. $YPRED has a total supply of only 100 billion tokens and is currently available to buy on presale. The token is priced at just $0.1 and will jump to $0.12 by the end of the presale.
Since the presale launched, yPredict has collected more than $3. million. One can read the yPredict whitepaper and join the telegram channel to stay updated with the presale developments.
| | |
| --- | --- |
| Presale Started | Q1 2023 |
| Purchase Methods | MATIC, ETH, USDT, BNB, Credit Card |
| Chain | Polygon |
| Min Investment | 200 YPRED |
| Max Investment | None |
5. Chimpzee - Save The Planet With This Crypto Token
While many crypto initiatives are working on innovative financial solutions, there is a dearth of functioning environmental and social solutions. However, a new trend is on the rise, with a few trailblazing projects leading the way.
Chimpzee is one such project, with a focus on the preservation of the planet and its wildlife. Chimpzee offers a range of features that allow users to earn passive income while also contributing to environmental causes. These features include Play-to-Earn, Shop-to-Earn, and Trade-to-Earn, all of which are accessible via the Chimpzee shop, NFT marketplace, and Zero Tolerance Game. The team has reserved 10% of the token supply and a portion of profits to support organizations dedicated to these causes.
Users can earn passive income most lucratively by holding a Chimpzee passport, which enables them to earn more CHMPZ tokens, rewards and advantages by engaging with various elements of the ecosystem.
The Chimpzee initiative will also launch a mobile application that employs AI technology to create personalized chimpanzee avatars for its users. These personalized passports will share some of the benefits of the Diamond NFT Passport.
To participate in the Chimpzee presale and procure these exclusive passports when they become available after, a total of 40 billion CHMPZ tokens will be offered across four rounds. In the present round, the cost per 1 CHMPZ is set at a starting price of 0.0005 USDT, with the subsequent round raising the price to 0.0007 USDT. It will be listed at around three times the price at $0.00095.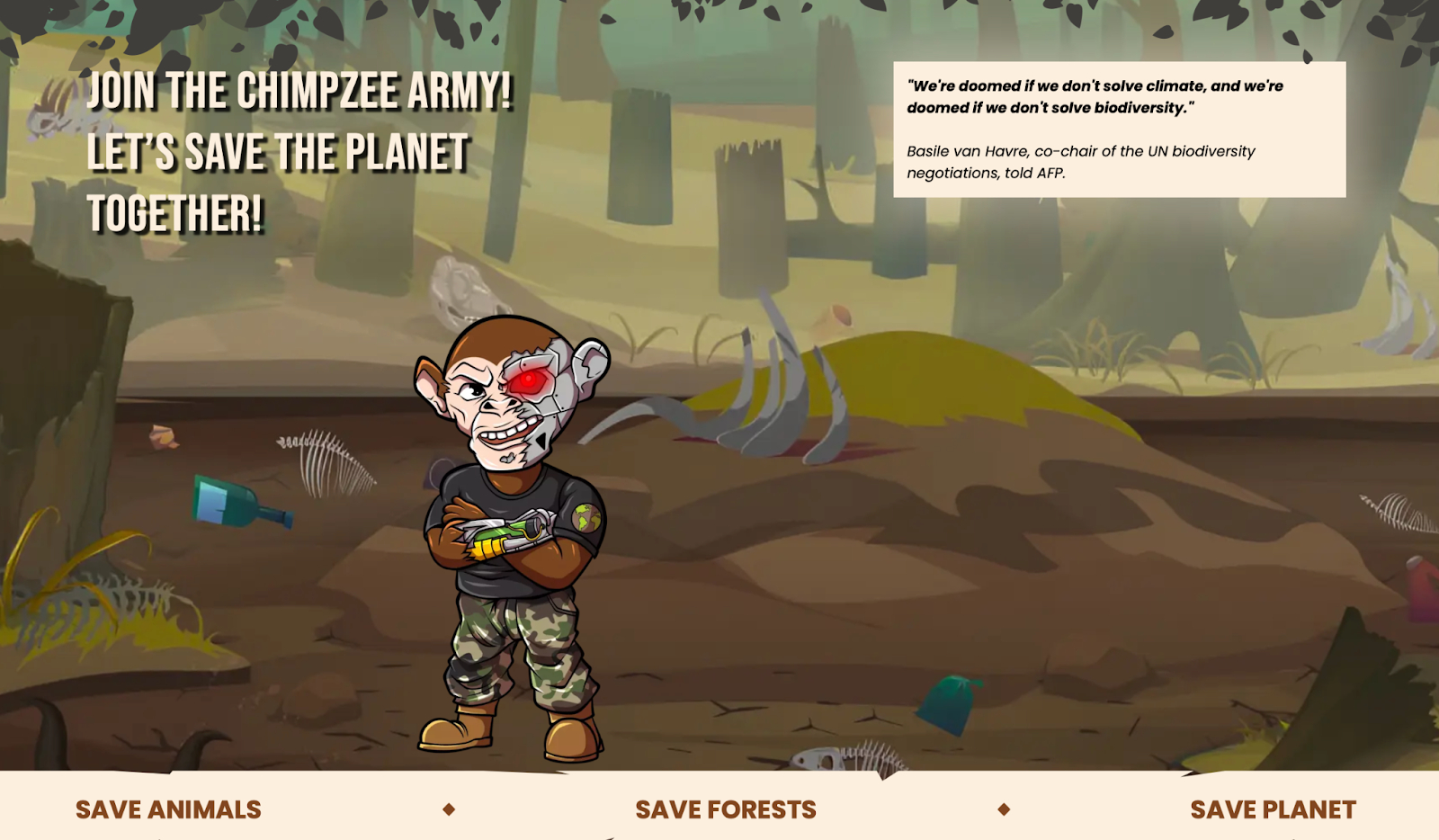 Receiving an opportunity to mint The Chimpzee Diamond NFT passport after the presale will provide users with the greatest rewards and highest earning potential, as the supply is restricted. Those who are unable to participate in the presale will pay a higher price for the passports and wait until after the whitelist NFT passport prelaunch, which is only accessible to presale investors.
Only individuals who took part in Stage 1 of the presale will be granted access to mint the Diamond NFT passport. Chimpzee has the ability to have a significant influence on environmental initiatives and is certainly worth observing. Seizing the opportunity to participate in the presale early on provides benefits that are difficult to resist.
6. Scorpion Casino - SCORP Token Provides Holders Up To $10,000 USDT in Daily Passive Staking Income Depending on Casino's Performance
Scorpion Casino's native token, SCORP, is making the rounds on Reddit because it's breaking down the barriers to the Casino industry and allowing everybody to become an owner. The project is on a mission to build the number-one social online gambling platform where users can earn a daily yield based on the casino's performance - making it the future leading eGambling platform.
The platform aims to provide its users with a seamless and fun gaming experience with its 210 casino games and 160 live games. The games are highly polished as the casino is connected with all major gaming providers, including Evolution, NetEnt, and AMATIC. As a result, everybody's favorite casino games are available on the platform, including blackjack, roulette, poker, and slots.
In addition, Scorpion Casino also has a separate sports betting product, allowing users to place bets on the outcome of their favorite sports games. The product includes all major sports leagues for sports like football, basketball, tennis, horse racing, boxing, and MMA.
The casino is fully regulated and licensed by the Curacao EGaming licensing entity, making the casino completely transparent and provably fair. It also works with reputable platforms like BetRadar and CoinsPaid to provide the best possible experience.
The SCORP token is the native token behind the platform and is the exclusive payment method for the entire ecosystem. It's also the default currency for betting on the sports and casino products. Holders receive a passive income for holding SCORP in their wallets. The income is provided through the 2% re-distribution tax on every transaction, meaning holders see their token balance increasing daily. A 1% burn tax on every transaction also makes the token deflationary.
The project is currently hosting a presale for SCORP. Those purchasing over $1,000 are enrolled in the Elite Scorpion Members Club, which provides VIP services, cashback on the casino, extra staking rewards, and additional SCORP tokens. Furthermore, those that use the exclusive bonus code Scorpion20 can get 20% extra tokens on their investment for a limited time.

| | |
| --- | --- |
| Token Symbol | SCORP |
| Presale Supply | 200,000,000 SCORP |
| Token Type | BEP-20 |
| Payment Method | ETH, USD, BNB |
| Listing Price | $0.05 |
7. XRP20 - Access Staking Benefits with this Deflationary Token, Priced at $0.000092 During Finished Presale
XRP20 ($XRP20) is an Ethereum-based cryptocurrency available to buy on presale. Inspired by the XRP cryptocurrency, $XRP20 has the same token supply of 100 billion. However, it uses a proof-of-stake consensus, offers deflationary benefits, and is a 100% community token.
The XRP20 token is mainly for retail traders, unlike XRP, which banks and financial institutions mainly use. XRP20 offers a staking mechanism through which token holders can earn passive income. From the 100 billion token supply, 40% has been allocated for the staking mechanism. This will give long-term holders ample opportunity to earn rewards.
A deflationary token, the $XRP20 supply will reduce over time. For every transaction conducted on the ecosystem, 0.1% is sent to a burning wallet address. XRP20 will burn 10% of its token supply in the long term. Thus, the token could potentially gain value as the demand increases.
For the ongoing token presale, XRP20 has allocated 40 billion tokens. The presale consists of only one round, where $XRP20 is priced at $0.000092 per token. XRP20 has raised more than $3.2 million in only a few weeks. The presale hard cap is set at $3.68 million. Since the presale has raised more than $200K on a daily basis, the presale may sell out any day.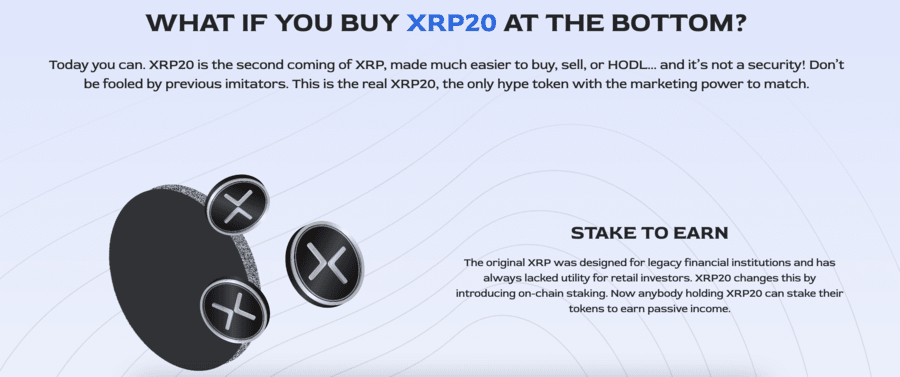 Interested readers can still purchase the cryptocurrency before the exchange listing takes place. For more information, go through the XRP20 whitepaper and join the Telegram channel.
| | |
| --- | --- |
| Presale Started | August 2023 |
| Purchase Methods | ETH, USDT. |
| Chain | Ethereum |
| Min Investment | 100 XRP20 |
| Max Investment | None |
8. BTC20 - New Bitcoin-Inspired Crypto With Staking Rewards, Presale Sold Out
Combining the excitement of Bitcoin's early years with modern blockchain technology, BTC20 is a new crypto that is gaining traction among investors. Similar to when Bitcoin cost just around $1 back in 2011, BTC20 launched 6.05 million tokens at the same price.
In just a few weeks, the presale sold out the allocated 6.05 million tokens.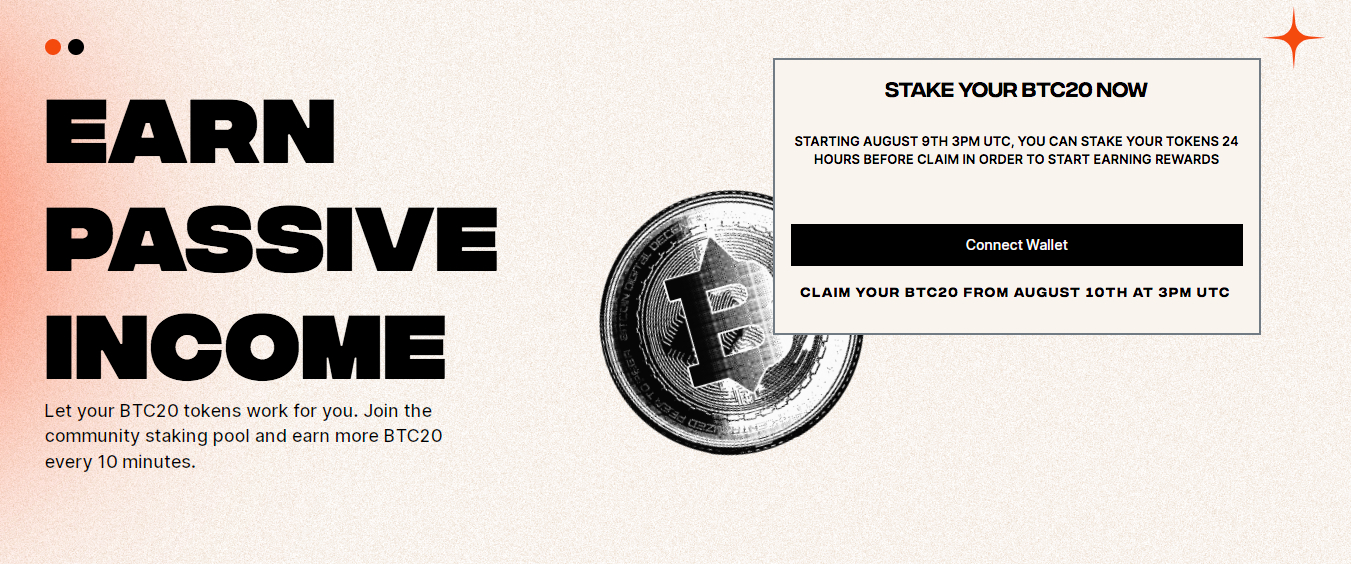 Instead of Bitcoin's Proof-of-Work system, BTC20 uses the more eco-friendly Proof-of-Stake method. This not only saves energy but also lets token holders earn passive income through staking, boosting network security and rewarding participants.
To promote decentralization, BTC20 has made all its tokens available to the public in its presale phase. Moreover, being an ERC-20 token, BTC20 fits easily with existing platforms and wallets, improving the user experience.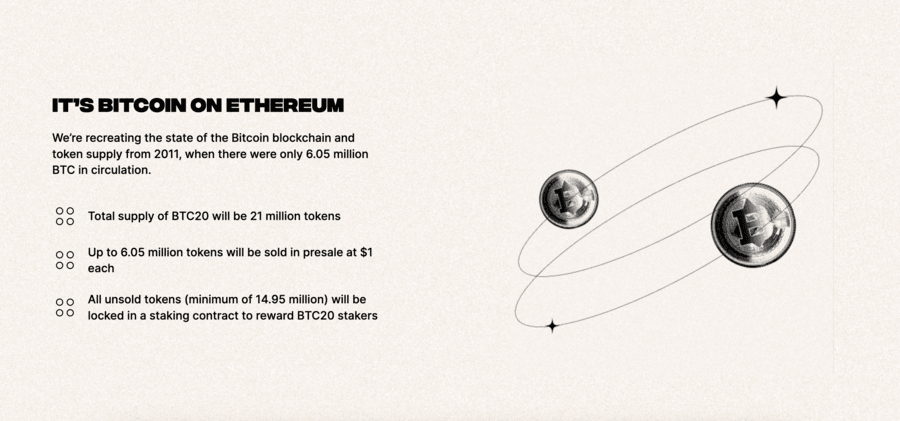 As per the BTC20 whitepaper, it has a total supply of 21 million tokens, with 14.95 million set aside for staking. Early stakers stand to gain higher rewards, encouraging widespread adoption.
Showing its long-term intent, BTC20 mirrors Bitcoin's token release strategy, spreading it over an estimated 120 years. This steady token release builds user trust and promotes sustainable growth.
Funds from the token sale will be invested back into supporting the BTC20 ecosystem. Future plans include forming strategic partnerships, offering governance rights on the platform, and exploring decentralized applications (dApps).
Interested buyers can enter the BTC20 Telegram channel.
| | |
| --- | --- |
| Presale Started | July 17 2023 |
| Purchase Methods | ETH, USDT |
| Chain | Ethereum |
| Min Investment | 10 Tokens |
| Max Investment | None |
9. DeFi Coin (DEFC) – Leading DeFi Token Offering Passive Income Potential
Those looking for the best crypto to buy right now on Reddit within the decentralized finance (DeFi) niche should consider checking out DeFi Coin. DEFC is the native token of DeFi Swap, a new decentralized exchange (DEX) that offers static rewards, automatic liquidity pools, and token swapping services.
DEFC holders receive regular income through the aforementioned static rewards system. A tax of 10% is levied on DEFC-based transactions, with 5% of this amount being distributed back to token holders. The remaining 5% is used to provide liquidity to the DeFi Swap exchange.
In addition, DeFi Coin also has an integrated 'manual burn' mechanism designed to reduce the token supply over time. Unlike other projects, the exact number of tokens to be burned will be decided by DEFC's development team through discussions with the community – ensuring the proposed solution suits all parties.
At the time of writing, DeFi Coin's price is hovering around the $0.0024 level – substantially lower than September 2021's highs. However, many believe this is an ideal opportunity to acquire DEFC tokens at a discount before the crypto market picks up steam once more.
10. PancakeSwap (CAKE) – Popular DEX Regularly Discussed on Reddit
PancakeSwap is a leading DEX focused on BEP-20 tokens hosted on the Binance Smart Chain (BSC). The exchange has become a go-to for investors interested in yield farming due to its high staking rewards and low fees.
CAKE is the native token of the PancakeSwap exchange, which can be used in the offered 'syrup pools' to generate rewards. The token is crucial to providing the liquidity needed to facilitate token swaps since PancakeSwap operates as an automated market maker, doing away with the traditional order book method.
Thanks to CAKE's utility, it has become a popular token on Reddit over the past year, leading to it being listed on several centralized exchanges (CEXs), including Binance, Huobi, and Gate.io.
As the crypto market continues to grow and DeFi begins to take over, PancakeSwap is expected to increase in size – meaning investing in CAKE could prove to be a wise move over for long-term crypto investment.
11. Ethereum (ETH) – Respected Blockchain Network with Major Upgrade Scheduled
No discussion of the best crypto to buy now Reddit would be complete without mentioning Ethereum. As noted by CoinMarketCap, Ethereum remains the world's second-largest cryptocurrency, boasting a market cap of over $188 billion.
Many investors on Reddit are clamoring to buy Ethereum ahead of 'the Merge', which refers to the upcoming transition to a Proof-of-Stake (PoS) consensus algorithm. This transition will make the Ethereum network much more scalable, helping reduce the high GAS fees which have plagued it over the past year.
The move to 'Ethereum 2.0' can only be good news for ETH investors, as the hope is that it will attract more dApp developers than ever to the network. This will increase demand for ETH, helping push the price higher. Since Ethereum is still trading well below November 2021's all-time highs, this may be the ideal time to obtain ETH at a discount.
Cryptoassets are highly volatile and unregulated. No consumer protection. Tax on profits may apply.
12. Bancor (BNT) – Top DeFi Protocol Trading at a Discount
Bancor is another DeFi protocol popularized through Reddit thanks to its automated market maker (AMM) approach. Much like other protocols, Bancor uses smart contracts to facilitate trades without an intermediary through 'liquidity pools'.
However, Bancor differentiates itself by offering protection from 'impermanent loss'. This is achieved by matching users' liquidity pool deposits with BNT, Bancor's native token, which enables users to be partially or fully compensated in the unlikely instance that they lose funds.
Unfortunately, Yahoo Finance reported in July that Bancor's total value locked (TVL) dropped by around 30% after the protocol paused this impermanent loss protection. However, this protection service is expected to be upgraded and resume in the future – with many Redditors believing this could be a catalyst for tremendous growth.
Cryptoassets are highly volatile and unregulated. No consumer protection. Tax on profits may apply.
13. Bitcoin (BTC) – World's Largest Cryptocurrency Set for a Rebound
Bitcoin remains one of the most talked-about cryptocurrencies on Reddit, even after its dramatic fall from grace in recent months. It's important to note that BTC's price decreases appear to be related more to external economic events than the technology itself.
This means Redditors continue to invest in Bitcoin, hoping for a rebound soon. Bitcoin is by far the most-adopted digital currency worldwide, meaning it's the most in-demand crypto – providing a platform for a future rebound.
Another factor that may hint at a reversal in fortunes is that the Fed looks to be easing its aggressive monetary policy. Interest rates have continued to rise to combat inflation, which has taken its toll on cryptocurrencies like Bitcoin. With these rate increases slowing (or stopping altogether), BTC and other crypto-assets are primed to benefit. Some analysts have suggested that the Bitcoin price prediction for 2025 could see the world's largest PoW coin climb back up to its ATH of $68.8k in November 2021.
Cryptoassets are highly volatile and unregulated. No consumer protection. Tax on profits may apply.
Best Reddit Crypto Groups
Reddit crypto groups, referred to as 'subreddits', are a place for crypto investors to come together and discuss anything and everything related to the digital currency markets. Discussions often revolve around the best crypto to buy on Reddit and the projects with the highest potential.
Presented below are four leading Reddit crypto groups that investors can participate in to identify cryptocurrencies that could explode in the future:
r/CryptoCurrency
One of the top places to find the best crypto on Reddit is r/CryptoCurrency. This subreddit has almost 6 million members and has been operating since March 2013. All market areas are covered on r/CryptoCurrency, ranging from altcoins to metaverse tokens.
The 'Daily General Discussion' thread is a great way to find popular crypto projects since this thread is updated every day with the latest information. Users can also filter the threads by the 'Discussion' flair to quickly find serious and objective analyses of cryptos.
r/binance
As the name suggests, r/binance is a subreddit dedicated to the world's largest cryptocurrency exchange, Binance. This exchange lets users trade over 350+ cryptos, and has a daily trading volume of more than $7 billion.
However, although many threads focus on exchange-related topics, Redditors still use this subreddit to highlight their opinions on specific coins.
Since the best crypto to buy on Reddit are often listed on Binance, discussions tend to gravitate towards price predictions for altcoins, DeFi tokens, and other digital assets. Beginners will also find r/binance helpful since the community seems more than happy to help with any questions.
r/SatoshiStreetBets
r/SatoshiStreetBets occupies a unique position regarding subreddits since it combines real-world analysis with humorous memes. As its name implies, this subreddit draws inspiration from the super-popular r/WallStreetBets community, which has over 12.5 million members.
Unlike r/WallStreetBets, r/SatoshiStreetBets focuses exclusively on cryptocurrency. More specifically, this subreddit tends to lean towards penny cryptos and those with high potential rather than 'established' cryptos like BTC and ETH.
r/CryptoMarkets
Finally, r/CryptoMarkets is also a great place to identify the best crypto to invest in on Reddit for those with a bit more market experience. This is because r/CryptoMarkets often presents in-depth discussions that may be difficult for newcomers to understand.
Redditors will usually post articles from Bloomberg and other high-profile media outlets to support the points made. In addition, a significant portion of the threads is devoted to technical analysis, with clear reasoning given for users' predictions.
How to Buy $WSM Tokens - Best Reddit Crypto
Before concluding this guide on the best crypto to invest in on Reddit, let's take a look at the investment process. As noted earlier, $WSM leads the way concerning the best cryptos to buy according to Reddit.
So, without further ado, here are the quick steps investors must take to buy $WSM tokens today:
Step 1: Create a MetaMask - In order to buy $WSM tokens, a crypto wallet is needed. MetaMask is trusted around the globe and accessible on mobile or desktop., although there are other options.
Step 2: Buy ETH/BNB or USDT - $WSM can be purchased with either ETH, BNB or USDT. These assets can be purchased from a trusted broker like eToro and transferred to the wallet or directly on the Wall Street Memes website using fiat.
Step 3: Buy $WSM Tokens - Head to the Wall Street Memes website and select 'Connect Wallet'. Then choose the relevant wallet and convert ETH, BNB or USDT into $WSM.
Step 4: Claim Tokens - After the Wall Street Memes presale has concluded, the tokens will be stored on the website and can then be claimed when the presale sells out.
Best Crypto to Buy Right Now on Reddit – Conclusion
To summarize, this article has discussed the best crypto to buy right now on Reddit by presenting projects with high-value potential that is loved by Redditors. We've also explored some leading Reddit crypto groups before providing a quick overview of the investment process.
Wall Street Memes is the top pick, as it has a strong community backing of over a million followers across several social media channels. Also, it has caught the attention of big names like Elon Musk while securing over $25 million in twelve weeks.
FAQs
What is the best crypto to invest in on Reddit?
Many Redditors are raving about the new meme coin Wall Street Memes. It has seen strong community support of over a million followers and has caught the attention of high-profile figures like Elon Musk.
What cryptos do Reddit users recommend?
Wall Street Memes is one high-profile crypto project that continues to be discussed on Reddit. It has raised over $25 million during its presale in just twelve weeks.
---