Best Crypto to Buy Today 18th January – SHIB, MEMAG, DOGE, FGHT, ETHW, CCHG, CSPR, RIA, HOT
Disclosure: Crypto is a high-risk asset class. This article is provided for informational purposes and does not constitute investment advice. By using this website, you agree to our terms and conditions. We may utilise affiliate links within our content, and receive commission.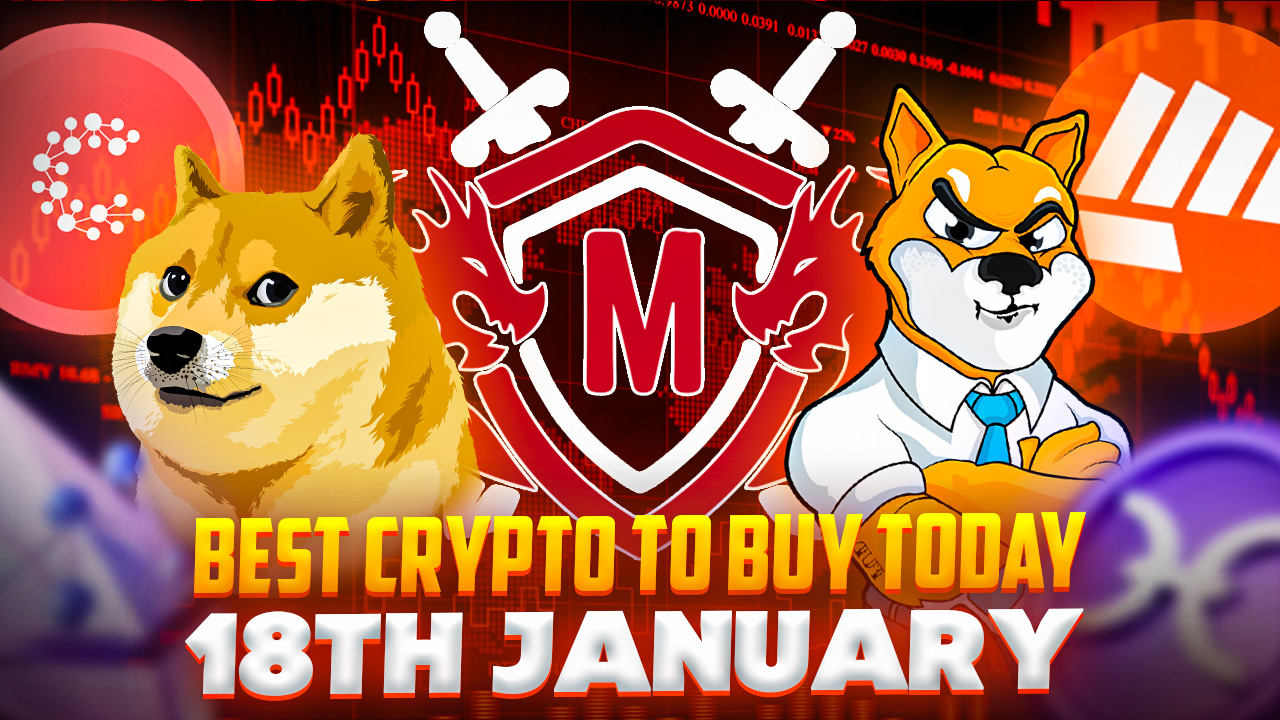 After several days of gains, the cryptocurrency market has witnessed a slight drop today. With a total cap of $1.025 trillion, its total value has descreased by 0.5% in 24 hours, athough it remains up by 15% in a week and by 22% in a month, following the publication of more positive US inflation figures last Thursday.
Even though the market hasn't done well overall today, a healthy number of coins have posted significant returns in the past 24 hours, beating averages. This article collects them in a list of the best crypto to buy today, while also including several promising presale tokens for good measure.

Shiba Inu (SHIB)
SHIB is currently up by 15% in the past 24 hours, with its price sitting at $0.00001209. This represents a 30% gain in a week, with the meme token also posting a return of 4% in the last 30 days, as anticipation for the Shibarium layer-two network reaches fever pitch.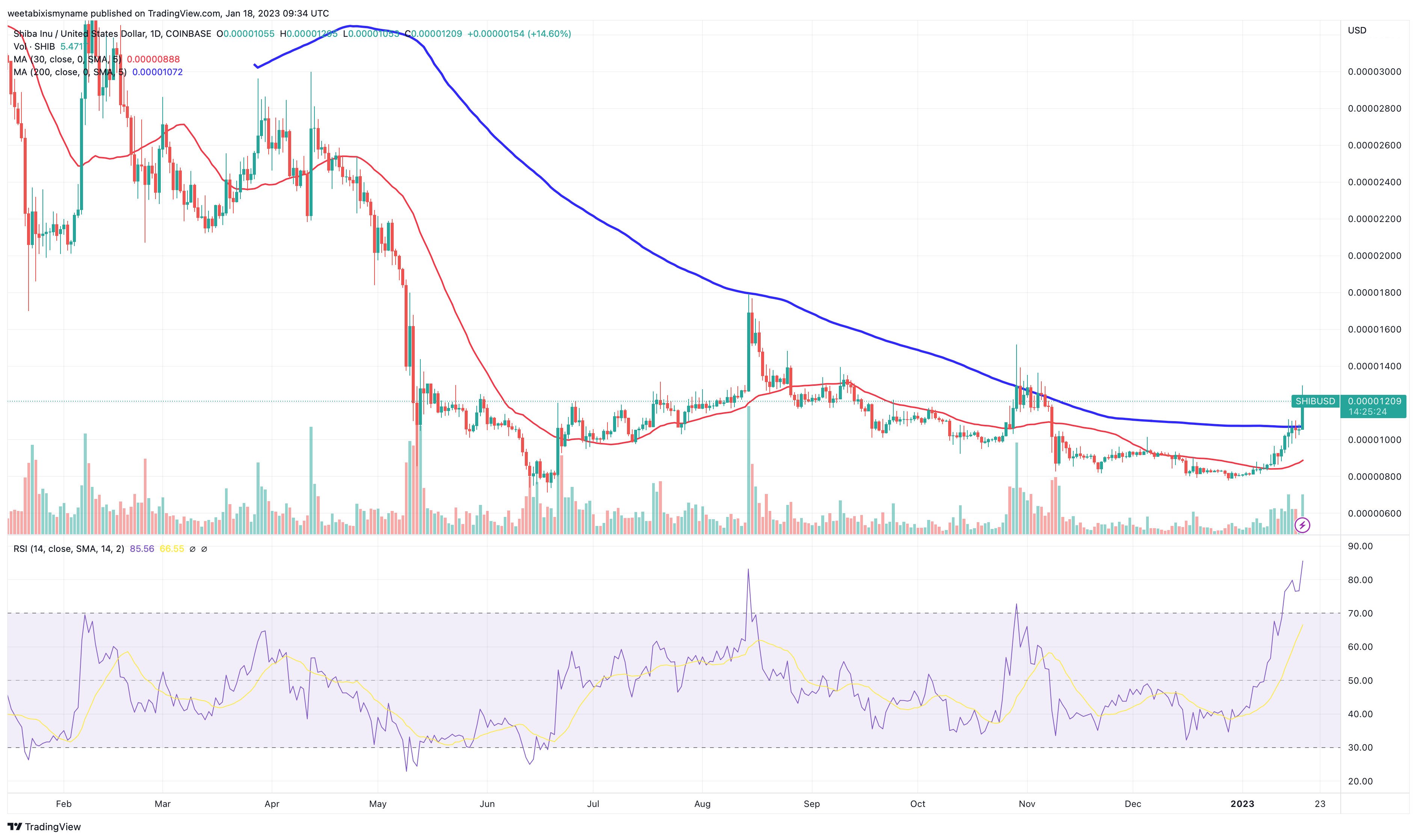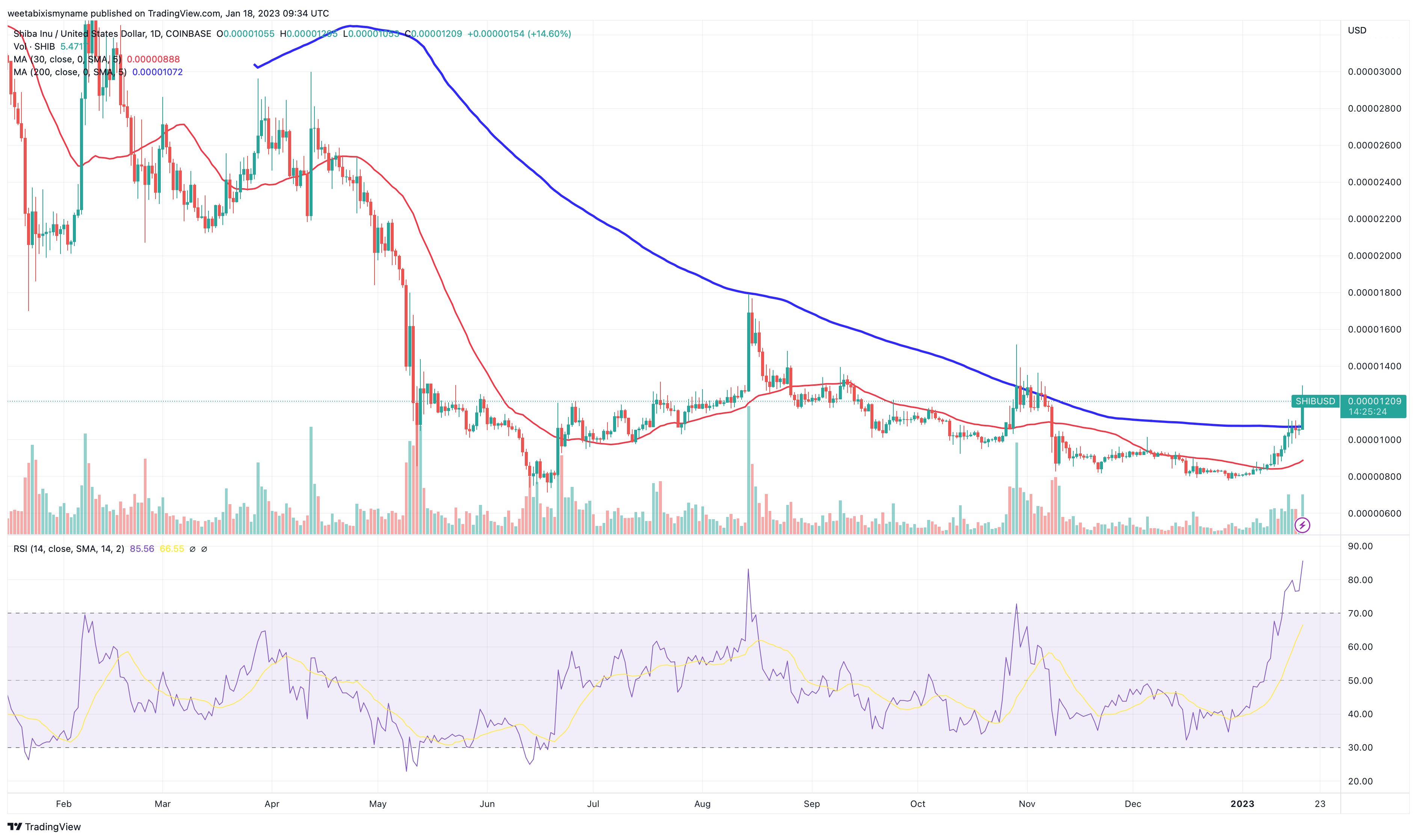 SHIB's relative strength index (purple) is very close to touching 90, signalling some very strong momentum right now. Similarly, its 30-day moving average (red) has begun rising quite steeply, indicating a possible breakout.
One of the best-performing major coins over the past week or so, SHIB is rising because Shiba Inu developers have tweeted that the layer-two Shibarium network is "about to be launched" in beta form, suggesting it could be with us in the next few days.
🍖 Introduction to Shibarium: Shiba Inu's Layer 2 Network — Rejoice #ShibArmy! Shibarium Beta is about to be launched, and through this article we want to introduce some basic concepts in order to provide clarity to the community.

Read more: https://t.co/xWyPaVlQQ4

— Shib (@Shibtoken) January 15, 2023
As such, expect SHIB to rally up to the launch of the layer-two protocol, while the arrival of SHIB: The Metaverse later in the year will also provide fuel for additional pumps.
Meta Masters Guild (MEMAG)
The Meta Masters Guild presale is now up to $550,000, having raised over $200,000 in the past couple of days. This kind of speed suggests that the market is becoming increasingly confident in the future profitability and success of the play-to-earn gaming platform.
🔥 BOOM! Over $550K Raised #MEMAGFAM! 🔥

🤯 Over $50K raised in a day – Let's keep the momentum going! 💪

🚨 Stage 2 is live, so grab your $MEMAG tokens before the price increases! 🚀
https://t.co/SBqVjX5mWn#mmg #memag #memagpresale pic.twitter.com/ZFH7sB3fJb

— Meta Masters Guild (@MEMAGgames) January 18, 2023
Due to launch its first game in Q3 2023, Meta Masters Guild is a mobile-focused gaming guild that will develop a range of Web3 and play-to-earn games. Its native token, MEMAG, will be used for governance purposes, as well as for staking and for purchasing items and NFTs.
The MEMAG sale will have a total of seven stages, with the second — and current — stage offering 1 MEMAG for $0.01. However, this is due to rise in less than two weeks, giving early investors limited window of opportunity if they want to buy the new coin as cheaply as possible.
Doge (DOGE)
As if trying to keep up with SHIB, DOGE has rallied by 2% in the past 24 hours and by 10% in a week. At $0.085812, it has also risen by 21% in a fortnight and by 8% in a month, although it remains down by 88% compared to its ATH of $0.731578 (set in May 2021).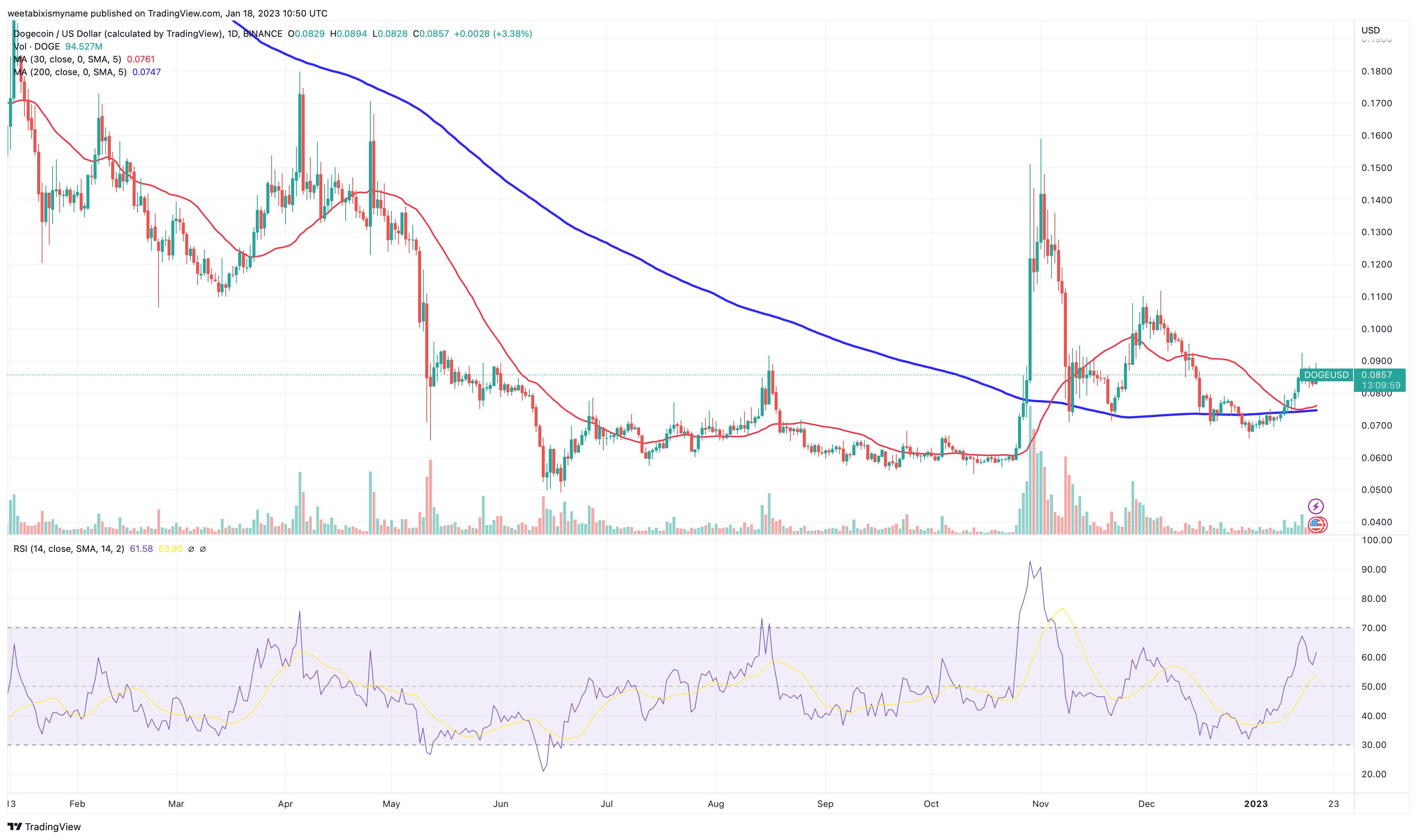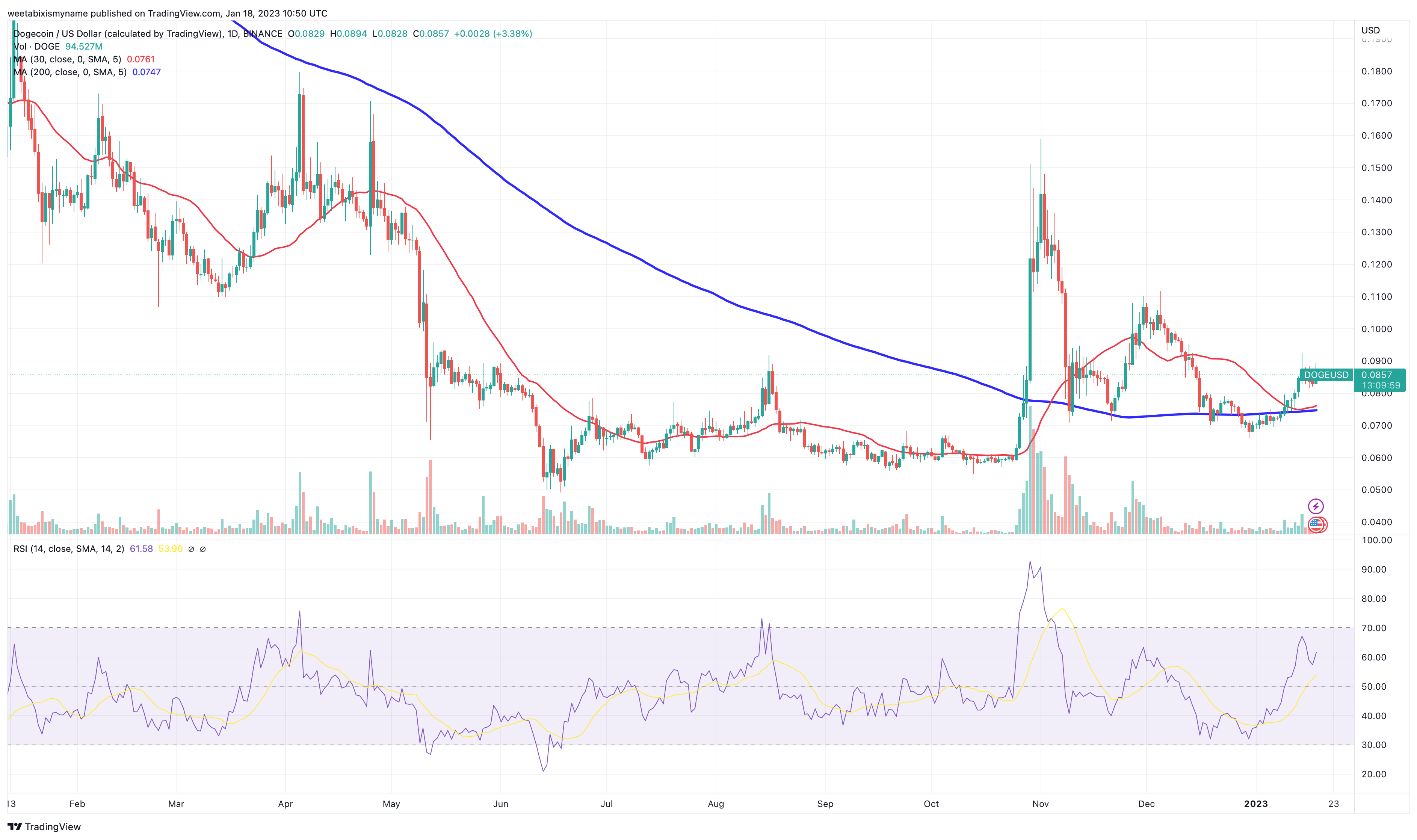 DOGE's indicators suggest a renewed rally, with its RSI rising back up towards 70 after dipping below 60 a few days ago. At the same time, its 30-day average has begun to rise above its 200-day once again, suggesting a continued rally for the next few days.
In terms of fundamentals, there isn't much to explain DOGE's recent rally, over than that it has been swept along by the market-wide rally we've witnessed over the past few days.

That said, news coming out this morning indicates that DOGE was the only meme token in the market to significatly reduce its carbon emissions in the past year, doing so by 25%. This has helped to highlight the development work that has been done with Dogecoin since Elon Musk promised to work with devs in order to make it more efficient.
Working with Doge devs to improve system transaction efficiency. Potentially promising.

— Elon Musk (@elonmusk) May 13, 2021
Fight Out (FGHT)
Based on Ethereum, Fight Out (FGHT) is a move-to-earn platform that will mix real-life workouts with Web3 when it launches in the second quarter of the year. It will track and reward a much wider range of workouts than earlier M2E platforms, including boxing, weightlifting and yoga, while also offering a range of in-app and IRL courses at its own branded gyms.
Huge milestone #FightOutCrew! 👊

We have just raised over $3M in our stage 1 presale! 🔥

⏰ Only 5 days left until the stage 2 price starts increasing! ⏰

Don't miss out – Get up to a 50% bonus with $FGHT! https://t.co/uoCKFB3X3n pic.twitter.com/b44ZDKaHXt

— Fight Out (@FightOut_) January 18, 2023
Its token sale opened in December and has already raised just over $3 million, with 1 FGHT currently selling at $0.0166. The sale is due to end by Q2 2022, with a number of exchanges (e.g. LBANK and BitForex) already confirming listings for the new coin.

Visit Fight Out Now
EthereumPoW (ETHW)
At $4.05, ETHW has risen by 6% in the past 24 hours and by 19% in a week. It's also up 36.7% in the last 30 days, with the Ethereum fork still 93% down from its all-time high of $58.54, set as recently as September of last year.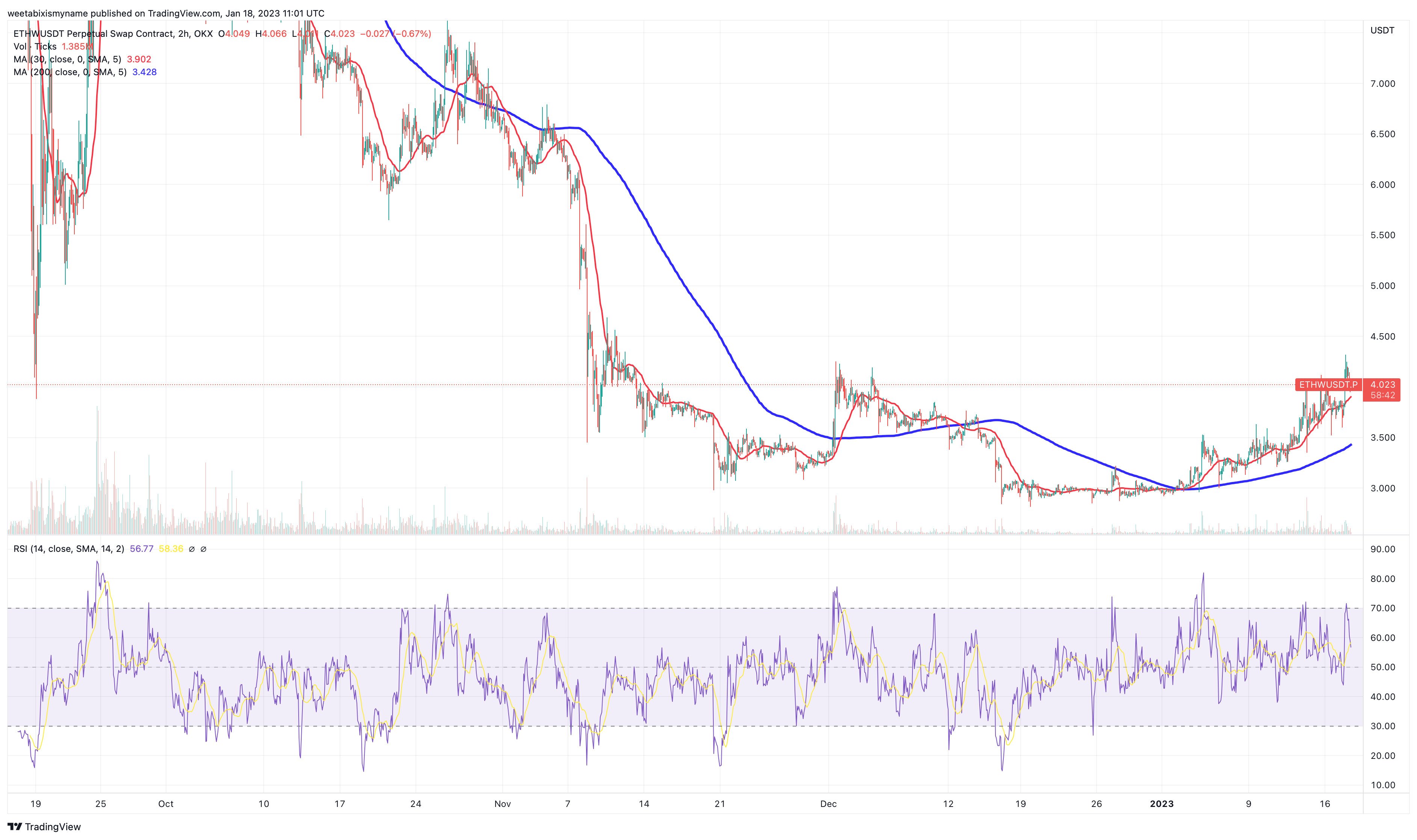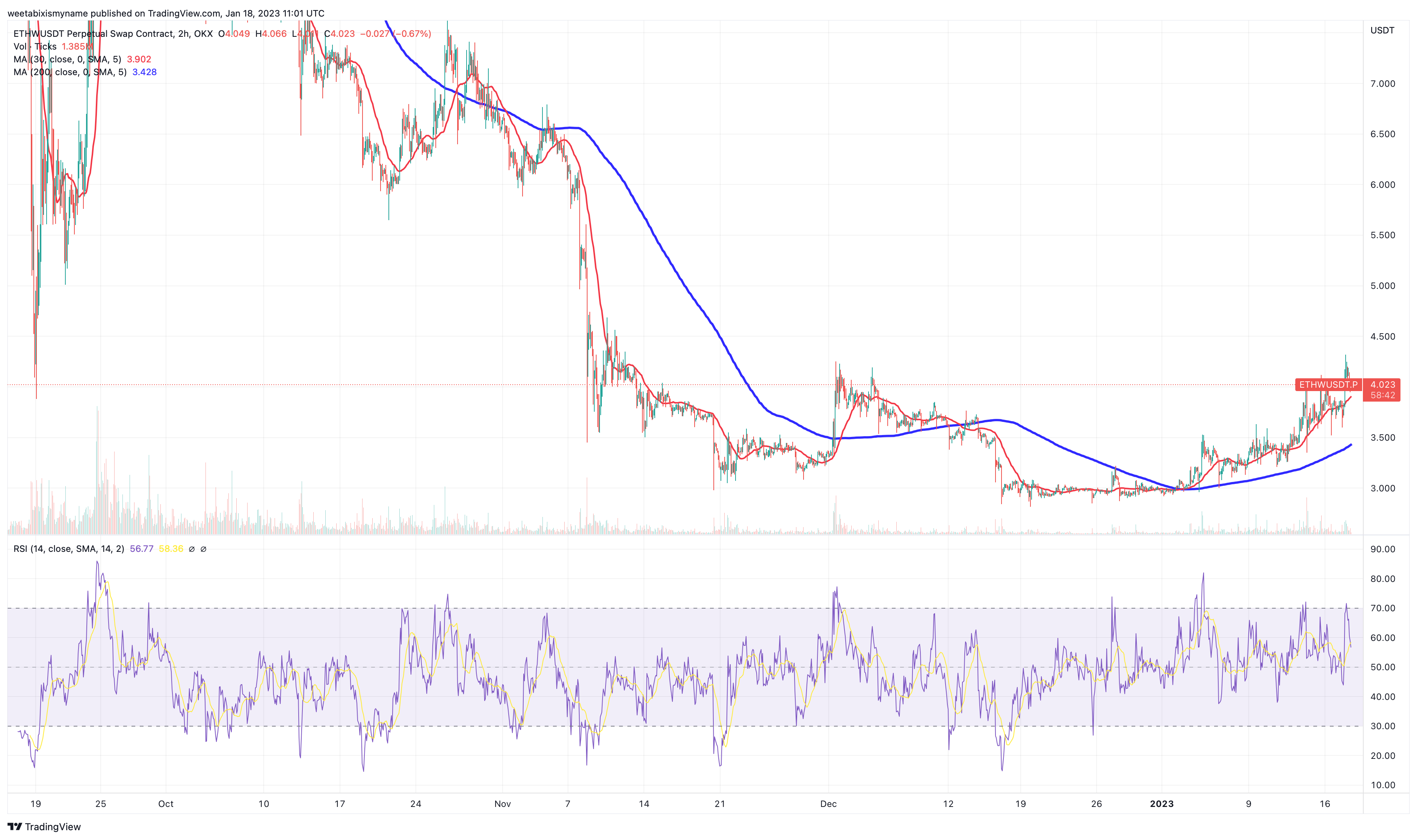 Based solely on ETHW's indicators, it may be due for further falls in the next few days. Its 30-day average is now well above its 200-day, while its RSI has begun climbing down from an overbought position.
However, EthereumPoW continues to attract interest as a hard fork of Ethereum, which shifted to a proof-of-stake consensus mechanism in September. Of course, some validators decided to stay with the earlier PoW Ethereum, meaning that ETHW exists, with some followers arguing that it's the 'real' Ethereum.
Long live ETHW

ETHW has made me good profits in last 24 hours.

Long live POW.

ETHW is real eth.#ethw #pow #crypto #ethereum #ethereumpow pic.twitter.com/uUcTZMvudP

— True Patriot (@metapaki) January 18, 2023
As much as some will always prefer proof-of-work over proof-of-stake, EthereumPoW is not a busy network. According to DefiLlama, it has a total value locked in of only $737,000, implying that its price movements are pretty much entirely the result of purely speculative pumping-and-dumping.
C+Charge (CCHG)
Hoping to appeal to environmentally minded investors, C+Charge (CCHG) is a peer-to-peer payment network for electric vehicle (EV) charging stations, having already raised over $300,000. Its chief aim is to use blockchain and crypto to widen access to carbon credits, with its native CCHG set to be used within its network by EV owners to pay to charge their vehicles.
🧬How does C+Charge use blockchain to improve the EV charging experience?

💻Blockchain validates and stores transactions over a P2P network

💻All records are encrypted, anonymous, easy to track and cannot be altered once entered

Join us now♻️https://t.co/ixe18bPqzI pic.twitter.com/sIx0Xv8bpq

— C+Charge (@C_Charge_Token) January 18, 2023
C+Charge plans to reward users with NFT-based carbon credits for charging their EVs at its stations, giving people an incentive to go green. It has also already signed partnershps with Flowcarbon and with Perfect Solutions Turkey, adding 20% of the EV chargers in Turkey to its network.
Casper Network (CSPR)
CSPR has increased by 10% in the past 24 hours, reaching $0.03930917. This marks a 34% gain in a week and a 42% rise in the last 30 days, although CSPR is 97% down from its ATH of $1.33, set in May 2021.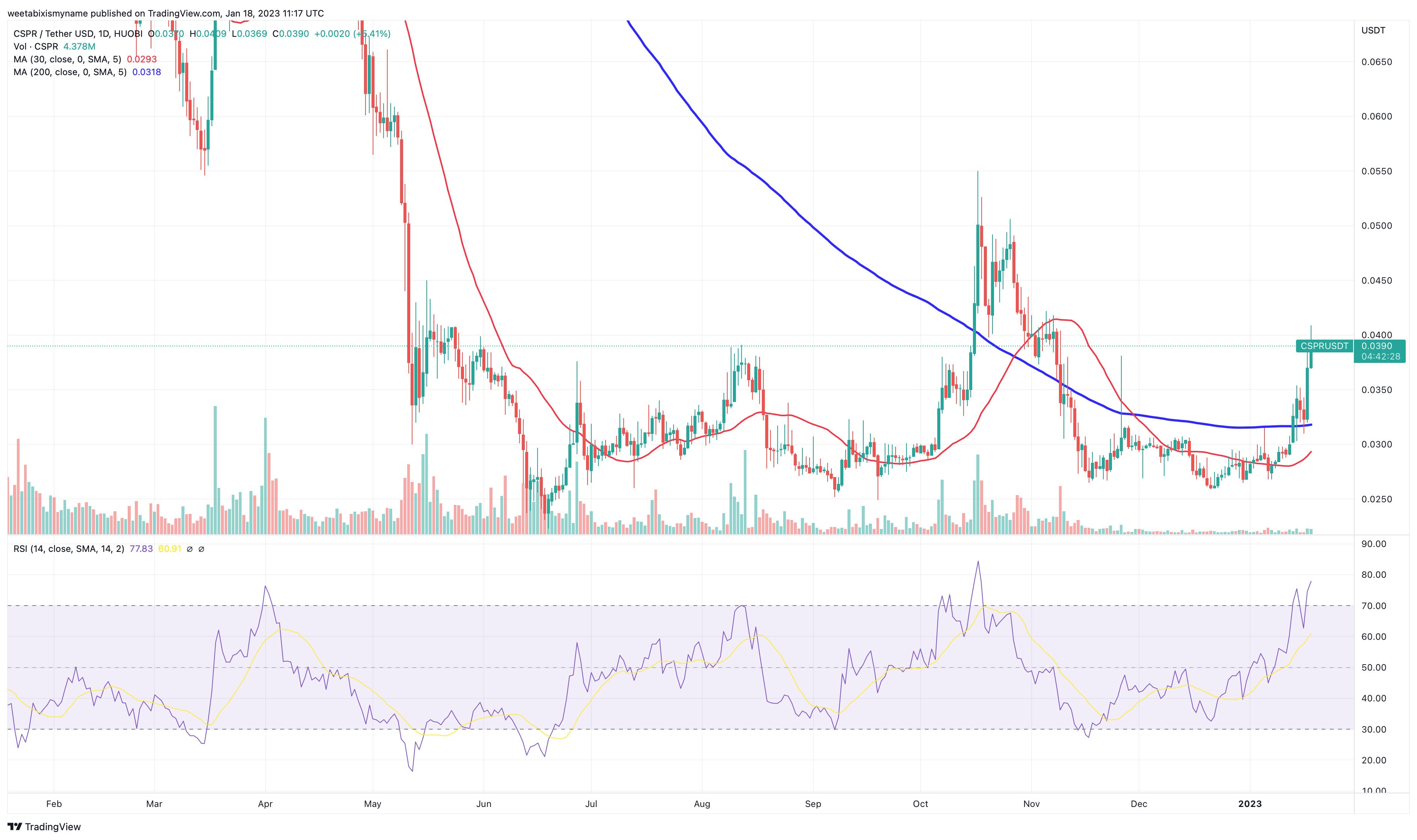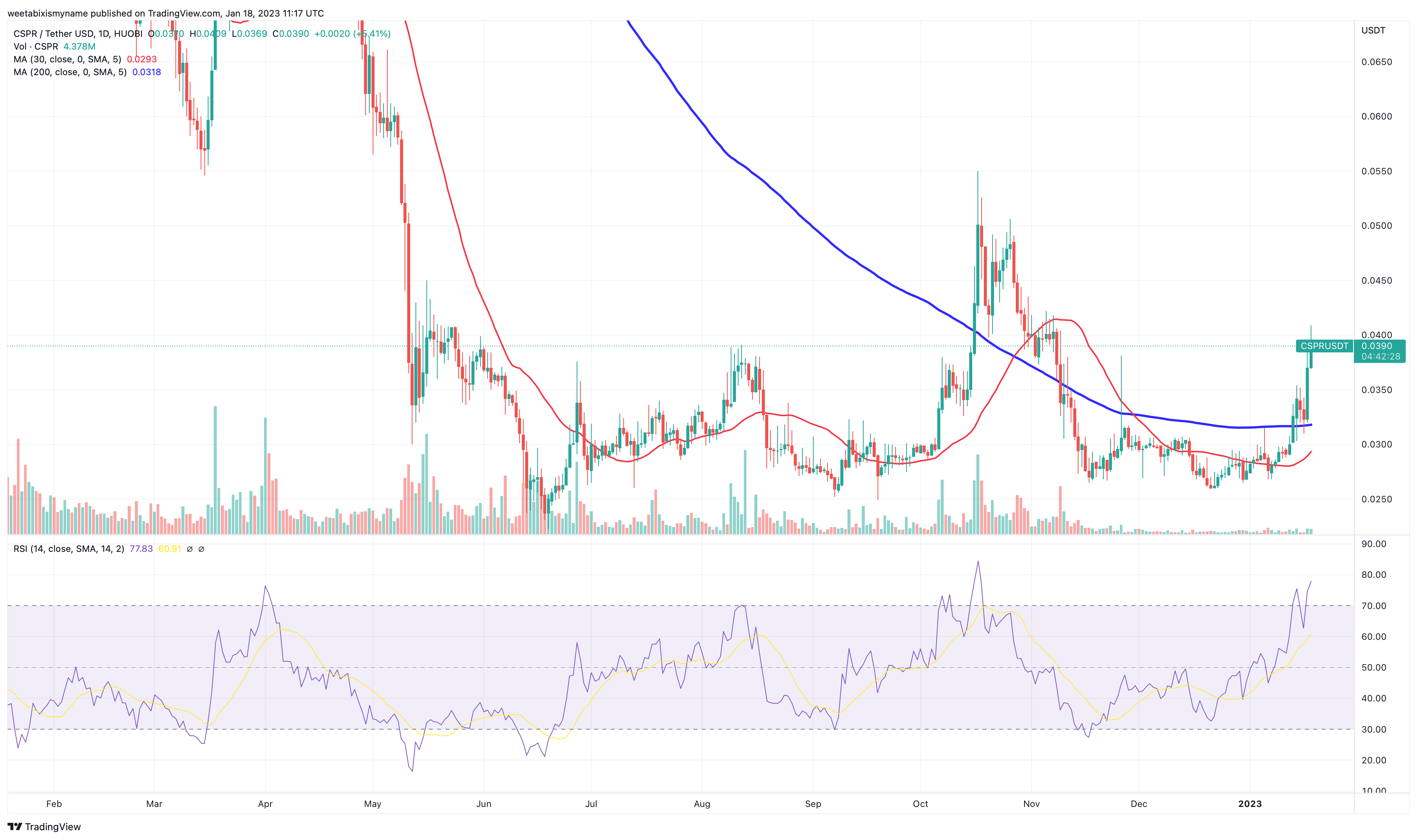 CSPR's chart reveals some very strong momentum, with its RSI rising to 80 and its 30-day average en route to overtaking its 200-day. This could continue for several days yet, especially given just how cheap CSPR is compared to its current record high.
It's possible that CSPR has gained more visibility in the past day as a result of Casper Network's Medha Parlikar having a fireside chat with Binance's Changpeng Zhao at the WEF in Davos. If nothing else, this has served to put a spotlight on the proof-of-stake blockchain network, which is focused on providing enterprise services and solutions.
We are excited and honored to host "Never Stop Building", a marquee fireside chat with @binance's CEO & Co-Founer @cz_binance & @Casper_Labs' very own CTO & Co-Founder @MParlikar live from #Davos!

Be sure to tune in tomorrow —18th Jan at 17:30 CET!https://t.co/Ppg40lrUVc pic.twitter.com/0I1XNpUbxu

— Casper (@Casper_Network) January 17, 2023
In terms of its fundamentals, Casper Network has announced a variety of new partnerships in recent weeks, including a high-profile deal with Web3 gaming platform GameSwift. On top of this, it's due to announce another partnership with a Fortune 100 company in the next few days, something which could boost CSPR considerably.
NEW PARTNERSHIP🥳@GameSwift_io x @Casper_Network
announce partnership to support the mass adoption of web3 gaming !

GameSwift infrastructure including GameSwift ID, Platform and Chain's GameSwift Bridge will be integrated with Casper Network!

This partnership is perfect! pic.twitter.com/Y0fNs2bOgh

— Casper Community I CSPR (@CasperlabsCoin) January 17, 2023
Calvaria (RIA)
Calvaria is a new play-to-earn battle card game that's now in the final stage of its token sale, having raised nearly $2.8 million so far. Only 8% of the available RIA coins remain, with the token due to list on such exchanges as LBANK Exchange and BKEX Global in the next few weeks.
The final push before presale is closed! Not many days have left!https://t.co/xB0JFvM6el#calvariagang

— Calvaria: Duels of Eternity! ✨ (@CalvariaP2E) January 17, 2023
Set to be playable on PC and smartphone, Calvaria interestingly doesn't require any cryptocurrency to play, although it does also include numerous play-to-earn elements. This makes it more accessible than pre-existing blockchain-based games, and could potentially open it up to a much wider audience.
The game itself is due to launch in Q2 2023, with its world set in a mythical afterlife. Characters will be animated in full 3D, while players will have the ability to earn and upgrade a wide ecosystem of collectible cards, which will also be used to battle with different factions in the game's universe.
Holo (HOT)
HOT is currently priced at $0.00198140, making for a 2.5% drop in the past day. That said, it remains up 22% in a week and by 29% in a month, with the altcoin down by 93% in relation to its ATH from April 2021.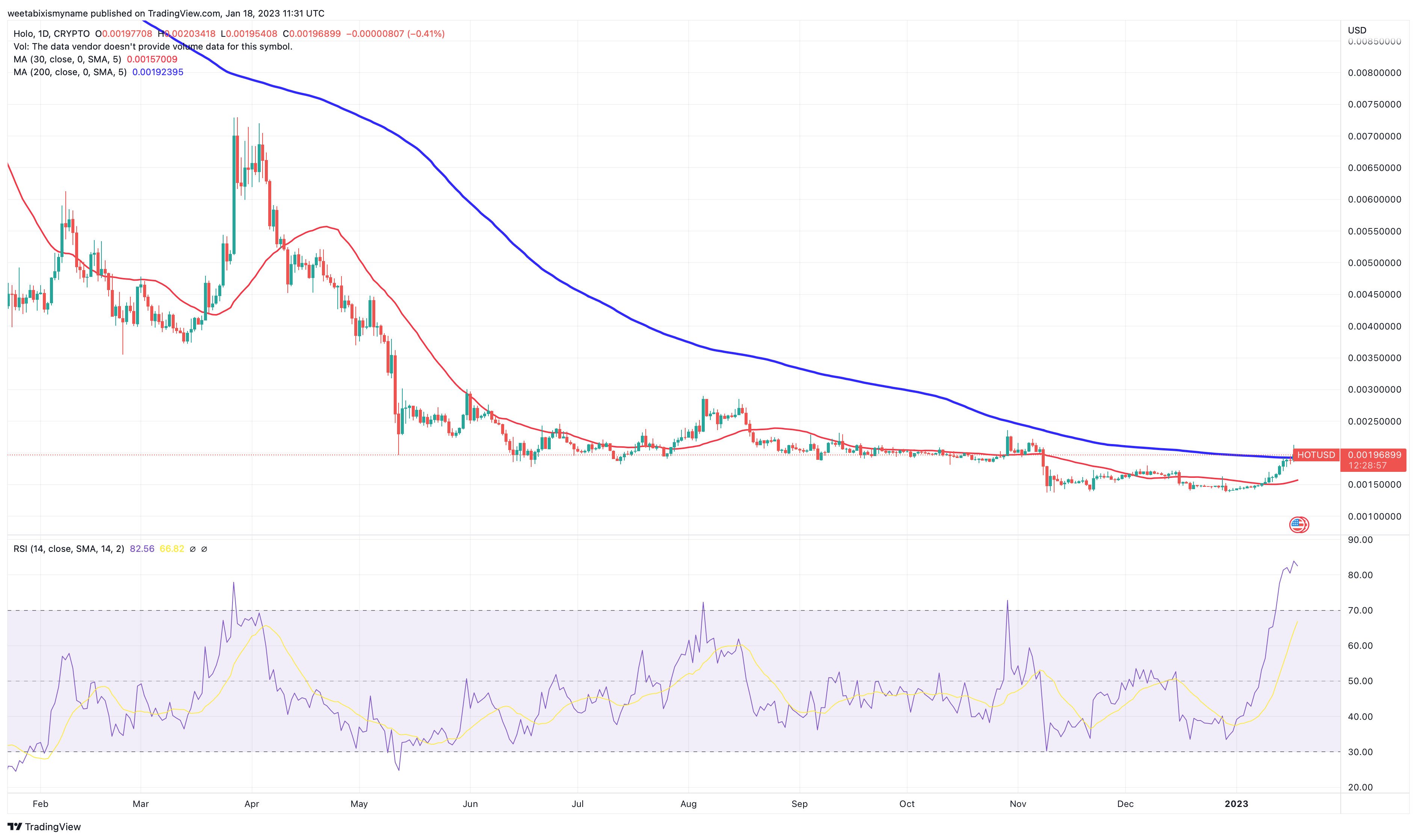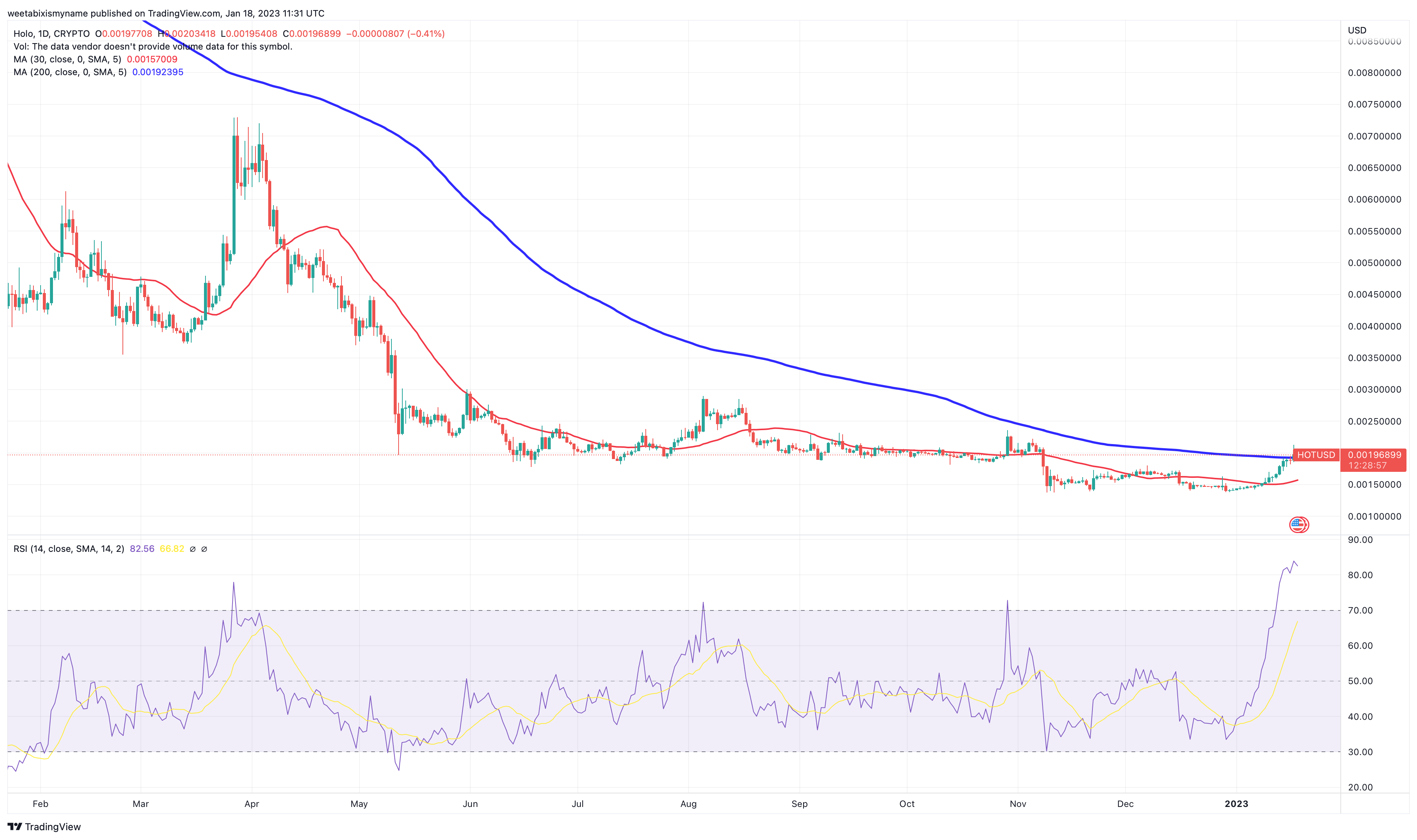 In technical terms, HOT is likely to continue rising in the near future. Its RSI has risen above 80 and its 30-day moving average is rising towards its 200-day, signalling that there's more room for further gains.
We've got some news on Holochain Beta release. Read Today's Update @H_O_L_O_ and learn the three step sequence we will take to Holochain Beta 0.1.0. ⬇️ https://t.co/vDcCtIuK99

— Holochain (@Holochain) January 17, 2023
A decentralized network for building peer-to-peer applications, Holochain is due to launch the beta version of its mainnet this month, having undergone a long period of alpha testing. This is the primary reason for HOLO's recent gains, and expect the altcoin to continue arriving as the beta launch nears, and as more users congreate to its network.
---