Best Crypto to Buy Today 17th January – CELO, MEMAG, CAVA, FGHT, CRO, CCHG, CVX, RIA, LRC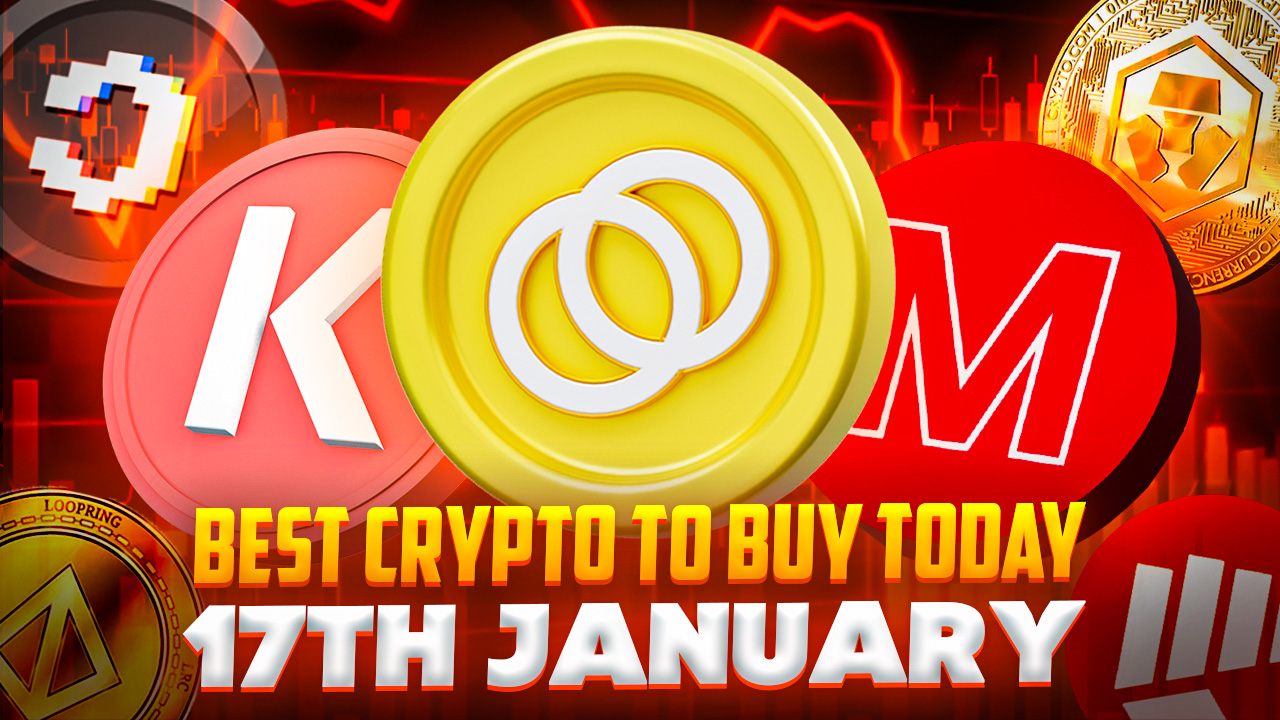 The cryptocurrency market has enjoyed another day of gains, with its total cap rising by 1% in 24 hours, to $1.03 trillion. This marks more or less a week of uninterrupted increases, with the publication of more positive US inflation figures serving to set off a wave of renewed optimism from investors.
While 1% is another steady daily gain, some altcoins continue to beat the market, posting above-average returns over recent timeframes. This article collects them in a list of the best crypto to buy today, and it also includes some of the best presale tokens to invest in today.
Celo (CELO)
CELO is down by 5% today, dropping to $0.698852. Despite this fall, the altcoin remains up by 28% in a week and by 32% in a month, while also 93% down from its all-time high of $9.82, set back in August 2021.
CELO's indicators remain in a good place, even with the dip today. Its relative strength index remains above 70, indicating good momentum, while its 30-day moving average (red) signals space for further gains, insofar as it's still comfortably below its 200-day (blue).
Looking at CELO's fundamentals, its recent price movement come a few days after Celo rebranded itself, with the the mobile-first layer-one blockchain and payment network emphasizing its green credentials and its help for under-banked individuals around the world.
It also announced this rebrand in conjunction with reveals of several new partnerships. This includes the news that Web3 browser Opera will integrate the (Celo-based) Mento stable asset cUSD into its Opera Mini Wallet, making it available to over 70 million users in Africa. There are also new partnerships with GoodDollar, and a one-week NFT auction in collaboration with Valora.
As such, CELO is one to watch, which its native platform proving to be one of the most positive layer-one networks in crypto.
Meta Masters Guild (MEMAG)
The Meta Masters Guild presale is now up to $380,000, having raised around $110,000 within the past 24 hours. This kind of speed suggests that the market is becoming increasingly confident in the future profitability and success of the play-to-earn gaming platform.
Due to launch its first game in Q3 2023, Meta Masters Guild is a mobile-focused gaming guild that will develop a range of Web3 and play-to-earn games. Its native token, MEMAG, will be used for governance purposes, as well as for staking and for purchasing items and NFTs.
The MEMAG sale will have a total of seven stages, with the first -- and current -- stage offering 1 MEMAG for $0.007. However, this is due to rise in the next three days, giving early investors limited window of opportunity if they want to buy the new coin at rock-bottom prices.
Kava (KAVA)
One of the best-performing top-150 coins today, KAVA has risen by 12% in the past 24 hours. It's also up by 27% in a week and by 72% in a fortnight, despite being 83% down in a year.
KAVA's RSI continues to rise steeply, suggesting that its momentum will continue to carry it forward in the next few days. This impression is reinforced by its 30-day average, which is due to overtake its 200-day sooner or later.
Launched at the end of 2019, Kava is a layer-one blockchain that incorporates support for Ethereum Virtual Machine smart contracts and for Cosmos' Inter Blockchain Communication Protocol (IBC). This essentially makes Kava interoperable with both Ethereum and Cosmos, while also effectively drawing developers for these two platforms into the Kava ecosystem.
Within this framework, KAVA is a utility token that can be staked and used to pay transaction fees. As such, it will grow in price in parallel with the growth of Kava as a network, and with Kava boasting total value locked in of $188 million, it's already beginning to acculate critical mass.
Fight Out (FGHT)
Running on the Ethereum platform, Fight Out (FGHT) is a move-to-earn platform that will mix real-life workouts with Web3 when it launches in the second quarter of the year. It will track and reward a much wider range of workouts than earlier M2E platforms, including boxing, weightlifting and yoga, while also offering a range of in-app and IRL courses at its own branded gyms.
Its token sale opened in December and has already raised nearly $3 million, with 1 FGHT currently selling at $0.0166. The sale is due to end by Q2 2022, with a number of exchanges (e.g. LBANK and BitForex) already confirming listings for the new coin.

Visit Fight Out Now
Cronos (CRO)
At $.077997, CRO is down by 2%, although it remains up by 22% in the past week. On top of this, it has also increased by 36% in a fortnight and by 39% in the last 30 days, although its 92% down from its record high of $0.965407 (recorded in November 2021).
CRO's indicators suggest that its rally of the past few days could continue in the near future, with its RSI remaining above 70. Likewise, its 30-day average has begun angling up towards its 200-day, signalling ongoing momentum that could push its price higher.
As the native token of major exchange Crypto.com, CRO is likely to always do well during a market rally. As such, it's no surprise it has done well in the past week, and should rise further the more the market recovers.
And as a layer-one network that's interoperable between Ethereum and Cosmos, Cronos is likely to continue seeing increased usage and adoption in the coming months. This is a big win for CRO, which also serves as a payment for transactions fees and can be used for staking.
C+Charge (CCHG)
Likely to appeal to ESG investors, C+Charge (CCHG) is a peer-to-peer payment network for electric vehicle (EV) charging stations. Having already raised over $300,000, its overarching aim is to use blockchain and crypto to widen access to carbon credits, with its native CCHG set to be used within its network by EV owners to pay to charge their vehicles.
C+Charge plans to reward users with NFT-based carbon credits for charging their EVs at its stations, giving people an incentive to go green. It has also already signed partnershps with Flowcarbon and with Perfect Solutions Turkey, adding 20% of the EV chargers in Turkey to its network.
Convex Finance (CVX)
CVX has inched up by 0.5% in the past 24 hours. At $4.93, it has also gained by 45% in a week and by 52% in a fortnight, making a very strong period for the DeFi token.
Aside from the marketwide rally (which indicators suggest could continue), CVX has been doing well on the back of growing usage of the Convex Finance DeFi platform. In particular, the growth of Frax Finance -- a staking platform for Ethereum -- has resulted in Convex's growth, since users of Frax have been taking the latter's ETH derivatives and trading them on Convex.
As a result, CVX has enjoyed gains over the past few days, with users trading FRAX and frxETH (liquid staked ETH) for Convex's native token. With the ongoing growth of Ethereum staking, this could mean that CVX will have a good 2023.
Calvaria (RIA)
Calvaria is a new play-to-earn battle card game that's now in the final stage of its token sale, having raised nearly $2.8 million so far. Only 9% of the available RIA coins remain, with the token due to list on such exchanges as LBANK Exchange and BKEX Global in the next few weeks.
Set to be playable on PC and smartphone, Calvaria interestingly doesn't require any cryptocurrency to play, although it does also include numerous play-to-earn elements. This makes it more accessible than pre-existing blockchain-based games, and could open it up to a much wider audience.
The game itself is due to launch in Q2 2023, with its world set in a mythical afterlife. Characters will be animated in full 3D, while players will have the ability to earn and upgrade a wide ecosystem of collectible cards, which will also be used to battle with different factions in the game's universe.
Loopring (LRC)
At $0.286755, LRC has gained by 3% in a day and by 30% in a week. The layer-two coin is also up by 49% in a fortnight and by 32% in the last 30 days.
While LRC's RSI has dipped a little, it still remains above 70. At the same time, its 30-day average has begun rising towards its 200-day, with the implication being that it may continue doing so until it crosses over (although 2022 saw more than one instance of the 30-day rising without passing the 200-day).
As one of the biggest layer-two scaling networks for Ethereum, LRC has rallied largely because its grossly undervalued. Its total value locked in has now exceeded $100 million (which is more than Cardano's), so it's behind only Arbitrum, Optimism and dYdX in terms of size (according to L2BEAT).
More fundamentally, Loopring has seen some excellent adoption over the past year, with Gamestop choosing the network to launch its very own NFTs in July. This has coincided with an "explosion" in NFT activity on its network, as highlighted by the tweet above.
---