Best Coins to Buy Today 13th January – MEMAG, SHIB, FGHT, SOL, CCHG, APT, RIA, MANA, D2T
Disclosure: Crypto is a high-risk asset class. This article is provided for informational purposes and does not constitute investment advice. By using this website, you agree to our terms and conditions. We may utilise affiliate links within our content, and receive commission.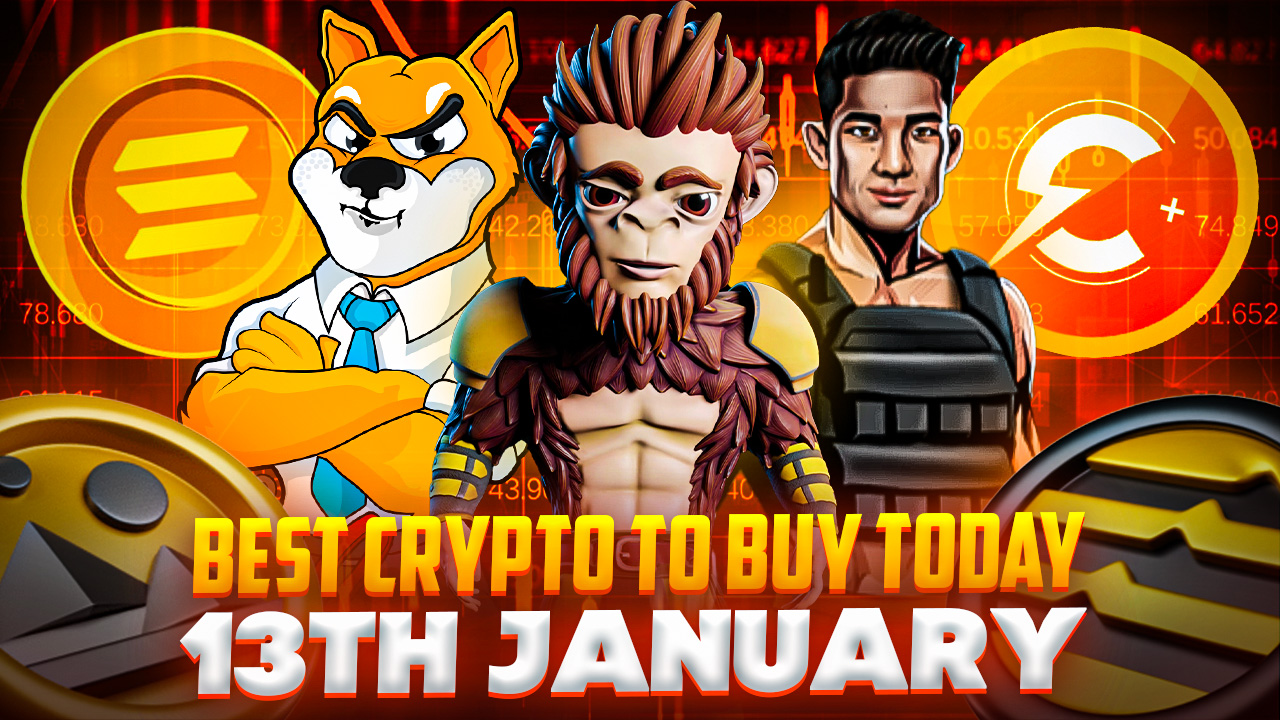 The cryptocurrency market has risen by 2.5% in the past 24 hours, arriving at a total cap of $945 billion as it continues to ride a wave of positive economic data. Its current value represents an 11% gain in the past seven days, as positive US inflation figures and signs of growth from European economies suggest that the global economy may be over the worst of 2022's downturns.
Yet as positive as the market's movements are again today, there are a handful of cryptocurrencies that have done especially well. Accordingly, this article runs through the best coins to buy today, and it also includes some of the most promising presales happening right now.
Meta Masters Guild (MEMAG)
Its presale may be only a few days old, Meta Masters Guild has raised more than $70,000 in its first 24 hours, a total that stands as a big endorsement for the play-to-earn crypto games platform.
🚨 BREAKING NEWS!!! 🚨

💰 #MEMAGFAM, We have officially hit a new milestone – over $70K raised! 💰

Get your hands on $MEMAG now! ⬇️🤩https://t.co/SBqVjX5mWn#metamastersguild #memag #memagpresale pic.twitter.com/96qFjykxZF

— Meta Masters Guild (@MEMAGgames) January 12, 2023
Due to launch its first game (Meta Kart Racers) in the third quarter of the year, Meta Masters Guild is a mobile-focused gaming guild that will develop a range of Web3 and play-to-earn games. As a guild, it will very much be community-oriented, with the platform offering its resources to developers who join its ecosystem.
The token sale for its MEMAG token will have a total of seven stages, with the first — and current — stage offering 1 MEMAG for $0.007. This price is due to increase by 42% next week, while it will incrementally rise to $0.023 by the seventh stage, meaning that the earliest investors will see a 228.5% from the get-go.
Interest parties in participate in the sale by heading over the official Meta Masters Guild website and connecting their Wallet Connect or MetaMask wallets. MEMAG can be purchased with either ETH or USDT, with the token being used as in-game currency and for rewards.
Shiba Inu (SHIB)
SHIB has gained by 7% in the past 24 hours, with its current price of $0.00000980 also representing a 16% increase in seven days. It's also up by 20% in a fortnight and by 7% in the last 30 days.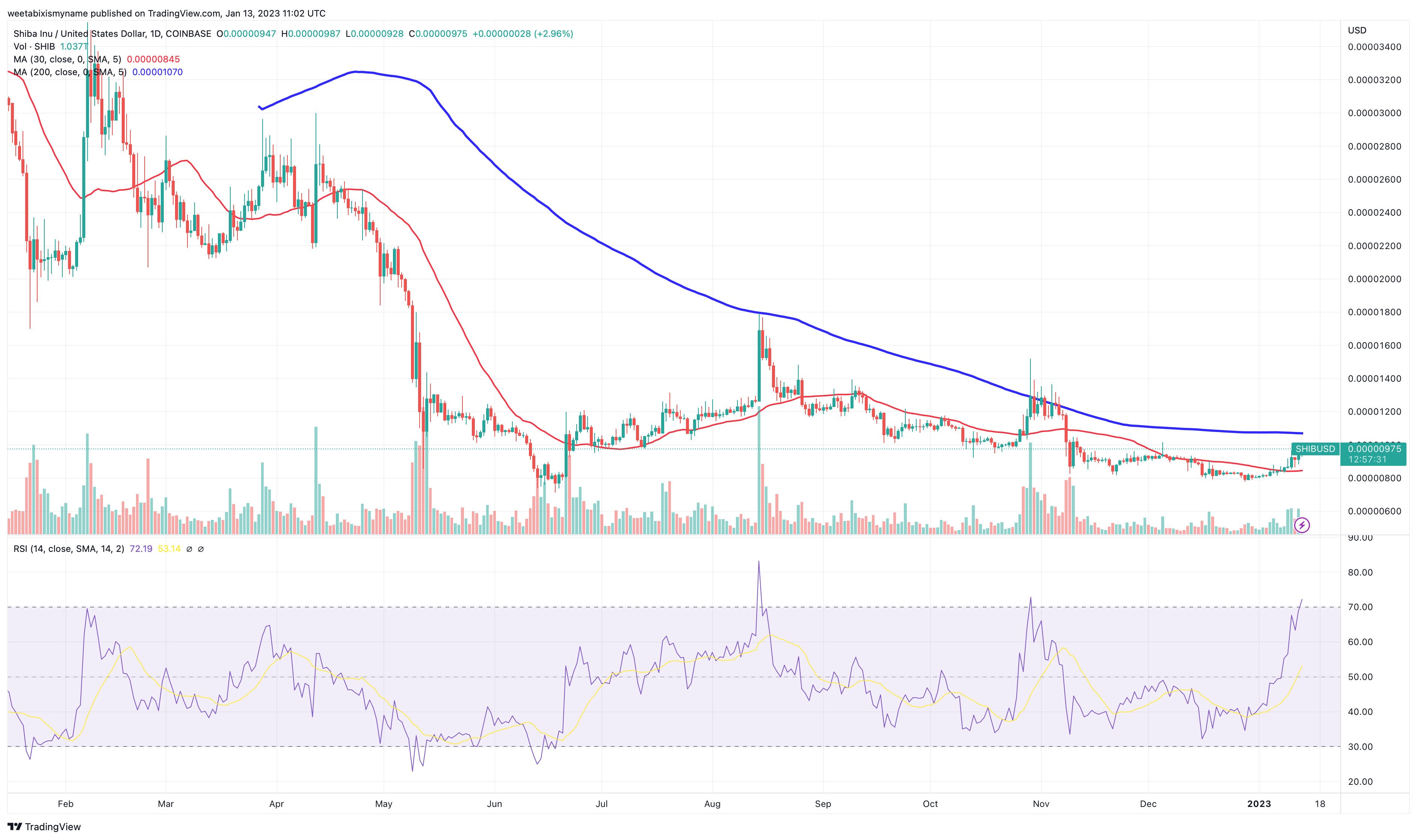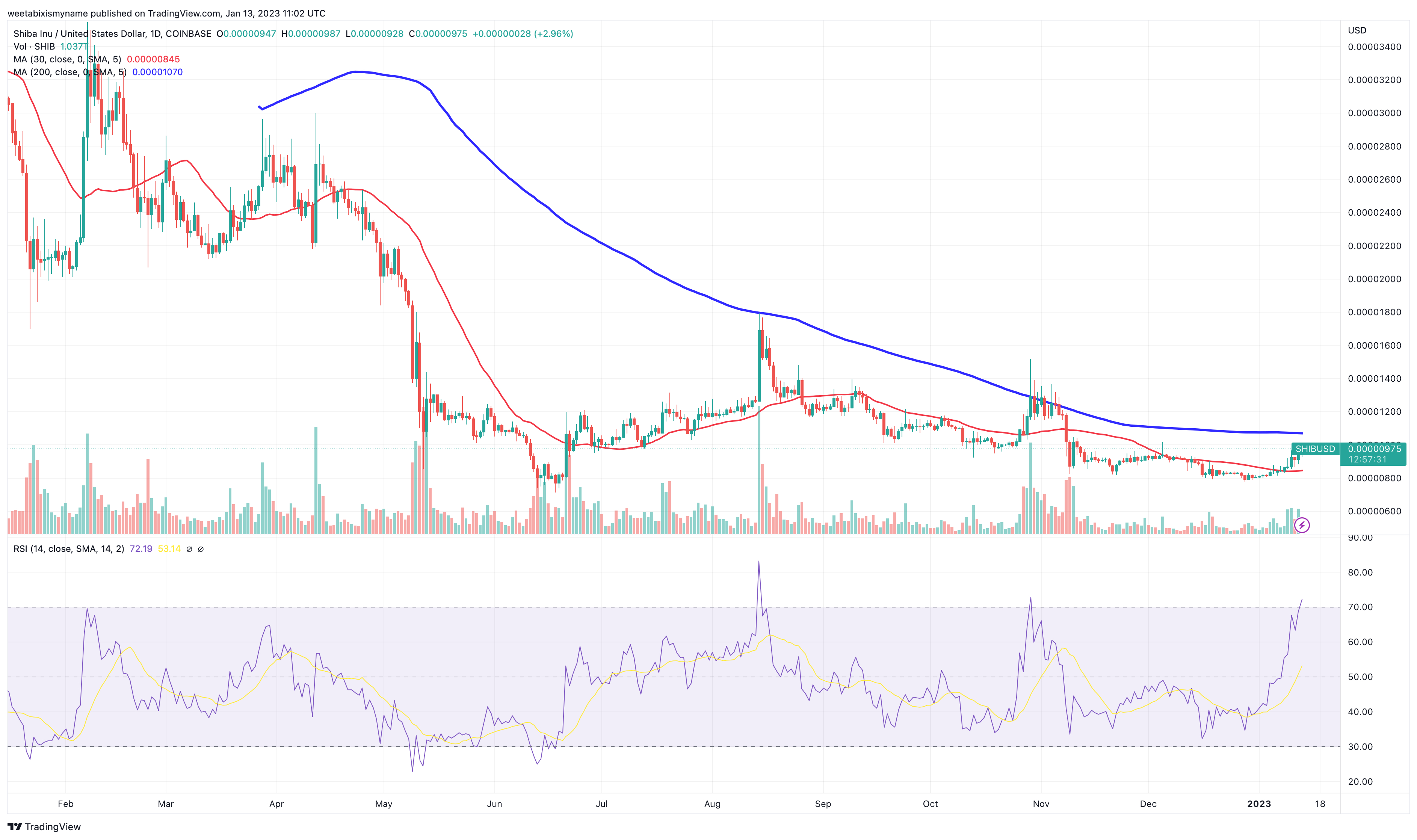 SHIB's indicators continue to suggest the potential for a sustaines recovery rally, with its relative strength index (purple) rising to 70 in the past few days. At the same time, the fact that its 30-day moving average (red) is below its 200-day (blue) means that there's plenty of scope for further rises before the rally runs out of steam.
Aside from the marketwide rally that has lifted almost all boasts, SHIB has been doing especially well because of excitement surrounding the imminent Shibarium Network, a layer-two solution for Shiba Inu that's due to launch its beta in the coming weeks.
Shibarium Update 🧵

As we approach the launch of the upcoming Shibarium Beta Network, we first would like to start by thanking the Shiba community for bringing such energy and excitement surrounding the upcoming phased introduction.

1/6 🧵

— Shibarium Network (@ShibariumNet) January 4, 2023
The new layer-two network will make SHIB much more efficient and cheaper to use, given that it's based on Ethereum and has therefore suffered from higher-than-average gas fees in recent years. This should help attract greater adoption, as will Shiba Inu's very own metaverse, which is due later this year and should spark further rallies for SHIB.
Fight Out (FGHT)
Fight Out (FGHT) is a move-to-earn platform that will mix real-life workouts with Web3 when it launches in the second quarter of the year. Running on the Ethereum blockchain, will track and reward a much wider range of workouts than earlier M2E platforms, including boxing, weightlifting and yoga, while also offering a range of in-app and IRL courses at its own branded gyms.
Earn rewards for completing well-rounded workouts from the gym or your own living room and see your soulbound avatar progress with you! 💪

It's a unique combination of #Web2 and #Web3 that you won't find anywhere else!

Learn more at https://t.co/z34Nkx3ffi! pic.twitter.com/Z4GVT1M3c7

— Fight Out (@FightOut_) January 13, 2023
Its token sale opened in December and has already raised over $2.8 million, with 1 FGHT currently selling at $0.0166. The sale is due to end by Q2 2022, which is when it will list on exchanges for the first time.

Visit Fight Out Now
Solana (SOL)
At $16.73, SOL is uo by 4% in the past day and by 24.5% in the past week. Impressively, it has gained by 74% in a fortnight, as well as by 21% in a month, going some way to recoverig from its FTX-induced losses in November.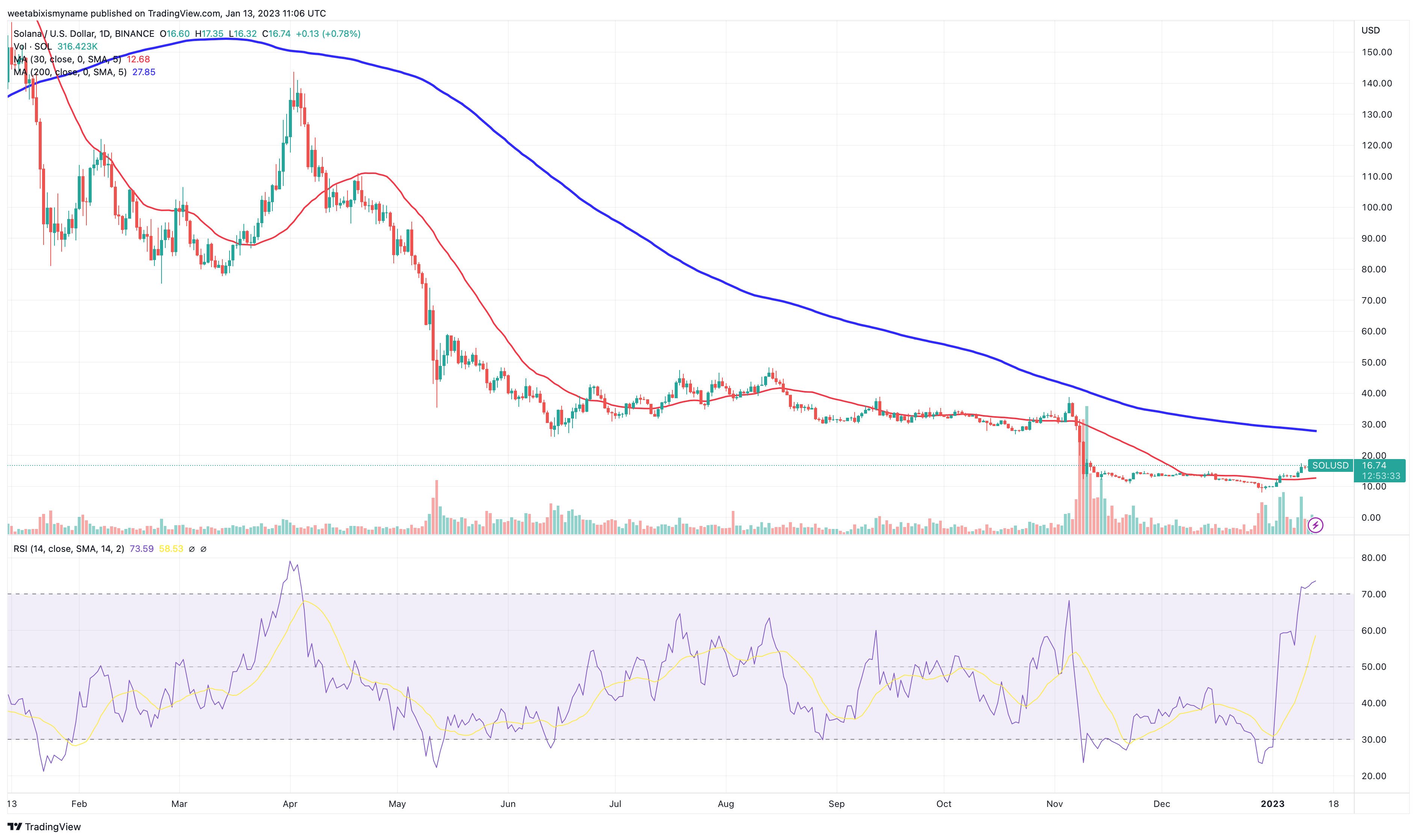 As with SHIB, SOL's RSI shows strong momentum, while its 30-day average still has a way to go before it catches up with its 200-day. As such, it could be in for a few more days of rising before it peters out.
A substantial SOL rebound has arguably been due for a while, given that it had been so disproportionately impacted by the FTX collapse. At the same time, the launch of the new BONK meme token has significantly increased usage and adoption of Solana, with Bonk alone seeing more transactions than Ethereum over the past few days.
But with Solana's total value locked in still far below what it was several months ago, it's clear that its recovery still has some way to go. This could mean further above-average gains.
C+Charge (CCHG)
Aimed at ESG investors, C+Charge (CCHG) is a peer-to-peer payment network for electric vehicle (EV) charging stations. Running on BNB Chain, it aims to use blockchain and crypto to democratize access to carbon credits, with its native CCHG set to be used within its network by EV owners to pay to charge their vehicles.
🧐Many #EV charging points operated by private companies require physical membership cards

✅C+Charge allows users to charge in different stations and pay within a singular app without the need for a membership card

Visit our website to learn more ⬇️https://t.co/ixe18bPqzI

— C+Charge (@C_Charge_Token) January 12, 2023
In addition, C+Charge will also reward users with NFT-based carbon credits for charging their EVs at its stations, giving people an incentive to go green. It has also already signed partnershps with Flowcarbon and with Perfect Solutions Turkey, adding 20% of the EV chargers in Turkey to its network.
Aptos (APT)
APT has risen by a hefty 27% in the past day, reaching $6.67. This means it's also up by 80% in a week, 107% in a fortnight, and by 44% in a month.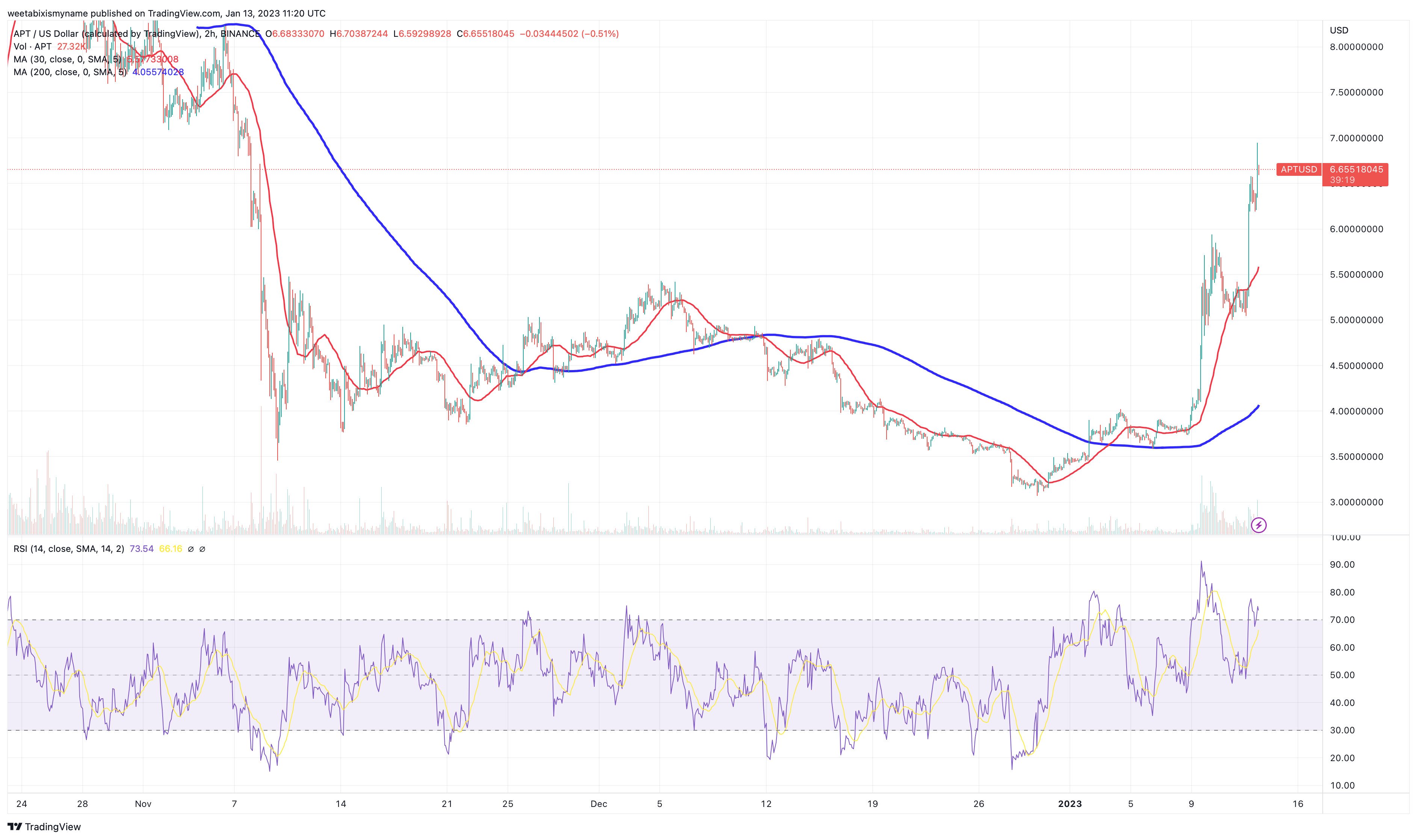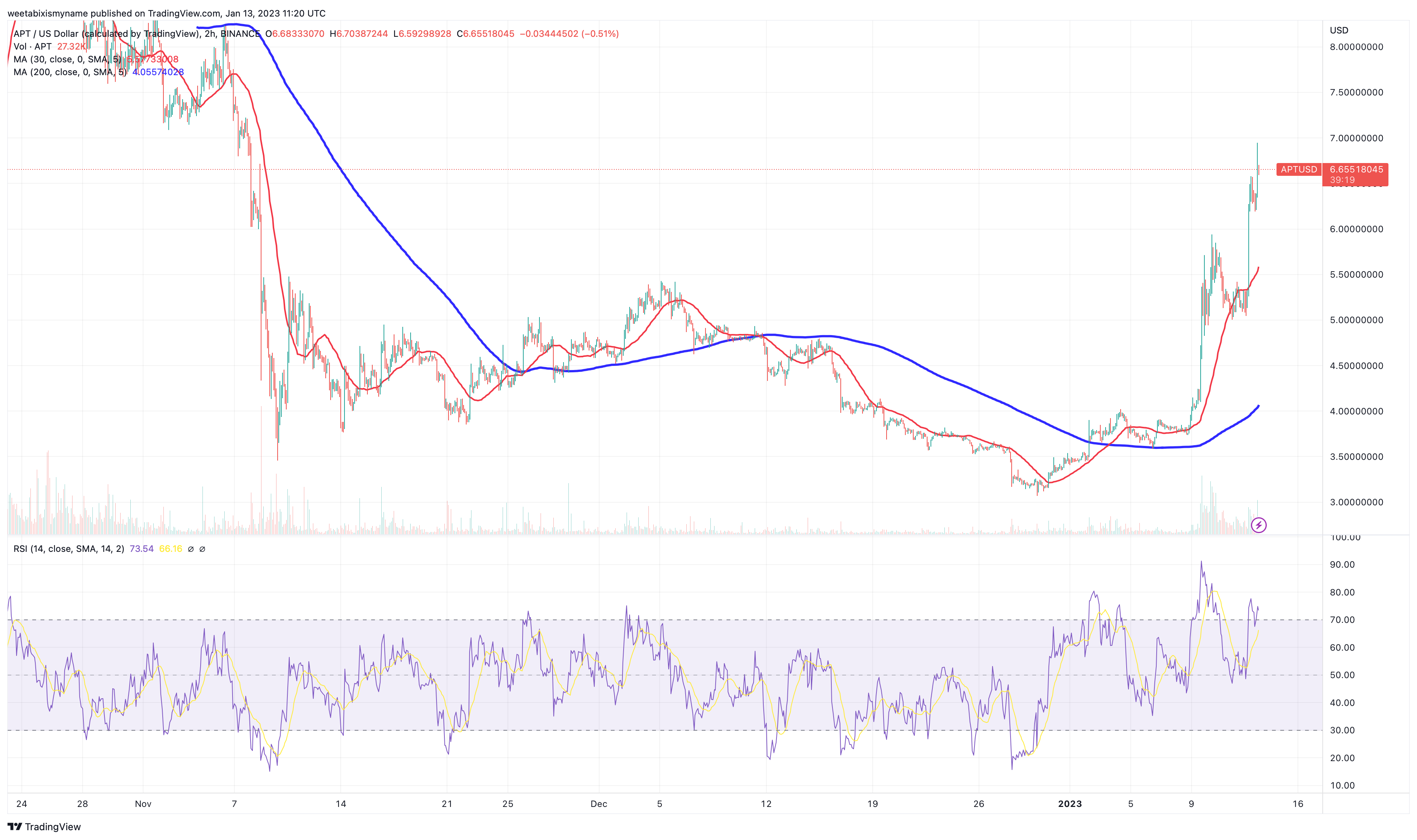 APT's indicators suggest that it may actually be due to correct downwards a little, with its 30-day average well above its 200-day. Likewise, its RSI is at around 75, which indicates 'overbought' conditions.
One of the newest top-100 coins, Aptos was born out of Meta's doomed Diem/Libra digital currency project, using the same Move programming language that was created for Diem. In theory, this makes it more scalable and efficient than many other existing cryptocurrencies and blockchain, something which may give it an edge over rivals.
Aptos has raised hundreds of millions of dollars in venture capital in the past few months, suggestig that big investors are backing it to grow further.
Calvaria (RIA)
Calvaria is an exciting play-to-earn battle card game that's now in the fifth and final stage of its token sale, having raised more $2.7 million so far. Only 11% of the available RIA coins remain, with the token due to list on such exchanges as LBANK Exchange and BKEX Global in the next few weeks.
Next step in our partnership with KuCoin team is the @KuWallet integration! $RIA will be available there at launch, and KuWallet is supported right now on our ICO page: https://t.co/JekxLNMJgh where kuwallet users can purchase $RIA directly from the wallet!#calvariagang https://t.co/OqzmDd1yUE

— Calvaria: Duels of Eternity! ✨ (@CalvariaP2E) December 29, 2022
Available on PC and mobile app stores, Calvaria idoesn't require cryptocurrency to play. This makes it more accessible than pre-existing blockchain-based games, and could open it up to a much wider audience.
The game itself is due to launch in Q2 2023, with its world set in a mythical afterlife. Characters will be animated in full 3D, while players will have the ability to earn and upgrade the collectible cards used to battle with different factions in the game's universe.
Decentraland (MANA)
MANA is currently priced at $0.445778, marking an 11.5% gain in the past 24 hours. It has also increased by 38% in a week and by 14% in the last 30 days, making it one of the best-performing top-100 coins in recent times.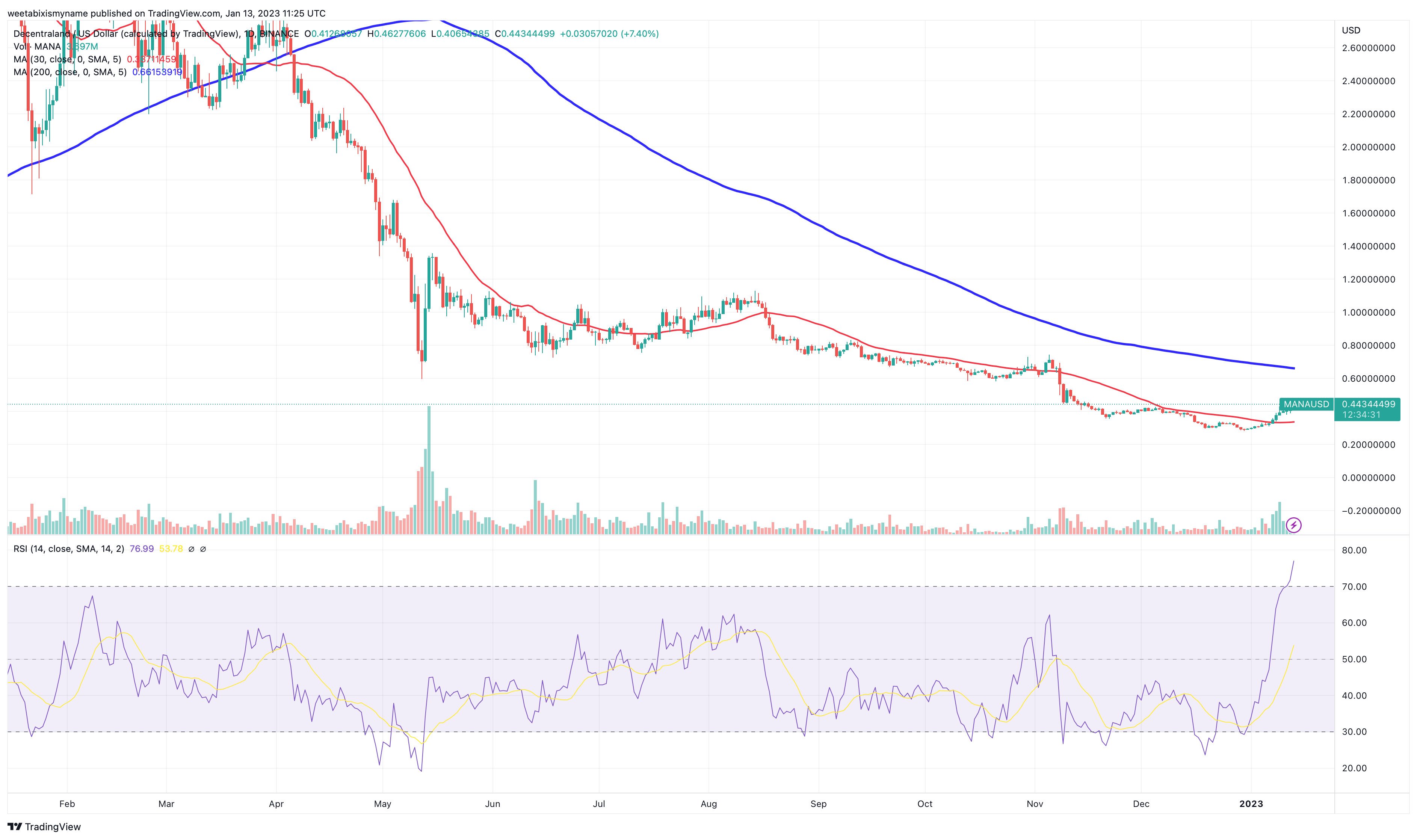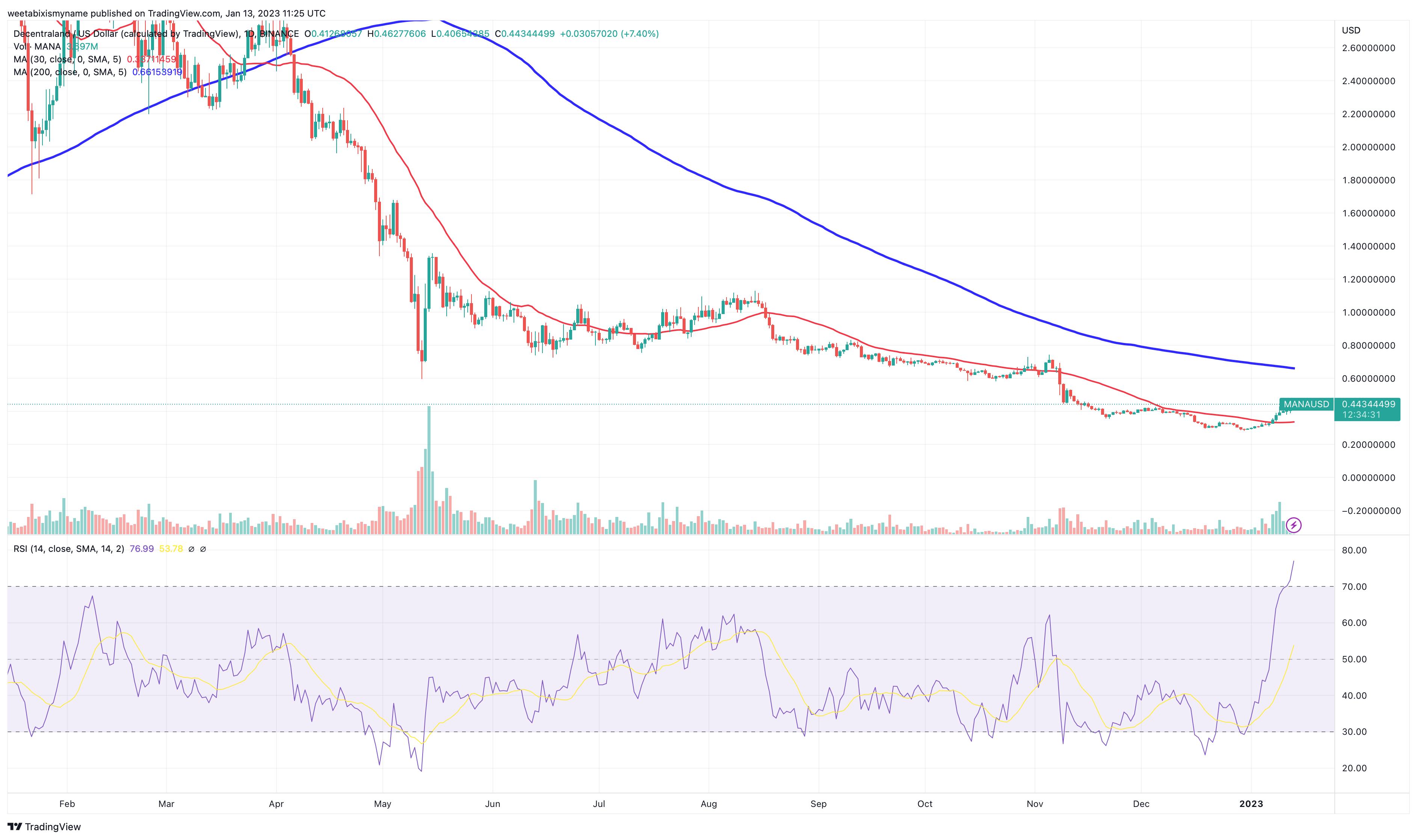 MANA's indicators had been very subdued for a long time prior to this week's rally, with its RSI spending much of the 2022 below 50. Similarly, its 30-day average has been below its 200-day since April, signalling that it's long overdue a corrective rally upwards.
Aside from correcting oversold losses from last year, MANA's recent above-average gains follow from updates to Decentraland, which currently leads the pack among metaverse platforms in terms of price action.
New Year, More About You 📢

A few new features came out today that will help #DCLcitizens connect with each other better than ever—and this is only the beginning!

🖍️Highlighting Avatars
👩‍🦱New User Profile
🔗Links in Profile
💌New Friend Request Flow
🏷️Differentiated Nametags pic.twitter.com/8cMUXVLpiT

— Decentraland (@decentraland) January 12, 2023
In particular, the past couple of days brought a range of new features for Decentraland users, including upgrades to avatars, user profiles, and friend request mechanisms. This all helps to make the platform more user-friendly, and when combined with Decentraland's many recent partnerships, it's no wonder that MANA is doing well today.
Dash 2 Trade (D2T)
With its native D2T token listing on exchanges for the first time this week, Dash 2 Trade is a trading intelligence platform that will launch by the end of this quarter. Its unique trading dashboard will provide real-time analytics and social trading data, giving investors all the resources and tools they could possibly need to inform and improve their trading.
✔️A trader's risk profile is key to building a strong framework that consistently makes profitable trades.

✔️It is D2T's goal to guide retail traders to take more effective approaches to the market.

Learn more ⬇️https://t.co/ExvBBjKIU6 pic.twitter.com/FLIYZx469g

— Dash 2 Trade (@dash2_trade) January 13, 2023
Having raised over $15 million in its sale, D2T has now listed on Gate.io, with BitMart, Changelly Pro, and LBANK Exchange also listing the coin.
---