Battle of the Billionaires, Crypto Edition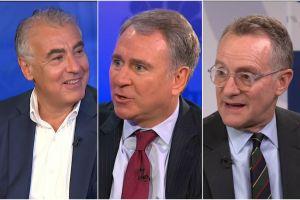 The world's richest of the rich are often asked about their opinions on current matters, especially if it pertains to the financial sector. Their opinions on Bitcoin vary wildly, from contemptuous dismissal to bullishness akin to that of Tim Draper. This time, Ken Griffin, Marc Lasry and Howard Marks offer their view of the cryptocurrency. One of them even claims that he has invested 1% of his personal funds into Bitcoin.
Ken Griffin, American investor, hedge fund manager, and philanthropist, is not a fan of Bitcoin, to say the least. He still scratches his head about it, he said at the Delivering Alpha Conference in New York on Wednesday, adding, according to CNBC, "I have a hard time finding myself wanting to be in the position of being a liquidity provider to a product that I don't believe in."
He also said, "I don't have a single portfolio manager [of mine] who has told me we should buy crypto, not a single portfolio manager."
Interesting, because reports say that the investment banking giant Goldman Sachs, is looking to add cryptocurrency trading. At the same time, Larry Fink, CEO of BlackRock, said on Monday that the world's largest asset manager has put together a team to look at blockchain technology and cryptocurrencies. However, Fink argues that he does not see massive investor demand.
Howard Marks, another investor, spoke at the same conference. "It's not an investment [...] it's a trade," he said. "In the long run, I think it will be shown not to have any substance." People who buy Bitcoin, in his opinion, are only doing so because they hope someone will buy it from them at a higher price. When he was a kid, he said, they called it "the greater fool theory."
This comment rings similar to what Bill Gates said about Bitcoin. Gates and his comments have been ridiculed in the space ever since.
Meanwhile, Marc Lasry, hedge fund manager, disagrees with his colleagues. In an interview with CNBC on Wednesday, he said that the price of Bitcoin could reach USD 40,000 as it goes more mainstream. As for why he prefers Bitcoin to other cryptocurrencies, he said, "The reason why I like Bitcoin is because it's the one everybody is going to come to."
Also, after buying his first bitcoin a few years ago he says that now he's invested around 1% of its personal funds in this cryptocurrency. However, when asked by the show host what the intrinsic value of Bitcoin is today, Lasry replied: "I have no idea."
His comments hearken to those of Tim Draper, a famous early investor in groundbreaking projects such as the internet, Tesla, Skype and Hotmail among others. He famously said that Bitcoin will be "bigger than the internet, bigger than the Iron Age, the Renaissance" and that its price will reach USD 250,000 within four years. As to how he knows that, he joked that "spirits told me."
Who is going to be right is probably the question of the decade, as the world shifts to watch the young industry grow. Key financial institutions battle among themselves as to who will be first to implement blockchain in their own solutions.