Bakkt Smashes Another Bitcoin Futures Record, But There is a 'But'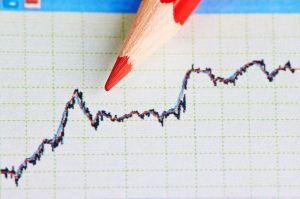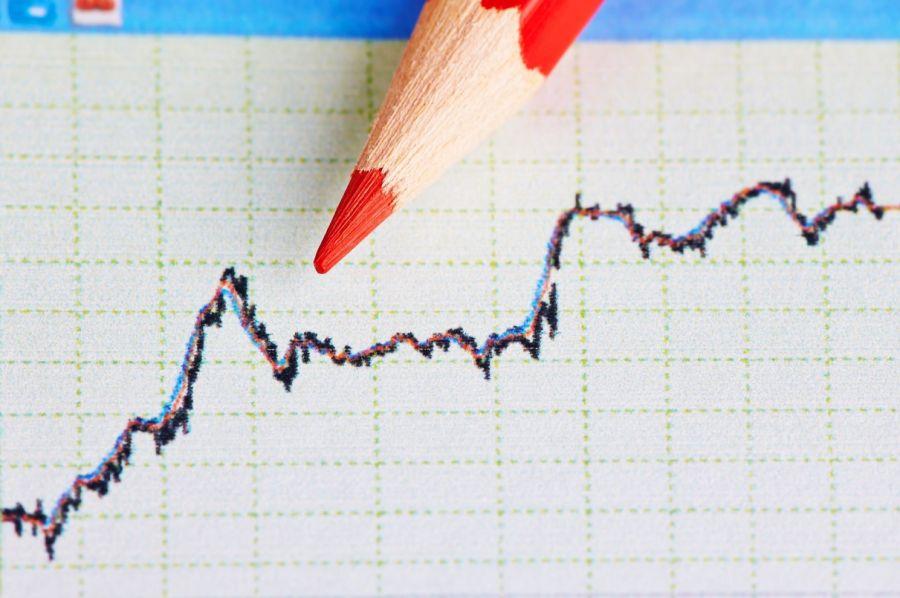 Bakkt, the recently launched U.S.-based physically-settled Bitcoin futures trading platform, has set another record, but it came with one 'but.'
Even though Bitcoin (BTC) dropped in November, the platform announced that two months after the launch of Bakkt Bitcoin Futures, they've reached a record high of 4,443 contracts traded on Wednesday, which means they are up over 60% from the previous record. "We look forward to building on this momentum as we approach the launch of the Bakkt Bitcoin Options contracts on Dec 9th," they said.
Though much-anticipated, the start of the Intercontinental Exchange (ICE)-backed platform was bleak in October. That quickly changed, however, as the platform began getting traction.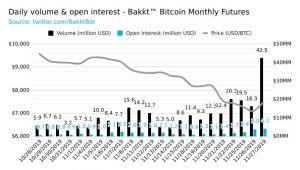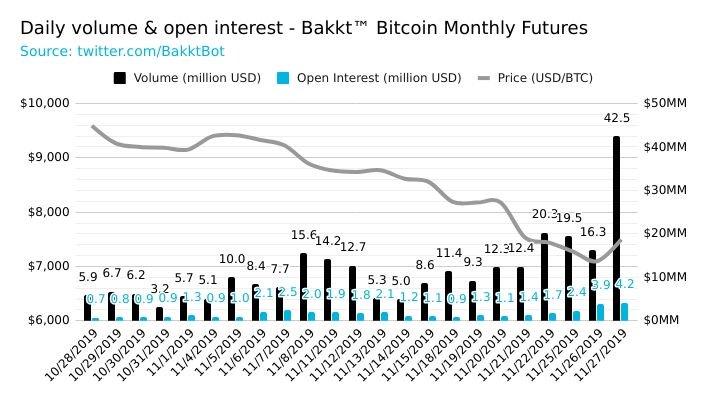 The announcement was followed not only by many congratulatory comments. Some market players are concerned regarding the decision to launch cash settled Bitcoin contracts, while Bakkt was praised for their physically-delivered Bitcoin futures. Bakkt's physically-delivered bitcoin futures are considered a game-changer for bitcoin because unlike cash-settled bitcoin futures (which already trade on CME), institutional investors would end up holding physical bitcoin in their portfolios upon delivery, which would mean "real" bitcoin adoption by Wall Street.
A little? Very concerned.

— Gene Gene The Dancing Machine (@THgersh) November 27, 2019
Unpopular opinion: cash settled futures have little to no effect on the bitcoin price! There's only 21m coins... If the price goes down based on something outside of this total then it's a fake price and does not reflect the actual value of btc!

— Chris⚡Given (@Piffer55) November 27, 2019
However, Christopher Giancarlo, who served as the U.S. Commodity Futures Trading Commission chairmain before leaving in April, said recently that the Trump administration acted to deflate the Bitcoin bubble of 2017 by allowing the introduction of futures products, "and it worked." (Learn more: Research: Bitcoin Dropped Due to Bitcoin Futures Launch)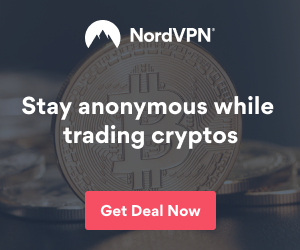 Meanwhile, trader and economist Alex Krüger commented that "Bakkt has Bitcoin bulls excited." The volume is growing from a low base exponentially, "but what makes Bakkt special for bulls is not its volume, but how many bitcoins are physically delivered" – 15 in October, then 17 in November, he said.
He goes on to explain that between monthly and daily futures contracts offered by Bakkt, the daily is one people buy when buying BTC, and this one settles every day with physical delivery in the Bakkt warehouse. But "its volume is ... zero ... everyday," says Krüger.
Zero everyday, with the exception of two days in September, in which 1 bitcoin was delivered each day.

The more regulated volume, the better. Bakkt's growth is very positive. Yet keep present Bakkt is not that different from the CME. It is almost entirely paper trading.

— Alex Krüger (@krugermacro) November 27, 2019
But, in reply, 'doublejump' pointed out that, if delivery only happens on expiration, "it would be a lagging indicator. If volume grows exponentially, delivery would likely follow," with which Krüger agreed, adding that he "wouldn't be surprised if a full 100 bitcoin were delivered in December."
I've been saying this about physical delivery from day one. Nobody cares. Better to clap and get happy about an unimportant statistic because who cares about facts.

— Alex Krüger (@krugermacro) November 28, 2019
At pixel time (11:33 UTC), bitcoin trades at c. USD 7,480 and is up by 7% in the past 24 hours, trimming its weekly loss to 6% and monthly loss to 21%.