Amidst Increasing Prices, Bitcoin Fees Drop, Ethereum Fees Rise
After going through a period of sky-high fees on the Bitcoin (BTC) and Ethereum (ETH) networks, the price of sending the world's number one coin is dropping, while the cost of sending the second coin by market capitalization is rising - all this when the prices are seeing a strong rally.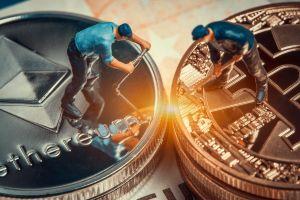 High transaction fees commonly go hand in hand with high prices and a higher number of users on the network, if these users are actually transacting in crypto. Buying and hodling is a different story. That said, we are seeing opposite developments on the two most popular networks in the world.
Bitcoin's fees have been dropping recently, or since early November to be precise. After reaching their highest point since January 2018 of USD 6.78 on November 3, they begun the drop to USD 1.9 recorded yesterday (looking at the 7-day moving average median transaction fee). That's a 72% decrease in three weeks.
This comes at a time when BTC price shot up over USD 19,000, currently (at 8:35 UTC) sitting at USD 19,163. It appreciated 3.6% in a day and 5.5% in a week. Overall, it went up more than 46% in a month.
This means that BTC is nearing its all-time high of around USD 20,000 set back in December 2017. Interestingly, at the time of that major rally, BTC median fees had reached a whopping USD 28.75.
At the same time, as more miners turned their machines on, Bitcoin block time also dropped from 13.5 minutes in early November to 9.3 minutes seen yesterday - below the target of 10 minutes set as the length of time it should take to find a new block on the Bitcoin blockchain.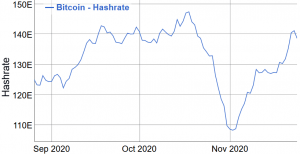 Meanwhile, Bitcoin is not the only network users have been complaining about lately in regards to skyrocketing fees. Ethereum's been having a rough time gas-wise, and unlike Bitcoin, the fees on this network have risen this month again. Starting November with a median fee (7-day moving average) of USD 0.643, that number got 97% higher until November 24, when USD 1.267 was recorded.
This is still lower than the nearly USD 5 reached in September, or USD 8.5 when looking at raw values - Ethereum's personal record.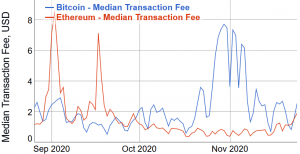 At the time of writing, ETH is trading at USD 596, having dropped 3.4% in a day and appreciated more than 24% in a week, as well as nearly 47% in a month.
Its highest price in this rally so far was USD 621, a level not seen since May 2018. ETH reached its all-time high of around USD 1,430 in January that same year. The fees between January and May 2018 went from USD 2.3 to USD 0.3 - levels significantly lower than during this rally. That said, this summer's decentralized finance (DeFi) explosion should be taken as a major contributing factor.
Ethereum developers and co-founder Vitalik Buterin stated before that the solution to this issue is coming with the approaching ETH 2.0, the first phase of which is set to launch on December 1.
____
Learn more:
Alchemy Reveals its Ethereum Gas Price Notification Tool
Vitalik Buterin Says High Ethereum Fees Might Be Gone Even Before ETH 2.0
---