All Roads Lead to Crypto and the AMC Meme Stock One May Too
After a short break, meme stocks are on the move again, making headlines and (only) some people rich, with two important messages for the Cryptoverse coming out of it: that the Robinhood-type traders could be turning to the new meme stock instead of crypto for now, but also that, ironically, the issues they face there may redirect them right back to crypto.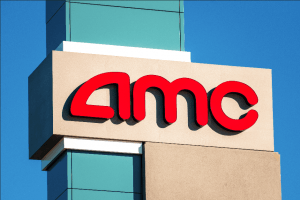 Meme-stocks could be a thing that pops up every so often for the foreseeable future, and in this round, we're talking about the exploding shares of the nearly bankrupted movie theatre chain AMC Entertainment Holdings Inc., pushed by the (by now (in)famous) Reddit army. Its price almost doubled yesterday, hitting USD 62.55, its personal all-time high.
At one point, the stock spiked over USD 72. Its year-to-date change is 2,850%.
AMC price chart: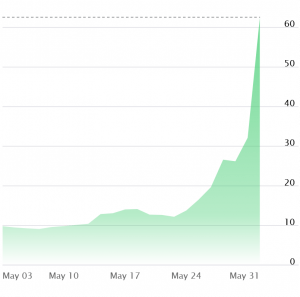 Investors shorting AMC were estimated at the end of May to have lost USD 1.23bn, per CNBC data.
This comes after AMC reported selling 8.5m newly issued shares to hedge fund Mudrick Capital. On Tuesday, they raised USD 230m directly from this company, one of its main creditors, which, according to Bloomberg, "quickly dumped its entire stake for a tidy profit and called the company massively overvalued, [and] the Reddit retail-trading crowd was having none of it."
Reportedly, more than 3.2m individuals owned a stake in AMC as of March 11, accounting for over 80% of its investor base.
AMC took a step towards these new retail investors, offering them exclusive promotions, special screening invitations, and free popcorn, among other perks - a move which seems to be largely praised among the commenters.
Other shorted stocks went up too, such as Bed Bath & Beyond, closing at USD 44.19, up 62%.
What this situation is reminiscent of is the previously much-discussed GameStop saga, which could be seen as the beginning of the meme-stock era - the WallStreetBets (WSB) subreddit pulling the companies from near-death and pumping the price of their shares, angering the Wall Street and hedge funds along the way.
And where is crypto in all of this?
On the one hand, it seems that Robinhood traders and retail investors may be drawn to the AMC type of opportunities once again this year - be it for a quick buck or the 'stick it to the man' narrative, or both. This also means that some money that may have been potentially invested in crypto is going to meme stocks.
But there's the other hand: these meme stocks are also reminding of a difference between traditional and decentralized markets. As Nasdaq and Robinhood had done before with GameStop, the New York Stock Exchange halted AMC stock trading several times, as hundreds of millions of shares were being exchanged on Wednesday.
To the Cryptoverse, this was just another confirmation of crypto and decentralized finance (DeFi) technological superiority. "When they halt meme stonks like AMC, the people just have another reason to come to crypto," said Chris Burniske, co-founder of Placeholder, a venture firm that specializes in cryptoassets.
For some commenters online, buying crypto means investing in technology that will have a continual impact on industries, while meme stocks are gambling.
And there's more. Short sellers may be adapting quickly.
But Mudrick's move may suggest "a change of tack by institutional investors in the market" as the hedge fund "was ready and willing to move in to exploit the bull run started by armies of online retail traders," argued the UK Investor.
An issue with meme shares phenomenon was raised by VICE, stating that its darker side is "rooting for surveillance startup Palantir as it enables ICE deportations and expands its hoard of government contracts." Palantir, co-founded by billionaire PayPal co-founder Peter Thiel, has been "a darling" of WSB for over half a year. And while very few exited in time while the price was being pumped, many have suffered losses on this bet, the article said.
All this said, one could argue that there is a risk appetite currently present, and some have very specific ways of gauging risk hunger.
____
Learn more:
- Are GameStop-Style Surges In Crypto Any Different From Old Pumps & Dumps?
- GameStop: I'm A WallStreetBets 'Degenerate' & It's Just Getting Started
- Crypto Traders Might Find Familiar Playbook In GameStop Hearing
- From Tulips and Scrips to Bitcoin and Meme Stocks – Speculating & Mania
- A Reddit Army Blurs The Line Between Crypto and Traditional Finance
- GameStop and Dogecoin Show How Memes Can Move Markets
---