Non-Fungible Penguins Are Taking Over the NFT Scene
Disclosure: Crypto is a high-risk asset class. This article is provided for informational purposes and does not constitute investment advice. By using this website, you agree to our terms and conditions. We may utilise affiliate links within our content, and receive commission.
They're digital penguins, they're JPEGs, and they're non-fungible tokens (NFTs) – and they're ready to take thousands of your coins or millions of your dollars.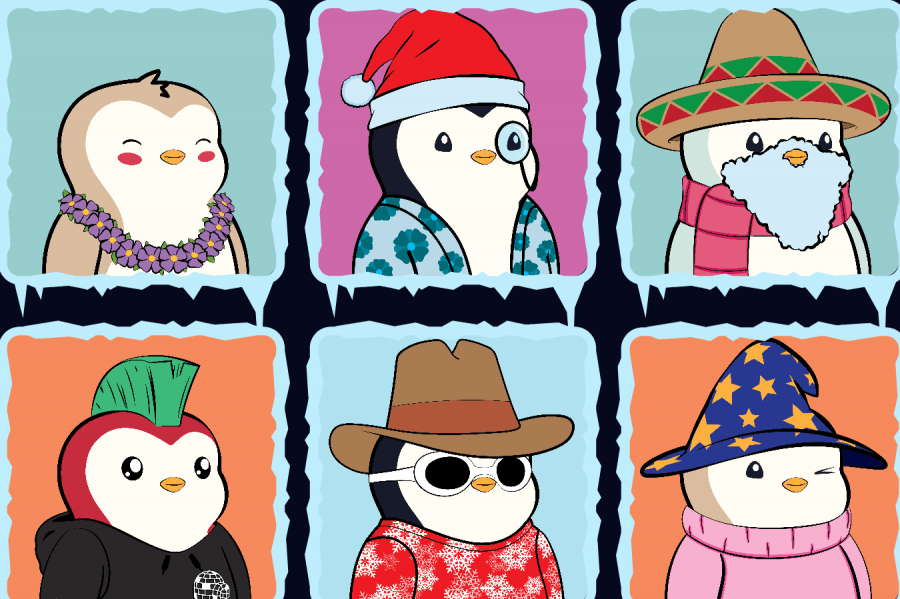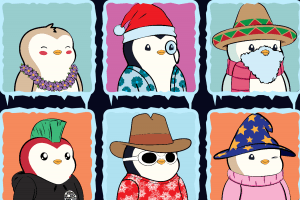 Source: pudgypenguins.io
Pudgy Penguins are Ethereum (ETH)-based NFT collectibles, that attracted the attention of even the mainstream media, such as The New York Times.
Each penguin in the collection of "8,888 cute chubby Pudgy Penguins sliding around on the ETH blockchain" comes with a collection of traits, including shirts, glasses, hats, and different hairstyles, including a must-have mohawk.
In late July, the team behind this project announced that they sold out their collection in just 19 minutes on the OpenSea marketplace.
The highest last sale on this marketplace is Pudgy Penguin 6873, with a price tag of ETH 150 (USD 484,230), now being sold for ETH 1,000 (USD 3.23m). The next in line is 5678, last sold for ETH 100 (USD 322,820), and now having a price tag of ETH 999 (USD 3.2m).
OpenSea further shows 4,300 Pudgy Penguins owners, a 7-day average price of ETH 1.55, as well as the traded volume of ETH 14,568, which is currently USD 47.03m.
However, when looking to buy a Penguin, searching through low to high prices, the cheapest ones will currently cost you ETH 3.2, or some USD 10.270.
Now there is a 48h auction in progress of a collaborative Penguin – the first collaboration the team has done, and it was with artist 'Gossip Goblin'. Everything earned from the sale will be donated to the Global Penguin Society, an international coalition that promotes the protection of penguin populations, said the team.
At the time of writing, the latest bid was WETH 6.9, or some USD 22,142.
Meanwhile, per CryptoSlam, Pudgy Penguins transaction volume in the last 24 hours reached almost USD 12m. There have been 838 buyers today so far and 828 sellers – suggesting a higher demand than there are available Pudgies.
In comparison, the popular CryptoPunks have seen USD 4.3m in today's sales volume, while the exploding Axie Infinity recorded USD 29m in sales volume.
https://www.twitter.com/screentimes/status/1426034663336857603
And these digital penguins seem to be quite appealing to humans, perhaps more so than some other NFTs.
"Penguins are the first-ever JPEGs I want to own for the art, and not for the money or status. Other JPEGs are really ugly. I'm sorry," said Qiao Wang of the DeFi Alliance accelerator.
For Andy Chorlian, the founder of Fractional Art, the penguins are "cute and fun," and while he "get[s] why NFT people don't want to see these do well when it feels like people are pumping it," these types of issues will grow as NFTs do. "In NFTs it's very hard to separate the creator from the creation," he said, "but when people do and like an NFT from a person people do not like what do you do? Do you fork the project? Do you wrap it so they don't earn fees?"
As reported, it may have seemed for a bit there that the NFT craze was slowing down, but behind the scenes, it has been raging.
NFT market reached sales volumes of USD 2.5bn in the first half of 2021, per crypto analytics platform DappRadar.
____
Learn more:
–
Feb 9, 2022 9:05 PM EST · 2 min read
– Why Meta Penguin Island Is Everything But A Cold Destination – One Of The Hottest NFTs this winter
– NFT Sector Far from Dead or Even Resting, Exploding Across the Board
– Buterin to Star in Mila Kunis' NFT Animated Series – with Jane Fonda
– Damien Hirst's NFT Art Project: What We'll Discover When It's Over
– NFTs Are Selling for Millions, But How Do You Tell a Diamond From a Dud?
– Why NFTs Aren't Just for Art and Collectibles
– Consider These Legal Questions Before Spending Millions on NFTs
– NFT Performance Art: Corporations Could Capitalize On Protest
– NFT Explosion Coming over Next 2 Years & Will Create Jobs, Say Insiders
– Why Would Anyone Buy NFT – A Link To A JPEG File?
– Money Laundering Might Taint NFTs Too, Prepare For Tighter Controls
---