Is Bitcoin a Pyramid Scheme?

Everybody would like to make money as quickly and simply as possible. This has brought to life many frauds and scams that take advantage of gullible people. Pyramid schemes are one of them, as are Ponzi schemes and the similar.
Being wary of getting duped, a common question to ask would be: is Bitcoin a pyramid scheme?
Is Bitcoin a pyramid scheme?
To answer that question, you need to know what a pyramid scheme really is: a business model that recruits members by promising them payment or rewards for enrolling others into it.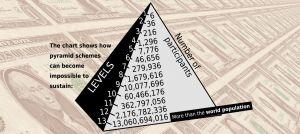 Bitcoin is NOT a pyramid scheme, as there is no reward and guaranteed returns for buying BTC coins. Be wary of the people who claim otherwise. However, there have been many platforms that used Bitcoin in their scams, but that tells nothing about the coin and technology behind it. Criminals are always amongst the first adopters of new technologies, be it cars, shoes, cell phones, guns, or any other useful instrument. Bitcoin is just another technology that they can use in their schemes. After all, the US dollar is not a pyramid scheme, too, although it is often used in most of those.
See our articles on "5 Crypto Scams To Be Aware Of" and "Bitcoin security tips for beginner's" for more information about possible crypto fraud and how to avoid them.
Is Bitcoin a Ponzi scheme?
What about a Ponzi? In short, Bitcoin is the total opposite of a Ponzi scheme. A Ponzi scheme is very similar to a pyramid scheme, except you are not rewarded for enrolling other people, but you do earn a part of whatever they pay.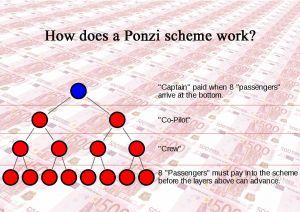 A Ponzi scheme needs a hierarchy or people who are down, to generate returns for people who are up. Bitcoin operates on a decentralized model that has absolutely no hierarchy and where everyone is equal. The Bitcoin protocol is completely open-source, so everyone can take part in its development, or contribute to its infrastructure via BTC mining.
Continue learning about Bitcoin by reading our further guides about "Why do bitcoins have value" and "How is the price of bitcoins set?"
If you're interested in getting bitcoin, check our guides "Should I buy bitcoin" and "How to buy bitcoin" before you do so.