7 Best Non-Custodial Wallets for 2023 - The Complete List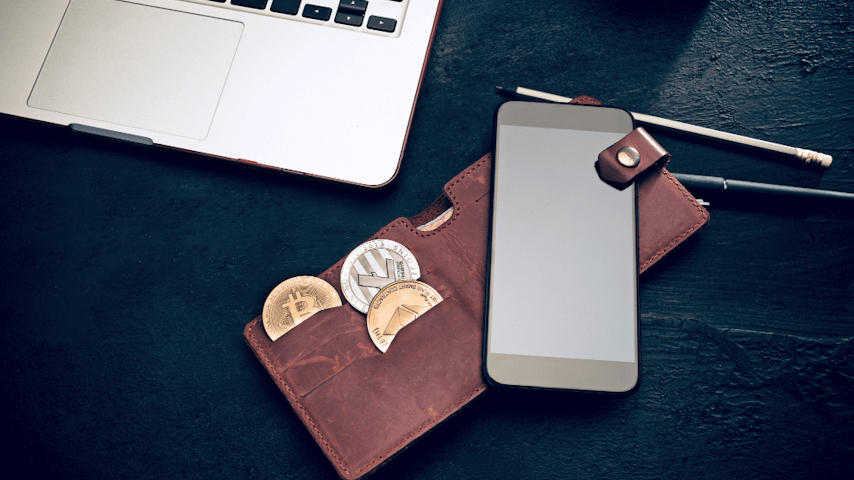 Many crypto holders keep their digital assets in wallets connected to the major exchanges where they buy and sell cryptocurrencies. However, storing them in non-custodial wallets is safer because this is the only way to ensure control of the assets.
With that in mind, we want to provide you with a detailed list of the best non-custodial wallet solutions. Moreover, we'll explain what these wallets are and how they work. We'll also touch upon their benefits, the assets they support, how to choose the right one, and more.
Top Non-Custodial Wallets for 2023 Ranked
Take a quick look at our list of the top 8 non-custodial wallets in 2023:
MetaMask — Our pick for the overall best non-custodial wallet on the market. MetaMask is the go-to option for many crypto fans looking to store or buy various ERC-20 tokens and coins similar to Ethereum. You can use it through a browser extension or on your phone. The wallet's private key is encrypted, stored locally, and secured by a standard 12-word passphrase.
Exodus — One of the most popular choices among both beginner and experienced long-term investors who want to store a wide variety of coins. It's one of the best non-custodial wallets for beginners for its user-friendly design, responsive customer support, and all-in-one functionality. It pairs seamlessly with Trezor hardware wallets for added security.
Coinbase Wallet — A non-custodial wallet backed by the popularity and reputation of the Coinbase exchange. Unlike the wallet you get on the exchange, Coinbase Wallet is entirely decentralized, letting you store your private keys locally. It supports various chains and thousands of coins and tokens you can also find on the company's CEX.
Trust Wallet — A popular choice for storing Bitcoin, as well as over 50 other blockchains and millions of assets. It's part of the Binance family but completely separate from the biggest centralized exchange on the planet. The non-custodial wallet lets you enter the Web3 space and offers a native staking tool.
Ledger Nano S Plus — High-value hardware wallet with top-rated security measures like Secure Element chips and EAL 5+ certification. It lets you store over 5,500 assets and features a companion app to get more access to your crypto assets. You can also easily connect it to a software wallet to store NFTs and get more out of your Ledger.
Trezor Model One — The most affordable hardware wallet coming from a company in the same rank as Ledger. It's the cheapest Trezor wallet and the first hardware crypto wallet ever. It uses robust security measures and requires hands-on verification for transactions. It's one of the few hardware wallets that offer full support for ERC-20 tokens.
Coinomi — A reputable, Seg-Wit enabled, non-custodial wallet supporting over 125 blockchains and over 1,700 crypto assets. The wallet uses high-end encryption and robust options like one-time backup with the BIP44 standard. Moreover, it has a solid track record as it has never been hacked, even though it's been used since 2014. Coinomi also has a built-in DEX and full NFT, dApp, and DeFi support.
What Is a Non-Custodial Crypto Wallet?
A non-custodial wallet is a type of crypto wallet that allows the user to keep control over their private keys. They are also called self-custody wallets because the user is the full custodian of the wallet's crypto holdings.
As many in the crypto world already know, the private keys of a crypto address are the primary way to access and use the address' assets. Consequently, the person or organization controlling these keys is their owner.
Due to the decentralized nature of cryptocurrencies, many fully believe in the "not your keys, not your coins" mantra, which is why they always choose non-custodial wallets, i.e., decentralized wallets.
Contrary to custodial wallets, here, the manufacturer controls the private keys. This is the main difference between custodial and non-custodial wallets, but we'll explain that later in the guide.
For now, it's important to know that when you have a non-custodial wallet, you have full ownership of your crypto assets, but you are also fully responsible for the safety of your private keys. The cryptocurrencies are lost for good if you lose both the keys and the seed phrase.
Reviews of the Best Non-Custodial Crypto Wallets
We looked into several dozen non-custodial wallets on the market but chose only a few that tick all the important boxes. This means they are highly secure, give you complete ownership of private keys, and often provide full access to the dApp and NFT worlds. Let's check each choice and see what makes it a great option.
1. MetaMask — Overall Best Non-Custodial Wallet Offering Staking & Top-Notch Security
MetaMask is one of the best crypto wallets for Ethereum fans, especially for beginners looking to enter the world of crypto, dApps, and NFTs. It's typically the go-to option for most beginners in need of their first wallet, as long as they are not looking to store coins like Bitcoin, Bitcoin Cash, Litecoin, and other cryptos that are not based on Ethereum or its network.
This is because MetaMask is exclusive for Ethereum coins and ERC-20 tokens, which might sound limiting, but this effectively covers more than half a million cryptos and tokens on eight blockchains. The wallet is based on the Ethereum blockchain, which means you can store and trade Ethereum competitors and other notable coins like Polygon, Avalanche, Optimism, Arbitrum, and others.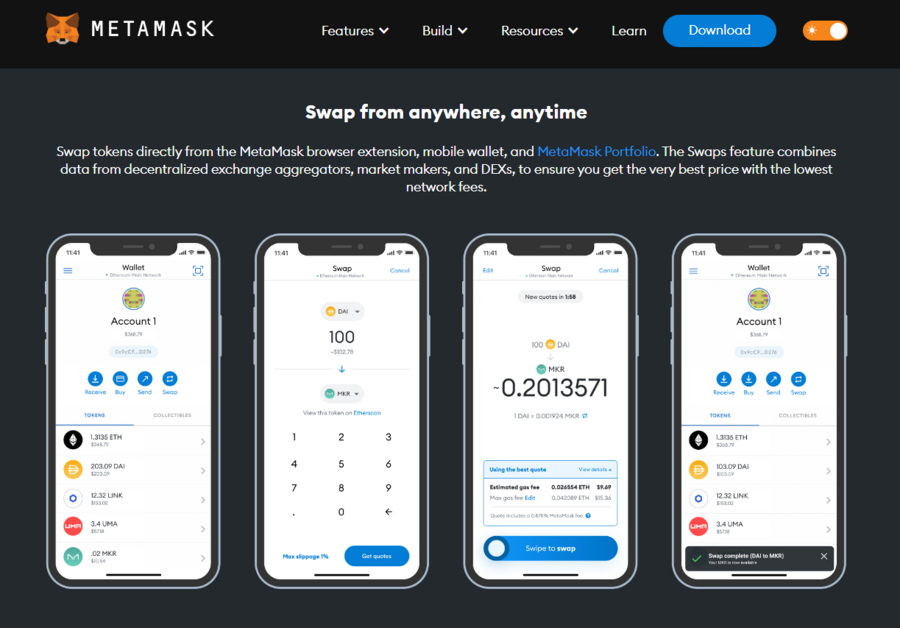 More than 30 million people use the wallet, and it lets you store, trade, swap, and bridge various cryptos within a user-friendly platform that works as a mobile app or browser extension. Most of these options are available through MetaMask's official dApp, MetaMask Portfolio, where you can use various payment options.
With its Ethereum focus, the wallet is a perfect gateway into the decentralized app sphere, which includes DeFi apps and NFTs. Due to this, it's often counted among the best decentralized wallets on the market.
Security is high for a web-based and mobile wallet. The private keys are yours, and MetaMask doesn't store personal information or ask for it when registering. A password secures your wallet, and there's also a backup passphrase.
Pros:
Ideal for Ethereum-based coins and ERC-20 tokens
Perfect for beginners
A great entryway into dApps and NFTs
More than 30 million users
No maintenance fees
Connects to popular dApps like Uniswap and OpenSea
Cons:
Only for Ethereum-based coins and ERC-20 tokens
Occasionally slow transactions
| | |
| --- | --- |
| Wallet type | Hot wallet |
| Number of supported cryptos | 500,000+ |
| Fee for using the wallet | None |
| Mobile app | Yes |
| Staking | Yes |
| Staking/interest rate | Varies |
2. Exodus — Popular Wallet for Long-Term Storage of Thousands of Cryptos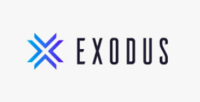 Exodus is a highly popular non-custodial wallet used by beginners and experienced traders. It's very secure for a hot wallet, and those looking for more security can pair it with a Trezor cold wallet, as the two companies have a partnership.
The user-friendly wallet works on many devices, offering desktop software, a mobile app, and even a browser extension. You can use all of them simultaneously as they connect to the same wallet that can store more than 300 cryptocurrencies, including the most popular coins like Ethereum, Bitcoin, Solana, and Binance Coin.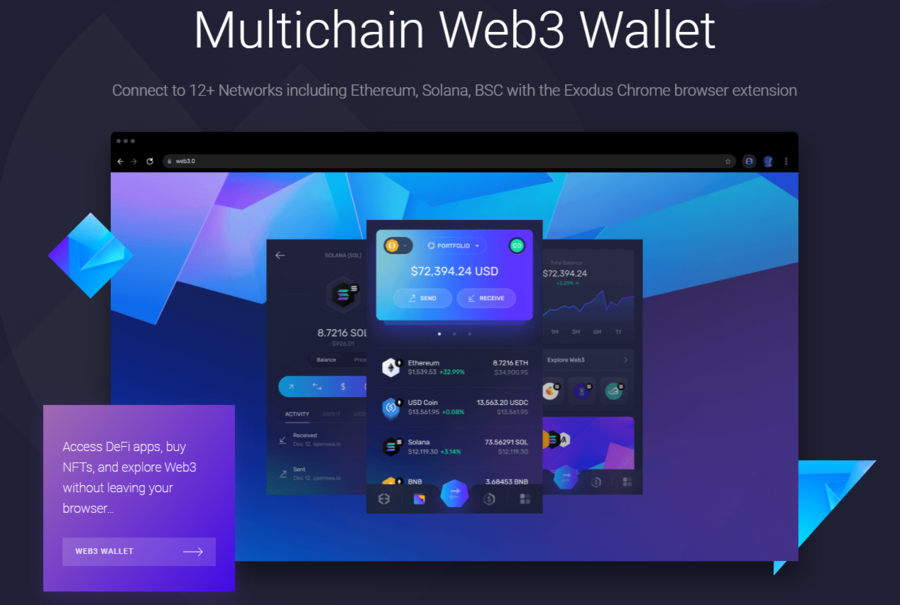 If you're looking to get into NFTs and everything else in the Web3 sphere, Exodus can be your gateway as it supports major dApps like Raydium and Uniswap, making it one of the best non-custodial wallets for fans of decentralized apps. Moreover, the app lets you store coins and facilitates trading and swapping.
Exodus shows real-time prices for each of your assets, so you can easily follow how your holdings are fairing on the market, but it also adds more insights and stats traders will find helpful, like the best- and worst-performing assets.
Pros:
Ideal for beginners
Works on mobile, desktop, and browser
High user reviews
Zero fees for buying crypto
Various staking options
Support for 300+ major cryptos
Cons:
Security is somewhat basic
Not open-source
Doesn't feature 2FA support
| | |
| --- | --- |
| Wallet type | Hot wallet (can pair with Trezor for cold storage) |
| Number of supported cryptos | 300+ |
| Fee for using the wallet | None |
| Mobile app | Yes |
| Staking | Yes |
| Staking/interest rate | Average APY is 7% on SOL, 3.5% on ADA, 5.66% on XTZ |
3. Coinbase Wallet — Fully Decentralized Wallet Backed by Coinbase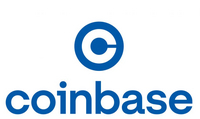 Coinbase Wallet is a highly secure non-custodial wallet, part of the famous Coinbase brand that owns one of the biggest exchanges in the world. The first thing you need to understand about this wallet is that it's entirely separate from the exchange — people with accounts on Coinbase have a different, integrated custodial wallet that shouldn't be confused with this one. That way, you don't have to worry about Coinbase being under the SEC's radar.
Being non-custodial, Coinbase Wallet allows you to store your private keys, and the company ensures it doesn't collect or store any personal details from the users.
Moreover, the wallet uses 2FA for extra security, and you have to verify a login when using a new device or a different IP address. To round up the robust security measures the company employs, most (98%) of your assets are kept in cold storage.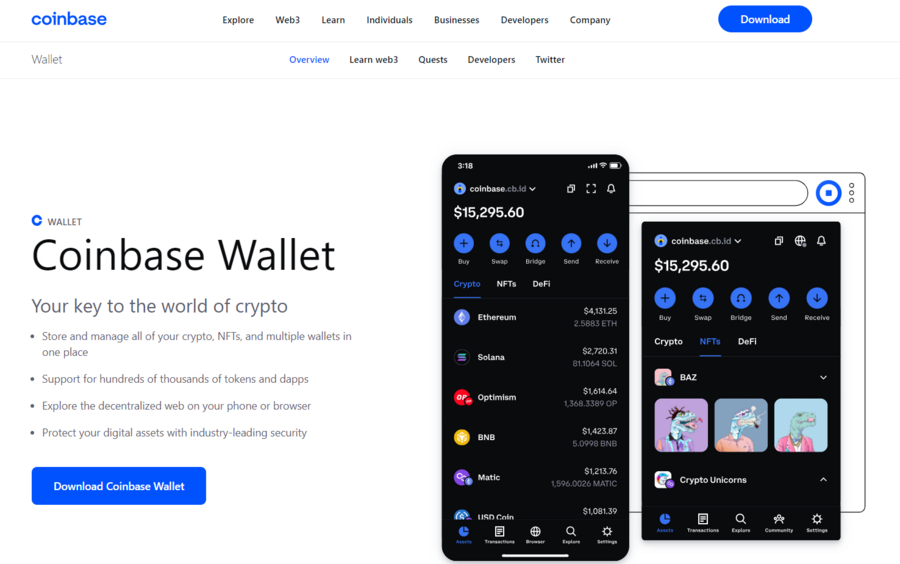 Unfortunately, this comes at a cost, primarily in the form of higher-than-average transaction fees (1.49%) and withdrawal fees. Moreover, credit and debit card deposits come with a steep 3.99% fee.
The wallet offers all features every crypto wallet should have, including capabilities for trading, swapping, and staking coins. You can also store NFTs and connect decentralized apps.
Pros:
Can sync with the Coinbase CEX
Preconfigured blockchains
Minimalist and user-friendly interface
Buying coins with fiat within the wallet
Backed by Coinbase
Cons:
Higher than usual fees
No internal DEX
| | |
| --- | --- |
| Wallet type | Hot wallet |
| Number of supported cryptos | 450,000+ |
| Fee for using the wallet | None |
| Mobile app | Yes |
| Staking | Yes (only through dApps) |
| Staking/interest rate | Varies |
4. Trust Wallet — Popular Non-Custodial Bitcoin Wallet from Binance
Trust Wallet is a highly popular non-custodial wallet made by Binance. It's considered the best non-custodial crypto wallet by over 60 million users. The platform offers a decentralized crypto wallet experience with support for dApps, DeFi apps, NFTs, other wallets, and crypto staking.
It's one of the leading Ethereum wallets, but it lets you store hundreds of cryptocurrencies and over 4.5 million tokens.
Even though Binance makes it, the wallet is fully non-custodial and not connected to Binance in any way. If you want to trade in the wallet, it connects to Binance DEX, so you don't have to worry about any data or private keys being shared with Binance. This also means that users of Trust Wallet don't have to worry about the SEC's lawsuit against Binance and its CEO.
Following in Binance's footsteps with its Binance Coin, Trust Wallet also has its token, TWT, which has been very successful in its roughly three years of existence, as seen from the price history on CoinMarketCap.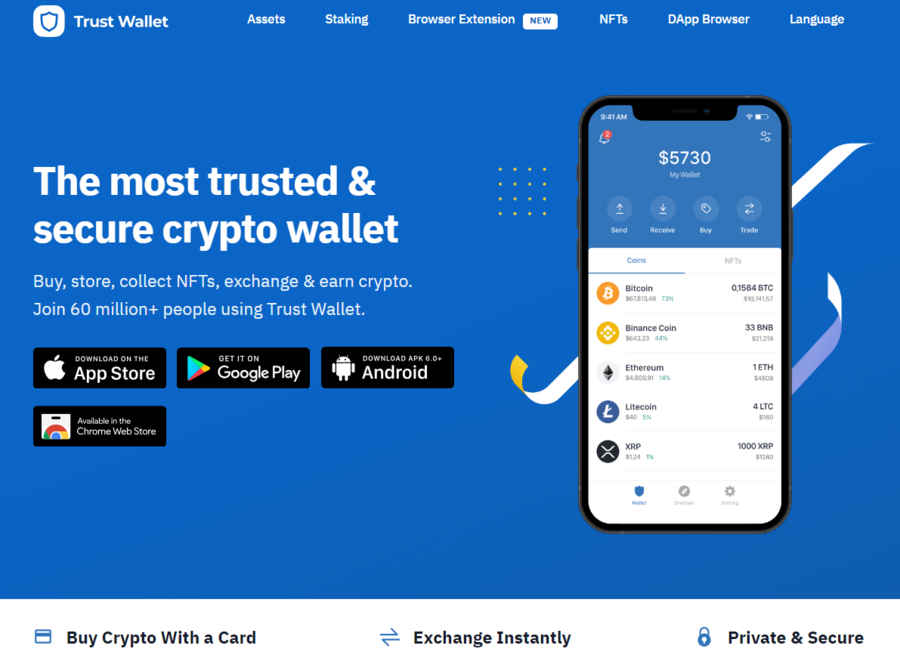 A full Web3 browser is embedded into the wallet, and it will help you find and interact with various decentralized apps.
Trust Wallet has a robust staking capability that allows you to earn interest from 12 cryptocurrencies, including Binance Coin, Tron, Cosmos, Tezor, Osmosis, and Algorand. There's a staking calculator that will help you determine your daily, monthly, and yearly earnings from a specific coin and amount.
After reading this bitesize review if you're still not convinced by this crypto wallet, you might consider reading our guide on the best Trust Wallet alternatives for 2023.
Pros:
Backed by Binance
Over 60 million users
Near-perfect ratings for iOS and Android apps
Stores millions of crypto assets
12 staking options
Build in DEX
Cons:
No live chat support
NFTs only from Ethereum and BNB chains
Only BNB chain cryptos on built-in DEX
| | |
| --- | --- |
| Wallet type | Hot wallet |
| Number of supported cryptos | 4.5 million |
| Fee for using the wallet | None |
| Mobile app | Yes |
| Staking | Yes |
| Staking/interest rate | Varies, up to 11% APY |
5. Ledger Nano S Plus — High-Value Hardware Wallet With Top-Notch Security

Ledger is one of the most reputable companies in the hardware wallet space, offering three unique non-custodial wallets, with the Nano S Plus being the base one. It's a perfect entry into the hardware wallet world, as it's much cheaper than the other two while offering all the robust security features Ledger is known for.
It features the company's unique secure element chip with an EAL5+ certificate, a 24-word recovery phrase, and standard PIN protection.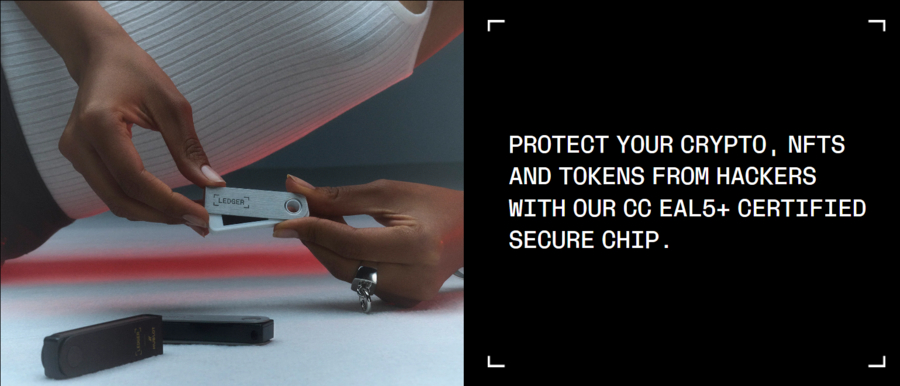 The Nano S Plus is more compact than the other two Ledger wallets, but it also has a smaller OLED screen and is less user-friendly.
However, this is easily solved with Ledger's companion app — Ledger Live. You'll have to use the app anyway if you want to easily trade and swap your crypto assets. You'll also get to store various Ethereum and Polygon-based NFTs in the app and connect it with other wallets to expand the number of supported coins from 500+ to 5,000+
Ledger is also often considered the best non-custodial wallet on Reddit, primarily for the robust, secure element chip all Ledger hardware wallets share.
Pros:
EAL5+ certified secure chip
Assets kept safe in cold storage
12 coins for staking in the app
Stores more than 5,000 coins and tokens
Pairs easily with over 50 third-party wallets
Cons:
Unsuitable for daily use
Syncing with third-party apps is complex
| | |
| --- | --- |
| Wallet type | Hardware wallet |
| Number of supported cryptos | 5,000+ |
| Fee for using the wallet | None |
| Mobile app | Yes |
| Staking | Yes (within the app) |
| Staking/interest rate | Varies, not promised by Ledger |
6. Trezor Model One — Oldest and Most Affordable Hardware Wallet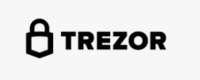 Trezor is one of the two biggest hardware wallet manufacturers on the market, the other being Ledger.
As with Ledger, we picked the base model from the company. This default model is much cheaper and features most of what you need, especially regarding security. Naturally, if you want to spend more, consider the pricier Model T.
However, Model One is the company's first and best value model with CE and RoHS certifications that ensure high quality and reliability. It uses other security features like a passphrase and hands-on transaction verification.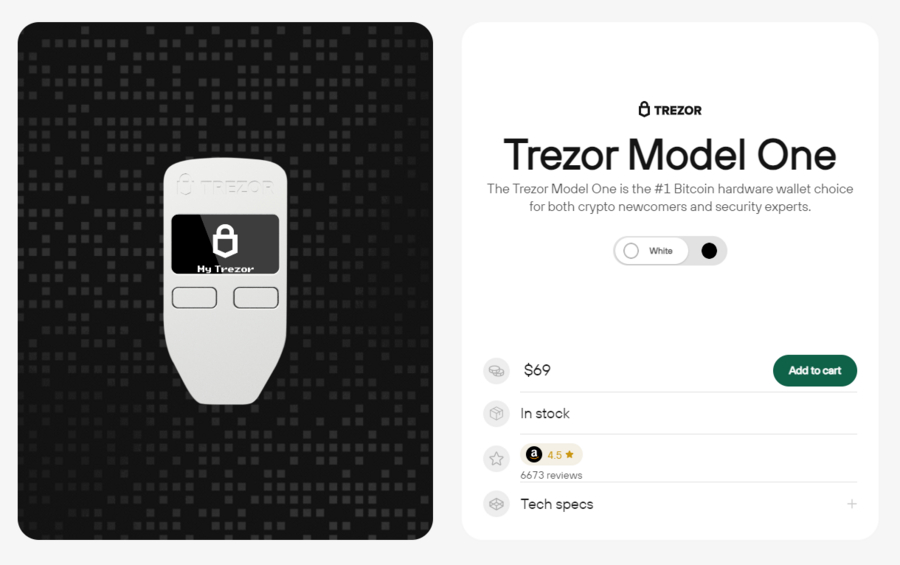 The wallet has a companion app for easy trading and staking of coins like Cardano. On its own, the wallet stores more than 1,200 coins and tokens, including Bitcoin, Ethereum, and various ERC-20 tokens.
Pros:
Easy-to-use Trezor Suite native app
Assets are secure in cold storage
Cheaper than most hardware models on the market
Compatible with other devices through USB
Ideal for long-term investors
Cons:
Unsuitable for daily use
Low number of supported blockchains
| | |
| --- | --- |
| Wallet type | Hardware wallet |
| Number of supported cryptos | 1,200+ |
| Fee for using the wallet | None |
| Mobile app | Yes |
| Staking | Yes |
| Staking/interest rate | Average 5% APY |
7. Coinomi — Trusted Wallet With Seg-Wit Support and Secure One-Time Backups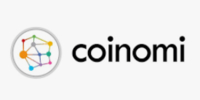 Coinomi has earned a spot on our best non-custodial wallet list because it supports over 125 blockchains and has Seg-Wit support.
However, Coinomi has much more to offer, especially regarding security and privacy. The private keys never leave your device, and the company's servers anonymize transaction requests by hiding users' IPs.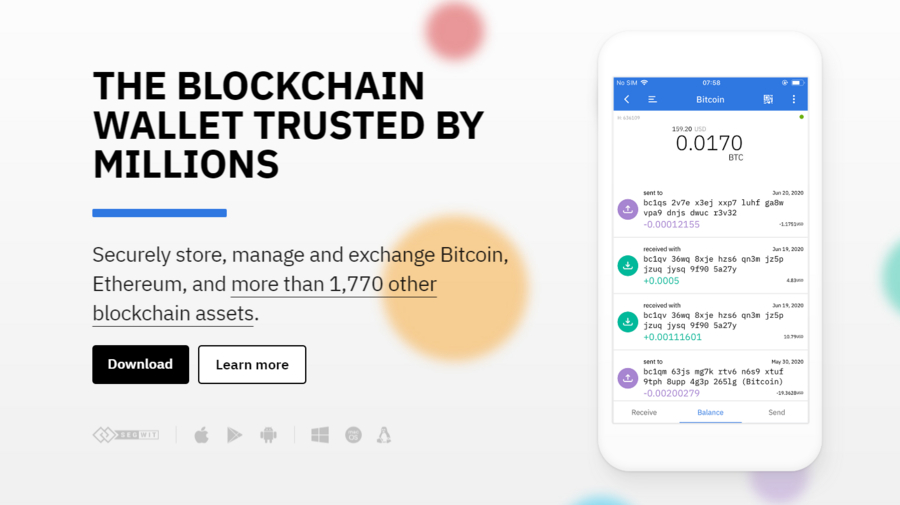 Coinomi has an excellent track record, claiming that its wallet hasn't been hacked since 2014, the year of its release. However, it has particular vulnerabilities that might change that, like in the case of the prominent address spellcheck vulnerability.
If you encounter problems, you can always contact customer support, as Coinomi promises 24/7/365 live assistance.
The wallet has a built-in exchange, custom and dynamic miners' fees, cold staking, and dApp support. In other words, it offers a robust decentralized wallet experience.
Pros:
Over 125 supported blockchains
Various security options
24/7/365 live support
No transactions fees
Trusted wallet since 2014
Cons:
Up to 5% fee on credit/debit card transactions
Incompatible with hardware wallets
Lacks two-factor authentication
| | |
| --- | --- |
| Wallet type | Hot wallet |
| Number of supported cryptos | 1,700+ |
| Fee for using the wallet | None |
| Mobile app | Yes |
| Staking | Yes |
| Staking/interest rate | Varies |
Why Should I Use a Non-Custodial Wallet?
Security is the main reason for using some of the best non-custodial wallet solutions. Non-custodial wallets are inherently safer than custodial wallets as the private keys remain yours, while the security features are largely the same. The same goes for personal data.
No third party can access your crypto assets, especially not the wallet's manufacturer. They can never freeze assets or reject transactions.
You're entirely free to do with your coins what you please, whereas, with custodial wallets, you are always at the mercy of the custodial.
Transactions are swift as there is no central authority to process and approve or reject transactions.
Private Keys Are in the Hands of the Crypto Holder
The main thing about non-custodial or self-custodial wallets is that private keys remain in the hands of the crypto holder, which also explains their name. Consequently, the wallet's manufacturer cannot control the user's assets.
This means that your holdings will stay separate from centralized exchanges, which is becoming increasingly important in today's climate. After the downfall of FTX and Terra, keeping your digital assets stored within a custodial wallet connected to an exchange is no longer a good option.
Non-custodial wallets further protect you from data breaches and other problems with private information. They don't ask for your personal data or payment information, so there's nothing to steal in case of a breach, which is in itself highly unlikely if you keep your wallet safe.
Third Parties Have No Control Over Your Holdings or What You're Doing With Them
Manufacturers rarely, if ever, misuse their hold over their wallets' users' assets, but they definitely have a grip as they control the user's private keys.
In essence, a company can always stop you from using a wallet in a way that's against its rules or beliefs, and as in the case of FTX, you can't be sure that your holdings are actually within your wallet.
With non-custodial wallets, you can use your assets however you please, even for transactions the manufacturer disapproves of.
Transactions Are Fast as There Are No Processing Times
Non-custodial wallets don't have a central authority to approve or process transactions like withdrawal requests. You only need to wait on the crypto network to process and approve the transaction, but besides that, there is no waiting time.
This typically leads to faster transactions, which is especially beneficial on days when the company behind the wallet has a lot of traffic it needs to look into and approve.
Private Data Stays Private
If you create an account on MetaMask or a similar wallet, you'll notice that it doesn't ask for any personal information, not even emails or phone numbers.
That means your private data stays private and in your hands.
Access to the World of Web3 and dApps
You don't need the very best non-custodial wallet in 2023 to gain access to various decentralized apps and Web3 projects. Almost every non-custodial wallet is decentralized and can connect to multiple dApps, including major DEXs like Uniswap and NFT marketplaces like OpenSea.
Non-custodial wallets often feature built-in Web3 browsers, so you can search for decentralized apps, Web3 platforms, and everything else you might want to connect to your wallet. You can even connect other wallets to yours.
Most Fees Are Lower
Custodial wallets typically charge various fees as they need the funds for maintenance, management, security, and more. However, non-custodial wallet manufacturers have less on their plates, so they can afford to charge lower fees.
Maintenance or subscription fees are rarely present, while transaction costs are much lower than usual. Some self-custodial wallets have deposit and withdrawal fees, but this is mostly the case with popular brands offering crypto exchanges, like Coinbase and Binance, with its Trust Wallet.
How We Picked Every Best Non-Custodial Wallet on Our List
Let's review the main features and aspects we looked into when reviewing every non-custodial wallet we considered for this list.
Supported Cryptocurrencies
The number of supported cryptos should be as high as possible, but the diversity of assets needs to be on a good level as well. That's because some wallets' numbers consist mainly of tokens, while the leading cryptocurrencies are missing.
Security
Non-custodial wallets are inherently safer than others, but it's still important to analyze the types of security measures they employ and the features they use. Also, each wallet must offer security measures for users, like transaction verification, backup passphrases, and 2FA.
Reputation
Reputation is key, so we analyze what users say about each wallet, and we only recommend those with great reviews on app stores and similar platforms.
dApp Support and DeFi Features
The best non-custodial wallets typically have comprehensive support for decentralized apps and decentralized finance services. For instance, MetaMask supports several hundred dApps, including notable ones like UniSwap and OpenSea.
How Non-Custodial Wallets Work
The central aspect of non-custodial wallets lies in the fact that they release care of private keys to the user, so you're the sole owner of your crypto assets. To understand what this means, you need to learn what private and public keys are and what they mean for your crypto address.
First, the wallet itself does not hold your crypto holdings. It only communicates with the blockchain where the assets are actually stored. The crypto assets are found in a specific address, and every crypto address has a pair of keys — public and private.
Public keys are like bank account numbers, and they are used to designate the location of the address for sending cryptocurrencies. These keys are thus publicly available. Private keys are like passwords to these digital bank accounts, used to prove ownership of the assets within the address.
In other words, the person who holds public and private keys to an address effectively owns it. That's why many consider custodial wallets unsafe, as both the user and the company behind the wallet have the key pair.
On the other hand, with a non-custodial wallet, the user is the sole owner of the key pair, and they are consequently the only person in charge of the address' assets.
Main Differences Between Custodial and Non-Custodial Wallets
In many ways, custodial and non-custodial crypto wallets are opposed to each other. Let's review all the major differences so you can decide which type of wallet suits your needs.
Private Key Ownership
The primary difference between the two comes down to who is responsible for keeping the wallet's private keys secure. Custodial wallets primarily store private keys on the servers belonging to the wallet's manufacturer, typically for safe-keeping purposes and to not burden the crypto holders with the security of their keys.
In the case of non-custodial wallets, the holder is the custodial of the keys. This means that they are in complete control of their assets, but it also means they need to worry about their safety.
Security and Vulnerabilities
Security features are often very similar between these two types of wallets, but both are vulnerable in very different ways.
Custodial wallets are more susceptible to hackers, as cybercriminals are more likely to target the companies behind them. A breach can easily affect many users, which is rarely the case with non-custodial wallets.
This is primarily the case as companies behind custodial wallets keep private keys and other crucial data in their servers. In contrast, non-custodial wallet manufacturers don't store private keys and barely ask for any information from their users, let alone store it.
User Experience
Custodial wallets are considered to be more user-friendly. Still, many non-custodial wallets also deliver excellent user experience, especially those from more prominent brands, so this is not a rule.
However, non-custodial wallets often have advanced features that are rarely present in custodial wallets, and these can be quite complicated for beginners. For instance, there's a significant learning curve with various dApps.
On the other hand, if you're looking for the best non-custodial Bitcoin wallet, it likely won't have any of these complex features.
KYC and AML Verification
Custodial wallets rely on KYC and AML procedures to enable customers to register accounts. Users must provide personal details and documents to verify their identities and payment methods.
None of this is true for non-custodial wallets, as these require almost no information and let users create wallets immediately. Some don't even need registration — you get to make a wallet, and that's all.
12 or 24-Word Seed Recovery Phrase
The seed phrase in non-custodial wallets is necessary as it's the last resort for gaining access to the wallet if the private keys are lost. You are thus required to write it down and keep it safe.
The seed phrase is not used with custodial wallets as the manufacturer stores the private keys. If you lose them, you'll still be able to get them back from the company, eliminating the need for the seed phrase.
Recovery Methods
Your funds are completely lost if you lose your keys and seed phrase. It's a fact many crypto holders are familiar with, but they also know that this is typically only the case with non-custodial wallets.
Moreover, they have fewer recovery methods than custodial wallets, where the company always has enough information to help you recover your address and its holdings when you lose your password, key, or some other vital piece of data.
Which Cryptocurrencies Can the Best Non-Custodial Wallets Store?
Non-custodial wallets typically support hundreds of cryptocurrencies and thousands of tokens. The exact ones on the list depend on the wallet and which blockchains it supports.
Many focus on Ethereum coins and tokens, like MetaMask, while others focus on the leading coins on the market but don't have broad support for tokens.
Coinomi is likely the best wallet on this list in this regard, as it supports more than 125 blockchains.
Naturally, you shouldn't go for the one with the biggest number but the wallet that supports most or all of the coins and tokens you're interested in storing or staking.
For example, if you're looking for Ethereum and ERC-20 tokens, MetaMask is the best option. However, it won't be good if you're looking to store Bitcoin, Litecoin, or other similar coins. You should go for options like Trust Wallet and Coinbase Wallet.
Carefully consider what you need from your wallet and choose accordingly. If you don't choose the right one, you'll need to create other wallets later, which can cause logistical problems.
How Many Cryptocurrencies Can a Non-Custodial Wallet Store?
No non-custodial wallet, or any other crypto wallet for that matter, has a limit to the number of coins it can store. If it supports the coin or token you're looking for, you can store an unlimited number of that asset.
That's because wallets are only gateways to blockchain addresses, which don't have a limit either. You're effectively only limited to the number you can purchase and the max supply of that specific asset.
For instance, if you could somehow own all BTC that has ever been mined, which is 19+ million coins, you could store them all in a single address and access them through one wallet.
Bottom Line
Non-custodial wallets are preferred for users who are concerned about the safety of their private keys and those not willing to let the wallet manufacturer keep control over their assets.
If that's you, the only thing left for you to do is pick the best non-custodial wallet by carefully considering your requirements and what you need the wallet for. Browse through our list, read the reviews and the rest of the guide, and you should have all the information you need to make the right choice.
References
FAQs
Which non-custodial wallet is the most secure?
The most secure non-custodial wallet is almost any reputable hardware wallet with a proven track record and top-notch security measures. This includes all wallets made by Ledger and Trezor. Naturally, the best non-custodial wallets feature robust security measures that are typically more than enough for many crypto fans. Still, if they are software-based, they are inherently less secure than hardware wallets.
Which cryptocurrency wallets are considered non-custodial?
All wallets that give you complete control over your private keys are effectively non-custodial. In other words, the user is the full owner of their crypto assets, while the wallet's manufacturer has no way of accessing or misusing those holdings.
Is MetaMask a non-custodial crypto wallet?
Yes, it is. Moreover, it's our choice for the overall best non-custodial wallet. It's incredibly popular, gives you complete control over your keys, is easy to set up and use, supports Ethereum and all ERC-20 tokens and Ethereum-based cryptos, and represents the ideal gateway to the world of decentralized apps and NFTs.
Is Coinbase Wallet actually a non-custodial solution?
Yes, it is. The confusion stems from the fact that Coinbase is a CEX, and as such, it comes with a custodial wallet where you keep your assets once you create an account on the exchange and buy your first crypto. However, Coinbase Wallet is its own separate thing. It's fully detached from Coinbase CEX, decentralized, and lets you keep full control over your private keys, making it a non-custodial wallet.