Best Crypto Hardware Wallets in 2023
Letting an exchange or trading platform hold your crypto brings risk. Millions of compromised website logins are for sale on the dark web at any given time. And exchanges themselves are targets for hackers — because, well, that's where the money is. The solution for many crypto investors is to store their cryptocurrency in a crypto wallet they control. The best crypto hardware wallets offer offline storage of your wallet's private keys, keeping your crypto safer from online threats.
In this guide, we review the top hardware wallets and detail the features of each, as well as the pros, cons, and supported cryptocurrencies.
Which is the best cryptocurrency hardware wallet for you? Let's find out.
The Top 10 Hardware Wallets Ranked

We compared the best crypto hardware wallets to assemble a list of our top 10 picks. The good news is that there's a hardware wallet for nearly any use case and an affordable yet secure solution for nearly any budget.
Ledger Nano X – Bluetooth-enabled hardware wallet with open-source software.
Trezor Model T – Touchscreen Bitcoin hardware wallet with support for multiple blockchains
Ledger Nano S Plus – Budget-friendly hardware wallet with a Secure Element chip.
Trezor Model One – Low-cost open-source hardware wallet with a proven history
Tangem – Slim, credit-card-sized hardware wallet with NFC support for mobile devices
Ellipal Titan – Air-gapped crypto hardware wallet with a large touchscreen
NGRAVE ZERO – Air-gapped crypto hardware wallet with military-grade construction
Safepal S1 Pro – Budget-friendly air-gapped hardware wallet with a Secure Element chip
KeepKey – Affordable hardware wallet with support for 7,000 cryptos and ShapeShift integration
SecuX W20: Cross-platform crypto wallet with support for Bluetooth
The Best Crypto Hardware Wallets Reviews

Here's how our top picks for best hardware wallets compare.
1. Ledger Nano X – Bluetooth-Enabled Hardware Wallet With Open-Source Software
Building on the success of the Ledger Nano S and S Plus, the Ledger Nano X updates the iconic design of Ledger wallets and brings Bluetooth connectivity for crypto management without wires. Connect to your phone, tablet, laptop, or desktop to do your crypto thing at home or on the go. Bluetooth connectivity for desktops is in the works and should become available with a future firmware update.
Ledger was the first hardware wallet maker to include a Secure Element chip in its devices. Designed to protect against known attacks and make the device tamper-resistant, this chip safely stores sensitive data. Ledger hardware wallets use the Secure Element to generate and store the private keys that control the assets in your wallet.
About the size and shape of a USB thumb drive, the Ledger Nano X is easy to carry. And with battery power and Bluetooth, it's designed to go anywhere your crypto journey takes you. The wallet pairs with the Ledger Live mobile or desktop application. Send and receive crypto to your hardware wallet using the Ledger Live App.
Where the Ledger Nano X and most other mobile-friendly wallets disappoint is in their ability to connect to third-party wallet apps. If you want to connect to MetaMask's mobile app, for example, there's currently no way to do so. The companies are working together to build support for Ledger Bluetooth-enabled devices paired with MetaMask. In the interim, Ledger Live provides access to an assortment of built-in dApps, and MetaMask offers Ledger wallet support for its desktop browser extension.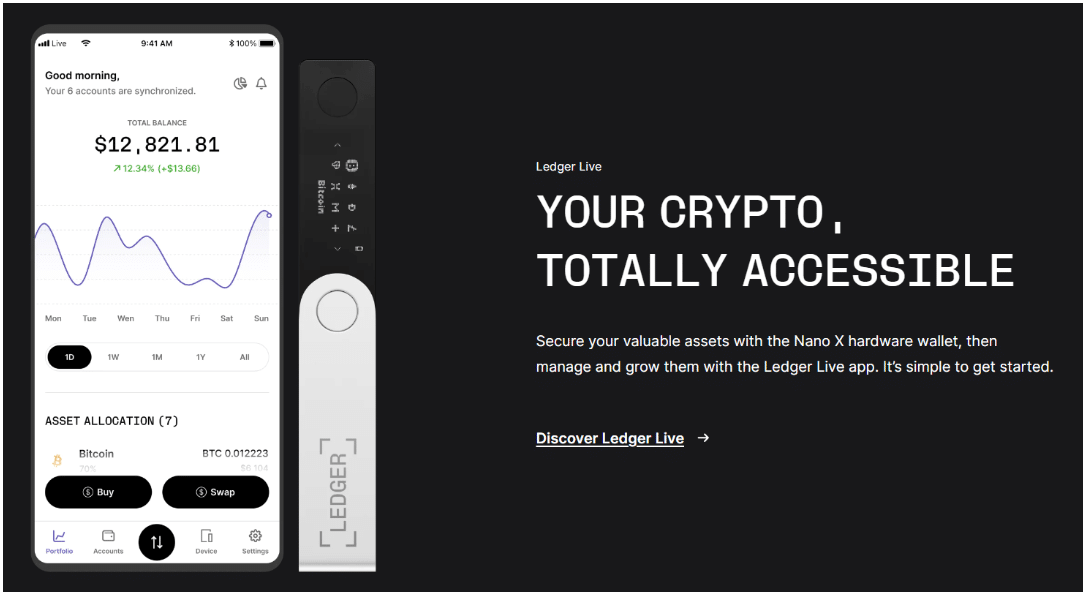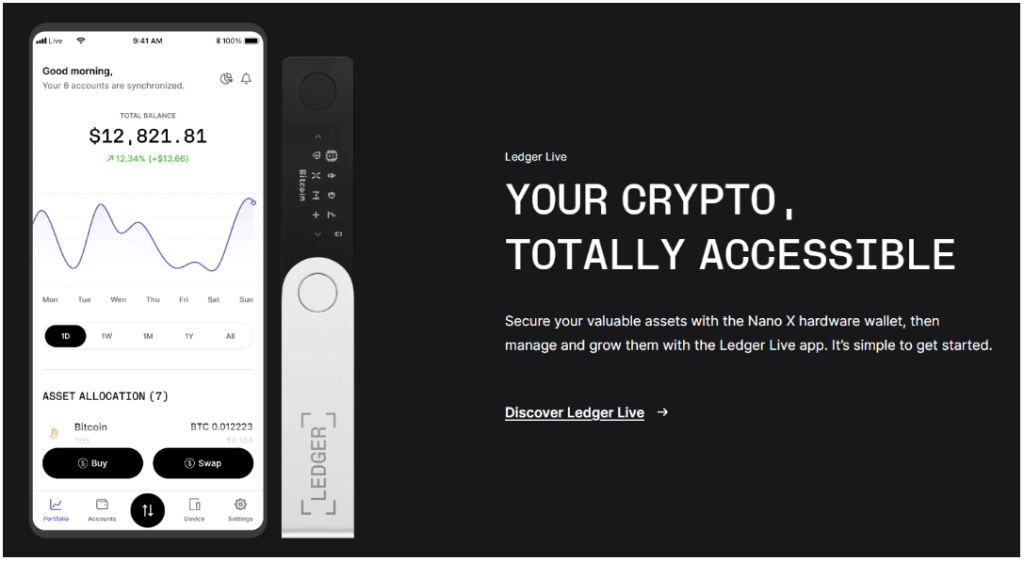 Upmarket from the Ledger Nano X is the still-in-production Ledger Stax, which raises the bar higher with its innovative E-Ink touchscreen, Bluetooth, and roomy user interface. At press time, the Stax is available for preorder.
Ledger's Nano X remains the flagship model for now and a top choice for the company's over 5 million customers.
Ledger Nano X Pros and Cons
Pros
Portable design
Bluetooth support
USB-C support
Time-tested durability
Multi-chain support
Cons
Limited connectivity to third-party mobile apps
No desktop app support for Bluetooth
Ledger Nano X Overview
Price
$149
Number of supported coins
5,500+
Top features

Wide OS support (Windows, macOS, Linux, iOS, Android)
Mobile connectivity
Secure Element storage
Battery-powered portability

Companion online wallet
Yes
Our rating
4.8
2. Trezor Model T – Touchscreen Bitcoin Hardware Wallet With Support for Multiple Blockchains
In 2014,
Trezor
made the world's first hardware crypto wallet. Since that innovation, dozens of competing wallets have emerged. Yet, Trezor remains one of the most trusted wallets available today. Much of that trust centers around transparency. Trezor makes the entire device code open-source. Anyone can read the source code for both the firmware that powers the device itself as well as the software suite used to set up the device and explore the ecosystem.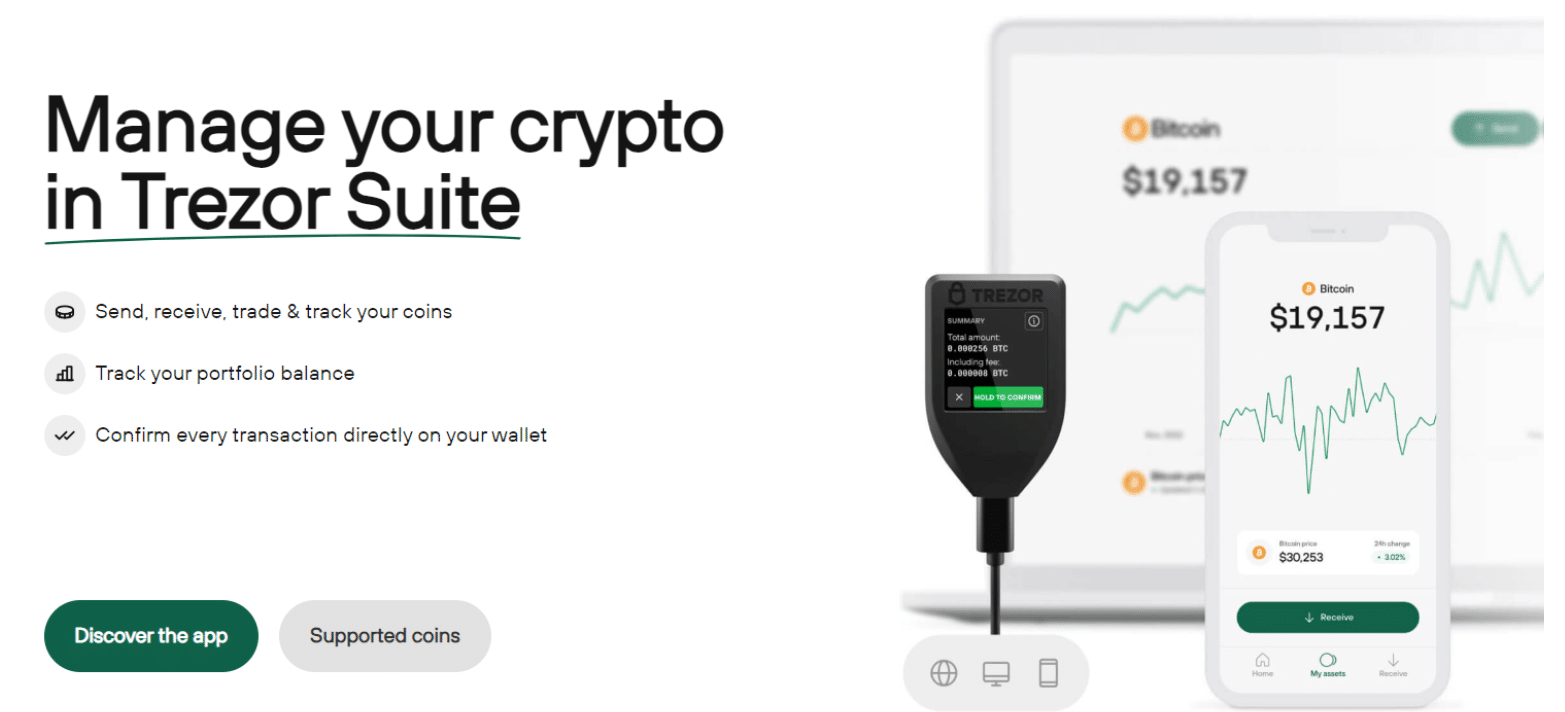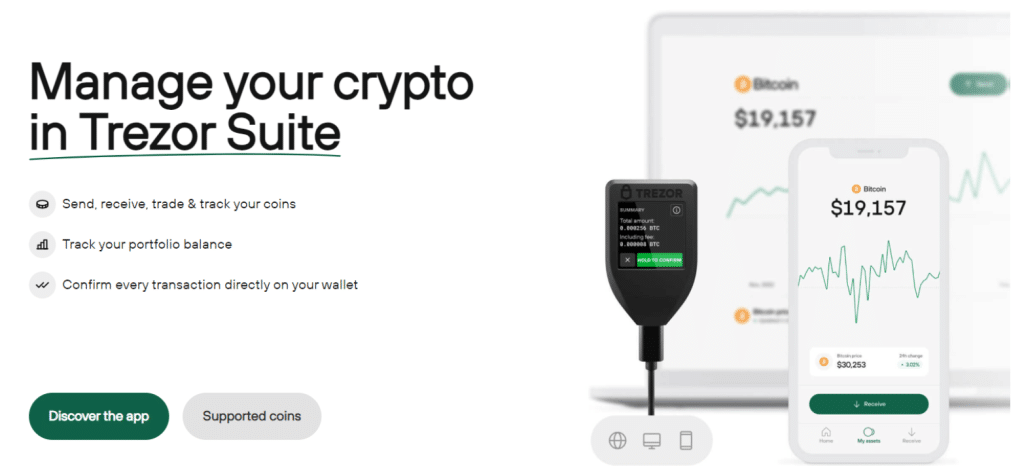 The Trezor Model T is the company's flagship product, boasting a 240×240 touchscreen display combined with a slim, portable design. The device measures just under 2.5 inches tall and slightly over 1 inch wide. While the Model T and its slightly smaller Model One, which we'll cover in just a bit, are easy to travel with, they aren't designed to connect with mobile devices. This Trezor hardware wallet connects to a laptop or desktop.
With support for 1470+ tokens and coins, the Trezor Model T won't recognize as many tokens natively as Ledger devices. However, you can still store ERC-20 tokens that aren't specifically listed as supported. With new tokens launching daily, this issue is common to most wallets. As a workaround, you can view your Ethereum and Layer 2 portfolio using a frequently updated portfolio app, such as Debank, Zapper, or Zerion.
Trezor reports support for over 8,000 coins and tokens using the Trezor Suite and (unnamed) third-party tools.
One standout feature of Trezor wallets is easy access to hidden wallets. You can build a standard wallet, keeping a small amount of crypto available while also keeping a hidden stash protected by a password. Build your hidden wallet using Trezor Suite, the open-source app that accompanies Trezor devices, allowing easy updates or even installation of custom firmware.
Trezor Model T Pros and Cons
Pros
Portable design
Open-source software & firmware
USB-C support
Tamper-resistant design
Multi-chain support
Cons
Higher cost
No Bluetooth
Fewer cryptocurrencies supported
Trezor Model T Overview
Price
$219
Number of supported coins
1,470+
Top features

Access via Web App, Windows, Mac, and Linux
Hidden wallet support
Peer-to-peer marketplace
Easy-to-use touchscreen

Companion online wallet
Yes
Our rating
4.7
3. Ledger Nano S Plus – Budget-Friendly Hardware Wallet With a Secure Element Chip
As a lower-cost alternative to the Ledger Nano X, the Ledger Nano S Plus combines much of the same functionality and a familiar design language with a budget-friendly price tag. At $79, the Nano S Plus comes in $70 lower than the Nano X.
Here's what's missing versus the Nano X:
Bluetooth connectivity
Battery-powered portability
Slightly larger screen on the Nano X
The Nano S Plus gets its power from a supplied USB-A to USB-C cable. Optionally, you can connect with a USB-C to USB-C cable, allowing you to use your Nano S with USB-C-enabled mobile devices.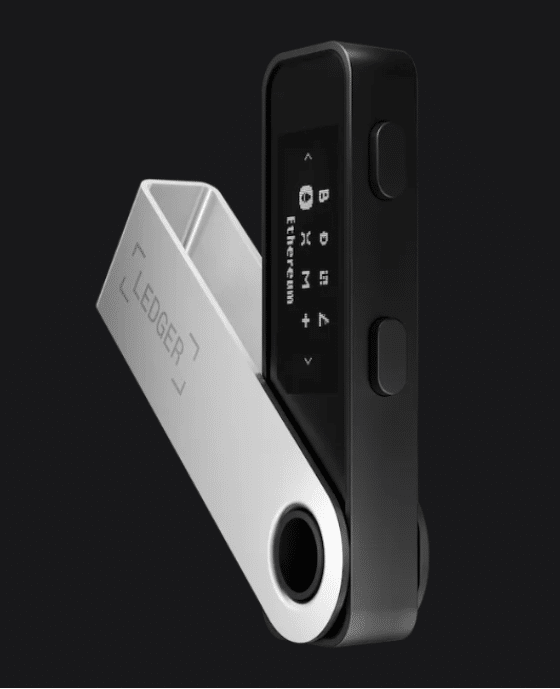 Like the slightly larger X, the S Plus supports up to 100 installed applications as well as 5,000 coins and tokens. Both devices share a similar design, diverging mainly on screen size and button placement. While the Nano X is sleeker in appearance, the Nano S Plus borrows from the legacy of the legendary Nano S, giving you a sturdy yet powerful device that can survive many of life's mishaps.
While more affordable, the Nano S Plus doesn't feel like a budget device. When compared to other popular lower-cost devices like the Trezor Model One, the S Plus is a smidgen heavier, but by no means heavy, and doesn't exhibit any unexpected creaks or rattles.
The Nano S Plus also features the Secure Element chip found in all of Ledger's lineup. The chip offers a tamper-resistant storage solution for your wallet's private keys.
If you don't need Bluetooth connectivity or battery-powered portability, the Nano S Plus provides a no-compromise solution with a lower price tag than the upmarket X.
Ledger Nano S Plus Pros and Cons
Pros
Affordable price
Portable design
USB-C support
Time-tested durability
Multi-chain support
Cons
Limited connectivity to third-party mobile apps
No Bluetooth support
Ledger Nano S Plus Overview
Price
$79
Number of supported coins
5,500+
Top features

Wide OS support (Windows, macOS, Linux, iOS, Android)
Mobile connectivity (via USB-C)
Secure Element storage
Slim, durable design

Companion online wallet
Yes
Our rating
4.7
4. Trezor Model One – Low-Cost Open-Source Hardware Wallet With a Proven History
No hardware wallet is more iconic than the Trezor Model One. Dating back to 2014, the Model One was the first crypto hardware wallet ever made, and it's still a leading choice as a Bitcoin hardware wallet or multi-chain hardware crypto wallet for many in the crypto community.
There are no finicky touchscreens or wireless Bluetooth connection options. Instead, you get a battle-tested two-button hardware wallet that's reliable and affordable.
As evidence of the Model One's heritage, the device connects via a Micro USB cable. This legacy cable type is prone to wear, but you can use any data-enabled Micro USB cable with the wallet. Two pleasantly clicky buttons under a smallish but clear display allow you to navigate through transactions easily.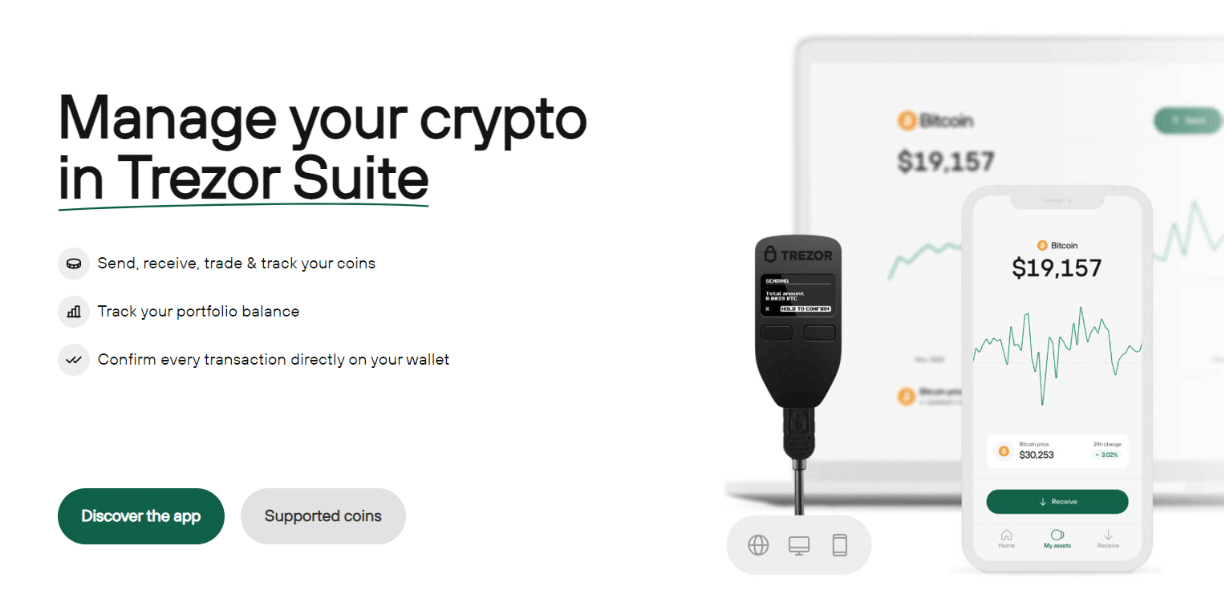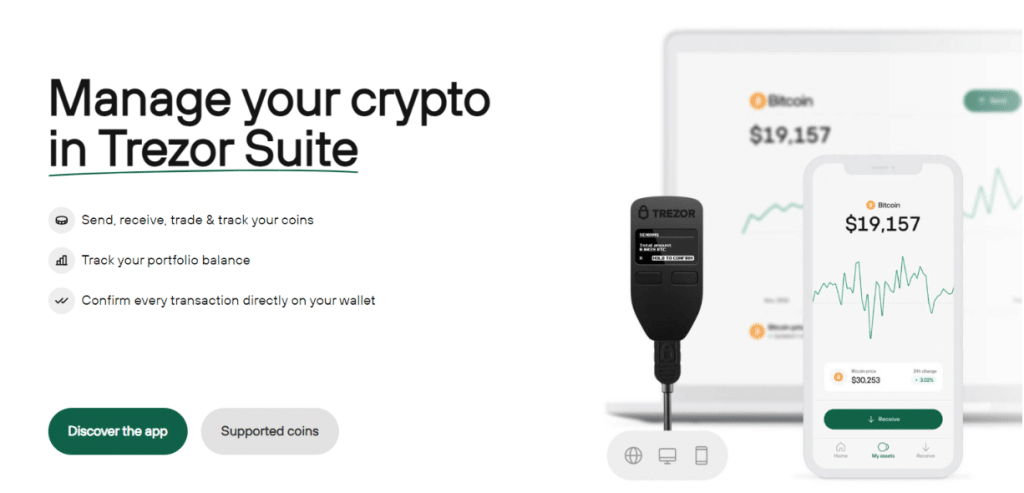 Like the Model T, everything about the Model One is transparent. The device is powered by open-source firmware, which you can wipe, which resets the device, or replace entirely. The device pairs with the open-source Trezor Suite, which enables setup and offers simple exchange or peer-to-peer trading.
Token support on the Model One is about a third lower than you'll find on the Model T. Of note, Ripple (XRP) is not supported, but Model T devices with firmware version 2.08 or higher support the in-demand cryptocurrency. Similarly, Cardano (ADA) is not supported on the Model One but is supported on the Model T and the new Trezor Safe 3.
However, you'll find support for widely traded cryptos like BTC and ETH, as well as ERC-20 tokens and NFTs
What Are ERC-20 Tokens?
The crypto economy is made up of both coins and tokens.
Coins are the cryptocurrency specific to their own block chain. For example, Bitcoin is the cryptocurrency of the Bitcoin blockchain.
Tokens are crypto assets used on other blockchains. For example, WBTC (Wrapped Bitcoin) is a tokenized version of Bitcoin used on the Ethereum blockchain as well as several other blockchains. But there is no Wrapped Bitcoin blockchain. WBTC only exists on other blockchains.
ERC-20 refers to a way to standardize tokens used on the Ethereum blockchain and other compatible blockchains. Many of the crypto assets you see traded on exchanges are actually tokens rather than coins, and many of these follow the ERC-20 token standard. In practical application, the ERC-20 standard means that each ERC-20 of the same type is the same as the next, much like each Bitcoin is the same as the next or each dollar is the same as the next dollar.
Expect a lengthy initial setup process on any Trezor device. However, each step leaves newer users with a better understanding of how crypto wallets work and how Trezor's features help keep your crypto secure.
Trezor Model One Pros and Cons
Pros
Affordable price
Simple design
Hidden wallets
Multi-chain support
Cons
Fewer cryptos supported
No Bluetooth support
Micro USB connector
Trezor Model One Overview
Price
$69
Number of supported coins
1,000+
Top features

Open-source firmware and software
Tamper-resistant design
Peer-to-peer trades
Web app, Windows, macOS, or Linux app
Customizable firmware
Hidden wallets

Companion online wallet
Yes
Our rating
4.7
5. Tangem – Slim, Credit-Card-Sized Hardware Wallet With NFC Support for Mobile Devices
If you can make room in your wallet for one more credit-card-sized item, you can carry a secure crypto hardware wallet with you wherever you go. That's Tangem, a card-like crypto wallet powered by (near-field communication) NFC technology and designed to work with mobile devices.
If you've ever used tap to pay, you've used NFC.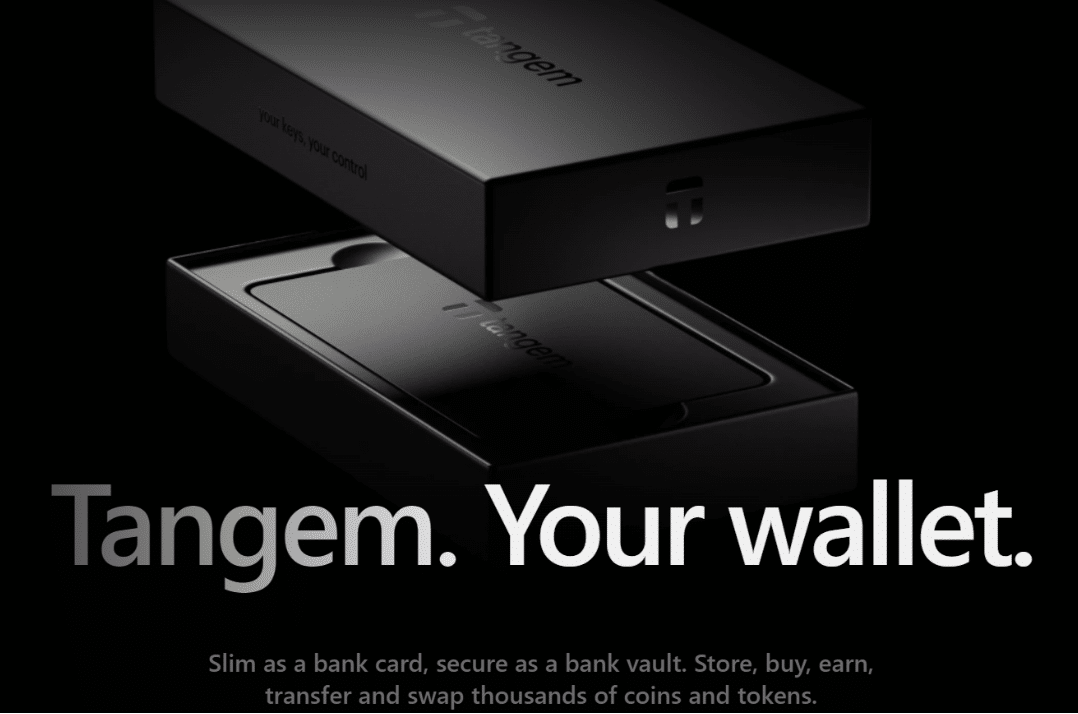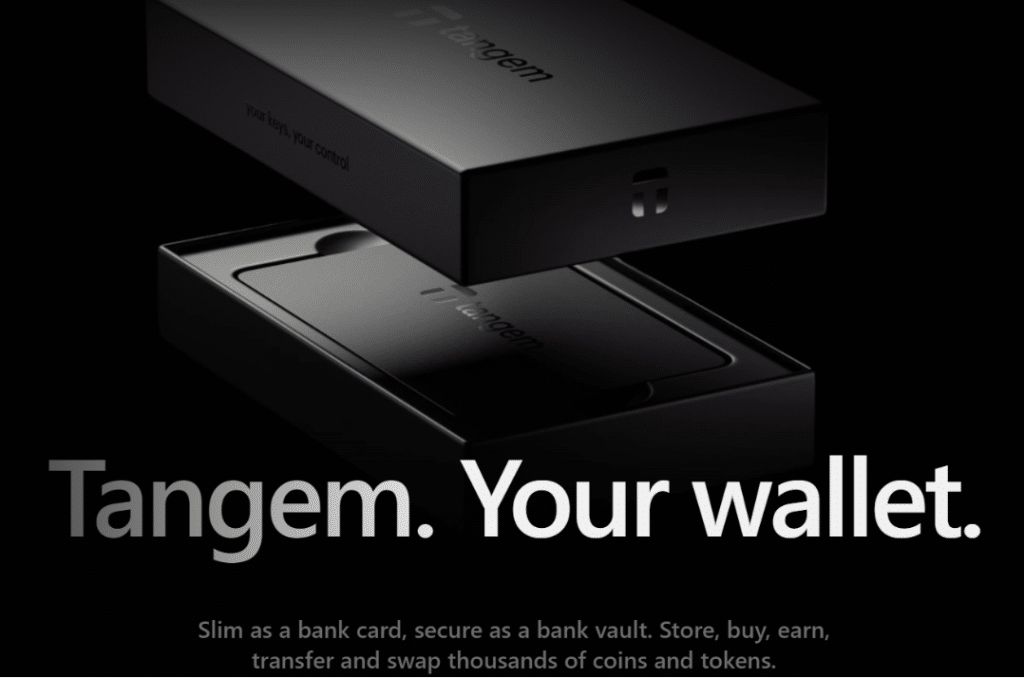 Tangem, a Swiss-based company, launched the Tangem wallet in 2018 with the goal of making affordable, secure crypto storage available to everyone. The simple setup process takes just a few minutes, and the wallet costs less than $55 for a 2-card set.
Most crypto wallets use a seed phrase, a human-readable version of the wallet's private key that lets you send or spend your crypto. Typically, these seed phrases are 12 or 24 words long and often difficult to remember. Tangem sidesteps this newbie-unfriendly aspect of crypto storage by doing away with the seed phrase. Instead, you can back up your wallet to a second Tangem wallet card, which is then protected by an access code.
While Tangem wallets are designed to be used without a seed phrase, the newest (version 2.0) cards support a seed-phrase option using the companion mobile app.
The wallet really does resemble a credit card and uses an embedded NFC chip to communicate with a partner app installed on your NFC-enabled smartphone. Not all smartphones support NFC, so double-check compatibility before you make a purchase.
The brains of the operation are found in a 1 x 1 mm Samsung chip held inside the card itself. No batteries are needed, and the wallet is resistant to dust, water, X-rays, and even electromagnetic pulses.
Tangem Wallet Pros and Cons
Pros
Affordable price
Credit-card size
25-year guarantee
No seed phrase by design
Open-source mobile app
Cons
No PC support
Must buy multi-card sets
Tangem Wallet Overview
Price
$54.90 (2-card set)
Number of supported coins
1,000+ (37 crypto blockchains)
Top features

Open-source mobile app
No seed phrase
WalletConnect support to connect to DeFi apps
Built-in decentralized exchange support

Companion online wallet
Yes
Our rating
4.6
6. Ellipal Titan – Air-Gapped Crypto Hardware Wallet With a Large Touchscreen
If credit-card-sized wallets are a bit too small for your tastes, the Ellipal Titan may be a better fit. As the name suggests, it's big, nearly 6 inches tall and over 4 inches wide. The Titan's larger dimensions translate to more real estate for the device's responsive touchscreen display.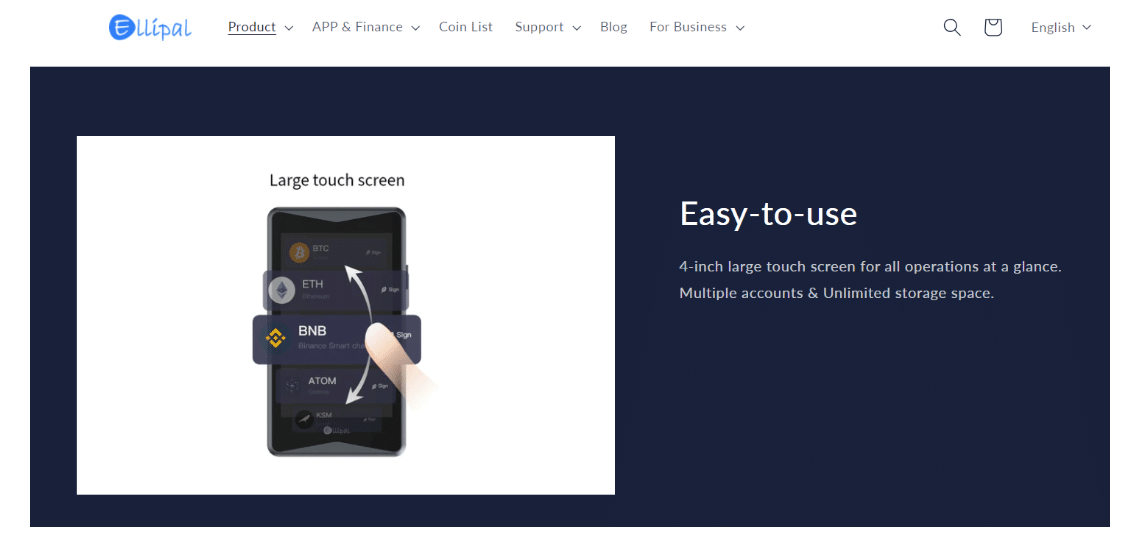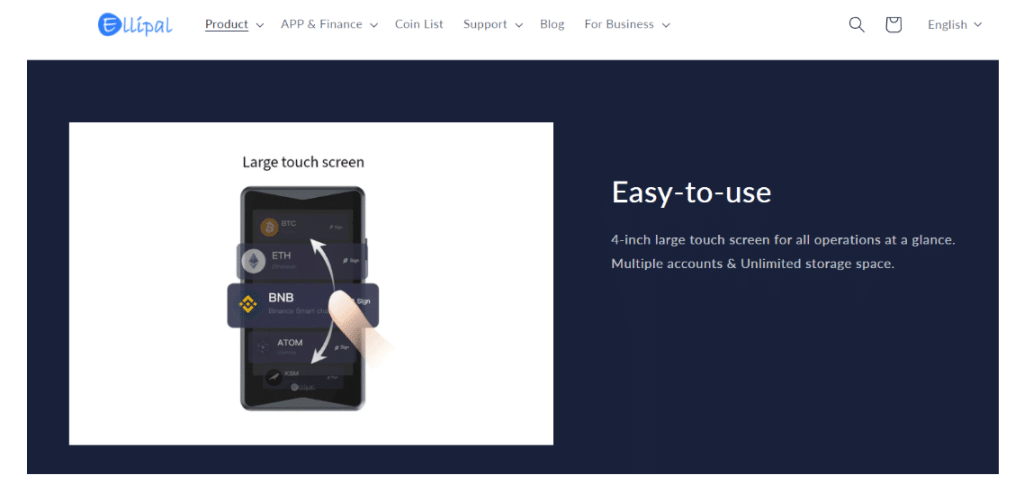 Ellipal's Titan supports over 10,000 cryptocurrencies and is completely air-gapped. There's no Bluetooth, WiFi, NFC, USB, or any other way for the wallet's private keys to come anywhere near the internet. Instead, the Ellipal Titan uses QR codes to share information with the Ellipal mobile app. The wallet itself also has a camera to scan QR codes from the mobile app.
You can also send crypto to your Ellipal cryptocurrency hardware wallet from a crypto exchange like Coinbase. Using the Coinbase app, snap a pic of the QR code for your crypto wallet address shown on the Ellipal device. Coinbase and similar apps convert the QR code to an address, ensuring the crypto goes to the right address without the risk of typos.
Tangem Wallet Pros and Cons
Pros
Air-gapped for maximum safety
Large touchscreen
Tamper-proof sealed metal case
Hidden wallet support
Cons
No PC support
Pricier than some options
Closed-source firmware
Tangem Wallet Overview
Price
$119
Number of supported coins
10,000+
Top features

Air-gapped design
Large touchscreen
Hidden wallets
Self-destructs private information if tampering is detected

Companion online wallet
Yes
Our rating
4.6
7. NGRAVE ZERO – Air-Gapped Crypto Hardware Wallet With Military-Grade Construction
Similar to the Ellipal Titan, the NGRAVE ZERO is a completely air-gapped wallet. That means the wallet cannot connect to the internet at all. There's no WiFi, NFC, USB, or Bluetooth support. Also like the Ellipal, the NGRAVE communicates via QR codes and cameras. The device uses these QR codes to communicate with the LIQUID companion app.
The internet-enabled mobile app is where you can view your balances. The ZERO device itself is used for signing transactions using its 480×800 pixel touchscreen display.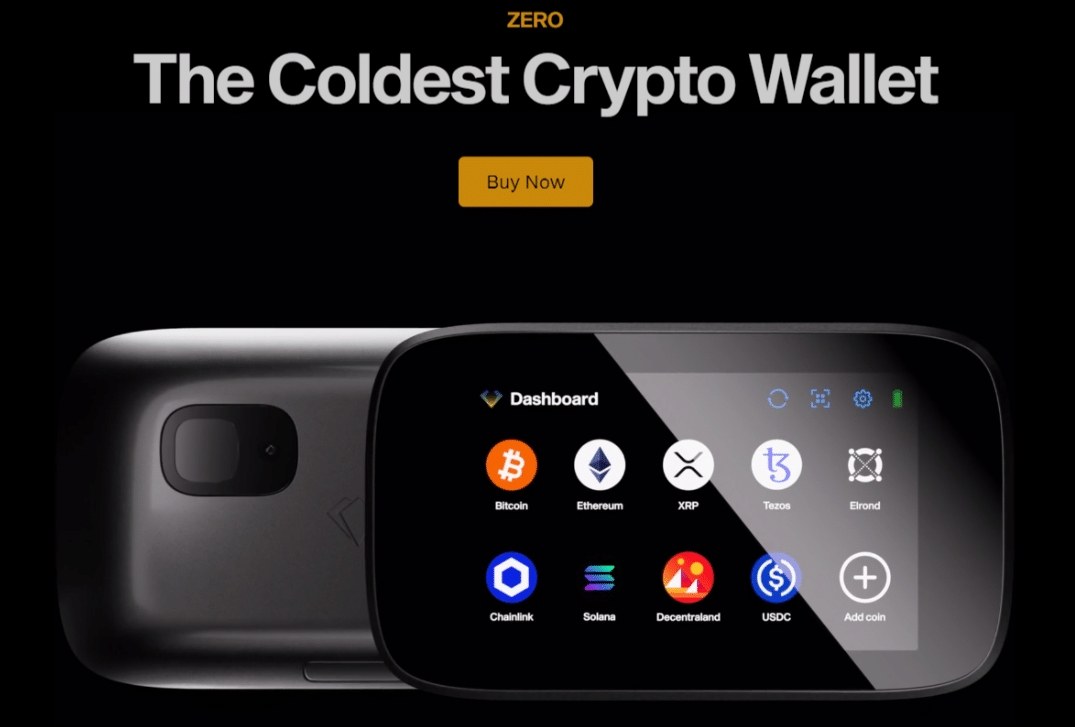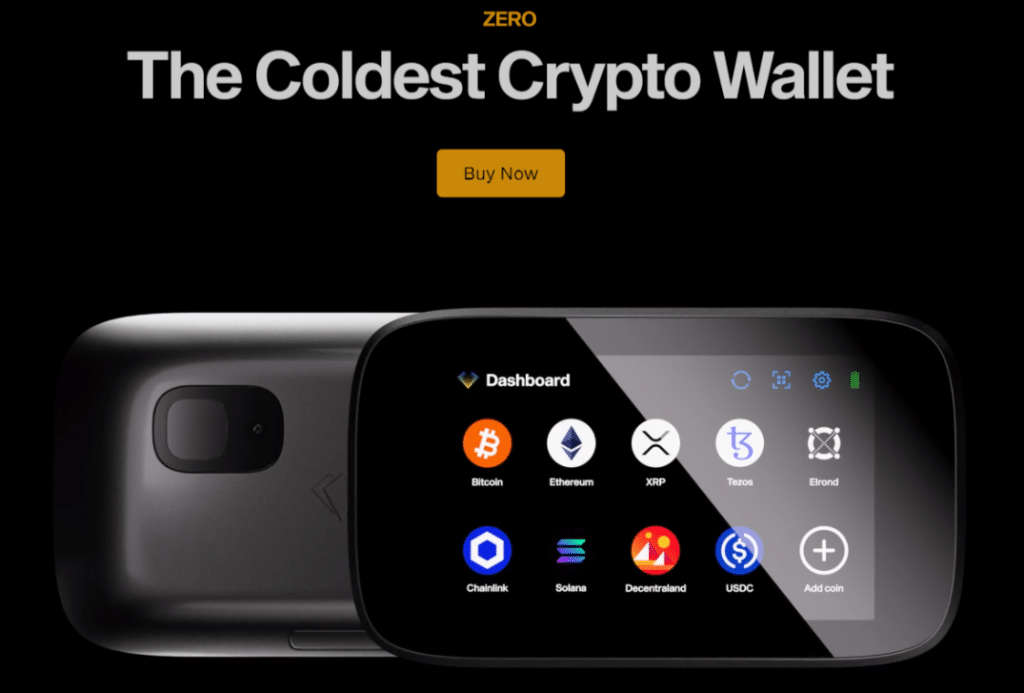 Security is job one with the NGRAVE. The ZERO comes with an EAL7 security-certified OS, the highest security certification available, and a first within the crypto hardware wallet space. The hardware wallet also features a fingerprint reader to help ensure secure access.
What Are EAL Certifications?

Evaluation Assurance Level (EAL) ratings offer a way to compare the security of a product and use a scale from EAL1 to EAL7.

Crypto wallet hardware devices with a Secure Element chip often earn an EAL5 rating or higher. EAL ratings can also apply to operating systems as well, as shown with the NGRAVE ZERO's EAL7-certified operating system.
Private key generation on the NGRAVE uses a clever combination of techniques to aid randomness. A combination of a random number algorithm, your fingerprint, and the ambient light in the room all play a role when the ZERO creates your unique private key. These variable elements make reverse engineering of the private key improbable.
Although the ZERO is a pricier option at nearly $400, the investment may be worthwhile for those with more to protect.
NGRAVE ZERO Pros and Cons
Pros
Randomized private key
Airg-gapped wallet
Large touchscreen
Tamper-proof sealed metal case
EAL7-certified OS
Cons
No PC support
Higher cost
Partially open-source
NGRAVE ZERO Overview
Price
$398
Number of supported coins
20+, in addition to ERC-20 and NFTs on the Ethereum network
Top features

Air-gapped design
Large touchscreen
Military-grade construction
"Perfect key" private key randomization

Companion online wallet
Yes
Our rating
4.7
8. Safepal S1 Pro – Budget-Friendly Air-Gapped Hardware Wallet With a Secure Element Chip
You could spend hundreds on an air-gapped crypto hardware wallet, but Safepal delivers air-gapped security for under $100 with two models: the S1 and the S1 Pro. The Pro offers longer battery life combined with a more durable housing made with aluminum alloy and tempered glass. If you're making an investment in your long-term crypto security, the $90 S1 Pro may be a better value compared to the $50 Safepal S1.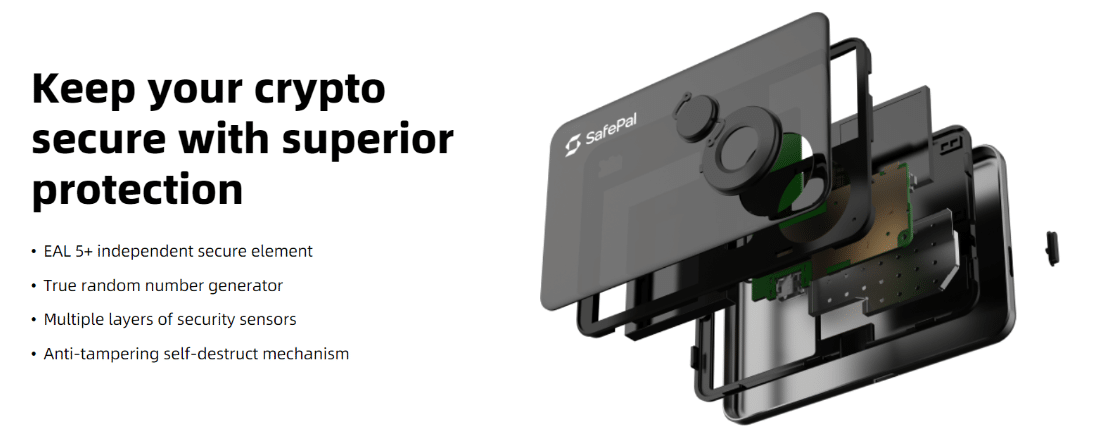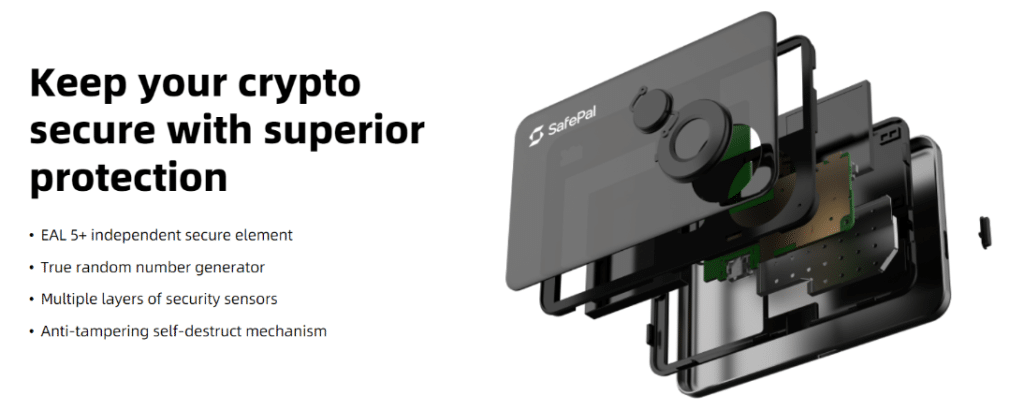 Otherwise, the devices deliver the same specs. Both come with a 1.3-inch color screen paired with a d-pad for navigation. Both devices are also air-gapped, meaning they can't connect to the internet, and come with EAL5+ certified Secure Element chips.
Choose your level of security on demand with a choice of 12, 18, or 24 mnemonic seed phrases for your private key. Longer phrases are more secure. Shorter phrases may be easier to memorize. Then, secure your device with a PIN.
Like other air-gapped wallets, the Safepal communicates with a mobile app via QR codes.
Safepal S1 Pro – Pros and Cons
Pros
User-selectable seed phrase length
Convenient size
Low cost
EAL5+ Secure Element chip
Cons
Doesn't integrate with other wallets
Safepal S1 Pro Overview
Price
$90
Number of supported coins
10,000+
Top features

Air-gapped design
Convenient size
User-selectable seed phrase length
Support for 20+ blockchains

Companion online wallet
Yes
Our rating
4.5
9. KeepKey – Affordable Hardware Wallet With Support for 7,000+ Cryptos and ShapeShift Integration
The KeepKey app and wallet experience is reminiscent of using a Ledger wallet with the Ledger Live app. Both offer polished user experiences and high-quality devices.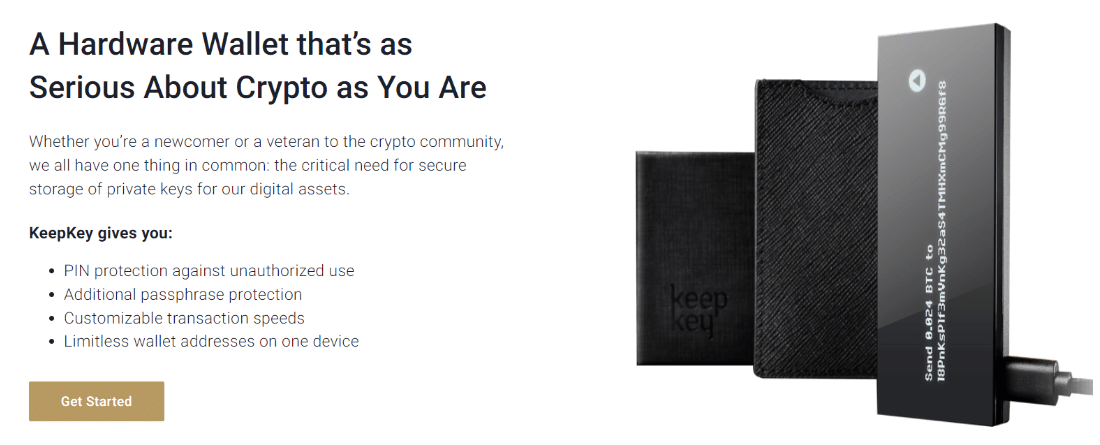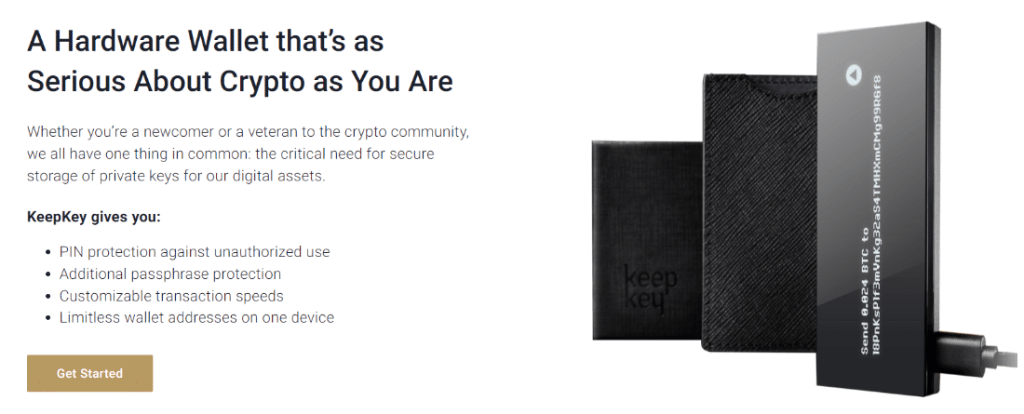 There are two key differences, however. KeepKey does not support Bluetooth, a leading feature of the Ledger Nano X. Additionally, the KeepKey app features ShapeShift, a leading multichain trading platform. KeepKey is currently owned by former ShapeShift team members and contributes to the ShapeShift DAO (decentralized autonomous organization). You can also connect your KeepKey directly to the ShapeShift app.
KeepKey crypto wallets make setup easy, although the app itself is packed with features, including dApp integration. This lets you explore the world of decentralized finance (DeFi) from a trusted starting point.
Like Trezor devices, covered earlier, KeepKey uses open-source firmware. This brings the advantage of numbers. More people can view the code, making it possible to catch possible security concerns.
KeepKey Pros and Cons
Pros
Open-source firmware
ShapeShift integration
Support for several third-party hot wallets
Cons
Bulkier than some devices
No touchscreen
KeepKey Overview
Price
$78
Number of supported coins
7,200+
Top features

ShapeShift integration
Limitless wallet addresses
Windows, macOS, and Linux support

Companion online wallet
Yes
Our rating
4.5
10. SecuX W20: Cross-Platform Crypto Wallet With Support for Bluetooth
SecuX offers a variety of hardware wallets, including an upcoming credit-card-style wallet called the Shield BIO. The W20, a larger touchscreen wallet with Bluetooth support, stands out for its features and price point. Many hardware wallets are made for desktop use. Others focus on mobile use. The W20 handles either well, supporting iOS and Android via Bluetooth and computers via USB or Bluetooth.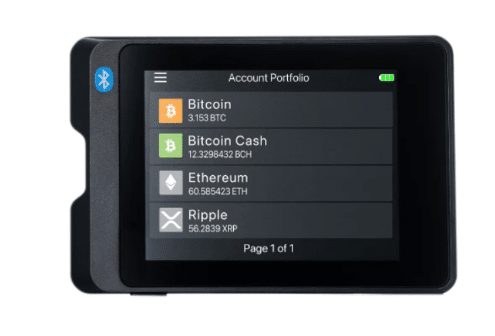 The wallet also supports MetaMask via QR codes. This offers a convenient way to explore decentralized applications, including decentralized exchanges or even metaverse projects while using your cold storage wallet to secure your crypto.
SecuX approaches cross-platform compatibility in a unique way. On the desktop, you connect to a secure web app using Chrome. The app show lets you manage your portfolio while asking the W20 wallet for authorization for any transactions and keeping your private keys on the wallet itself. Separate apps for iOS and Android provide mobile usability via Bluetooth.
SecuX W20 Pros and Cons
Pros
Browser-based wallet management
Bluetooth support
Support for MetaMask
Cons
Bulkier than some devices
Confusing lineup of devices
SecuX W20 Overview
Price
$119
Number of supported coins
10,000+
Top features

Cross-platform compatibility via web app
MetaMask Support
Bluetooth support for desktop and mobile

Companion online wallet
Yes
Our rating
4.5
What is a Cryptocurrency Hardware Wallet?

A crypto hardware wallet, also called a cold wallet, is a device that generates and stores the private keys for a crypto wallet offline. Some hardware wallets resemble a USB thumb drive, while others might be a touch screen device similar to a cell phone. A third type of wallet looks like a bank card and even contains an NFC chip that allows the wallet to communicate with a mobile app on an NFC-enabled smartphone.
How Crypto Wallets Work

A crypto wallet is a convenient way to describe what's going on under the hood. We think of a wallet as a place to store money. That's almost accurate. Instead, a wallet secures the assets held at an address, a digital location on the blockchain that can hold crypto assets. With the right key, anyone can control the assets at that address. That's where a crypto wallet comes into the picture. The wallet holds the private keys that can control the crypto at that address or sign transactions related to that address.

Bitcoin private key: L28FTDMPFVNrykyaWXDjRRH5u8eaTACKq63ApsZ6XWZB3g2m8AFE

The private key above was generated using an online app. Hence, this Bitcoin wallet should be considered insecure. Does the online app store all the keys it generates? Are the browser and its extensions secure? Is the computer itself compromised?

If someone else has the same keys, you can both control the assets, a situation that could lead to the irrevocable loss of your crypto assets.

When you use an exchange to hold your crypto, the exchange controls the keys. Many exchanges provide you with a public address so you can send crypto to your account. However, you don't have access to the private keys at all. You just have the exchange login credentials in most cases. The collapse of the FTX exchange is just one recent example of the risks involved with trusting someone else with your keys.
We'll discuss the importance of protecting private keys in more detail shortly, but a hardware wallet creates an additional layer of security by authorizing transactions on a device that you physically control. This reduces the risk of loss due to compromised private keys — or the seed phrase used to generate those keys. More on that in a bit.
How do Hardware Wallets Work?

Hardware wallets can be used to authorize crypto transactions by approving or declining the transaction from an offline device. The process works similarly to two-factor authentication (2FA), in which you use a device you control to authenticate a login to a bank account, for example.
Let's say that you're using MetaMask as your Ethereum wallet. MetaMask generates a seed phrase, a people-friendly way of encoding the private keys. Typically, seed phrases are 12-24 words long. MetaMask, however, is a hot wallet. The private keys are generated on an online device and stored on that same device used for online activities.
The keys from hot wallets can become compromised in a number of ways, ranging from software exploits to keyloggers that record your keystrokes. The wallet addresses generated by MetaMask are less secure compared to hardware wallet addresses because the private keys can be more easily compromised with hot wallets.
But MetaMask also supports popular hardware wallets like Ledger and Trezor. You can generate private keys offline using your hardware wallet and then import the public addresses from your hardware wallet to MetaMask. This lets you use MetaMask to see your assets and connect to decentralized applications (dApps) like Uniswap.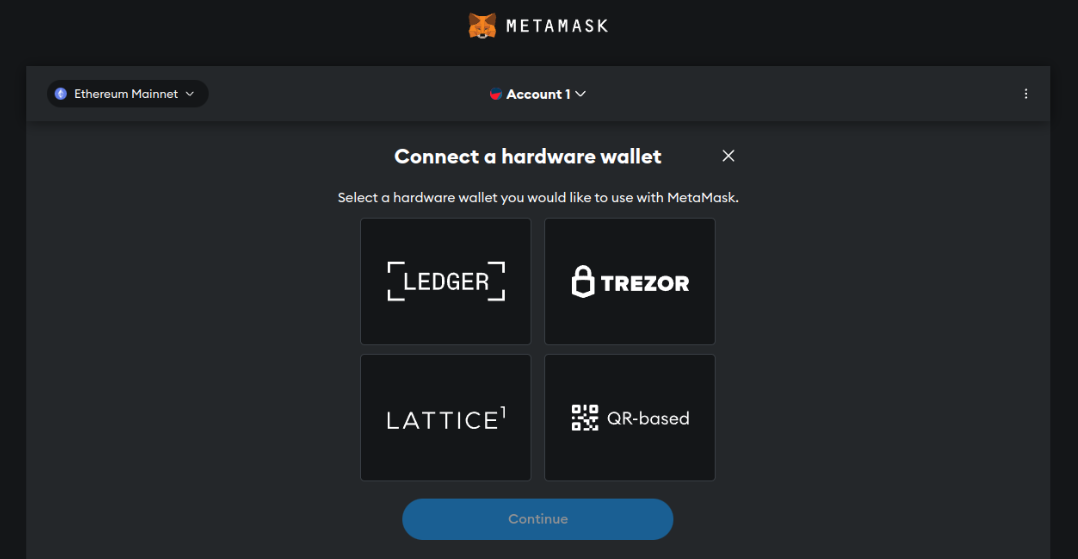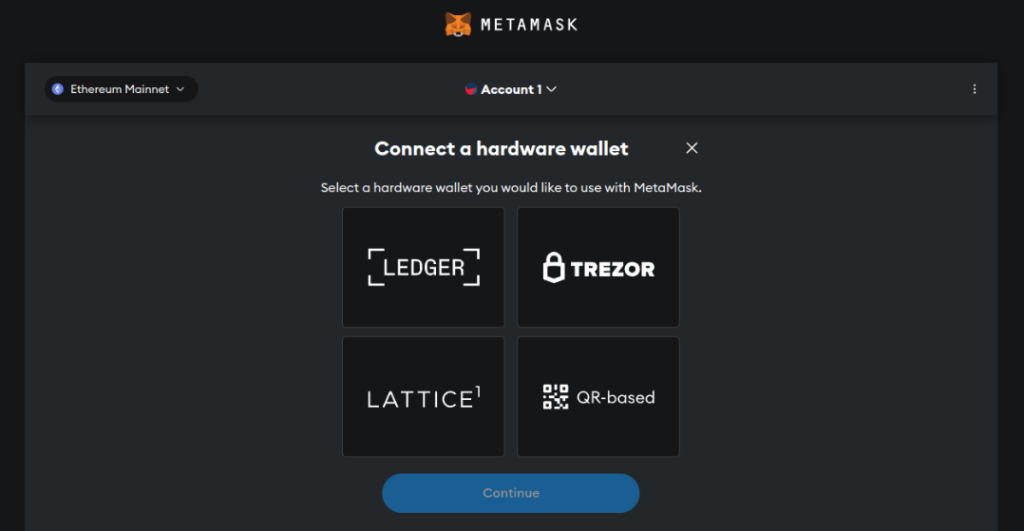 However, if you need to authorize a transaction for the hard wallet addresses, you'll need to connect your hardware wallet to accept or decline. MetaMask asks the device for authorization but never has access to the private keys in your hardware wallet.
If there is no input from the hardware wallet, the transaction can't be authorized, and your crypto remains in your wallet.
Hardware wallets provide an extra layer of security, much like when your bank sends you an email or text to be sure it's really you logging into your account.
Wired or Wireless Connections
Many hardware wallets use a USB connection to connect to your computer and accept or decline transactions. Newer models may use Bluetooth, which allows support for mobile use, or even an NFC chip that can connect to an NFC-enabled mobile device.
Regardless of which connection type a hardware wallet uses, there's still an additional layer that requires input from a separate device you physically hold.
Advantages of Hardware Crypto Wallets

The advantages of hardware wallets compared to software wallets or exchange wallets center on security. You may have to sacrifice some convenience, but the goal is to protect your crypto. By keeping some or all of your crypto in a hardware wallet, you greatly reduce the risk of losses.
Hot wallets like MetaMask, Electrum, or Trust Wallet make crypto transactions more convenient. However, all hot wallets bring similar risks because the private keys are generated and stored on a device connected to the internet. Someone on the other side of the world can drain the wallet if they gain access to private keys (or the seed phrase).
By contrast, a hardware wallet forces the transaction to be approved or declined on a device you hold.
Hardware crypto wallets also allow you to split your stack for safety. Similar to traveling with pocket money while the rest of your money is safe in the bank, you can keep some crypto available in a convenient hot wallet while using your hardware wallet to safeguard the bulk of your holdings.
Using a Hardware Wallet to Move Your Crypto Off Exchanges
You don't need to be active in the crypto ecosystem to benefit from a hardware wallet. One of the most common reasons to choose a hardware wallet is for the secure storage of cryptocurrencies you're holding as an investment.
As a beginning investor, you might choose to keep your crypto on the exchange where you trade. Exchange wallets are called custodial wallets because the exchange has custody of your crypto. It's convenient. And when your balances on the exchange are lower, your financial exposure is also lower.
As your balances grow, however, you're at risk of losing much more. Using a self-custody crypto hardware wallet can protect you against exchange-related risks.
Your exchange login can be compromised. About a third of us use password managers that offer a way to create unique passwords for each website. Others may be re-using passwords or using insecure passwords. However, even a password manager can create risk, as the app itself or an online vault can be a target for exploits. LastPass, a popular password manager, has suffered more than one breach.
The exchange might freeze withdrawals. The collapse of crypto platforms like Voyager, Celsius, and FTX — all of which declared bankruptcy — are examples of why it may be wiser to move your crypto off exchanges. Once you move some or all of your crypto to a hardware wallet, any insolvency issues pose less risk to you.
If you need to keep a certain amount of crypto on the exchange for trading purposes, consider moving the rest to a hardware crypto wallet for safekeeping.
Hardware Wallets vs Software Wallets

Moving your crypto to a wallet you control is often the best move, but is a software wallet just as good a choice? Probably not.
A software wallet like MetaMask (Ethereum) or Electrum (Bitcoin) generates and stores the private keys on an internet-connected device. The private keys used to authorize transactions are on your device at all times. If multinational companies like Microsoft and Oracle have security vulnerabilities in their applications, hot wallets developed by smaller teams may be at risk as well.
Conversely, hardware wallets store your private keys on a separate device not connected to the internet. Even when temporarily connected to a computer or mobile device, the hardware wallet's firmware limits interaction with your wallet to accepting or declining a transaction by clicking a button or taking a similar action on the device in your possession.
Both types of wallets share some similar risks, however. Specifically, safeguarding the wallet's seed phrase or private key is tantamount, but sometimes, they get out into the wild.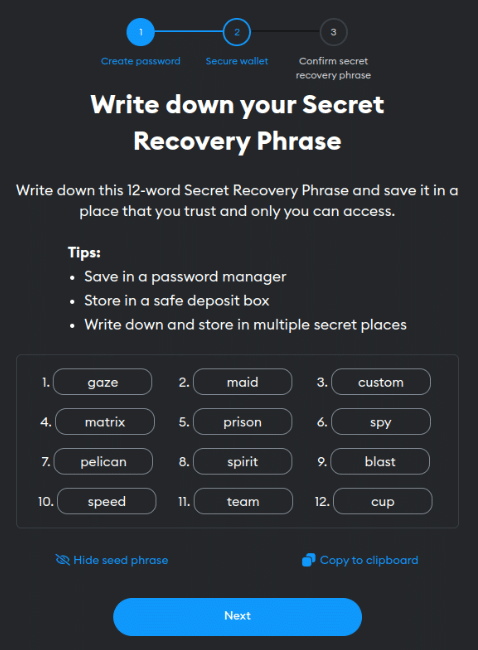 If someone else has this seed phrase, also called a recovery phrase or mnemonic phrase, they can create a duplicate of your wallet (and its keys) and send your crypto to another wallet you can't access. Any compatible software wallet can be used to access a crypto wallet created by a hardware device if someone has the seed phase.
The seed phrase and private key look different, but either can be used to make a carbon copy of your wallet. They're really just two ways of expressing the same value.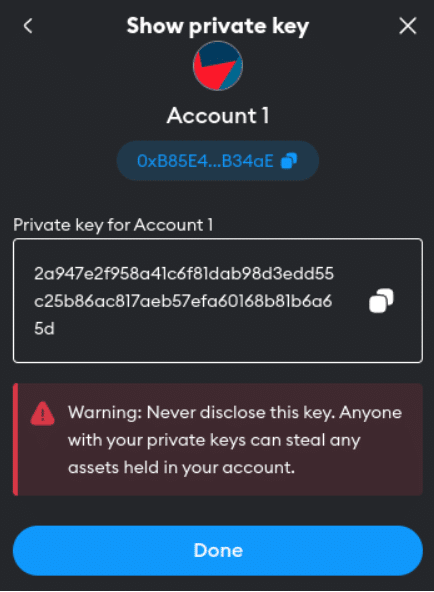 This concern applies to both hot and cold wallets because they both use seed phrases and private keys. Choose a secure way to store your seed phrase so you can recreate your wallet if needed while preventing someone else from making a copy of your wallet elsewhere.
Generally, avoid storing your seed phrase in cloud storage or leaving it somewhere where others can find it.
How to Choose a Hardware Cryptocurrency Wallet

Which cryptocurrency hardware wallet is right for your needs depends on your risk profile and how you think you'll use your wallet. Cost, transparency, security features, and even mobile support can all play a role in your purchase decision.
Security Features
Consider how you'll use the wallet and which security features are most important to you.
Often, there's a trade-off between security and convenience. The most secure wallets are air-gapped, meaning they can't connect to the internet in any way. Instead, they typically use QR codes. You scan the QR code in an app or on the device itself and then approve or deny the transaction on the device. This may require more steps to complete transactions compared to a device that connects via Bluetooth or USB.
Also, consider security features like a Secure Element chip. But weigh the benefits against the trade-offs for this as well. For example, Ledger states it can't fully open-source its firmware due to the Secure Element chip. Trezor, by contrast, does not use a Secure Element chip on the Model T or Model One and provides full transparency with open-source firmware for these devices.
Supported Coins and Blockchains
Many popular wallets support multiple blockchains. However, some wallets only support one blockchain, most commonly seen with Bitcoin-only wallets. Choose the best crypto hardware wallet for your overall needs while weighing which assets you think you'll need to store. For example, if you're considering a Trezor but need to store XRP, you'll need to jump up to a Model T. Trezor's Model One doesn't support XRP.
Most multi-chain wallets support the Bitcoin and Ethereum networks at a minimum. Ethereum Layer 2 support may be limited, however. You may not see assets you hold on the Abitrum Layer 2 blockchain, for example, even though they are in your wallet. If needed, you can use a portfolio app like Debank or a blockchain explorer like Etherscan (for Ethereum) or Arbiscan (for Arbitrum) to verify transactions or tokens that don't show in your hardware or software wallet.
Cost
Software wallets are typically free to use. By comparison, you can expect to pay $50 to well over $200 for a hardware wallet, depending on which model you choose.
Cost is a consideration, but paying a lot doesn't always translate to more secure storage. Plenty of people store large amounts of crypto on inexpensive yet reliable and well-supported devices like the Trezor Model One.
Also, it might not make sense to spend hundreds of dollars to protect a smaller amount of crypto. If you choose a less expensive device to start, you can always upgrade when you have more to protect.
Fees
The top hardware wallets generally don't charge an additional fee to use the wallet after you've purchased it. However, many wallets enable crypto swaps or purchases from within the wallet's software app. In this case, you may encounter fees or other costs.
There are several ways to trade crypto, ranging from centralized crypto exchanges to decentralized exchanges and peer-to-peer exchanges. Ledger Live, for example, offers ways to buy crypto from within Ledger's wallet software suite. Transaction fees vary depending on the provider you choose within the app.
In most cases, buying on an exchange will be less expensive compared to using your wallet's app. But you may prefer to buy through your wallet app. If so, compare buying fees before choosing the best crypto hardware wallet for your use case.
Mobile Experience
Not too long ago, mobile and hardware wallets didn't belong in the same sentence. Most cold wallets worked via a USB cable plugged into a computer. However, with Bluetooth connectivity available on some hardware wallets or even NFC support, as seen with the Tangem, crypto hardware wallets can go wherever you go.
Some models, like Ledger wallets, can connect to Android phones via an optional OTG cable that uses the USB-C port on your phone.
If you think you might need to use your hardware wallet on the go, consider models that work with a cell phone or tablet. Check the App Store or Play Store reviews for the mobile app that accompanies the wallet you're considering. Ledger Live scores well here with a 4.8 out of 5-star rating on Google Play Store.
In some cases, you may also be able to use the mobile wallet app as an on-the-go portfolio to track your investments.
Open-Source or Closed-Source Software and Firmware
Bitcoin, the first cryptocurrency, was open-source, meaning the Bitcoin Core code was and is available online. The alternative would be closed source, in which we don't know what the software really does, what security flaws it may have, or if it phones home with sensitive transaction details. Many in the crypto community insist on open-source software for crypto wallets.
Crypto hardware wallets use two sets of code:
Wallet firmware: You can think of firmware as software that lives on the hardware wallet device itself. Trezor, for example, makes the Trezor firmware available to view. If so inclined, you could even modify the firmware and run a customized device. Ledger is taking steps to open-source its firmware following a crypto-community kerfuffle over Ledger's planned private key backup service.
Wallet software: The software suite is an important tool to interact with the wallet device, particularly during device setup and updates. The wallet software talks to the wallet's firmware but often also brings other features, like charting, swaps, or the ability to connect with other apps. Both Ledger and Trezor open-source their software suites.
The big advantage of open-source software and firmware is transparency, but security can also benefit from open-source code. An army of coders around the world poring over the code may be more likely to identify a potential issue than a smaller development team.
Lastly, open-source code for firmware gives the community a way to keep older devices active even after the manufacturer ends support. If Trezor ends firmware support for the tried-and-true Model One at some point in the future, the community can fork the code and make updates as needed.
Ease of Use
Top hardware wallets like Ledger and Trezor balance security with ease of use. Both wallets offer beginner-friendly software suites that make maintenance like firmware updates a breeze. By comparison, Ellipal requires you to update the device using an SD card (not included).
Durability
The Ledger Nano series of crypto wallets were tough to break. The same is true of the Trezor Model One. Newer devices with large touch screens, like the Ellipal Titan or Ledger Stax, are akin to a small smartphone and may not survive accidental drops on a tile floor well. Consider your use case and where you'll use your device before making a choice.
Your Risk Profile
The best crypto hardware wallets can help protect any amount of crypto, large or small, but for smaller amounts of crypto, it may be more prudent to let your balance grow before buying the latest crypto wallet gizmo. For some, a hardware wallet is a must-have piece of gear. Others may be well-served with a software wallet as a starting point.
Limitations of Hardware Wallets

Using a hardware wallet is an important security measure, but it creates some extra steps, and there are still some risks. Using software wallets alone is much easier, and you aren't tied to a physical device that's probably safely stored at home. However, software wallets are also less secure.
Pairing a software wallet with a hardware wallet makes sense in many situations.
You'll have to weigh some considerations before making a choice.
Form factor: Roughly the size of a thumb drive, Ledger Nano wallets are easily pocketable. Credit-card-sized Tangem wallets might be even easier to carry around. But devices like Ellipal or Ledger Stax might have a touchscreen as large as 4 inches, making them portable – but not always convenient to carry.
Wear and breakage: The internal batteries in hard wallet devices can fail, just like those in your phone or tablet. These batteries may not be replaceable. Simpler devices like the Trezor Model One don't use a battery, instead powering on when connected via USB. But that's also a consideration. The connector (micro USB in the case of the Model One) could fail. Or, the buttons might stop working. The screen could break. In short, there's a useful lifetime for hardware wallets, after which you'll likely have to replace the device. Software wallets don't suffer the same issues.
Even the best crypto hardware wallets won't make you 100% secure. You'll still need to take steps on your own to secure the seed phrase. It's also wise to conceal the hardware wallet itself. You may not want visitors or the occasional home repair worker to see your Bitcoin hardware wallet lying around.
Conclusion

The field of options continues to grow, making choosing the best crypto hardware wallets a bit more challenging. For most crypto investors and traders, well-established brands may still make the best choices. Wallet makers like Ledger and Trezor led the market and still make some of the most compelling products. We were particularly impressed with the Ledger Nano X due to its sturdy construction, convenient size, security features, and wireless connectivity option. As a lower-cost alternative, the Ledger Nano S Plus offers many of the same features, less Bluetooth support. Ledger offers a well-built and well-priced solution for most common uses.
References
FAQs
What is a hardware wallet?
A hardware wallet is a type of crypto wallet that generates and stores the wallet's private keys on a device that's not connected to the internet.
Are hardware crypto wallets safe?
Hardware crypto wallets offer a safer alternative to software wallets because they store the wallet's private keys offline. Many hardware wallets also use a Secure Element chip, a specialized chip designed to be tamper-resistant and safely store sensitive information.
What is the most secure crypto hardware wallet?
Air-gapped wallets that cannot connect to the internet in any way — instead using QR codes to communicate with an external app — offer the most security.
Should I put my crypto in a hardware wallet?
Storing your crypto in a hardware wallet is the safest option to protect against compromised exchange logins, exchange hacks, or exchange insolvency.
Does my crypto still grow in a hardware wallet?
The value of the crypto in your wallet tracks the value of the same cryptocurrency traded on exchanges.
Are hardware wallets worth it?
Software wallets may offer enough security for smaller balances, but as your balances grow, a hardware wallet becomes a worthwhile investment due to its increased security.
Can you put any crypto on a hardware wallet?
Many of the best crypto hardware wallets support up to 10,000 cryptocurrencies, but you need to be sure your wallet supports the cryptocurrency you want to store and choose the correct wallet address before transferring crypto to your wallet.
---
Other Cryptocurrency Guides