Things to Know Before You Sell Bitcoin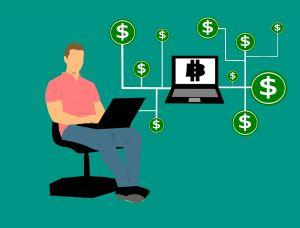 Following our guide on things to know before buying Bitcoin, there are also things you should keep in mind before you sell Bitcoin. If you already have your own coins, the good news is that the process of finding a place where to sell bitcoin quite easy, too.
But first, here are some things you're ought to know before you sell bitcoin.
Are you selling out of necessity or out of fear?
What are the different ways to sell bitcoin?
How to find the best place to sell bitcoin?
Let's have a look at each of these topics.
Before you sell bitcoin #1: Are you selling for profit or out of fear?
If this is your first time in the cryptocurrency market, you may feel quite overwhelmed. There's an endless stream of bad news, the prices keep on falling, and in retrospective buying bitcoin in the first place seems like a terrible idea. Why did you even sign up for this?
Like most first-time retail investors, it's easy to want to sell your bitcoin when you're in doubt. Don't worry - we've all been there. Unless you bought your bitcoins for the highest price possible, you shouldn't rush to sell them whenever some bad news (also called FUD) hit the market. Even after significant pullbacks in price, bitcoin always finds its way upwards. Just take a look at bitcoins historical price chart.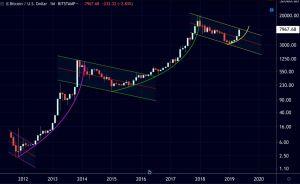 Of course, this is not financial advice, and higher-highs may not continue forever. Also, it all depends on your situation and how bad you need the money. But if it is just an emotional reaction to the situation, pause and think twice. Mayhaps you've invested too much of your hard-earned money, and now your bitcoin investment keeps you up at night. Maybe you've put in more into bitcoin than you can afford to lose. Fear, uncertainty, and doubt are clear signs that you've invested more than you should have, so selling your BTC may indeed be the right move for you.
In contrast, if you want to sell your bitcoin to realize profits, congratulations, it is likely the right time to do so.
Here is how you can sell your hard-held bitcoins.
Before you sell bitcoin #2: Different ways to sell bitcoin
Bitcoin is a versatile asset, and there are many ways how you can exchange it. They all differ in their accessibility and whether you can use them or not also depends on your circumstances such as geographic location or jurisdiction.
Here are the most popular ways how you can sell your bitcoins:
Selling bitcoins on a decentralized exchange (Bisq, Waves DEX, etc.)
Using peer-to-peer (P2P) exchange platforms (LocalBitcoins, Paxful, etc.)
Selling bitcoins face-to-face for cash
Exchanging bitcoins for cash at a bitcoin ATM
Perhaps the fastest way to sell Bitcoin in most cases is by using a centralized or decentralized exchange. However, it is very likely that you will need a bank account to cash out.
If you don't use a bank account, you may want to sell bitcoin for cash. In that case, a Bitcoin ATM that allows exchanging bitcoins for cash might be a fast and convenient way to sell bitcoin. Nevertheless, this way is more expensive than using an exchange, as it incurs extra fees.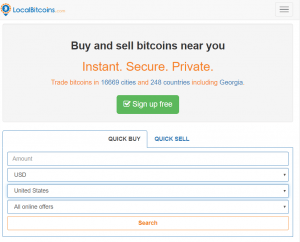 Alternatively, you can try using a P2P platform like LocalBitcoins. It can help you find local buyers to sell your bitcoin for cash. And if that doesn't work, you can try to meet someone from your local bitcoin community to trade with you directly.
Before you sell bitcoin #3: How to find the best place to sell bitcoin
The difficulties of selling bitcoin are the same as the ones for buying: practically nonexistent. In most cases, it's just a matter of finding the best place to sell bitcoin.
To do so, use our Price Tracker is here to help you find an exchange with the best possible price.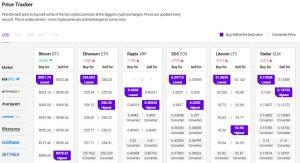 Also, take a few minutes to do your research: our exchange reviews will tell you all you need to know about choosing the right exchange for you.
Learn more about selling bitcoins our guide "how to sell bitcoins."