Why the Bitcoin vs. Ethereum 'Rivalry' Benefits Both Tokens
The bitcoin (BTC)-ethereum (ETH) rivalry is hotting up. For years bitcoin has enjoyed a dominant share of the crypto sector, yet with decentralized finance (DeFi) now gaining astronomical popularity and ETH rising by 231% over the course of the past 12 months, it seems as though BTC's once unassailable position at the top of the stack is now coming under threat.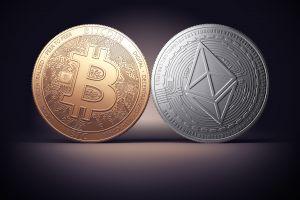 A small yet significant number of Bitcoiners is becoming worried about ethereum's strong 2020. Some are fearful that ethereum's stronger recent performance could impact confidence in Bitcoin or divert capital and adoption away from the world's biggest cryptocurrency.
However, a range of industry figures and experts have told Cryptonews.com that the "rivalry" between bitcoin and ethereum somewhat overstated. Most believe that each token plays a different role and occupies its own niche within the crypto ecosystem. And many opine that together the two coins will instead complement each other – and help the whole crypto sector grow.
Ethereum Beats Bitcoin in 2020
Much of ethereum's stronger growth this year stems from DeFi, which has risen by around 580% (in terms of value locked in) over the year to date, per DeFiPulse data. Given that ethereum-based platforms account for the vast majority of the DeFi sector, DeFi's growth directly feeds the Ethereum network's growth.
This has worried a small number of Bitcoin supporters. Popular commentator 'CobraBitcoin' recently tweeted, "Ethereum ****ing scares me."
While most people within crypto agree that DeFi has been the main driver of ethereum's stronger relative growth, they think the expansion of DeFi will, in fact, be positive for bitcoin, or at worse neutral.
Matt Luongo, the CEO of Thesis, which develops the bitcoin rewards app Fold, says,
"The recent growth in ethereum, and DeFi specifically, offers opportunities to bitcoin holders to participate in exciting new platforms for borrowing, lending, derivatives and other financial activities."
Luongo tells Cryptonews.com that DeFi companies are developing new products that meet needs that have not been addressed before in finance. He adds,
"There is almost unlimited room for growth for both blockchain networks, and growing cross-chain functionality will act as a multiplier, spurring increased adoption of both ethereum and bitcoin."
CryptoCompare CEO and co-founder Charles Hayter also believes that DeFi and ethereum are positives for bitcoin.
He tells Cryptonews.com,
"It's likely that DeFi and ethereum's growth and the attention it has drawn has impacted positively on bitcoin's price and the ecosystem at large."
Other commentators – particularly those more skeptical of DeFi and its sustainability (or otherwise) – suggest that there have been some downsides for bitcoin.
"The growth of DeFi is both positive and negative for bitcoin (and the crypto space)," says Tone Vays, a crypto analyst and organizer of The Financial Summit.
Vays states,
"On the one hand it is generating buzz in our ecosystem, while on the other, it is creating an unsustainable bubble in vaporware just like the 2017 initial coin offering (ICO) bubble."
If DeFi is a bubble, the worry is that it may reduce confidence in bitcoin when it pops, which could further delay adoption and investment.
The Future
Looking at the longer-term picture, and assuming that DeFi has a sustainable core, opinion is more mixed as to how the bitcoin vs ethereum rivalry will play out.
"My personal belief is that DeFi will continue to grow from here," says Synthetix communications manager Garth Travers. "To where it will grow no one can say, but there is still a lot of capital allocated to legacy projects that are accomplishing nothing of value."
Again, even if DeFi continues to grow in the longer term, most people don't think this will hurt bitcoin in any existential manner.
Luongo opines,
"The key issue here is not ethereum vs bitcoin but the fact that we are establishing a new decentralized economy to step over the rigged, closed systems that have been mismanaged by earlier generations."
He notes that bitcoin and ethereum both "reflect a view of money centered on personal autonomy and the idea that access to finance should be free of the controlling influence of powerful middlemen."
To some extent, experts say, bitcoin's position is protected from ethereum by the fact that it serves a very different purpose.
Hayter argues,
"Ethereum and DeFi aim to harness the benefits of decentralized protocols to revolutionize the way a host of industries such as finance, lending, insurance, and trading are conducted, while bitcoin is establishing itself as an inflation-beating 'digital gold' which is proving attractive to retail and institutional investors alike."
Hayter believes that "DeFi will be a significant constituent of the crypto market for years to come." However, more pro-bitcoin commentators such as Vays believe almost the opposite is true.
He says,
"There is nothing sustainable about DeFi, especially yield farming. If you actually research what is going on, it's clear that it's dumber than the ICO boom of 2017."
What Will Change with Ethereum 2.0?
The launch of Ethereum 2.0 will likely provide a boost for both DeFi and ETH, but many think it will also help bitcoin.
Luongo explains,
"When (and if) Ethereum 2.0 launches successfully, it should have a major positive impact in attracting more people to both Ethereum and DeFi. This will ultimately be a positive for Bitcoin as well; there is still an enormous amount of blue sky for both blockchains to grow and to be the basis for a new, decentralized financial system."
Ethereum 2.0 may well result in bitcoin's market dominance being reduced even further, but its absolute size should continue to grow. This, in turn, will help the Ethereum network and ETH – and the entire crypto universe may even stand to benefit.
---