Why Crypto Prices Are Breaking to the Upside in a Big Way – Which Coins Should You Buy?
Disclosure: Crypto is a high-risk asset class. This article is provided for informational purposes and does not constitute investment advice. By using this website, you agree to our terms and conditions. We may utilise affiliate links within our content, and receive commission.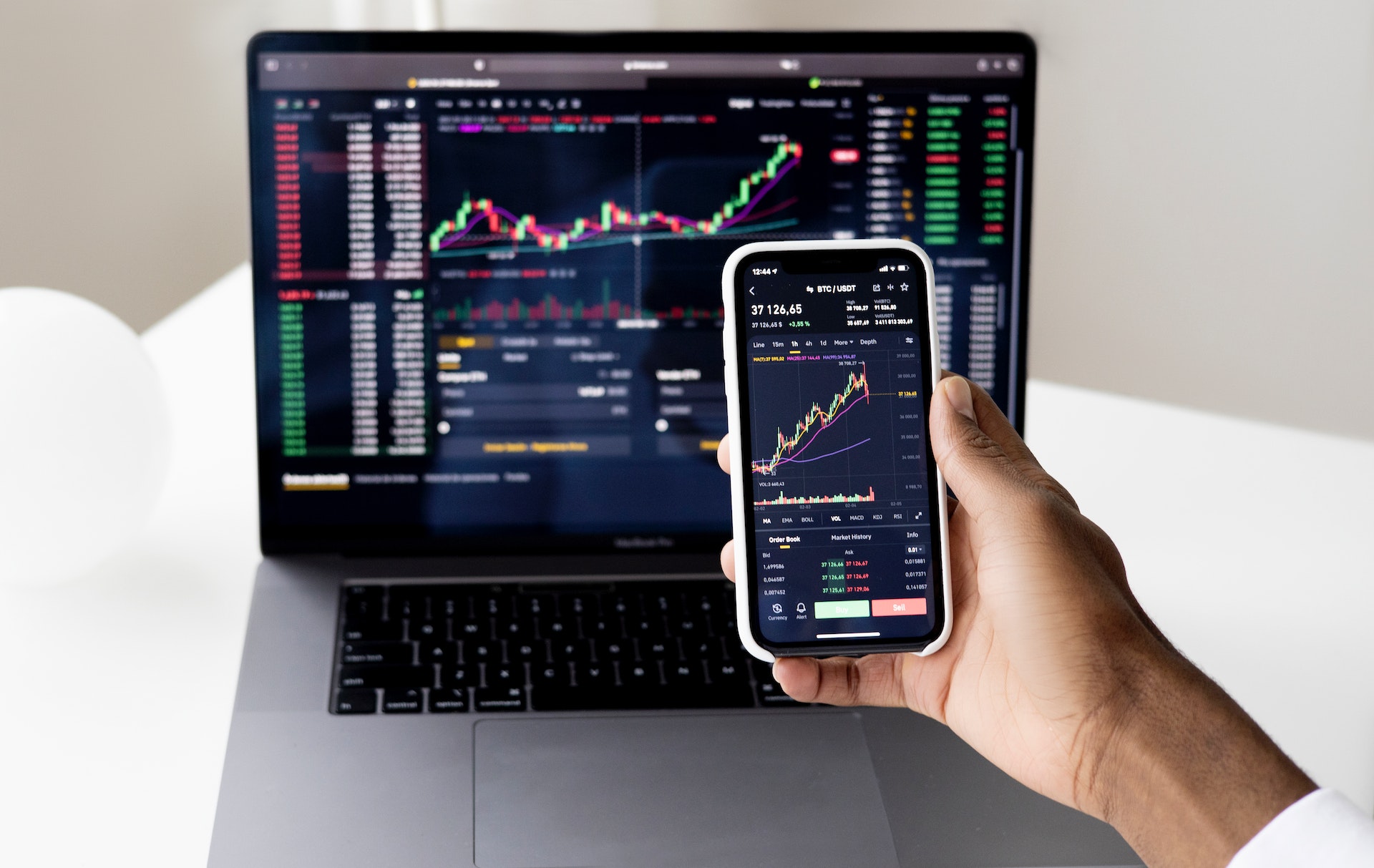 The cryptocurrency market has risen by 4% in the past 24 hours, with prices jumping in response to the publication of positive US inflation figures today. At $920 billion, the market's total cap has increased by 7.5% in the past week, as well as by 3.8% in the last 30 days, buoyed by the arrival of increasingly positive sentiment regarding the direction of the US (and global) economy.
With US CPI data for December showing another fall in inflation (from 7.1% in November to 6.5%), there's now a growing expectation that the worst of 2022's macroeconomic downturn is now over. And with interest rates likely to follow inflation, 2023 could bring see even bigger rallies than today's, particularly for the coins listed below.
Bitcoin (BTC)
BTC is currently more than 4% in the past 24 hours, having broached the $18,000 level overnight. At $18,105, it's also up by 7.6% in a week, 10% in a fortnight and by 5% in a month, although it remains 73% below its all-time high of $69,044, set in November 2021.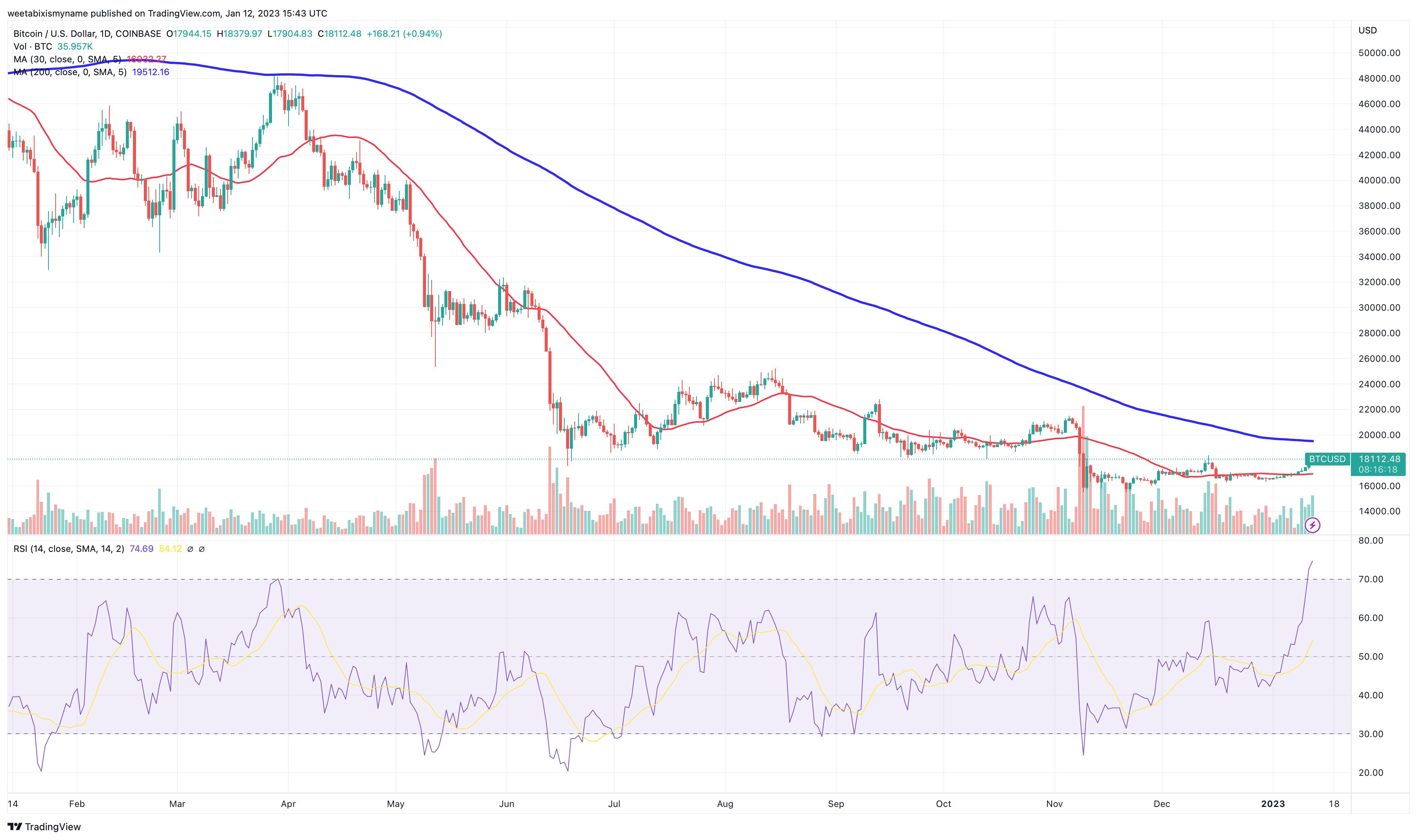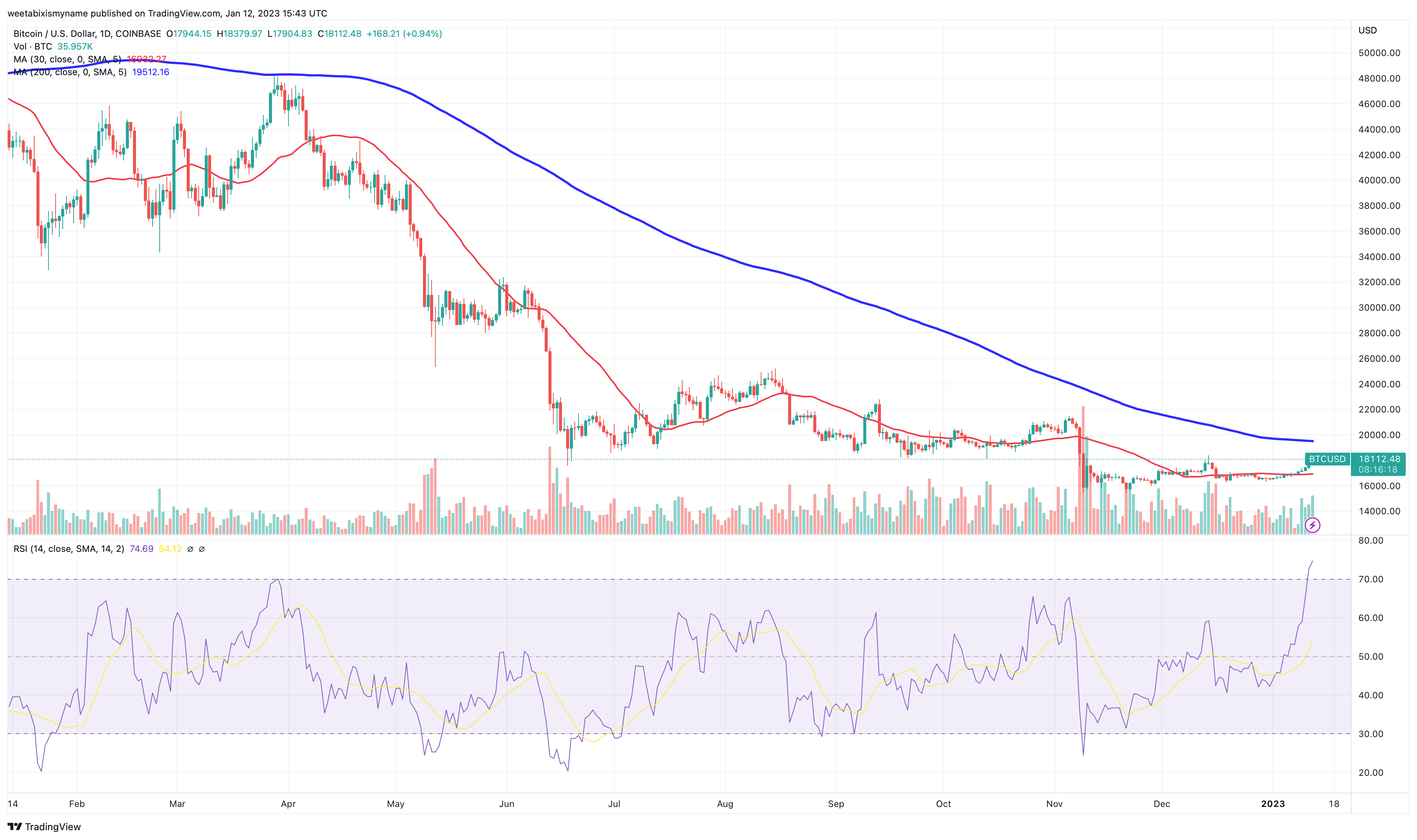 BTC's chart reveals a big increase in momentum, as indicated by its relative strength index (purple), which has passed 70 in the past day or so. This signals substantial buying pressure, and while some may argue that a score of over 70 means BTC is now overbought relative to recent movements, the fact that its 30-day average (red) is below its 200-day (blue) suggests otherwise.
More fundamentally, if any cryptocurrency is going to benefit from an improvement in macroeconomic conditions and a return to bullishness, it's bitcoin. As the biggest crypto by market cap, it's likely to attract the most outside investment, particularly from institutions.
🚨 JUST IN:

BlackRock has just activated #Bitcoin as an Asset in their $15 Trillion Dollar Fund

Is BlackRock planning to takeover Bitcoin? 😳🤔 pic.twitter.com/lyp9hLLK6j

— Aaron 🆎 (@AaronBremser_) January 7, 2023
Indeed, even with 2022's bear market, banks and other financial institutions have been preparing the groundwork for another bull market (with around three quarters of institutions planning to invest in crypto in the future). BNY Mellon and N26 have launched crypto-related services in the past few months, joining the growing ranks of banks with some kind of presence in the digital asset space.
This will make cryptocurrency investment more accessible to more mainstream investors, and for the most part, institutions still much prefer bitcoin to anything else. This is why it's primed to rally as conditions continue to improve further.
Ethereum (ETH)
ETH has risen by 4.5% today, with its current price of $1,387 marking a 10% jump in the past week and an 8.5% increase in a month. Of course, much like BTC, ETH is 72% down from its ATH of $4,878, also set in November 2021.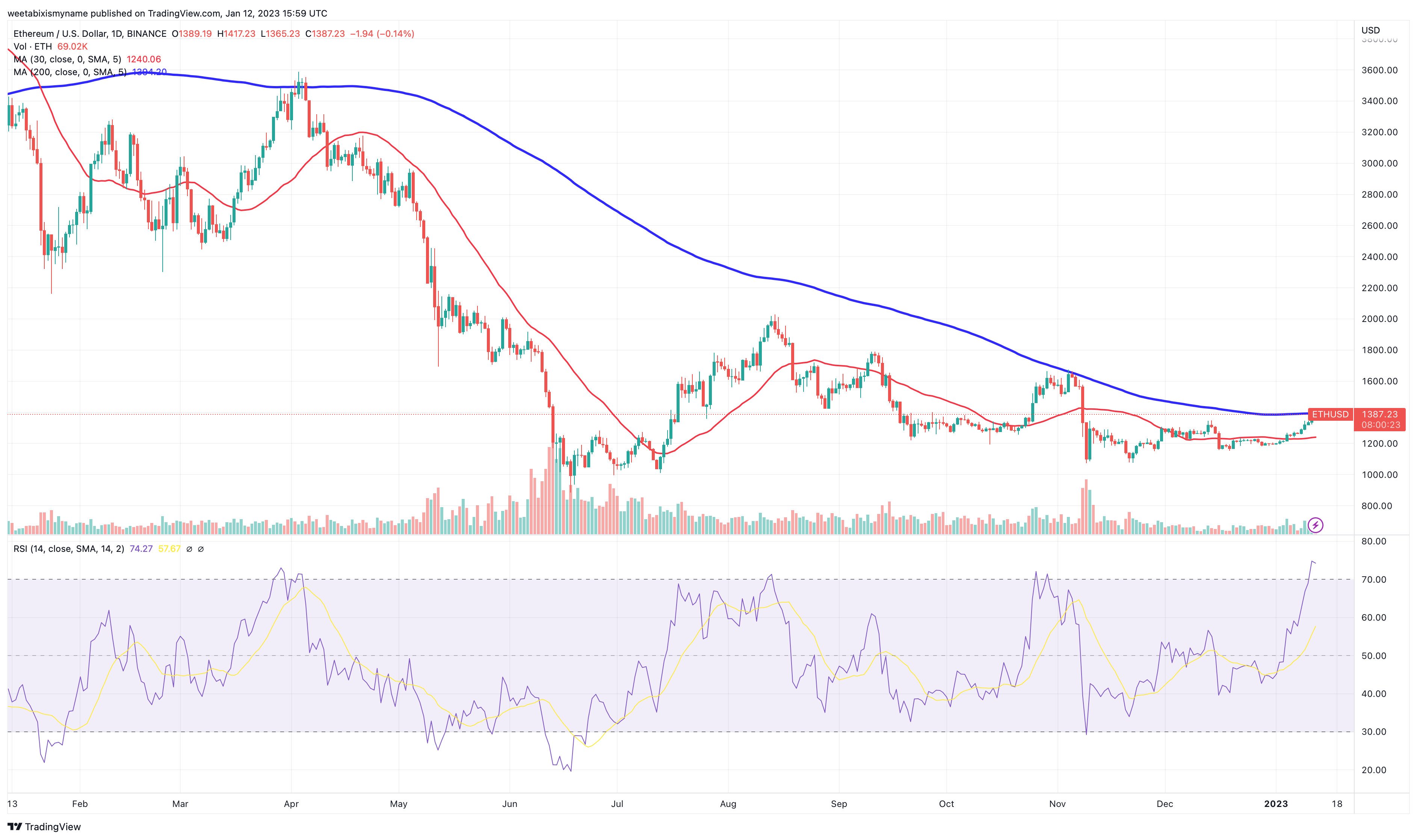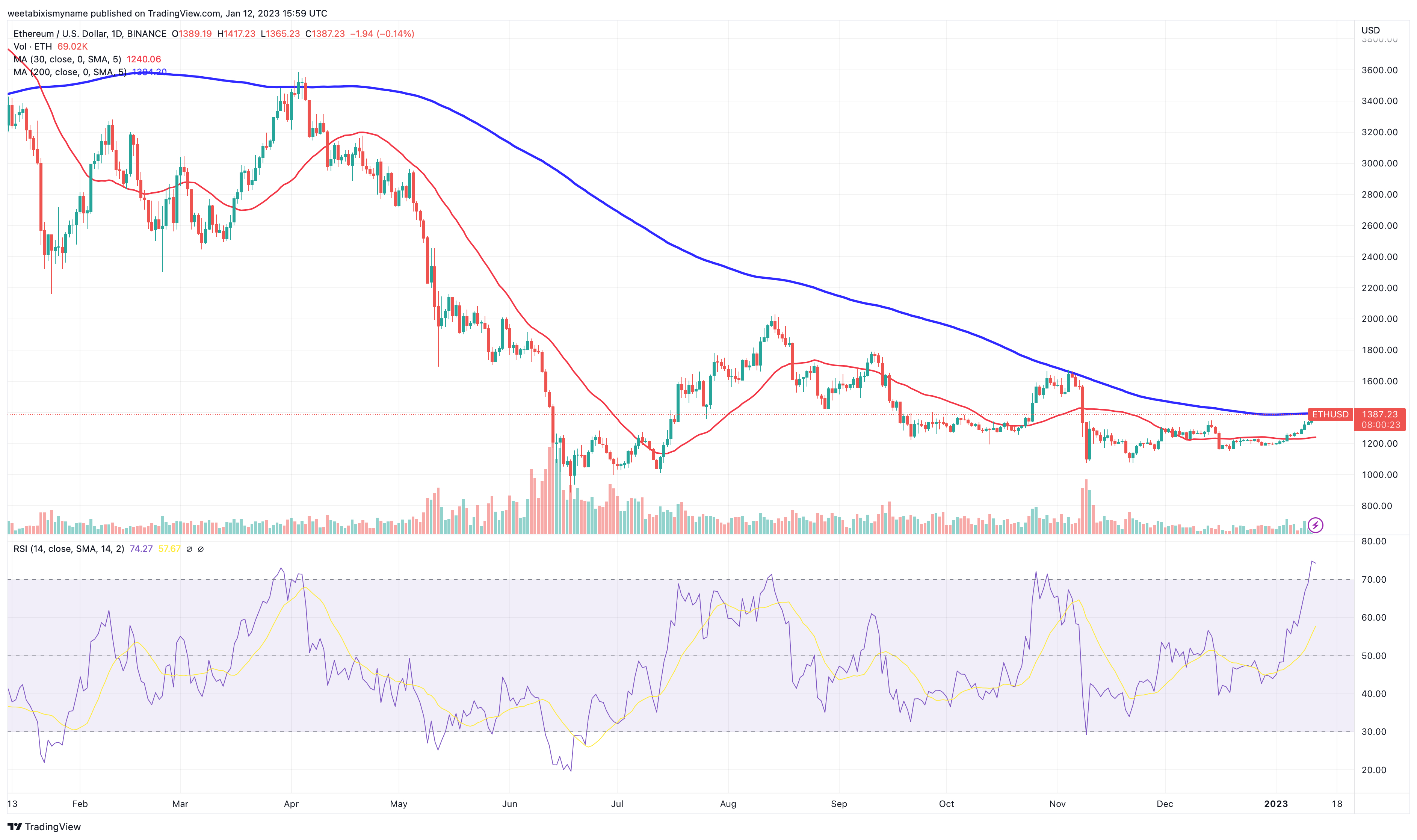 ETH looks like it could be in store for a breakout rally, given the combination of a rising RSI with a 30-day average that needs to regain ground on its 200-day.
Indeed, many analysts have been predicting a big ETH rally for months, and for some, ETH is due to rise more aggressively than BTC this year. This is the view of Bloomberg's Mike McGlone, who tweeted recently that the ratio of ETH's price to BTC's has been more or less increasing since early 2021, during the last bull market.
Bitcoin crosses series; Ethereum may be top candidate to continue outperforming the first born crypto –#Ethereum's advances vs. #Bitcoin have been unshaken by 2022 deflation in most risk assets and may be gaining underpinnings. pic.twitter.com/mLRMO4vpQr

— Mike McGlone (@mikemcglone11) December 20, 2022
McGlone expects this trend to continue once the cryptocurrency market (and global economy) becomes more bullish again, something which seems to be happening already. And while his views may be controversial to some, ETH certainly has the fundamentals for big rallies this year.
First of all, September's Merge put Ethereum on the path to becoming more scalable and efficient, while its shift to proof-of-stake (as well as other upgrades) now means that it's very close to becoming deflationary. As the tweet below from Velvet Capital highlights, periods of increased network activity will cause it to become deflationary, thereby boosting its price.
#Ethereum becomes deflationary when the token's burn rate (from transaction fees) is greater than the staking reward for validators

PoS ETH has only existed for a few months

In the next bull run, ETH may become even more deflationary with more people using Crypto regularly pic.twitter.com/Edpq0jrZR7

— Velvet.Capital (@Velvet_Capital) December 21, 2022
On top of this, Ethereum is already the biggest layer-one blockchain in terms of total value locked in, accounting for around 60% of the entire DeFi sector. And with further updates on the horizon, this is only going to increase in the future.
Avalanche (AVAX)
AVAX is one of today's best-performing top-100 cryptocurrencies, having surged by 20% in 24 hours. At $14.97, it has also risen by 24% in a week and by 15% in a month.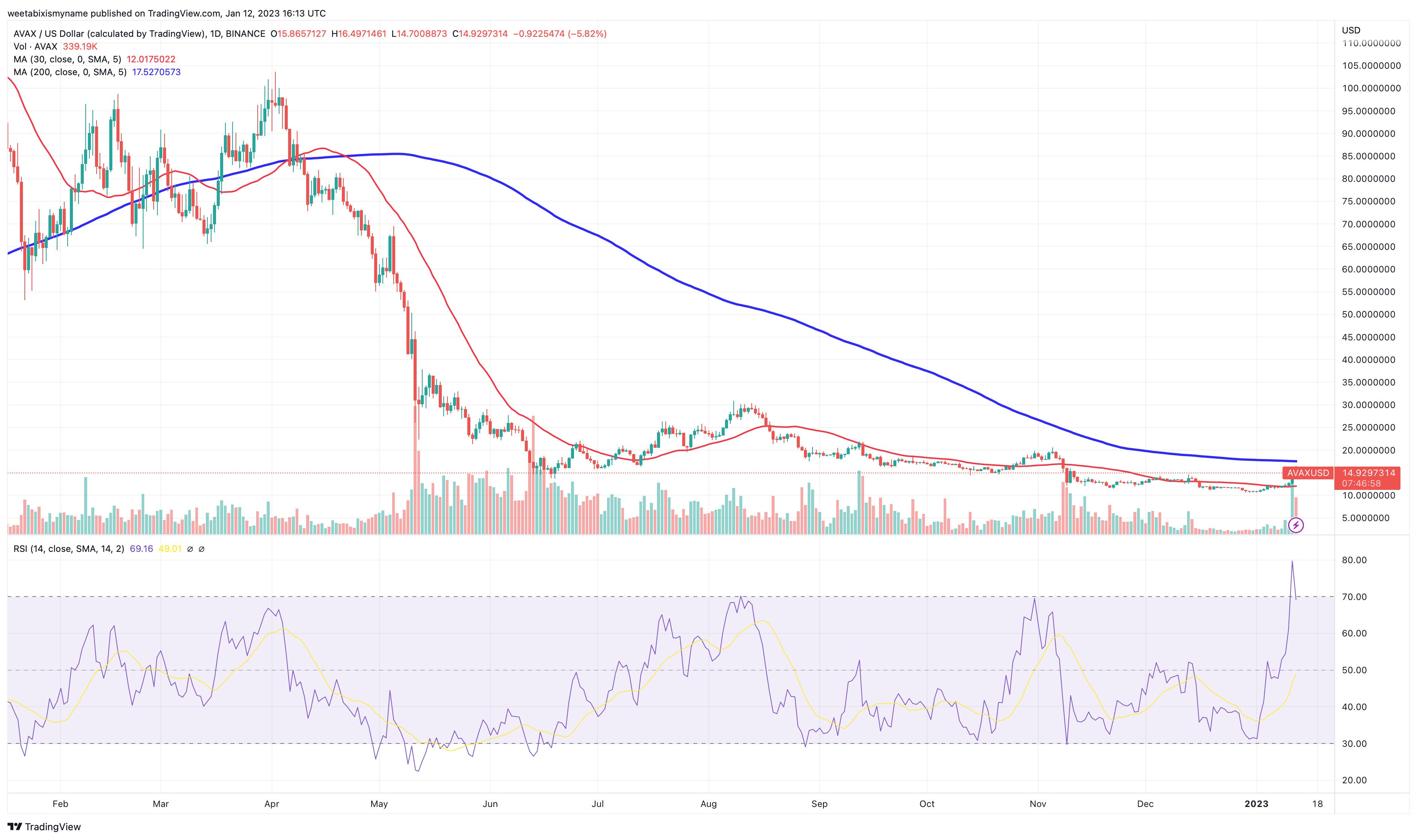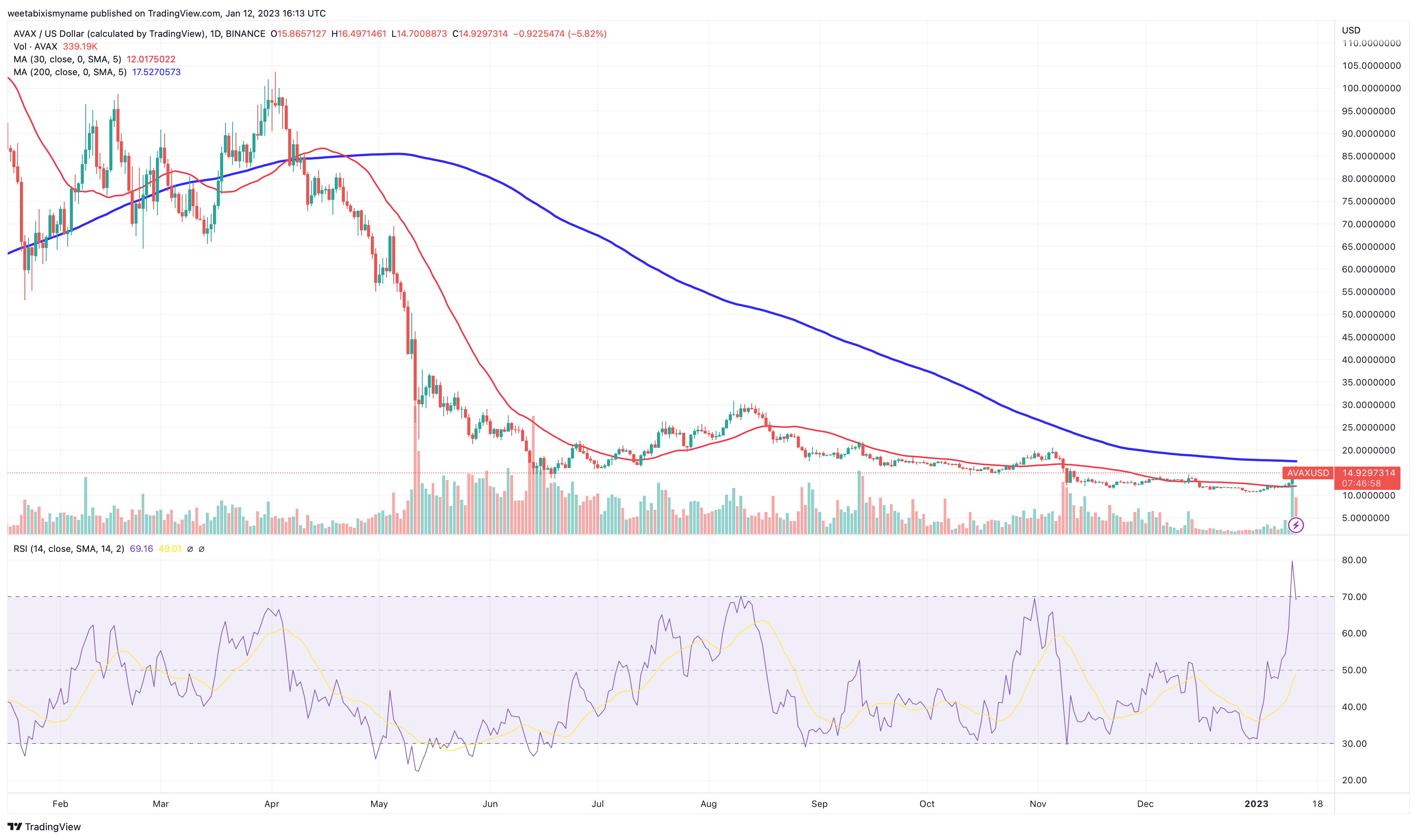 AVAX's RSI shows a sudden jump in buying pressure, and there's a simple reason for this: Avalanche has announced a partnership with Amazon Web Services. What this means is that AWS will use the Avalanche protocol to develop enterprise blockchain solutions for business and governments.
Developers can now use #AWS to deploy scalable, fault-tolerant, and compliant offerings, all while reducing costly compliance expenses & time. https://t.co/yoXpc6Jgcu

— Avalanche 🔺 (@avax) January 11, 2023
This is could result in massive adoption and use for Avalanche further down the line, as well as for AVAX. When you combine this with the fact AVAX has been oversold and undervalued for so long, the altcoin could rally massively this year.
Indeed, Avalanche remains the fourth-biggest layer-one blockchain network by total value locked in, and it also happens to be younger than the three platforms ahead of it (Ethereum, BNB Chain and Tron). It first went live in late 2020, so it arguably hasn't even had the chance to really get going, yet.
Lido DAO (LDO)
At $1.91, LDO has gained 7% in the past 24 hours, as well as 39% in the past week. Impressively, it has also risen by 100% in a fortnight and by 80% in the last 30 days, while also rising by 340% since hitting an all-time low of $0.406150 in June 2022.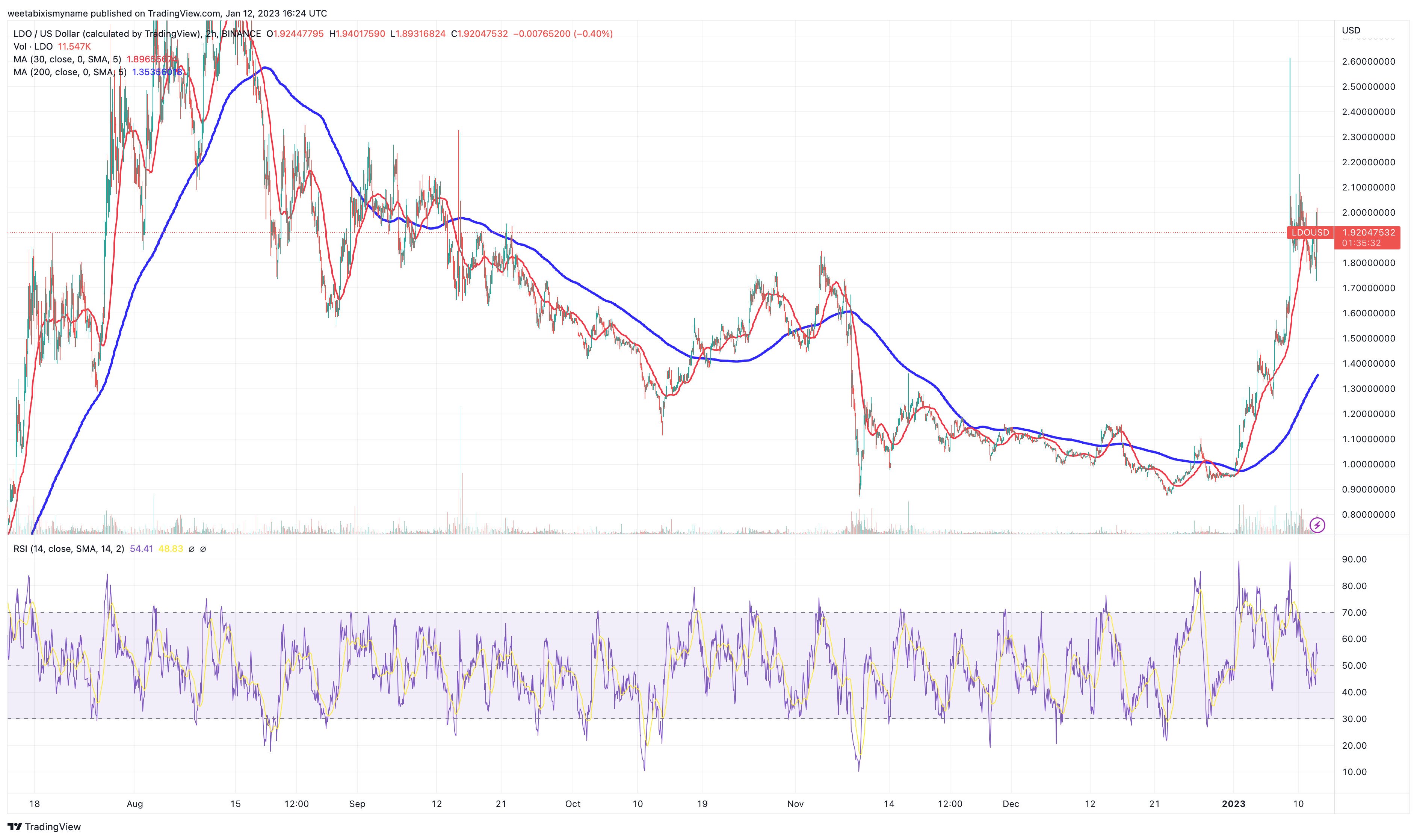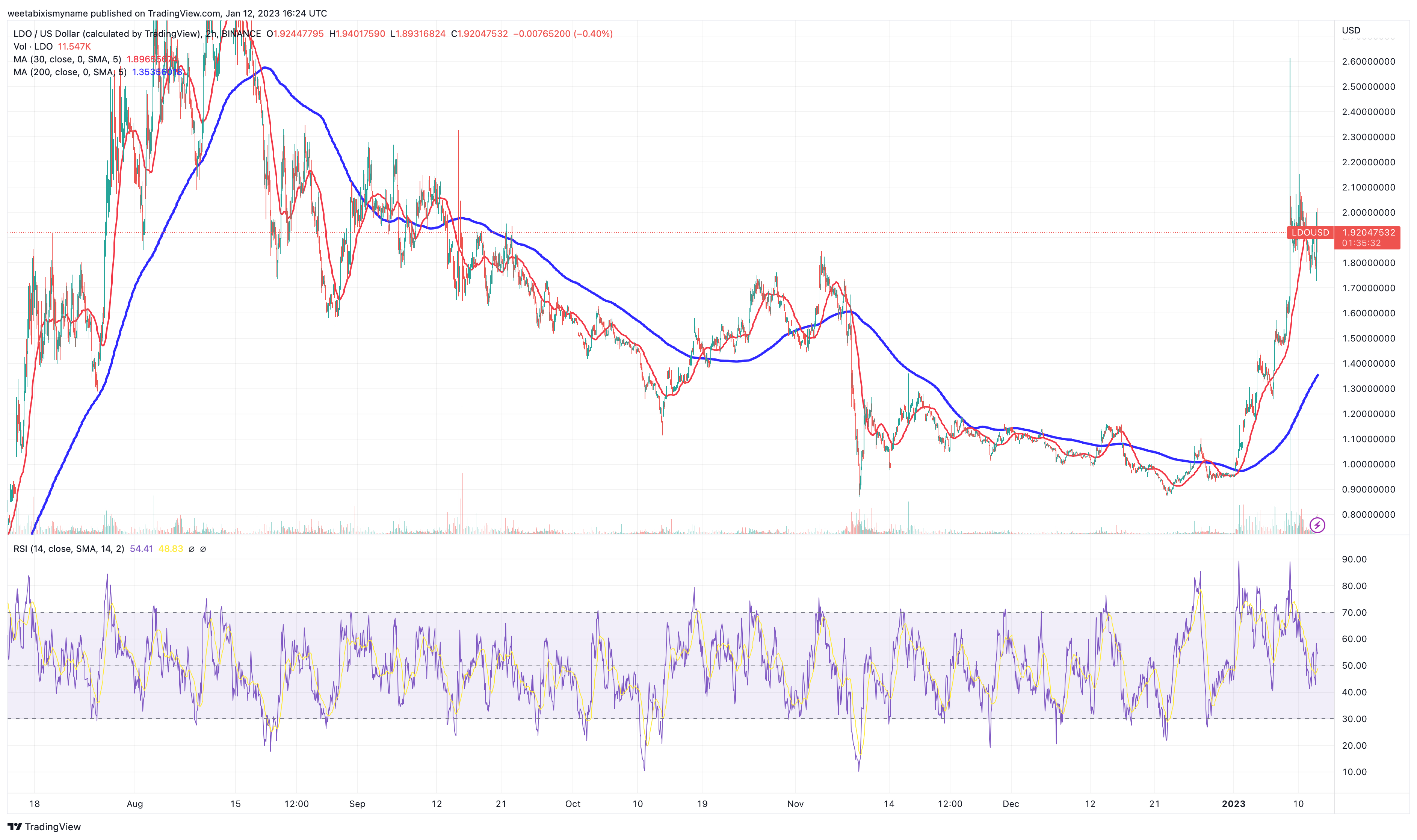 LDO has been doing well ever since it emerged that Lido DAO was the biggest dapp in the cryptocurrency ecosystem, having overtaken MakerDAO in terms of total value locked in. The two applications have traded places since then, but the fact that Lido has made it to the top underlines how big it will be now that Ethereum has transitioned to a proof-of-stake consensus mechanism.
As the biggest staking service for Ethereum, Lido has been enjoying increasing usage since September, with its LDO governance token benefitting as a result.
📈#LidoDAO's governance token, $LDO, has seen a 24% price increase since the start of the year and hit a peak of 34% growth in just two days.

This surge is due to @LidoFinance overtaking @MakerDAO in total value locked #TVL. pic.twitter.com/Izoyzs4Ru0

— Satoshi Club (@esatoshiclub) January 2, 2023
At the same time, Ethereum developers have confirmed that stakers will be able to withdraw their staked ETH from March. This has also helped to increase interest in Lido DAO and LDO over the past few weeks, and is likely to continue well into 2023.
JUST IN: Ethereum devs plan to enable staked #ETH withdrawals by March 2023

— Whale (@WhaleChart) December 8, 2022
Meta Masters Guild (MEMAG)
Despite only just opening its presale yesterday, Meta Masters Guild has raised more than $70,000 in its first 24 hours. This is an impressive achievement for the new play-to-earn crypto games platform, which will be used to develop a growing stable of Web3 and play-to-earn games when it launches its first game (Meta Kart Racers) in the third quarter of the year.
The MEMAG token sale will have a total of seven stages, with the first — and current — stage offering 1 MEMAG for $0.007. This price is due to increase by 42% next week, while it will incrementally rise to $0.023 by the seventh stage, meaning that the earliest investors will see a 228.5% jump before the coin even lists.
Meta Masters Guild is creating a mobile gaming ecosystem that lets you earn rewards in exchange for having fun and playing games! 👾

Ⓜ️ Join the presale to get your hands on $MEMAG tokens today! ⬇️https://t.co/CciShaUh6l pic.twitter.com/4ioHKjsQ9H

— Meta Masters Guild (@MEMAGgames) January 12, 2023
Investors can participate in the sale by heading over the official Meta Masters Guild website and connecting their Wallet Connect or MetaMask wallets. And with the platform already attracting over 22,000 followers on Twitter, it's likely that many more will join.
Fight Out (FGHT)
Based on the Ethereum blockchain, Fight Out (FGHT) is a platform that aims to take the move-to-earn sector forwards, mixing real-life workouts with Web3 and the metaverse. It will track and reward a much wider range of activities than previous M2E platforms, offering workouts in boxing, weightlifting and yoga, while also providing a variety of in-app and IRL courses at its own branded gyms.
https://www.twitter.com/FightOut_/status/1613551481864454149
Its token sale opened in December and has already raised over $2.8 million, with 1 FGHT currently selling at $0.0166. The sale is due to end by Q2 2022, which is when its app is due for launch.

Visit Fight Out Now
C+Charge (CCHG)
Tapping into the growing environmental awareness of the crypto sector, C+Charge (CCHG) is a peer-to-peer payment network for electric vehicle (EV) charging stations. Running on the BNB Chain, it has the primary aim of using blockchain and crypto to widen access to carbon credits, with its native CCHG set to be used within its network by EV owners to pay to charge their vehicles.
🌿C+Charge is a one-of-a-kind payment solution that is built on the blockchain and provides a token with real-life utilities

Don't forget to join our presale and experience quality #EV charging services

Buy some $CCHG now
👉🏼https://t.co/ixe18bPqzI

— C+Charge (@C_Charge_Token) January 11, 2023
C+Charge will also reward users with NFT-based carbon credits for charging their EVs at its stations, giving people an incentive to go green. It has also already signed partnershps with Flowcarbon and with Perfect Solutions Turkey, adding 20% of the EV chargers in Turkey to its network.
Its token sale began in December, with 1 CCHG available for $0.013. This price is due to rise soon, so interested parties are advised to act quickly.
---