What a Possible Global Recession Could Mean for Crypto
Analysts aren't sure whether this recession won't simply be of a 'cyclical' rather than catastrophic nature. The impact on Bitcoin would also depend on the ability of the U.S. dollar to retain its status as the world's 'reserve currency'.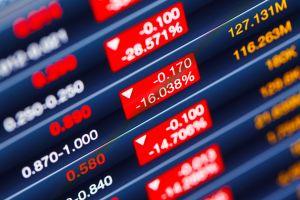 Source: iStock/leungchopan
Emerging in the wake of the 2008 financial crisis, Bitcoin was conceived by 'Satoshi Nakamoto' and its early converts as a means of placing international finance on a more objective and incorruptible footing, one which couldn't be adulterated by self-serving banks or governments.
Fast forward ten years, and it would now seem that another economic storm is brewing. Economists and financial experts talk of negative bond yields, low interest rates and low banking stocks, and they suggest that it points to a coming recession, which could be regional or global in scope.
The question is: how would Bitcoin and crypto be affected by another major recession? Opinion is divided, with the crypto hardcore expecting a move into the 'safe haven' of Bitcoin, but with others stating that all assets – including cryptocurrencies – would be depreciated.
The coming storm
As regular visitors to Twitter may be aware, some of the more outspoken and bullish members of the crypto elite have been talking up the possibility of a recession. At the beginning of July, Morgan Creek Digital co-founder Anthony "Pomp" Pompliano tweeted:
Similarly, Global Macro Investor founder Raoul Pal wrote on Twitter, "There is a lot going on in Europe that feels like it's coming to a head soon... probably by the end of the summer." He then proceeded to explain in a long thread that European bank stocks are struggling, and that the European Central Bank and other authorities would have little recourse policy-wise of averting a recession.
However, not everyone agrees with such soothsaying. On the one hand, there are those who believe that a recession could be coming, although they aren't sure whether it won't simply be of a 'cyclical' rather than catastrophic nature.
"There are several economists and analysts worldwide that are flagging the potential of a global recession," Dr Jemma Green – the co-founder and chairman of Power Ledger – tells Cryptonews.com. "Negative bond yields persist and low interest rates show less ability for central banks to stimulate economies by lowering rates further. In Australia, just [recently] stockbrokers have come out warning about an imminent market correction for the ASX, which could leave a lot of investors out of pocket."
This doesn't look too good for the global economy. That said, Green also points out that, even if we enter a formal recession, this doesn't necessarily equal a 'disaster' on the scale of 2008 or 1929.
"There are many factors that come into play with a recession - it is part of the economic business cycle, so as always we will just have to ride the waves of peaks and troughs."
On the other hand, even some people within the blockchain and crypto industry aren't convinced there will be a recession, with DigitalX CEO Leigh Travers being one of them.
"I believe a recession in the near-term is unlikely because interest rates can now be pushed below zero," he tells Cryptonews.com. "Monetary policy now has a bigger war chest of ammunition than when rates stopped at zero."
Digital gold
It would be unwise to assume that a recession is guaranteed. However, there's still a real possibility, and given this possibility, it becomes interesting to consider just how the Bitcoin and cryptocurrency markets would be affected in such an event.
Well, according to Jemma Green, it's likely that the Bitcoin market would be buoyed by a recession or downturn.
"Cryptocurrencies such as Bitcoin were developed as a response to a lack of faith in existing financial systems," she says.
"A lack of positive sentiment in traditional assets could result in an uplift in crypto-assets as a viable investment, particularly considering the recent market value increases in a number of major coins."
The recent surge in cryptocurrency prices has, in particular, cemented Bitcoin's status as a safe haven, with Bloomberg analyst Mike McGlone recently writing that the cryptocurrency is "gaining traction as [a] store-of-value and digital gold."
It's tempting to conclude that Bitcoin would appreciate during a recession. However, certain industry players propose the opposite, noting that serious recessions tend to depreciate all assets.
"In a heavy recession environment all assets get sold down, including in the global financial crisis [of 2008], where the gold price was sold down," says Leigh Travers. His argument is supported by the fact that, between March 2008 to November 2008, the price of gold fell from USD 31,633 per kg to USD 23,802 (although it began rising steadily from 2009 onwards).
The almighty dollar
Also, it's worth pointing out that, during the 2008 crisis, the price of the U.S. dollar increased, gaining 15.5% against a basket of other international currencies between August 1 2008 and October 22 of that year, according to a New York Times article from the period.
This suggests that many traditional investors might turn to it as a sanctuary rather than relatively new Bitcoin, although Leigh Travers notes the difficulty of predicting whether the circumstances of a future recession would permit it to retain its status as the world's 'reserve currency'.
"However, in the event of another recession, with global currency depreciation and governments printing money, a 'flight to cash' may not be seen as it was in previous recessions," he says.
In other words, if the U.S. dollar doesn't retain its strength in the midst of a potentially imminent recession, then Bitcoin could very well go from strength to strength.
---