This CEO Manages 100M Users: "Crypto Will Go Mainstream in 2019"
The key to adoption is combining accessibility with user experience quality, Andy Tian, co-founder and CEO of Asia Innovations Group (AIG), told in an interview with Cryptonews.com. The group owns projects such as Uplive, Super Fans, Gifto, and Pengpeng, and claims it has more than 100 million active users.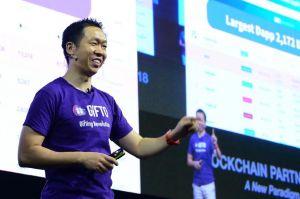 Now, by developing the Gifto project, AIG is bringing its virtual gifting model from Uplive to blockchain. According to the company, Uplive had more than USD 100 million in revenue in 2017.
Gifto is a decentralized virtual gifting protocol, social entertainment ecosystem which empowers content creators with the Gifto token. To date, over one million Gifto wallet holders can already use the token to buy and share virtual gifts and unlock fun experiences across live-streaming, gaming and online/offline retail services, according to Tian, who is also the CEO of Gifto.
The Gifto token was integrated into Uplive in June, making it the first cryptocurrency that can be used in a mass consumer entertainment app. Uplive is a mobile livestreaming platform with over 400,000 broadcasters receiving virtual gifts from their over 60 million fans across the world in over 16 languages, Tian said.
After this integration, the Gifto ecosystem now plans to go beyond livestreaming to become the primary token for content creators online.
Cryptonews.com: What are your strategic goals and action plan for 2019 and beyond, in terms of mass adoption?
Andy Tian: We believe crypto will go mainstream in 2019. Strategically, we aim for Gifto to touch hundreds of millions of lives and to be a primary driver of this mass adoption.
To get there, we need two things: First, when content creators and fans think of Gifto, they think of delightful, memorable, social experiences. Second, we need getting and using Gifto to be a breeze - hence the importance of a user-friendly wallet with simple fiat purchase of Gifto.
Another key strategic goal for us is to address consumer and content creator demand for better and more fun digital ownership. Why can't you own a Snapchat filter themed by your favorite Youtuber, for example? Blockchain can solve this. So going forward, we will continue to develop and integrate blockchain technology which solves problems close to consumers hearts.
What is the critical mass necessary for blockchain technology to be considered as introduced to mass consumers?
When a significant other or famous Youtuber knows that receiving a gift card engraved on the blockchain means it's theirs forever, without needing to know anything about how blockchain works, then we know we've reached critical mass. That's the future we're building at Gifto.
Crypto investors already believe they own their tokens - so for some early adopters, this belief is a reality. We now need to go beyond those early adopters and spread that belief to mainstream users.
What are the main challenges in bringing game dapps to mass adoption and how can this be overcome?
Adoption is a function of accessibility and quality of user experience. Most of today's dapps fall short on both dimensions which is reflected in their modest usage numbers. Mass adoption will be driven by mass consumers, not by the current couple million of crypto wallet holders. Access to dapps for average consumers, however, is very limited because of the challenges of purchasing crypto currency with fiat.
Gifto's team is well positioned to solve both problems: its team is already operating a USD 100M+ virtual gifting economy with fiat payment gateways across 100 countries in Uplive; moreover, its team consists of game development veterans hailing from Zynga, EA Games, Tencent and NetEase bringing extensive experience in developing mass entertainment applications to the crypto space.
What can Uplive benefit from blockchain technology?
Compared to Uplive's current in-app currency, uDiamonds, the blockchain-based Gifto tokens allow for far faster settlements, better fraud protection, and the elimination of payment gateway middlemen leaving more of the economics for content creators on Uplive and beyond.
Besides this, we are developing unique, provably rare collectible gifts which fans and broadcasters can share with each other as a memorable demonstration of appreciation.
Your Roadmap states that Phase 2 is in progress, as the company aims to reach one million Gifto wallets in Uplive.
We actually reached 1 million wallets and completed Phase 2 at the end of June. Moving forward we are focused on continuing to grow Gifto usage by content creators within and outside Uplive. To accomplish this, we'll be rolling out a number of dapps and partnerships targeting content creators over the coming months.
Could you please elaborate, what "Rollout Gifto dapps across virtual gifting, gaming, art, and charity" in Q3 means for your customers?
To be the top token used by content creators we'll need several dapps targeting different communities. For example, we are soon launching CoinUp, the crypto world's first crypto-friendly livestreaming platform. We're also working on our whitepaper vision for decentralized gifting via a social media links. And we'll continue to grow Giftomon, now the largest blockchain-based Telegram game, which takes the spirit of gifting to a fun and wacky gameworld.
For us, "rollout" also means going live with partnerships. We're fortunate to be working with some of the top names in commerce, philanthropy, and entertainment in Asia.
In sum, content creators can look forward to using an increasing number of dapps and the Gifto token to benefit more from the content they create online, which taken together, create a kind of social and entertainment crypto-economy.
How will the new Gifto blockchain technology that will be released in Q4 differ and how will it may drive mass adoption? Are you still on track to release it by the end of the year?
Today, simply getting a token is impossible for most users. We can't move beyond a market driven by speculation if no one can actually use tokens. Right now we are focused on building the most user-friendly and secure dapp wallet on the market in order to drive actual usage transactions. This means a wallet which allows for Gifto tokens to be purchased in local currencies directly, without needing to go to an exchange. It also means immediately be able to use those tokens in Gifto dapps. With phased launch of fiat purchase of Gifto in end of Q3/ beginning of Q4, we will begin driving mass adoption beyond just crypto-traders.
Recently, you've launched the Giftomon game, where players may collect and breed "Giftomon". What are the results of the game and what are the next steps? Who are the main competitors of the game?
Giftomon has exceeded our expectations. When we launched the game we didn't expect that it would reach over 4,000 DAUs* [daily active users] within only a couple of months in an "alpha" or testing phase with virtually zero promotion. Mining Gifto through Giftomon has been a huge success and we'll be doing a lot more with that gameplay, and we'll be expanding the Giftomon market significantly, as well as adding more languages. The game is only going to get better as new gameplay mechanics and blockchain-based assets are added.
We have an organic lockup plan coming soon with our Giftomon game. It is sure to reward longtime holders of Gifto tokens.
As far as competition - we're more focused on building an amazing game.
* [After the interview, Gifto has clarified that the number is different compared to public data provided by services such as Dappradar, because most of the transactions are off-chain.]
After the initial peak, interest in CryptoKitties has fallen. Why could Giftomon be a different case?
CryptoKitties brought the concept of collectible "artwork" to the blockchain. However, it didn't offer deep social interaction or utility, and struggled to keep user attention once the novelty wore off.
Giftomon, on the other hand, features rich social interaction between players, whether its challenging other players in the arena or interacting in the market. The most successful gaming franchises in the world are social at their core. This is a major driver of Giftomon engagement and we will continue to invest in social game mechanics to keep it fresh and fun for our players around the world.
Also, CryptoKitties growth is also bottlenecked by the Ethereum chain. We're not bottlenecked by this thanks to our hybrid Gifto wallet, which processes all transactions off-chain until the point which a user wants to transfer an asset on-chain. This is one of the key strengths we have in going mainstream - we really focus on actual user pain points with blockchain technology, and where blockchain technology can also delight users.
If you look at Dappradar stats for CryptoKitties and other such apps, you see very small numbers. Giftomon is already way, way ahead in terms of being a highly-engaging blockchain game, though most our user transactions are off-chain. It's a fundamentally different trajectory despite the PR that CryptoKitties has had to date.
If you're looking for new partners - who would be of interest to you and why?
We only announce partnerships when a pen has been put to paper. However I can tell you that we are looking for candidates that complement our role as the intersection between mass consumer, entertainment, and blockchain technology. We want collaborators that have experience driving real business with real users. We're only looking for high-impact partnerships that generate sustainable value for all parties involved.
Uplive had more than USD 100 million revenue in 2017. What is the revenue goal for Gifto in the medium term?
As a project based on nascent blockchain technology we measure the success of Gifto first and foremost through its usage. The more people that can use Gifto to enjoy and share in engaging entertainment experiences, the more successful the project will be. Our users have already made nearly half a million transactions across our dapps, and we expect to double this number to one million by the end of the year.
What is the plan regarding listing Gifto tokens on new exchanges?
Gifto tokens is proud to already be listed on leading exchanges such as Binance, OKEx, Bithum, Upbit and Bittrex. For obvious reasons, we can't announce a listing before it happens.
_____
Gifto price chart: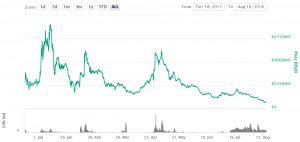 ---