This Austrian Printing House Aims For 'Major Role' in Crypto Adoption
The Austrian State Printing House (OeSD), an Austrian high-security specialist with a focus on secure identities, is another example of a company from a traditional sector that decided to add cryptocurrency-related products to their portfolio.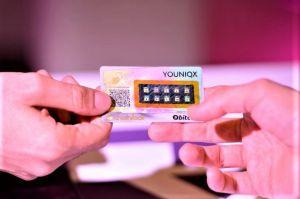 Besides focusing on the traditional segments, like printing passports and personalization of passwords, as well its existing video identification service MICK (My Identity Check) and its ID mobile identity solution MIA (My Identity App), "our target is basically, for two to three years, to play a major role in securing the mass adoption area of digital assets," Lukas Praml, CEO of OeSD and its subsidiary YOUNIQX Identity AG, told Cryptonews.com.
The company has already started to offer a hardware wallet solution, Chainlock, which looks similar to an ID card, to its business partners that, in turn, can resell this wallet. For example, OeSD and YOUNIQX Identity AG partnered with Coinfinity, an Austrian Bitcoin broker, in creating Chainlock and this wallet is now sold to direct customers under the Card Wallet name. Also, one of the Chainlock customers is Austrian crowdfunding platform Conda that manages security token offerings in the country, and another is Novem Gold, a Liechtenstein company that tokenizes gold.
The Austrian company is also in talks with Singapore-based exchange Tokenize , the CEO said, adding that they're looking for more B2B (business-to-business) partners.
_______________
_______________
Praml said that there will also be an expansion in the area of multisignature (it requires more than one key to authorize a cryptocurrency transaction), while the card itself will likely not be updated in the near future: "We will have different products that might base on a change of technology, but that card as it is, is perfect probably for many, many years to come."
The CEO did not disclose any numbers, only saying that the sales of their hardware wallets have surpassed estimations.
It was expected that it would take a long time to show people what this wallet is exactly, says Praml, given how untypical the product is and that it's likely that they're still the only company providing an offline-offline solution – no chips, no software, no need for updates, no backup codes written down, no USB stick, etc.
The wallet is created in a "highly-secure room" in the Austrian State Printing House in an isolated offline system, using Coinfinity's Secure Entropy Technology, so that nobody can know the sealed private key but the owner. The card has a continuous color gradient, hologram, micro-printing on both sides, tactile texturing, UV and infrared-visible patterns, and it comes with a security seal.
Praml compared their card wallet to a standard modern European ID card, explaining that the company is using the standard process for creating Austrian or other countries' documents, given that the Austrian State Printing House produces documents for over sixty countries. According to the CEO, their competitors in the old markets have not entered the crypto market yet.
In expanding their hardware wallet business the company is focusing on three regions: Asia (Hong Kong, Singapore, Malaysia, South Korea), German-speaking countries (Austria, Germany, Switzerland), and the U.S., to which they'll travel this autumn.
____
Read more: Six Alternative Hardware Wallets to Check Out
---