The Most Profitable Public ICOs of Q1
With initial coin offerings (ICOs) as an alternative means for raising funds gaining traction, and, by contrast, the number of scams and frauds increasing as well, it would seem that this is a foolproof way to get that money for your cutting edge idea. However, there is such a thing as survivor bias: the logical error of focusing, in our case, on those ICOs that made it, and overlooking those who did not because of lack of visibility. Taking a look through successful ICOs, but also general trends and those who flopped, helps paint a bigger, more complete picture.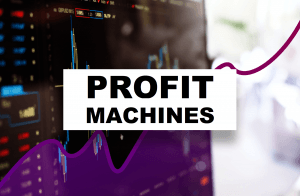 Below we've taken a look at how some of the top public, or available to everyone, ICOs have performed. Projects are rated by their Return on Investment (ROI) measure, or what return they brought compared to an initial investment. Returns differ depending on a currency of an initial investment.
Most Profitable ICOs of Q1
These numbers show how much the token price has changed relative to the initial ICO token price.
Source: Icodrops.com, Data taken on May 8, GMT 12:00
Note: Elastos and Trinity are included in the BTC ROI and ETH ROI lists and are not rated in the USD ROI tab.
_________________
Let's take a closer look at the winners.
ZILLIQA
At the top of the list, ZILLIQA is a blockchain platform designed for scalability in an open, permission-less distributed network. Its main feature is sharding: splitting the entire state of the network into a bunch of partitions called shards that contain their own independent piece of state and transaction history. Originally developed by a team of researchers at the National University of Singapore, Zilliqa is now the highest-market-cap blockchain platform ever to come out of Singapore.
TomoCoin
Described as "an efficient blockchain infrastructure for decentralized applications, token issuance and integration," TomoCoin is a project that claims to have a superior structure, that also supports dApps (decentralized applications) and cryptographic tokens, as well as trying to solve the scalability issue of the Ethereum platform.
Zebi
Zebi is based on offering governments and enterprises blockchain based solutions to leverage and protect their high value and sensitive data. Its purpose is to safeguard data against hacking and tampering, while obtaining consent from individuals and make it readily available for legitimate use.
Bluzelle
Bluzelle is aiming to rent out computer storage space to earn tokens while dApp developers use tokens to have their dApp's data stored and managed. Its ecosystem basically connects consumers wishing to rent out database space to providers with additional computing resources to offer this storage.
Switcheo Network
Switcheo Network is an exchange built on the NEO platform that allows for the trustless exchange of NEP-5 tokens and may expand to other cross-chain tokens in the future. Dubbed "the world's first multi-chain decentralized exchange," it promises instant trading and withdrawals and low fees.
Fusion
Fusion is a foundation that focuses on creating a cryptofinance platform to break down the barriers hindering widespread use of blockchain in finance. They are working towards constructing a connected financial ecosystem and helping blockchain progress from theory to practice.
MatrixChain
It is an open-source blockchain platform, working on utilizing artificial intelligence (AI) to solve issues such as scalability, smart contract security, programming barriers etc. The AI implementation supports continuous adaptive self-optimization through machine learning. It also allows its mining power to be used by AI to solve complex algorithms, directly taking the large amounts of energy usually consumed by proof-of-work calculations and using them for applications running on the MatrixChain.
CREDITS
An open blockchain platform with autonomous smart contracts and internal tokens, CREDITS is designed to create services for blockchain systems using self-executing smart contracts and a public data registry. It is supposed to have new technical capabilities of the network, response time, transaction cost and the number of operations per second.
Lympo
A new product for the betterment of healthy lifestyles, Lympo looks to monetize sports and wellness data via blockchain to reward users by offering incentives. As their summary puts it, "powered by user-generated and user-controlled fitness and wellness data, Lympo will allow the exchange of value through the introduction of LYM utility tokens."
Lamden
Lamden blockchain service is a suite of developer tools meant to speed up the process of creating new and custom blockchains and apps. Supposed to be the first ever blockchain enterprise solution, it is bringing advanced blockchain technology into the hands of experienced and amateur developers alike.
Elastos
Elastos is a blockchain-based operating system, that aims to become the world's first open source Internet Operating System, that authenticates digital rights, transfers contracts, and turns digital information into assets through blockchain technology on this new internet.
Trinity
Trinity is a blockchain service, dubbed "the Lightning Network" for NEO (a blockchain platform), looking to achieve real-time payment, low transaction fees, scalability, and privacy protection of NEO mainnet assets through state channels technology. Interestingly, the name Trinity comes from The Matrix - just like NEO itself.
Hyped & Underperformed
But having an ICO is not a magical way guaranteed to make you huge profits. Below are a few examples of hyped and underperformed projects. However, no one can tell how those projects will perform in the long run, as there is no guarantee that the top performers won't flop and won't be traded under their ICO price.
Experty: USD ROI 0.14x, BTC ROI 0.17x, ETH ROI 0.20x
Summarized as "get paid crypto calls," Experty promised a democratized digital consultations market. During a phone call, so-called "knowledge providers" accrue charges for advising the "knowledge seekers" and are instantly paid for their knowledge at the end of the call.
COPYTRACK: USD ROI 0.18x, BTC ROI 0.17x, ETH ROI 0.22x
COPYTRACK tries to correct the wrongs done to artists who have their licensed works used without paying, but also helps users pay, through automatic copyright enforcement. With its ICO price having been USD 1.19, it dropped to approximately USD 0.13 around the end of the first quarter, and is currently trading at around USD 0.22.
SwissBorg: USD ROI 0.24x, BTC ROI 0.38x, ETH ROI 0.43x
The SwissBorg project's aim was "revolutionizing wealth management with a community-centric approach powered by Ethereum and smart shares," while also promising to be the first Swiss cyber-bank offering crypto investment services. Having often been called a scam, there was never any conclusive evidence. Even though they have raised their target amount, this was never a guarantee of a high ROI to investors.
Trends
Out of 412 ICOs staged in Q1 of 2018, only 89 were able to list on exchanges, while only 204 have raised more than USD 100,000. 83% of the tokens listed on exchanges have flopped, according to ICORATING, the ICO rating agency, data. Moreover, 46.6% of the total number of projects in Q1 had no development before their ICO campaign, which is a negative factor for the industry in general, the agency said in a research.
ROI after ICOs of Q1 2018 by Raised Funds*
* - The graph shows the distribution of amount of funds and ROI.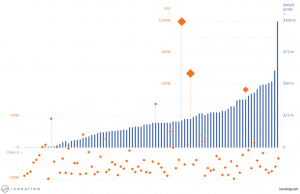 The only reason the median return is 49.32% is because a few projects are correcting it. If they were removed, there would be no escaping a negative return value.
The first quarter of this year has an obvious lesson for us: in present-day ICOs, you either win by such a large margin that you correct the median for all other projects, or you can't break even - a middle ground seems hard to find.
However, it would be unfair to not see the situation through more context. For example, S&P 500, an American stock market index based on the market capitalizations of 500 large companies, year-to-date return stands at -0.04% at the time of writing. A comforting thought: at least ICOs are not in the negative.
---