The Curious Case of 10 Coins Worth Almost Zero
Disclosure: Crypto is a high-risk asset class. This article is provided for informational purposes and does not constitute investment advice. By using this website, you agree to our terms and conditions. We may utilise affiliate links within our content, and receive commission.
Although the markets have not been merciful to anyone in the past year, some prices are still made up of two, three, even four digits. However, there are also those that have two, three, four – or even more zeros after the decimal point, and some of them even have to be written in scientific notation because their price is so small, it probably wouldn't fit on the screen. Possibly, they all just want to become satoshis, the smallest unit of the bitcoin.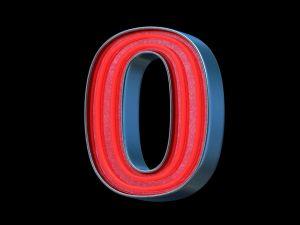 We have looked into some of the coins whose prices are incredibly close to zero, and bring you ten such examples. These coins are as of the time of writing the ones with the smallest price on CoinMarketCap that have any sort of trading volume – to exclude the possibility of dead coins entering our list.
If you think these are the last coins on the CoinMarketCap list, don't be mistaken – one coin sits among top 500 tokens by market capitalization with its network value of USD 3 million.
Let's take a quick look.
empowr coin
Rank on Coinmarketcap.com: 1114
Market capitalization (February 15, UTC 3:55 PM): USD 45,213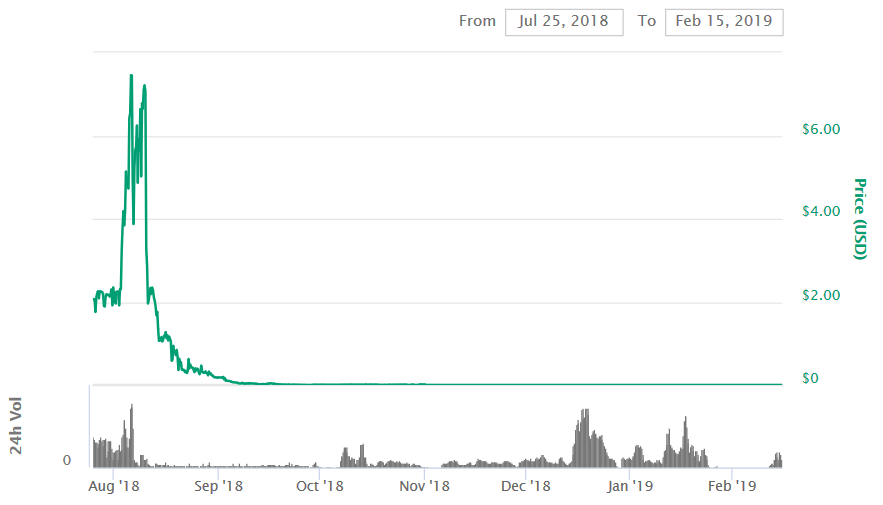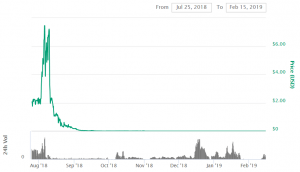 The empowr coin (EMPR) is certainly one with the smallest prices out there, worth USD 4.77e-9 as of the time of writing (USD 0.00000000477). According to the official website, "empowr is a democratic social economy that works by having the crowd reward the crowd for their content. It does this thanks to the empowr blockchain and cryptocurrency; empowr coins are 'minted' daily and distributed to content producers according to the 'Likes' they receive […] empowr citizens earn from posting content, selling and promoting products and services in the marketplace, or by teaching other empowr citizens how to be successful on the platform."
Obviously, the price is such that to earn around USD 5 you need 1,048,218,029 (or one trillion) EMPR coins. Although the project does not give details on how many coins you earn for each like, comment or share.
EmberCoin
Rank: 2042
Market cap: No data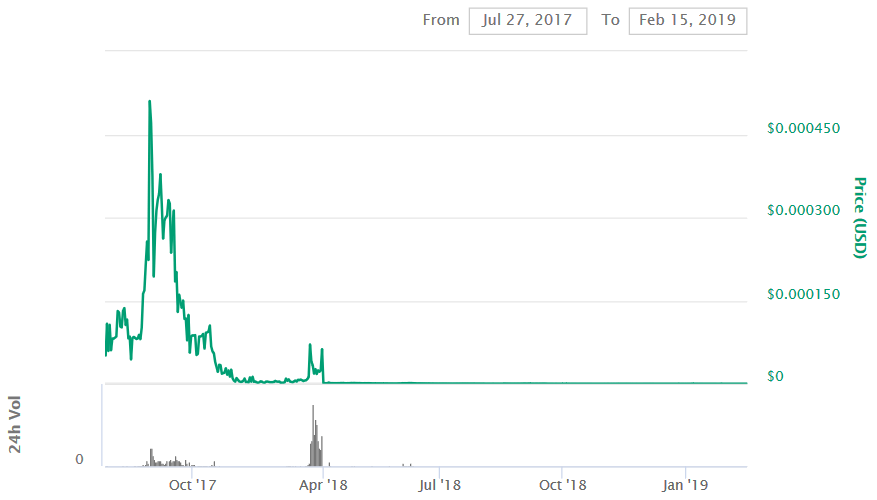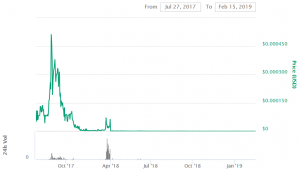 Worth more than EMPR, EmberCoin (EMB) goes for USD 2.15e-8 as of the time of writing (USD 0.0000000215). Embercoin is a cryptocurrency that can be used for purchasing digital services like web design, domain names and web-hosting, according to its website, which might look like the developers could not afford to buy a decently designed site.
Interestingly, EmberCoin is relatively popular, with 1.700 subscribers on its subreddit, but the team seems to have moved onto a new project and left this one completely alone. Still, it has not fallen completely to zero, as evidenced by the price.
Sprouts
Rank: 884
Market cap: USD 463,252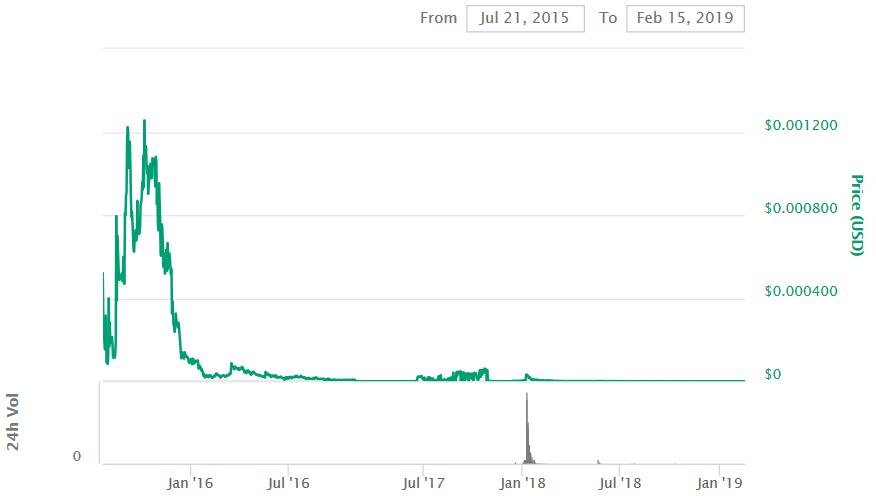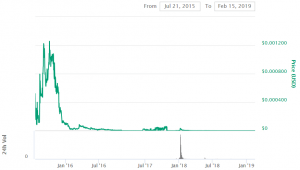 Sprouts (SPRTS) currently goes for USD 2.97e-8 apiece (USD 0.0000000297). Even its team calls it a "dead coin that will be reborn," and its initial purpose seems elusive in its whitepaper. Its subreddit states it is a "secure, fast and green cryptocurrency for everyone." They blame the incredibly low price on inflation, and the whole team behind the project is anonymous, with various avatars from anime and cat pictures on their profiles.
Still, it has an interesting community: to the question why it doesn't seem to have a proper whitepaper, one person replies, "Coins and teams who have whitepaper are full of sh*t. 99% are all pie in the sky. Baring [sic] a few, non [sic] of the billion dollar valuations have any substance. So make the most of it. This coin is going to get picked up."
Sub Invest
Rank: 1640
Market cap: USD 13,678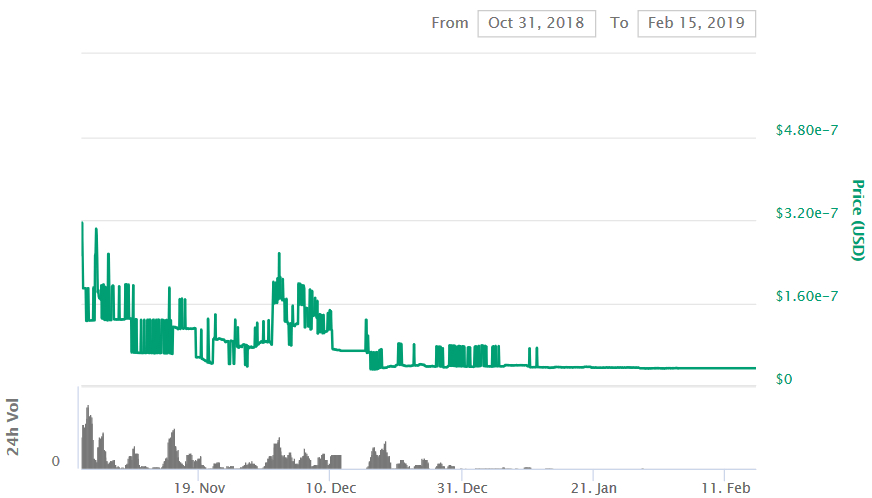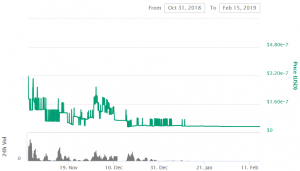 Sub Invest (SUBX) is currently trading for USD 3.47e-8 (USD 0.0000000347). Its website states a bold mission: "This Coin Will Be Made for The Beginners Of welcoming Cryptos into their business, Whom Are Not Fully Confident with Trading or Do Not Possess the Know How. This Coin Will Be A Stepping Stone for Them. Allowing Them to Expand their business, While Learning How to Trade. SUBX Devs will provide are the tools that the community and business require relieving the stress they posses."
It does have something of a community, though: its Discord has 1,000 members, they have 372 followers on Twitter, and their Telegram numbers 182 channel members.
808Coin
Rank: 1553
Market cap: USD 39,690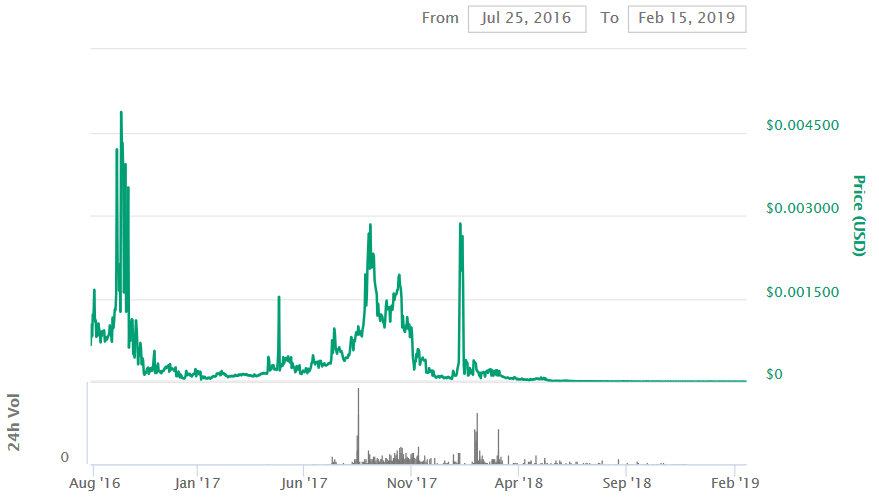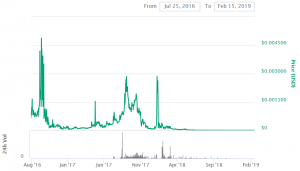 808Coin (808) goes for USD 3.55e-8 apiece (USD 0.0000000355). "Designed for a long term community the 808 coin was originally developed in mind for those who wish to contribute their own time towards block chain projects & community building, distinguishable among other alternate crypto currencies [sic] while honoring the TR-Roland 808 drum machine & the music industry across all genre's [sic]."
This project, however, has a whopping 2,700 Twitter followers, and they're actively updating their Twitter profile. There have been no updates on the project itself, but the profile is actively tweeting out vague pictures with lots of hashtags.
StrongHands
Rank: 836
Market cap: USD 622,957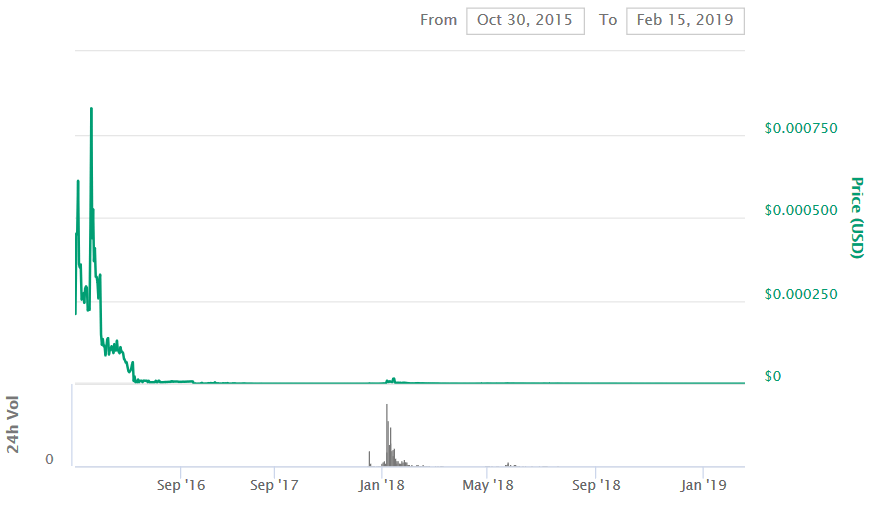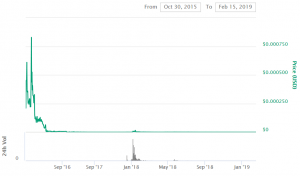 StrongHands (SHND) is worth USD 6.70e-8 (USD 0.000000067) at the moment. "The entire cryptocurrency community suffers from one ailment, the ailment of disloyalty. It's the problem that is eating away at our very survival. This coin solves that problem. If you have weak hands, this coin is not for you. If you can go the distance, then crank up the miners and get to work!" is the motto of this cryptocurrency.
Its subreddit has close to 1,000 subscribers, with the community seeming enthusiastic about the project and holding the coin for as long as possible. But then again, with that price, it's not like you're likely to send your life savings down the drain if it does go down.
Dix Asset
Rank: 1664
Market cap: USD 9,710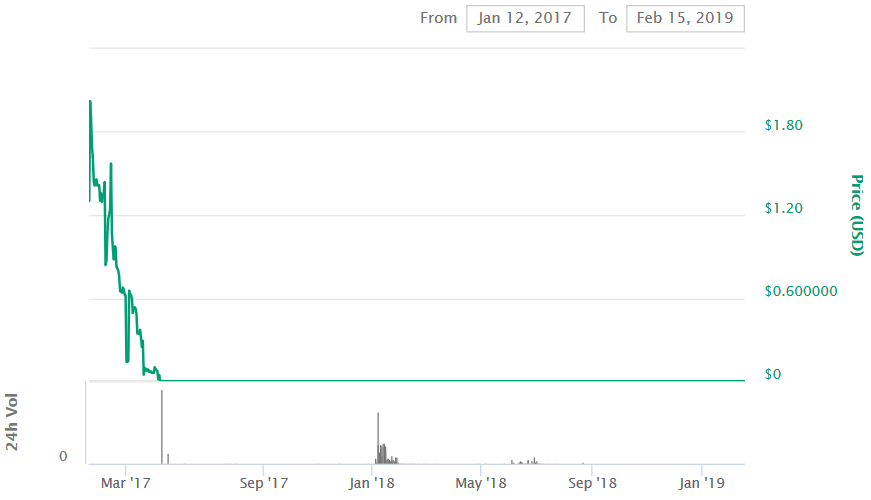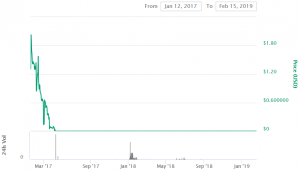 Dix Asset (DIX) currently goes for USD 9.66e-8 (USD 0.0000000966), and has actually spiked by 60% in the past 24 hours as of the time of writing. It is, however, struggling with malicious actors trying to tarnish its good name: "As of today [September 2018], we have been a live project for some time now. The project team jumped in to help DIX investors when nobody cared to. We've done everything during this process to ensure a proper and safe transition to bring a blockchain with value to the community while avoiding malicious acts. Unfortunately, we now have another who is trying to SCAM investors by utilizing the Dix Asset name once again. It's apparent that this individual was attracted by our recent activity."
The scammer is supposedly at large because they have been banned from the real Dix Asset Discord chat. However, it turns out that this coin has been abandoned by its original team and the low price can be blamed on the scammer, while the original team has moved onto Ondori (RSTR) which trades at a significantly higher price, at USD 0.000015.
FREE Coin
Rank: 485
Market cap: USD 3 million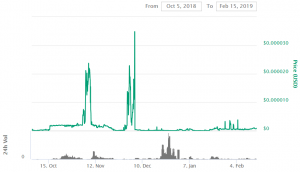 FREE Coin (FREE) is, contrary to its name, not free, but costs USD 7.88e-7 per coin (USD 0.000000788). "The FREE (refers to FREEdom) coin facilitates every one worldwide to participate in the wealth redistribution and creation that is going on thanks to the introduction of blockchain and cryptocurrencies," its website promises. This is also the reason for its low price: as one of their objectives, the website states, "Make cryptocurrency INCLUSIVE : allow access to cryptocurrency profits also to people with less financial means. Therefore we do the initial distribution at a low price."
However, they don't seem to have much activity in the community. This could be because the community is busy spreading the good word about FREE Coin.
FedoraCoin
Rank: 1267
Market cap: USD 543,213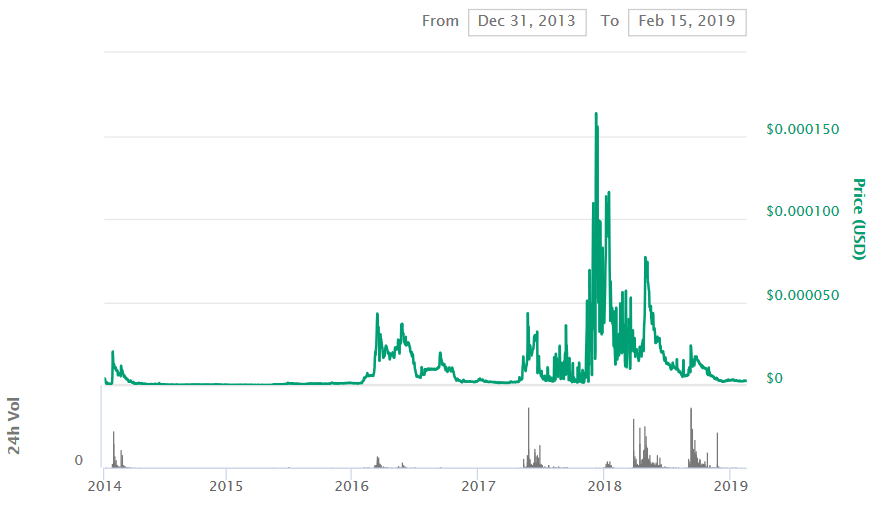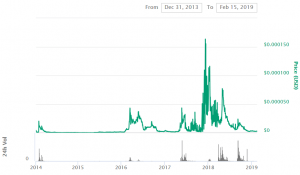 FedoraCoin (TIPS) trades for USD 0.000003, which is significantly more than almost any other coins on our list. This is another coin which has a purpose and a reason for its low price: "What distinguishes Fedoracoin from others is that it is specifically designed for small value transactions and tipping," explains a blog post about the cryptocurrency. The concept comes from the idea of people tipping their hats (fedoras, in this case) towards someone who makes a good point. So go forth and comment away on those social networks – you might receive some FedoraCoins.
Experience Points
Rank: 564
Market cap: USD 2 million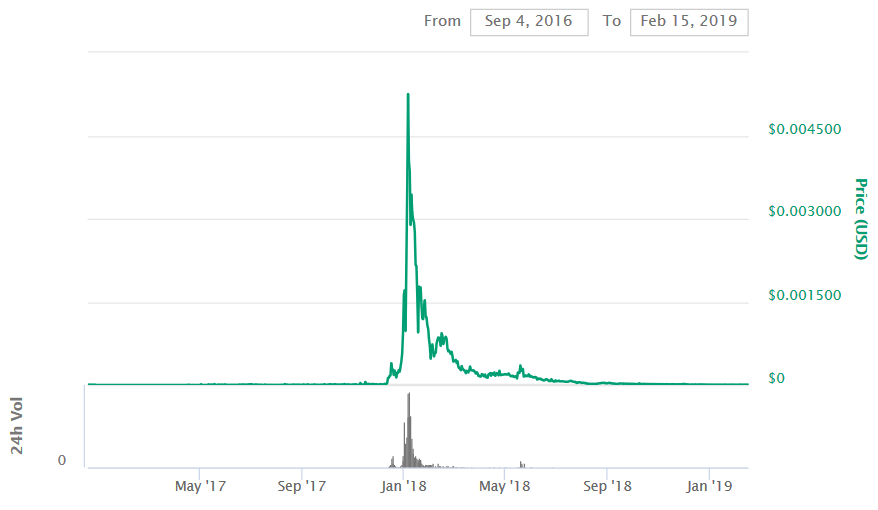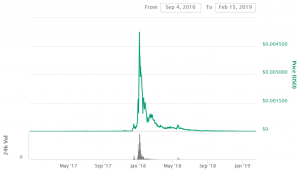 Experience Points (XP) are also quite expensive in comparison to the others on this list at USD 0.000006, which puts them in the first spot by price. According to the website, it is a "completely independent, platform agnostic incentive rewards token and digital currency combined enabling you to earn XP through video games, activities, sports, education and conservation which you can then spend at participating vendors either online, in-game, or on the high street (cryptocurrency exchanges)."
However, its low price means grinding – like in World of Warcraft, when you do repetitive quests just to level up, here your Experience Points are earned through a similar system. Who knew we'd start living the video game life within our lifetimes.
---