The BCH Fork War: What Do Traders Need to Know?
Disclosure: Crypto is a high-risk asset class. This article is provided for informational purposes and does not constitute investment advice. By using this website, you agree to our terms and conditions. We may utilise affiliate links within our content, and receive commission.
Although it's been almost a week since the Bitcoin Cash hard fork and neither of the two sides seem to be pulling back, and the world might end up with two different Bitcoin Cash versions in the end. For traders, this could mean having to memorize new names and learn the differences between the two, as well as figuring out which exchanges are listing which version.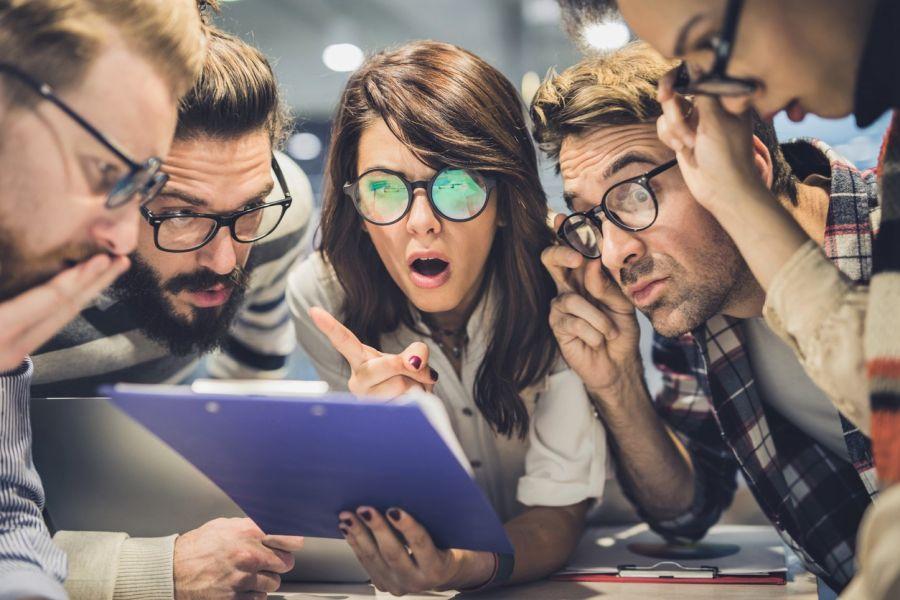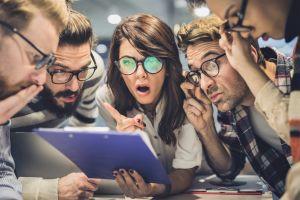 The Different Versions
The two different versions of Bitcoin Cash are now Bitcoin SV (stands for 'Satoshi's Vision') and Bitcoin ABC (stands for 'Adjustable Blocksize Cap'). The third version is a neutral one, that has mostly stayed out of sight.
Bitcoin ABC represents the "conservatives" aiming to preserve Bitcoin Cash from radical changes. It is lead by Bitcoin Cash enthusiast Roger Ver, among others, and has strong supporters represented by mining hardware producer Bitmain. This side believes that there is no need to change the structure of BCH radically, although the roadmap leaves some room for further development.
Bitcoin SV, on the other hand, was founded by a blockchain development firm called nChain, affiliated with Craig Wright, who has previously declared himself as Satoshi Nakamoto and is often dubbed Faketoshi. These "reformers" attempt to restore "the original Satoshi protocol" by changing the current BCH structure. Specifically, that would involve entirely overwriting the network scripts of Bitcoin ABC and increasing the block size of BCH from 32MB to a maximum of 128MB to increase network capacity and scale.
The "neutral wing" is represented by Bitcoin Unlimited, whose leaders have proposed a compromise solution called "Bitcoin Unlimited's strategy for the November 2018 hard fork." Essentially, that proposition suggested the ability to change both Bitcoin ABC and Bitcoin SV, thus empowering miners with their vote during the hard fork.
Which Exchanges Support Which Fork?
Cryptocurrency exchanges Huobi, Kraken and Bittrex gave Bitcoin ABC the BCH ticker and resumed trading as usual at the beginning of this week. Huobi did divulge that it would facilitate deposits, withdrawals, and trading for SV tokens – but insinuates that SV's lack of two-way replay protection was a security concern for the platform and its users alike. Kraken, meanwhile, noted that no major block explorers support SV, miners are "apparently" operating at a loss, supply is "temporarily constrained," along with a handful of other pertinent issues that could affect the viability and legitimacy of Craig Wright's go-to client.
On Tuesday, Coinbase, one of the largest U.S.-based cryptocurrency exchanges, affirmed it was "now prepared to resume limited trading in [Bitcoin Cash]," designating the Bitcoin ABC chain with the Bitcoin Cash (BCH) ticker – just like Huobi and Kraken did. Coinbase also added that its intention was to eventually "support withdrawal services for the [Bitcoin SV] chain" but that development work for this would likely take "at least a few weeks."
Exchanges such as Poloniex and Binance support the trading of both iterations. They simply removed the old symbol, and differentiated the two cryptocurrencies as BCHABC or BAB and BCHSV or BSV.
Other exchanges, such as eToro, are remaining in the background until this war resolves itself. "Following the split of the Bitcoin Cash blockchain into two chains, it is still uncertain which of the two is the dominant one. We are monitoring the situation and awaiting further developments. We hope to resume Bitcoin Cash trading on the eToro platform soon and will update our clients as soon as we do," the platform explains in a blog post today.
There are no exchanges that offer exclusive trading of Bitcoin SV – which is perhaps indicative of their position relative to Bitcoin ABC.
What's Going On with Bitcoin SV?
The exchanges evading Bitcoin SV could also be due to the fact that Bitcoin SV suffered a block reorganization Monday by which transactions on two different blocks were overwritten. Though it is possible these two blocks may have been maliciously overwritten by outside attackers, the most likely explanation for the temporary block reorganization was due to an overload in transaction activity caused by a planned stress test.
Chris Pacia, lead developer for e-commerce platform OpenBazaar, wrote on Twitter, "I'm honestly embarrassed for BSV. A bunch of know-nothing supporters insist that the technical community is wrong and BSV can handle massive blocks. So they set out to 'prove' it and in the process they have reorged the chain and performed a poison block attack," later adding that, "The BSV supporters are really the technical equivalent of flat earthers."
Emin Gün Sirer, a professor at Cornell University, stated, "This [reorganization] should not be possible in a decentralized system. You can only invalidate your own block and create a new tail if you're the majority miner. BSV is a centralized coin. Why do they bother with mining. They are clearly no good at it. Use Oracle on Craig's [Craig Wright] laptop."
Who Is Winning?
The most difficult question of them all. According to data from Coin.dance, Bitcoin ABC (which is Bitcoin Cash on Coin.dance) has the advantage, but realistically speaking, miners of both are at a loss.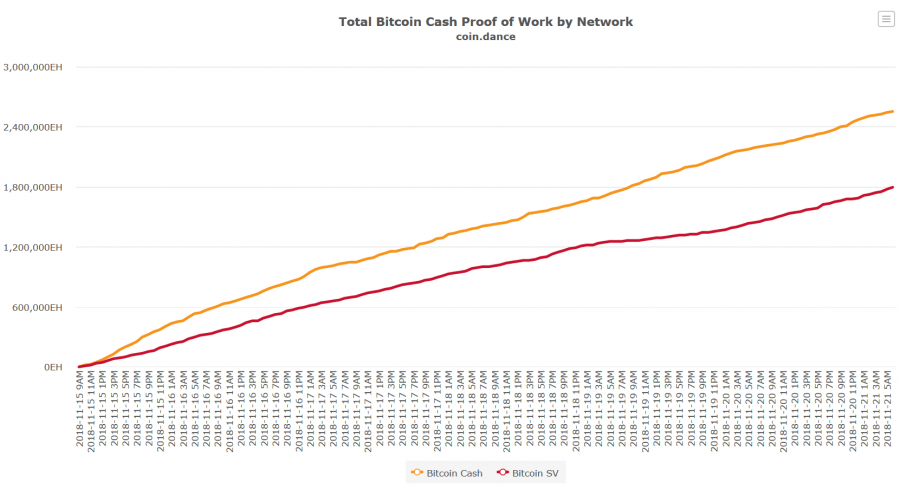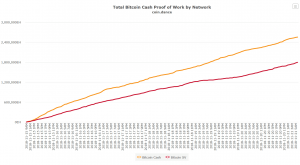 Research from the BitMEX exchange research blog shows that the BCH hash war cost miners USD 6.1 million in lost revenue. BitMEX adds, "It is only a matter of time until this pointless battle ends," insinuating that there is no way to maintain this stalemate indefinitely. They also tweeted, "Even assuming cheap energy costs, SV miners have a negative gross margin of 353 percent & USD 1.4 million of gross losses." So, while both are losing, SV seems to be losing more. Combined with less hashpower, fewer network nodes, and exchanges preferring ABC if they show any preference at all, SV looks doomed.
However, Wright maintains that all they need to do is persevere: "In our hash competition, we have seen the ABC team bring on their strongest sprinters. We are just at the trials and not yet on the finals to Marathon and they have made a remarkable burst to do a 9.9 second 100m (unfortunately in the wrong direction)."
---