Tezos, ConsenSys, Blockstack, and Others Share Their COVID-19 Stories
In the midst of the current COVID-19 pandemic, we asked several crypto/blockchain startups how they are operating in this hazardous environment.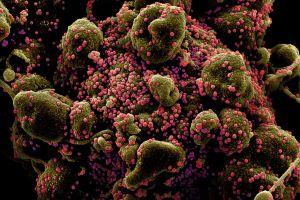 As we've seen, a number of crypto and blockchain-related companies decided to send their employees home to protect them from potential infection and prevent the spread of the virus, such as the major crypto exchange Coinbase. Meanwhile, security token platform Securitize, as a regulated company, has a Business Continuity and Disaster Recovery Plan that includes a pandemic, and the company already follows it to avoid any disruption to their business, customers, or partners. According to Carlos Domingo, CEO of Securitize, they are "well-positioned to weather these challenging conditions with nominal disruption." Major hardware wallet manufacturer Ledger also said that for them it's almost business as usual.
But how are other industry players doing?
Bancor: virtual hackatons
Nate Hindman, head of growth at decentralized liquidity network Bancor (BNT), told Cryptonews.com that, as a result of COVID-19, Bancor shifted all their participation in hackathons to virtual. Bancor announced in late January that they are sponsoring the Sustain Web3 Virtual Hackathon hosted by Gitcoin.
"Gitcoin and other virtual hackathons were important before," Hindman said, "and in this new normal, are an even more crucial channel for finding and building with strong developer talent." He added that their latest Gitcoin hackathon offers BNT 22,500 (USD 4,000) to developers who hack on Bancor liquidity pools and connect them to other Decentralized Finance (DeFi) protocols and fiat on-ramps.
ConsenSys: operations and services unaffected
Ethereum (ETH)-focused major blockchain company ConsenSys also reminded of Gitcoin's importance. Gitcoin launched its fifth round of Gitcoin Grants, with a new pool of USD 100,000 to match funds for public health-related projects whose goal is to help those affected by the outbreak.
Already in January, ConsenSys began taking precautions to limit business travel, and as the situation escalated in February, the company transitioned to remote work. According to their spokesperson:
all of the operations and services are unaffected, and the level of commitment and support for the customer remains unchanged;
all offices are closed and the staff operates 100% remote;
the company is working with its third-party providers to understand the potential impact and develop adequate contingency plans to avoid any disruption to the customers' businesses.
"With a global footprint, we are carefully monitoring the situation in each region. We have adopted social distancing best-practices early on to help flatten the curve of infections and there is full support for our employees and their well-being," the spokesperson said.
The company started releasing more training materials, and they will have a number of online webinars and virtual events. They have launched their Enterprise and Developer Libraries, educational resources for developers and enterprises, while ConsenSys Academy released the first five modules of Blockchain Developer Program for free.
Furthermore, the healthcare experts at ConsenSys Health are also partnering with Gitcoin to launch the COVID-19 Hackathon, which "will bring together developers and healthcare experts to build blockchain solutions to help collect, standardize, verify, and optimize data to aid scientists as they seek to better understand COVID-19."
Fireblocks: work-family balance
Digital asset storage, transfer, and issuing platform Fireblocks employees, both in Israel and New York are also working from home. According to the CEO Michael Shaulov, the biggest issue he currently sees is the employee's need to balance between work and family while working from home: "We need to respect that because schools are canceled some of our [research and development] employees need to dedicate more time to their family in the current situation."
They're solving their biggest issue by giving employees more flexible working hours, as well as moving all communication to collaboration platforms. They find that, as an Israeli-US company that also has a presence in the UK and Asia, they are accustomed to a distributed environment. Therefore, they believe that this is "actually a good situation for Fireblocks," given that it provides the company with a chance to the customers that their infrastructure functions well in the current environment.
In either case, the CEO said that their roadmap was not affected and "we are able to continue delivering new capabilities to our customers and prospects."
"Moreover, we are one of the few solutions that can actually support them with a high degree of security and efficient operation when they need to work in a distributed setup," Shaulov told Cryptonews.com. "This is an environment where our technology of MPC [multi-party computing], hardware security in mobile devices and cloud and distributed policies and workflows really shine."
Blockstack: keep everybody connected
Understanding the importance of the employees' need to stay at home and take care of their daily necessitates without worrying about work, blockchain start-up Blockstack made the call early on to strongly encourage everyone to work from home, said Muneeb Ali, Co-founder and CEO of Blockstack. 40% of their team members were already remote even before the pandemic. Ali said that the company was fortunate to have raised USD 23 million in funding about six months ago to continue executing on its roadmap.
"While Blockstack is a very ambitious project, short term situations and financial markets are not really impacting us or our work at this time," he added.
Another thing all these firms seem to share is the belief that going virtual is an excellent way to keep everybody connected. Blockstack is a project with a global community that is all remote, and the startup has always relied on virtual town halls, which are usually filled with hundreds of people, to update that community. These town halls, which they say represent the real Blockstack ecosystem, have been hugely successful, the CEO says.
"I think in times like these where everyone is remote and physically disconnected from one another, it is even more important to maintain a sense of togetherness," Ali said. "Virtual gatherings are a great way to keep the momentum going and stay connected, and we welcome everyone to join in."
Tezos: sufficient rainy day funds
TQ Tezos, a group that works to advance the Tezos (XTZ) ecosystem, is also monitoring the situation closely. They have instituted a mandatory work-from-home policy for the entire team and canceled all major events.
"But our operations have continued without interruption," Alison Mangiero, Co-founder and President of TQ Tezos, told Cryptonews.com, adding that the Tezos Foundation has "sufficient rainy day funds to continue funding projects within the Tezos ecosystem."
As reported, the Tezos Foundation, revealed recently that it had USD 635 million in assets as of January 31.
Meanwhile, TQ Tezos says it's continuing to advance the Tezos ecosystem, despite the pandemic. Their partner Vertalo announced that it is tokenizing twenty-two projects representing a cumulative USD 200 million in securities in Q1 and Q2 of 2020, and Mangiero said that they are committed to building on this momentum and establishing Tezos as the go-to blockchain for asset tokenization and other high-value use cases.
Tezos has also been encouraged to see the "ingenuity and initiative of our fellow Tezos community members on display in these unsteady times," with the community members working together to fight COVID-19 by organizing a donation-driven prize pool to incentivize community members to dedicate their computing resources to the [email protected] platform, which pools excess computation power towards research into COVID-19.
As reported, [email protected] has seen a 1,233% increase in the number of their volunteers, thus getting a massive increase in computation power as well.
KuCoin: an opportunity
Johnny Lyu, CEO of KuCoin Global, reminded that the economy is now highly associated with the COVID-19 situation.
"I think everything will get better this summer if all governments could take active and positive actions to fight against the virus. Many Asian countries like China, Singapore, Japan, and Korea are doing well and KuCoin is also trying to make some contributions. For example, during the outbreak in China, we donated plenty of medical goods to the people who are in need," he told Cryptonews.com.
"KuCoin sees the Coronavirus more like an opportunity for the blockchain industry. For instance, many Asian internet giants like Alibaba leveraged the blockchain technology to contribute to dealing with the virus. This is a good way to show everything what blockchain can do," Lyu concluded.
___
Learn more: Stress-tested Crypto Companies Focus on New Products and Growth
---