Rain, Government, and BTC Bulls to Help Chinese Miners After Bitcoin Halving
The Bitcoin halving might bring "at least a temporary decrease" in mining concentration. The flood season, government, and BTC rally would play in favor of Chinese miners.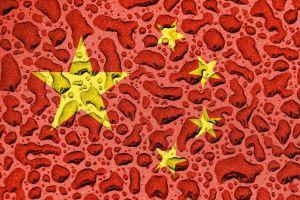 The third Bitcoin (BTC) halving will change the mining industry. With mining reward effectively being cut by 50%, many miners and mining companies will be forced offline.
Only the most efficient and economically viable will survive. The question is: will the surviving miners be mostly concentrated in China, as they are today?
Within the Bitcoin mining industry, there are two common answers to this question: "no," and "yes, but not to the same extent." Many China-based miners will go offline, and in their place miners from other nations – such as the United States and Russia – will gain more of a prominent role in the Bitcoin mining ecosystem. And it's already happening.
The economics of concentration
There's a well-known reason why 65% of Bitcoin's hashrate is currently controlled by mining pools located in China. As OKEx's chief strategy officer Alysa Xu reminds, it's all to do with economics.
"The mining industry is heavily concentrated in China for two main reasons," she says. "One is that the major mining machine manufacturers are located in China, and the other is that the electricity fees are relatively cheaper in some areas of China than the rest of the world."
Monthly share of total hasrate in April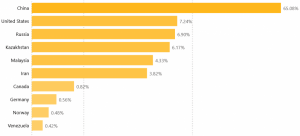 The head of Binance Pool, Lisa He, also notes that other economic factors weigh in China's favor.
"Three key elements determine the profitability and success of every Bitcoin mining operation, no matter how small or large," she tells Cryptonews.com. "You need to have access to cheap electricity, affordable and stable internet connection, and workforce. I personally believe that the reason why China currently attributes to 65% of the total Bitcoin hash rate lies in exactly these three elements."
Basically, the view of He and Xu is that the Bitcoin halving will do little to remove these advantages.
"I believe that halving will not have much impact on this," says Alysa Xu. "Although halving reduces block rewards, as the flood season arrives, electricity fees will be cheaper in China – mining costs will be lower too."
That said, there is still scope for the current 65% concentration to be reduced after the Bitcoin halving. This is particularly the case if Bitcoin's price stagnates or declines in the immediate aftermath of the halving.
"If bitcoin's price stays the same, we expect to see a drop in Bitcoin's hashrate as older generation mining hardware becomes unprofitable and goes offline in mining farms that are more focussed on short-term gains than a longer-term or sustainable business operation," says BitRiver CEO Igor Runets.
Runets notes that, because most mining farms are located in China, we would see more hashrate going offline from China than from anywhere else. In other words, the Bitcoin halving would bring "at least a temporary decrease" in Bitcoin mining concentration.
Similarly, Lisa He explains that the price of bitcoin is the biggest factor in deciding whether the Bitcoin halving might reduce China's dominance of the mining sector.
"If the price keeps going up, then we can expect more centralization of mining in China," she says. "However, if the price goes down and renders mining less profitable, we might see more miners appearing in the different regions."
New players
But if Bitcoin's hashrate distribution veers away from China, where exactly would it go? Well, perhaps unsurprisingly for the CEO of a Russia-based mining colocation provider, Igor Runets predicts that Russia will become a more prominent part of the ecosystem after the Bitcoin halving.
"We expect Russia to become more prominent within the Bitcoin mining sector," he says. "The region produces green, renewable and surplus power throughout the year and the governments support the economic as well as social benefits that large mining operations like ours bring to the region."
Runets expects that Russia will continue to attract miners from around the world. However, while Lisa He and Alysa Xu acknowledge that other nations may rise in relative prominence, they're not sure just how far they will rise after the Bitcoin halving.
And while other countries are experimenting with renewable and cheap electricity sources, "still, they're often facing issues related to incomplete infrastructure," according to Lisa He.
Alysa Xu has similar views. "As far as I understand, countries such as the United States, Russia, Turkey, and Ukraine are gradually picking up interests in Bitcoin mining, but I don't think they will take over China's position as the largest mining country in the world."
As reported this week, Ukraine's plan to offset the financial chaos of the coronavirus pandemic might involve nuclear-powered cryptocurrency mining.
Chinese government support
And while Chinese miners will most likely be hardest hit by the Bitcoin halving, the Chinese government has increasingly been taking steps to support the national mining sector.
"The Chinese government's policy on Bitcoin mining has gradually shifted from negative to positive," explains Alysa Xu.
"Last year, the government wanted to eliminate Bitcoin mining, yet recently, some local governments, such as Sichuan, have already indicated that they will be supporting the mining industry during the flood season."
All the largest Bitcoin mining pools are from China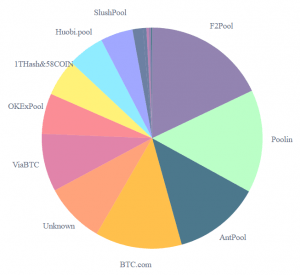 Given this increased positive engagement from Chinese authorities, it's unlikely that the Bitcoin halving will have a big impact on the concentration of mining within China. It might reduce it, but China will continue to be the main player in Bitcoin mining for some time to come.
The third Bitcoin mining reward halving is estimated to happen on May 11-12. Learn more about it here.
---