Major Transacting Oopsies, Minor Panicking Ouchies and 20 Crypto Jokes
Disclosure: Crypto is a high-risk asset class. This article is provided for informational purposes and does not constitute investment advice. By using this website, you agree to our terms and conditions. We may utilise affiliate links within our content, and receive commission.
In this week's major oopsie, Bitfinex paid USD 23.5m in transaction fees, but the block's miner decided to return nearly the entire sum, and DeversiFi soon explained what happened. And then, another oopsie happened when a Compound contract started giving out major rewards to claimers, with the Cryptoverse discussing how legal or ethical it is. OKEx and Huobi tokens were trying to recover as the latest crackdown in China was taking effect, DYDX soared as the protocol saw a trading volume double that of Coinbase, and ADA dropped despite Cardano gave more details on the Djed stablecoin and new partnerships. The BIS said that the multiple CBDC platform they're working on with four central banks may cut international payment costs by up to half, while the President of El Salvador refuted that the state will seek to pay pensions or allow firms to pay wages in BTC, and soon announced that first volcanic BTC was mined. Speaking of BTC, 'extreme volatility' is expected as investors learn to value it.
Meanwhile, Swiss fintech launched the country's first regulated crypto asset fund. The regulatory battles against the crypto industry continue, with the latest one in the US being against Kraken, but crypto community finds there is little reason to panic about the US debt ceiling issue. American crypto investors are taking advantage of two key "tax loss harvesting" loopholes, but lawmakers are already seeking to close them. In South Korea, the crypto sector was still reeling from last week's carnage, trading volumes were shrinking at crypto platforms there, with new restrictions being confirmed, and the country's taxman was set to be granted the right to search crypto tax evaders' homes, but blockchain-powered pay and stablecoins were thriving. That said, more crypto regulation may be on its way in South Korea and Japan.
Facebook unveiled a two-year USD 50m investment in global research and program partners to ensure a "responsible development" of the metaverse, Bitcoin miners are partnering with operators of struggling, carbon-free nuclear plants, NFL and Dapper Labs are set to unveil a new digital collectibles marketplace, and Twitter offered a sneak peek at the upcoming NFT integration. Over a third of 38% of surveyed young Spaniards are considering making crypto investments, while another survey found that in the LatAm region crypto interest is lowest in Chile. As all this was happening, the trading hamster Mr Goxx outperformed Warren Buffett's Berkshire Hathaway and S&P 500.
And now, laugh.
__________
Hiii, CT! What's are you up to?
Petition to call this era of Crypto Twitter the "flip-floppening"

Kind of like The Halving but even more re[dacted] pic.twitter.com/U3VegL4PvM

— Charlie (@btc_charlie) September 28, 2021
__
Or maybe it's…
#Bitcoin just entered Uptober! 🙌 😂 https://t.co/UmG4ADpcxL

— Bitcoin Archive (@BTC_Archive) October 1, 2021
__
Let's see how the week went for the ETH community.
Everytime I wake up to $ETH over $3000 pic.twitter.com/kxo6Xrm4M4

— Koroush AK (@KoroushAK) September 30, 2021
__
How about the ETH camp?
https://www.twitter.com/Bitcoinclaat/status/1441004306417717252
__
Just wanted to ask a few questions….
https://www.twitter.com/gegelsmr2/status/1442445508488818691
__
As soon as the dinner is over: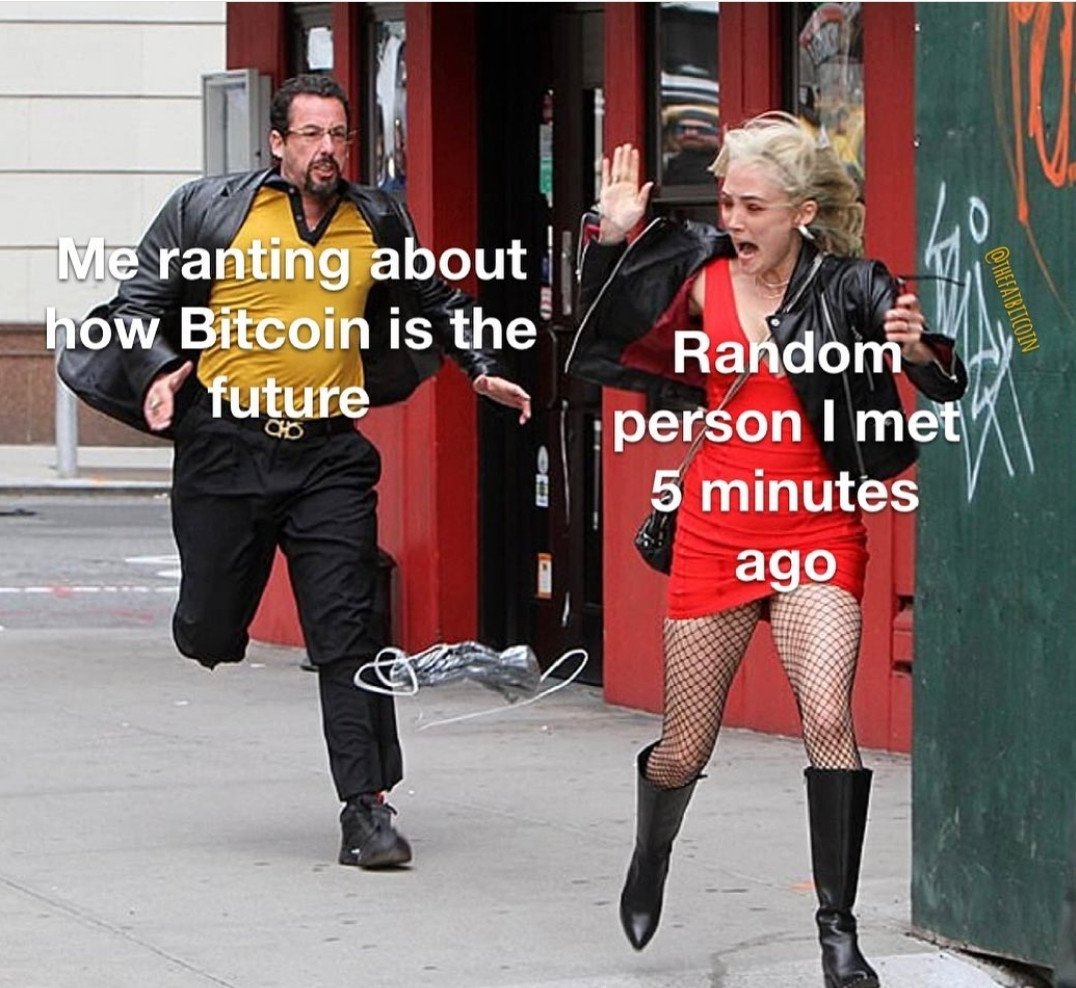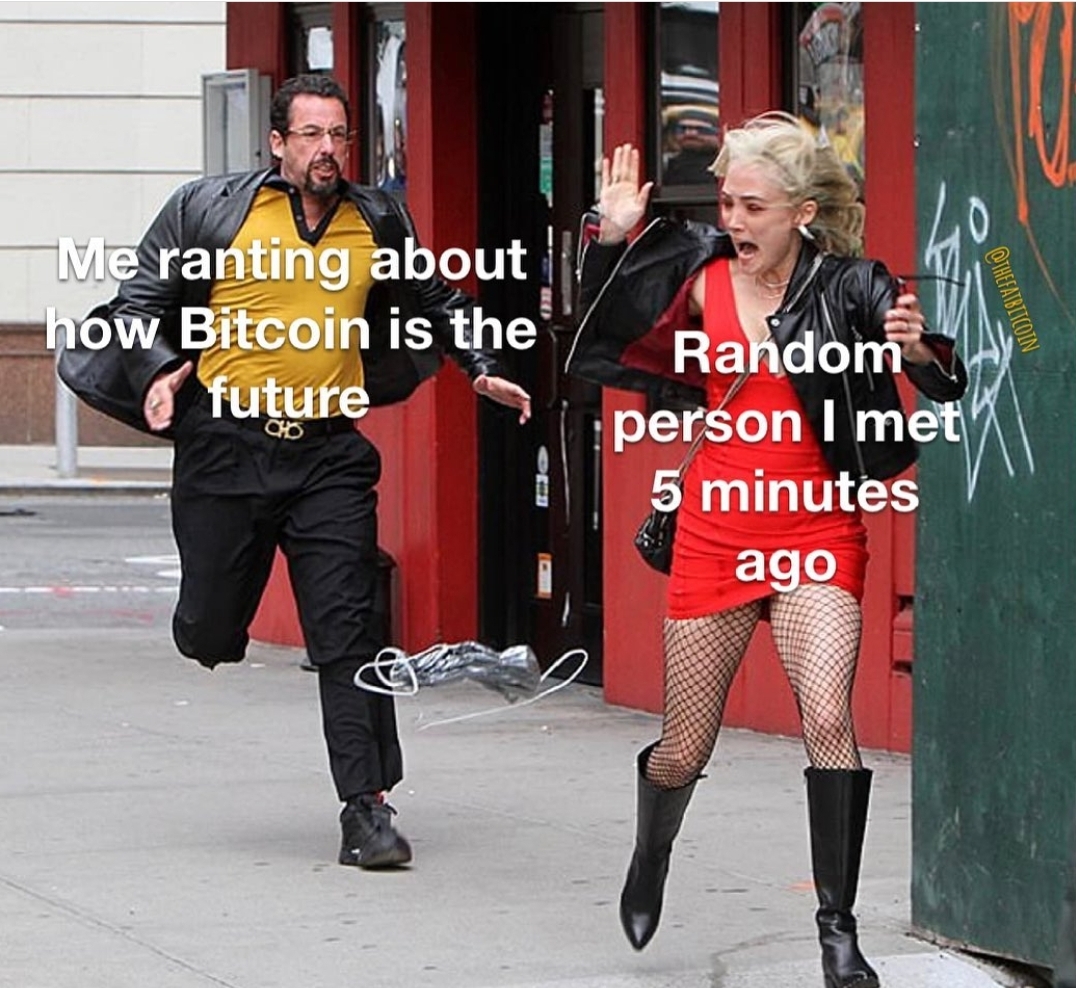 __
Never has a truer statement been made.
Not your keys, not your car.

— The Wolf Of All Streets (@scottmelker) September 29, 2021
__
"If I could turn back time
If I could find a way"
Crypto bros are just salty because they missed out on investing in gold during the industrial revolution

— Kyle S. Gibson (e/cult) (@KyleSGibson) September 28, 2021
__
gf ngmi.
gf just said it's almost winter, time to take some profit and put it in the bank

like we're fucking squirrels or something

— trente // ein.eth (@_trente_) September 28, 2021
__
Memetization.
Crypto is mainly a revolution in meme monetization pic.twitter.com/Sre7BdKc3U

— Matti (@mattigags) September 23, 2021
__
Inaction.
US regulators in action. pic.twitter.com/rFzLaVqIlB

— Matti (@mattigags) September 28, 2021
__
Such good banning.
😂 You can't ban #Bitcoin 🤦🏻‍♂️ https://t.co/SuKWNqmbgH

— Bitcoin Archive (@BTC_Archive) September 27, 2021
__
Should be a really large bag in China.
https://www.twitter.com/mskvsk/status/1442843128529133580
__
With a prediction for the next four years.
https://www.twitter.com/Pentosh1/status/1441375573113069568
__
"The Times They Are a-Changin"
September 28, 2021
__
'There goes Gary, protecting again.'
https://www.twitter.com/ratwell0x/status/1441076864890646532
__
'You're welcome, sir.'
Where is the lie though? pic.twitter.com/uQFPhFmbpy

— Wall Street Memes (@wallstmemes) September 27, 2021
__
Where can I buy it?
I sprayed whale repellent on my bitcoin.

— Bulls take the stairs 🐂 (@BullsStairs) September 30, 2021
__
Here's a historical documentary on BTC adoption.
__
Featuring Sassano, Hasu, Eric Wall, and CryptoCobain.
CT VS. CHARLES
A visit to the farm 👀

Memes Only😂

BATTLERS:
@CryptoCobain / @sassal0x / @hasufl / @ercwl / @GainzyXBT / @cmsintern pic.twitter.com/GAuFlBGCgm

— Pas (@passytee) September 24, 2021
---