Gift Ideas For a Very Merry Crypto Christmas 2020
With another bitcoin (BTC) all-time high and Christmas knocking on our wreath-decorated doors, we are reminded that a major aspect of the holiday season is certainly - that's right – shopping after an impressive bull run in the market this year. Let's take a look at some interesting crypto-themed and crypto-paid gifts you can get for your loved ones, or for yourself. Or both!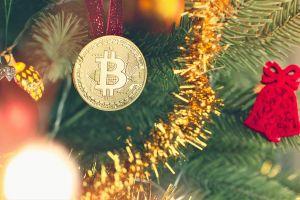 Last year, we offered a long and detailed assortment of Christmas gifts, be it the more traditional ones, or modern and unique ones, cheap or expensive ones, clothes, accessories, jewelry, and garden gnomes. That list still very much stands, and either has your gift on it, or can at the very least inspire you for one, so go check it out.
For newcomers, in particular, the Traditional Crypto Gifts section should be especially valuable as it contains things like a hardware wallet, such as Trezor. This year, you can also opt for the Ledger Christmas Pack, in which this major wallet maker is offering a free USD 25 crypto voucher with a purchased Nano X, to use when buying crypto on Ledger Live from Coinfy. Also, CoolWallet S, a bluetooth-enabled, credit-card-sized hardware wallet, offers its own Christmas deal for cryptocurrency enthusiasts: a chance to win up to 40% off your CoolWallet purchase by entering one of the available coupon codes at checkout.
But for this year, we've made a list of some particularly interesting gifts that are either related to crypto or can be bought with it, for wallets of all sizes, for many different tastes, and for all the crypto fans out there to rejoice.
First things first: Masks on
It was a rough year. No doubt about it. With the fires in Australia and the COVID-19 pandemic, to name just two of numerous tragedies in 2020, the world has suffered. Yet, people adapt. And one way of doing that is to personalize even that which has been forced upon them - such as the masks we've all been required to wear for months now and for a very good reason. The world has decided to turn this prevention measure into a fashion statement, and the Cryptoverse has decided to put its own twist on it. Therefore, you can get your own crypto-themed mask to go with any outfit.
For example, Cryptoholic Shop has quite a few options for you bitcoin, ethereum, and tron fans out there. However, be aware that the most effective masks are still those disposable masks used by doctors and nurses.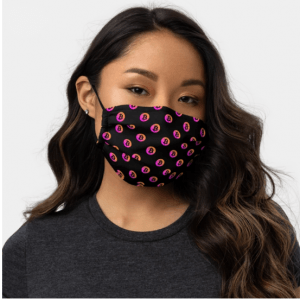 Start with a classic: Art
Crypto art is no joke. We're talking serious art and serious money here, people. And who wouldn't want to be a tokenized digital art collector? As we just recently saw, Ethereum-based artworks created by artist Pak have been sold for over a million dollars combined—which is an industry record. You can check out the work of various artists in galleries such as SuperRare, Nifty Gateway, MakersPlace, Async Art, KnownOrigin, and others.
And to continue our pandemic theme, here's a "Vaccine is Imminent No2" piece by artist Apoxia. Or to move away from it, how about this one below created by SuperRare's current top artist, Miquela (who made USD 82,361 in recent sales).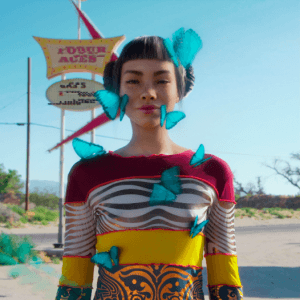 Continue with another classic: Toys
There's a myriad of toys to choose from that are either crypto-themed or that could be purchased with crypto. This time, we looked into Tenacious Toys, who describe themselves as "a true "mom & pop" shop owned by Benny & Steph," specializing in limited edition art toys in vinyl, resin, and PVC, as well as one-off custom toys.
There's a lot of cute, quirky, and original here. The offering includes figurines, action figures, art pieces, clothes, etc., and you can shop by show, by artist, by manufacturer, and so on. Importantly, you can pay in one of six cryptocurrencies and support a small business by doing so. You see, if crypto were a toy, it'd be a superhero figurine.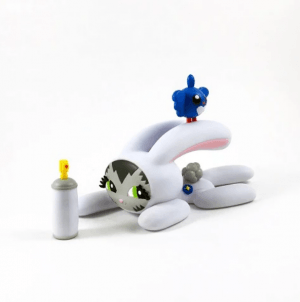 Train for a game of Scrabble
This small but sweet crypto-twist on a classic game ought to delight that crypto fan in your family who's also a huge fan of Scrabble. The word experts over at Merriam-Webster wrote this Scrabble dictionary, that now includes "bitcoin," as a major resource for the players on their path to victory.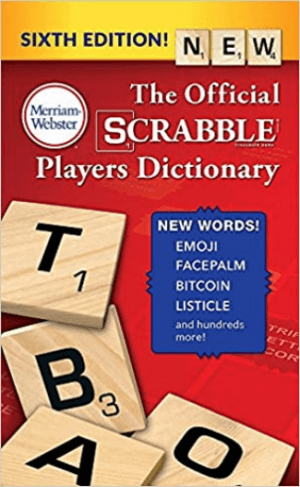 Start the game
Not a Scrabble fan, but you and your dad enjoy some poker? Then there's this Mahogany Gift Box for the Gold & Silver Plated Playing Cards as a gift option that you might like. Your playing cards come with gold- and silver-plated bitcoin physical coins, and "a "Certificate of Authenticity to be 99.9% pure 24 Carat Gold," placed in a box that can be personalized with photos you provide.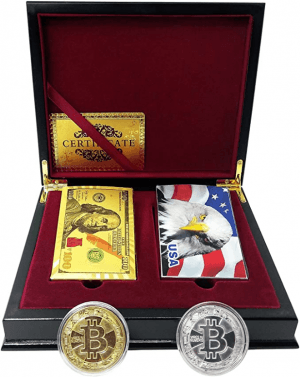 Get some adjustable furniture
For that special crypto je ne sais quoi in your living room, bedroom, balcony, or - let's get wild - even kitchen, you can add this piece of furniture that's bound to catch the eyes of any guest. You can gift it to yourself or that loved one who doesn't plan on getting up for a while. This is a hand-sewn, bitcoin bean bag from The Block Gear, made of 100% polyester; it's water-resistant, and your friend/family member doesn't need to worry about the filling, as it's included. Plus, it comes with a removable inner bag with a zipper, so they can adjust the amount of the polystyrene ball filling to perfectly fit their unique behinds.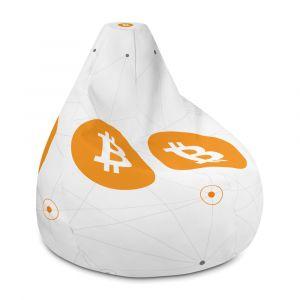 Sleep comfortably, crypto-style
Don't tell me you wouldn't like somebody gifting you a crypto duvet cover. RedBubble has a variety of duvet covers with bitcoin, ethereum, mining, hodling, mooning, and other covers, available in multiple sizes. Take a look at this 'The Coinfather' one, for example. But since it's Christmas, how about we go for a holiday bitcoin cover? Nice, eh?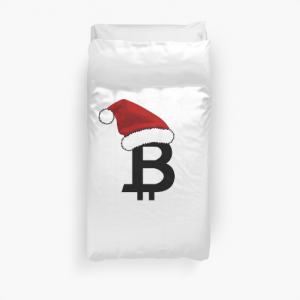 Chase away them bad dreams, crypto-style
Your favorite aunty is having trouble sleeping, worried about the situation on the crypto market? Try gifting her this - a bitcoin dream catcher! (Not) guaranteed to catch and disperse all the bad drop, dump, and FOMO dreams. But even if your trading aunt sleeps well, but just needs some BTC feathery car mirror decoration - this works perfectly.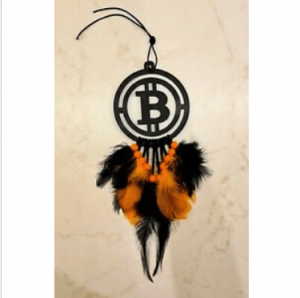 Get into that Christmas crypto spirit
And speaking of Christmas-themed home décor, for all of those who like both the holiday and the crypto, and can't choose between the two - this might solve the problem. You can get a velvet bitcoin Christmas sock on Amazon, or a crypto bag for easy gift wrapping.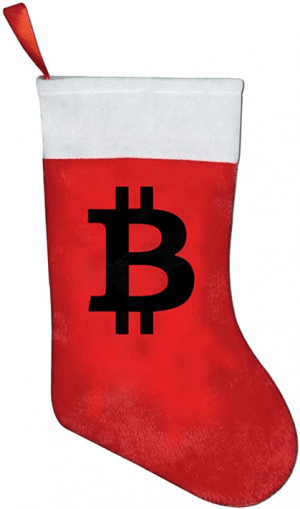 Don't be late for gift opening
What has been wrapped must be unwrapped. You and your family certainly want to be on time in the early morning to finally open the gifts and see what kind of crypto treats Santa brought or sent over in a transaction. To make sure nobody's late, here's a bitcoin-themed wall clock for your home - even office if you'd like. According to the seller's description, the clock is made of "a combination of silent, non-tickling mechanism, reliable acrylic glass basis, and the picture of the Bitcoin on the self-adhesive tape." Sounds clocky and bitcoiny to me!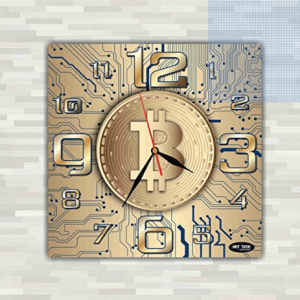 Stick and sew
For a little bit of self-decoration and/or decorating one's belongings, here are many crypto sticker designs available over at Red Bubble, from the Moon to the wallet ones, as well as numerous patches for your clothes, jackets, and bags over at eBay. It's a simple but efficient gift.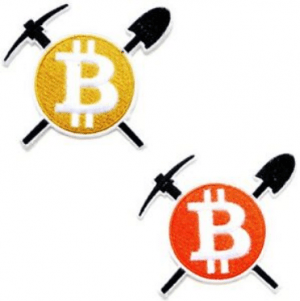 Bling Your Key
Your friends' keys need some crypto too! As another suggestion for an inexpensive but interesting gift, we offer this Ethereum crystal keychain that comes with a blue LED light, batteries, and a free gift box. All in one. Now you just need the keys.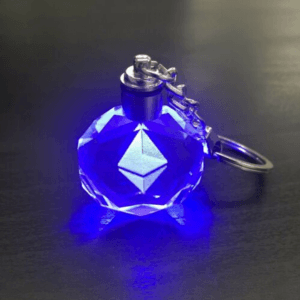 Turn them lights on
We're not done with a bling-light-neon expressions of crypto love for your family, friends, and, well, crypto - so here's a gift that'll really bring home that message. It's a 20"x16" (508mmx406mm), real glass, "BTC is accepted here" neon sign, suitable "for your beer bar, club and man cave," as the description says. It's mounted on the metal frame, has an on/off switch and a chain to hang on the wall, and comes with a 1-year quality warranty. The colors can also be changed upon request. This seller is not the only one selling neon BTC signs, so you have more than one option to choose from.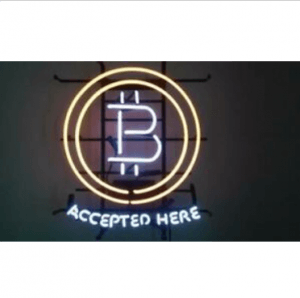 Sign up
And speaking of signs, for a simpler option, how about a wooden wall / door plaque designed by a community of freelance designers? Here is a UK seller on eBay, 'athenacraftsltd,' selling a variety of crypto-themed plaques and door hangers, depicting a person carrying his heavy bitcoin bag on his back, a moon and a rocket, just a rocket travelling to that moon, the bitcoin symbol, etc., for less than USD 7. Each has a space left for you to personalize it, such as adding a name of the person you'll gift it to - though the seller themselves can't customize them for you, which is something to take into account, but not necessarily a bad thing as the gift recipient can decide how to customize it themselves.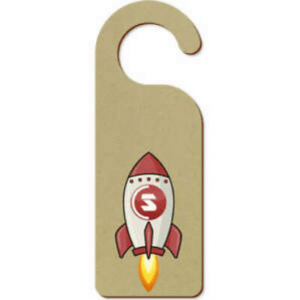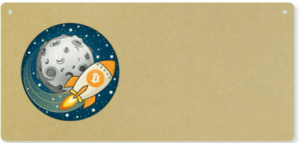 Splurge on blockchain goodies
Blockchain + jewelry. Sounds amazing! And expensive! Both are true. But this combination will enable you to feel good on several different levels. Jewelry is pretty and is a status symbol so you can show off your crypto riches, while blockchain helps ensure that those precious stones you're getting meet all ethical standards. Additionally, blockchain makes sure that the data can't be modified by anybody.
You can go and buy for yourself or that special somebody a blockchain-certified, responsibly sourced, bright, colorful and simply gorgeous gemstone from the female miners of Tanzania over at Moyo Gems, for example. Moyo was created by the nonprofit organization Pact, international social businesses ANZA Gems and Nineteen48, as well as traceability company Everledger.
Or for something blockchain-themed, how about this QR-code-inspired Blockchain 18K gold collar from 1stDibs for just USD 48,000, with free shipping. You hear that, whales? Free standard shipping.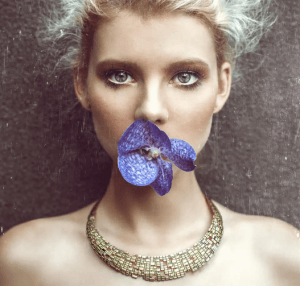 But, I hear you say, you and your loved one are more into a specific blockchain network and its native coin? We've got you. Here's this Ethereum (ETH) piece – a diamond Ether necklace, fully iced out with round diamonds from IF & CO.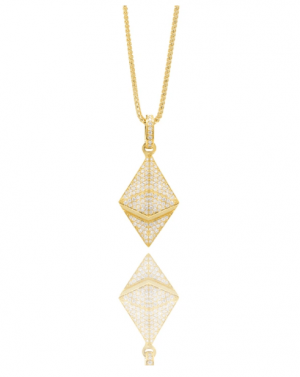 That's all for this year, Cryptoverse! Merry Christmas!
____
Learn more:
Bitcoin, Ethereum, XRP, Bitcoin Cash, Litecoin, Chainlink Price Predictions for 2021
Yacht Sale Shows Luxury Goods May Benefit from Bitcoin Price Surge
John Lennon's Son Says Bitcoin Brings Hope Amid 2020's 'Ocean of Destruction'
Crypto Cruise Ship Satoshi Might Soon Set Sail From Mediterranean
CryptoKitties Maker Launches Dr. Seuss Collectibles on Flow Blockchain
---