Existential BTC, Undervalued ETH, Rebranded Calibra & 20 Crypto Jokes
Let's rewind this week. Cardano announced its Shelley upgrade, Justin Sun announced Tron 4.0, and Theta upgraded to Mainnet 2.0. Hasu warned about the growing existential risk for BTC, BitMEX advised clients to use BTC as a hedge against inflation, researchers say that Ethereum remains undervalued, but Ethereum 1.0 has a major role to play before merging with Ethereum 2.0. Meanwhile, major crypto players offer new products to lure institutional investors, Coinbase acquired Tagomi and also compensated ETH holders with OMG tokens, Brave aims at Zoom with private and unlimited video calling service, and we looked into why the Polkadot mainnet launch news is important for blockchain adoption. Also, Facebook rebranded its Calibra wallet to Novi.
Speaking of Libra, an expert said that China's digital yuan is a response to Facebook's Libra plans. South Korean crypto tax is coming next year, and a leading parliamentarian says Russia doesn't want to ban BTC. While Samsung integrated Gemini into its Blockchain Wallet, a Gemini exec said that crypto benefits from recession. Experts believe that central banks could partner with the private sector on CBDCs, Goldman Sachs's division doesn't recommend crypto in their misinformation-filled report, and Sberbank bought c. 5,000 contactless ATMs compatible with Apple Pay, Google Pay, Samsung Pay and Huawei Pay. Meanwhile, a Satoshi-era Bitcoin miner called Wright a fraud using "his" BTC addresses. Lastly, check out what people bought with their BTC.
Rewind over, back to the present, and on to the jokes!
__________
Mooorning, CT! We meet again.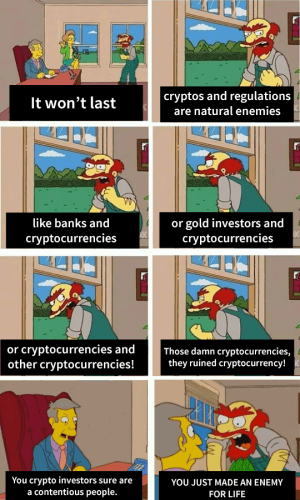 __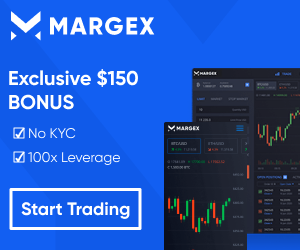 Learning stuff the hard way.
Everybody in crypto sooner or later gets hit with "life aint that easy"... pic.twitter.com/dqfkyj4lQG

— Panama (@Panama_TJ) May 26, 2020
__
Not anymore! But for how long?
⚠️ Service Announcement ⚠️

Vegeta memes temporarily delayed till further notice$BTC pic.twitter.com/mKKB4I6zZg

— Teddy (@TeddyCleps) May 26, 2020
__
Let's see. Eeny meeny miny moe...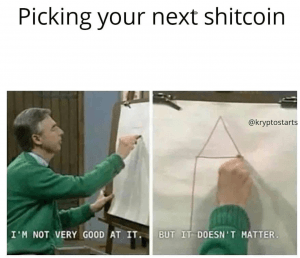 __
Once or twice.
May 26, 2020
__
So, look, it is. But no.
What BTC doing?! from r/Bitcoin
__
There's good side to most things in crypto.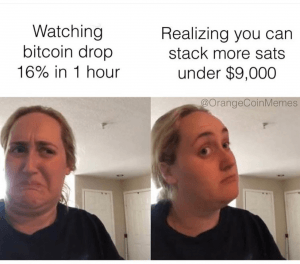 __
Ye of tiny, tiny faith.
.@CryptoGainz1 showing zoomers how to nail a trade pic.twitter.com/UCyHuJIFhJ

— The Crypto Monk ⛩ (@thecryptomonk) May 23, 2020
__
Self-imposed Bermuda triangle. Nobody gets out.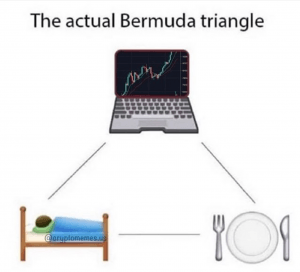 __
Hah! Sleep. Silly, silly trader.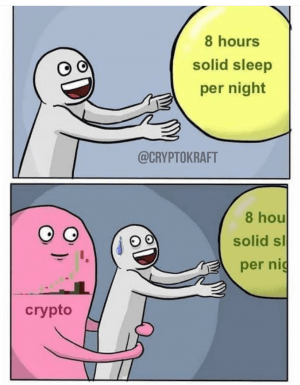 __
Must be nice. We should ask one of the emerged Satoshis for their falsified opinion.
Who's vibe is this? from r/Bitcoin
__
Good done! So soaring! Very up!
Economists: you can't artificially prop up the economy forever

The Fed:

pic.twitter.com/K4gsHudXDL

— Morning Brew (@MorningBrew) May 26, 2020
__
From bikes going vroom to printers going brrr.
My, How Times Have Changed! from r/CryptoCurrency
__
From people going 'what are you talking about, fool?' to 'tell me more about it, fool.'
Bitcoiner from the future: "In 2020, JK Rowling and Elon Musk will be discussing Bitcoin a week after Paul Tudor Jones buys $100m of it. And a year earlier, Donald Trump (he'll be US President), says it's bad and dollars are better."

Bitcoiner in 2011: "Dude you're high lol"

— Erik Voorhees (@ErikVoorhees) May 16, 2020
__
Based on a true story.
__
Using movie references to explain crypto might be a way to go.
Friend:
"Hey could you explain how $XRP works?"

Me: pic.twitter.com/v9QXdQQph5

— Tari (@tari) May 21, 2020
__
A small win for a hodler, a large win for the mankind.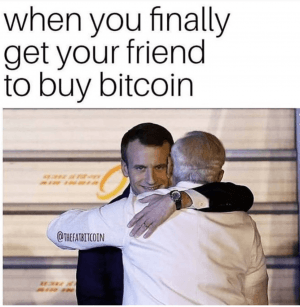 __
Than most famous people really.
I own more bitcoin than Elon Musk and Warren Buffett combined.

— Kyle Hill (@kaleazy) May 17, 2020
__
See, this is why we need more vendors accepting crypto. Let's show them this pic.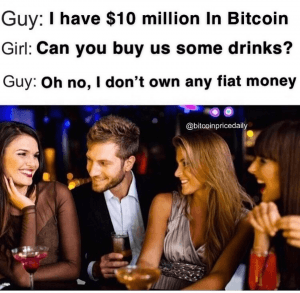 __
It will!
Calling my shots: 2030 Goldman Sachs gonna be renamed Bitcoinman Sachs

— Josh Cincinnati (@acityinohio) May 22, 2020