Dan Nissanoff, CEO of Game of Silks, on The Intersection of Gambling x Fantasy x Blockchain | Ep. 234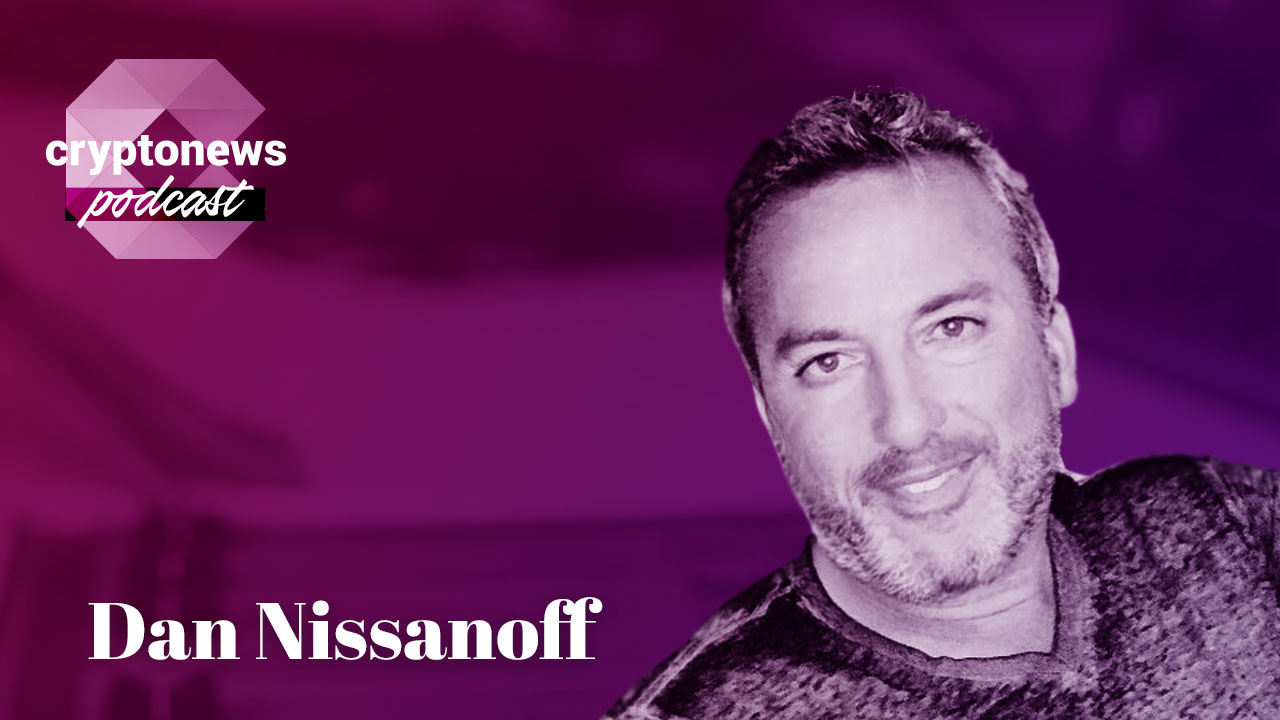 In an exclusive interview with cryptonews.com, Dan Nissanoff, Founder and CEO of Game of Silks, talks about the intersection of gambling x fantasy x blockchain, the current pro horse racing landscape, and the future of play-to-earn gaming.
About Dan Nissanoff
Dan Nissanoff, Founder and CEO of Game of Silks, is a veteran technology entrepreneur with more than 20 years of experience developing and scaling startups. He has founded multiple venture-backed businesses, including Partminer, Portero, Make Meaning, and The Crown League.
Dan Nissanoff gave a wide-ranging exclusive interview which you can see below, and we are happy for you to use it for publication, provided there is a credit to www.cryptonews.com.
Highlights Of The Interview
The intersection of gambling x fantasy x blockchain
Current pro horse racing landscape
Partnerships with the biggest names in horse racing
What's the difference between Play-to-earn gaming and gambling?
Silks tokenizes every professional racehorse that is born into a unique, one-of-one Digital Twin NFT
Full Transcript Of The Interview
Matt Zahab
Ladies and gentlemen, welcome back to the Cryptonews Podcast. We are buzzing as always. It's a lovely day in Toronto. Actually, that's a bit of a boost. It's not that lovely of a day. We're recording mid May. This epi's gonna launch towards the end of May. I woke up this morning, went for a morning walk, grabbed a nice little Starbucks coffee, and it was two degree Celsius in Toronto. Can't be doing that in mid May come on now. Anyways, pumped to have this gentleman on Dan Nissanoff, Founder and CEO of Game of Silks. Dan is a veteran tech entrepreneur with more than 20 years of experience developing and scaling startups. He's founded multiple venture backed businesses with exits, including Partminer, Portero, Make Meaning and The Crowned League. If you are a fan of horse racing and if you are a fan of blockchain, you are going to love this episode. I'm a fan of both. Incredibly fired up. Dan, welcome to show, my friend. Pumped have you on.
Dan Nissanoff
Thank you, Matt.
Matt Zahab
You and I had a very brief and quick discussion about my sort of intro to horse racing before the show. When I was super young, my grandpa used to take me up to the tracks around Toronto and he'd teach me about betting on all the different outcomes. $2 bets, $1 bets. If you're going to go for the exact or trifecta. And when you're a kid, it's like a dollar here, $2 there, and you have a chance at winning money. You get to see the horses live, the sounds, the smells, even the smell of shit, which is sort of pleasant at the racetrack. Sue me for saying that, but it's just there's this weird feeling. It's truly a magical sport and one of my favorite ways to gamble. Obviously, there's the bad, where people are, of course, gambling their life away. But again, we're going to talk about the good. It's truly a magical thing. I'd love if we could kick this off Dan, how did you get into horse racing? Why do you love it so much? What tickles your fancy about horse racing as a whole?
Dan Nissanoff
I think it's one of the grand sports. It really allows you to enjoy kind of the excitement around a live sport experience. So I was recently at the Kentucky Derby where you had 150,000 people dressed to the nines cheering on a pack of horses running around the oval. There's nothing like that excitement. Being able to gamble in the outdoors as opposed being locked in at casino, if you enjoy that, is really nice. But I think it's the history of the game. It's the glamour of the sport. It's been around for hundreds of years. It's not as mainstream in the United States as it is in the rest of the world, places like Australia. Horse racing is as big as American football is here.Yeah. Global score, super exciting, beautiful animals and just a wonderful experience.
Matt Zahab
Let's touch on sort of the paradox and just the difference between US horse racing and worldwide horse racing. Usually for a lot of sports, the US is pretty dominant. And again, biggest economy in the world usually translates to a good sporting economy. There are over 30,000 professional races a year in the US and over 12 billion wagered on their outcomes. But globally, the sport is ten times larger. Why is that the case? Is there a particular reason why Americans aren't so crazy about horse racing? What's the deal with that? And a little caveat and follow up to that. I'd love if you could just keep riffing on the overall global current landscape of traditional horse racing and sort of showcase the opportunity that adding in blockchain tech could really add to this whole Fiesco.
Dan Nissanoff
Sure. So the US represents about 10% of the global market in terms of handle about $100 billion a year is bet on horses globally, 12 billion in the United States. You know, I think what happened in the United States was traditional sports gambling, you know, was illegal for a very long time. Horse racing was exempt from that. It was really regulated at a state level, and as a result, it was really one of the only legal forms of gambling in many states that existed. And when the internet came around, it made it very easy to make those impulsive bets without having to go to the tracks. And so you saw attendance of the tracks decline quite significantly as a result of that, as a result of the ease of being able to make those bets in Europe, gambling has been legal for a very long time, not just in Europe, in Europe and the rest of the world. And so kind of the evolution or the impact that the internet had on the sport in other locations was very different. So I think that's part of the reason that you see the US kind of stagnant in the industry behind everybody else. I think the real answer to kind of what needs to happen in horse racing to get the sport back to where mainstream major league sports are is fandom. You take American football and you have kids that are being followed when they're in high school playing football, and then you follow them in college, and then you follow them in the NFL when they become professional. When you look at horse racing, nobody's following these horses, right? There are 30,000 or 20,000 horses that are rookies each year that are two year olds that enter the game. There's a field in the United States of over 50,000 horses that race every year. And yet, if I stopped 100 people on the street this afternoon and asked them to name an active racehorse, they wouldn't be able to. And that's a problem, because there are two major things that drive the success of a major elite sport fandom and broadcasting. Right? The ability to actually have shared rooting interests around a competitor and be able to watch it in a really experiential way. I think part of what we're doing is bringing that back into the game. You were describing when we talked earlier about your experience going to the tracks and betting. Being a better around horses is a very different experience than being in an owner. When you go to a racetrack and you open up the racing forms or the racing card and you make your bets, you're looking at the numbers, you're looking at the names of the horses. You might like a particular name, you might very quickly handicap the card, but you've forgotten about those horses as soon as the race is over. In most case, if you're an owner, you're following that horse from the day it's born or from the day you acquired it. And as it develops as a competitor, and that's really what we deliver at Game of Silks. We create a new lens for the sport that's never existed. And I think that's probably a good entry point to explain what it is that we do at Game of Silks and how the blockchain is enabling us to deliver, I think an experience that's going to revitalize the sport, not just domestically, but take it globally to a new level. I think I mentioned that in the United States, there are 20,000 new horses that are born each year that are essentially registered to race when they become two years old.
Matt Zahab
Dan. Sorry one quick thing. And these 20,000 that are born, these are race eligible horses, right? We're not just talking horses in general here.
Dan Nissanoff
No, we're talking about purebreds thoroughbreds in which the owners applied with the Jockey Club, which is the national registrar, to qualify them to race. So these are 20,000 horses that are effectively licensed to race when they turn two years old. They have to apply to get a name, they have to submit their DNA, they have to submit a lot of documents to be able to qualify race. We're talking about thoroughbred racing, which is very different than quarter horse race, etc. So just to give you an idea, in 2021, there were 17 and a half thousand horses that were born. We are game starts with that crop of horses. And that crop of horses represents the rookie class of horses in the game in the United States. It's no different than the hundreds of players that are drafted into the NFL each year, right? So, in every major league sport, but in horse racing the rookie class is massive, and we basically introduce those horses into the game each year, there are 30,000 races the horses can start racing at two years old. They typically race till they're ten years old maximum, and then they can retire and start their breeding career. So a horse has an expected life of about 25 years, and they can be productive either racing or breeding for most of their lives. So when you buy horse in the real world, if you're buying a thoroughbred at auction, you're going to pay an average of about $100,000 for that horse. It's going to cost you an extra $50,000 a year to train, house, feed, maintain that horse. So it's not a cheap to get into as an owner, but it's the closest thing you can get into and become an owner in a major league sport, right? To own a football or baseball or basketball team, it's billions of dollars. Horse racing you can get into for a few hundred thousand dollars, but that still precludes the majority of people in the world from being able to become owners in this grand sport. When your horse races in these races, they can win up to the prize purses that are given out. So in the United States, the 30,000 races that happen each year give away a little over a billion dollars in prize money to the owners of the winning courses. So if you have a horse that wins a race, you get paid. Races can average good races can pay out over $100,000 a race, smaller races will pay out $20 to $30,000, and greater races can pay out millions of dollars. So you can make a lot of money if you have a horse that's winning races. And you can make a fortune if you have a horse that becomes a stallion. So if you own a male horse that becomes a major stallion, those horses can be worth hundreds of millions of dollars overnight.
Matt Zahab
What is quantified, and sorry to interrupt you're absolutely crushing this right now. How do you quantify a stallion? Like, what do you have to do to become a stallion?
Dan Nissanoff
So typically, you have to win consistently. Major graded races against very competitive horses. And so, for example, a horse that wins the Kentucky Derby will likely become a stallion. And once you become a stallion, you actually have to demonstrate that your offspring are productive. And so you'll establish a price point for your breeding rights, and people will start paying you that. And then, over time, the industry will watch how your off spring is performing when they're racing. And if you're consistently producing winning horses, the value of your breeding fees will go up. And just to give you a sense of what we're talking about from a monetary perspective, a stallion can generate 200 plus offspring a year. They can get upwards of $200,000 a pop. So you're talking about 40, $50 million in earnings a year. And a stallion can produce for what, 10 15 years? You're talking about an animal that's now worth hundreds of millions of dollars that you bought for 100 grand two years earlier or three years earlier. It's insane. What we do in Game of Silks and how we bring the blockchain into this is pretty interesting. We tokenize every horse that's born in the real world, starting with the United States. So this year, we tokenize every horse that was born in 2021 into a digital collectible in the form of an NFT. We sell those horses to the public, and you buy them in an unrevealed state. So it's like buying a pack of Pokemon cards or baseball cards. You don't know what you're getting, and you're paying the same price as everybody else. But that's how the horses get into the market. Once you buy a horse, you take delivery of the horse. It's revealed to you. You now know what you have. You have a one of one digital twin of a real horse in the real world, there's only one of them, and you own it. That horse is a derivative of the real world horse. It's a dynamic NFT that follows the horse from the day it's born through its entire life until the day it dies. It tracks its bloodline, it tracks its workouts, it tracks its entries, its racing results, its earnings, its breeding, its offsprings productivity, etc. All in the NFT and all dynamically. Our game is set to the real world economy at 1% this year, which means that every time your horse races and wins in the real world, you as the owner of the Digital Twin, earn 1% of what the real owner earns in the real world. So if you have a horse that races tomorrow at Churchill Downs in the second race and wins $100,000, you will win $1,000 in our game. Typical horse races start six times a year and about 25 times in their lifetime. So you're basically investing in a game piece that's going to compete quite frequently over the course of the next several years, and then a horse can breed for the rest of their lives. So once your horse stops racing and it starts breeding, we also provide you with rewards based on breeding. When your horse breeds a horse that is registered to race at one year old, we sell that horse and we tokenize and sell that horse, and you, as the owner of the mayor or the stallion, get a percentage of that transaction as your breeding reward. So if you own a stallion, you'll get hundreds of prizes every year for the life of that stallion. We basically replicate the entire experience of horse racing ownership in a microcosm and allow the average person to be able to enjoy this game through the lens of an owner, rather than just being a passive better. In our game, your horses need to live somewhere. They live on land, just like in the real world. You have one acre of land for every horse. It's the same thing in our metaverse. You could buy land, develop land into a farm, and you can use that farm to do all kinds of things. So one of the first things you can do in our game is you can fractionalize and syndicate your horse. So once you buy a horse, you could decide, I want to bring in investors, right? And so, you can fractionalize your horse today and you can sell piece of your horse on the open market or bring in your friends and say, hey, let's own this horse together. When you own land and you build a farm, you can actually create a storefront for your horses. So you can curate horses based on bloodline, based on characteristics. For example, you might say, I'm only going to deal in horses that have never raced or that have never won a race, or that have only won a race or that have sold at auction for at least $100,000, or that are offspring of Gunrunner, which is a famous sire. And people will come to your farm to invest in your horses or to buy your horses because you've done the work. You've curated a collection of 10 or 50 horses from 20,000. I don't want to do that. You're an expert. The blockchain lets me see your results, right? I know exactly how much your farm is making because I can see it on the blockchain. And so I can invest with you. Just like if you were a hedge fund operator, or just like if you owned a local wine store and you happen to curate gray wines. I'm going to shop with you as opposed to trying to figure out what wine I want to buy from the thousands of vineyards in the world. So that's one utility for land. Another utility for land is if I don't want to own land, I can park my horse on your farm, I can stable my horse on your farm. And when I do that, I agree to pay you a percentage of my winnings. You decide how much you want for me to stable my horse on your farm, and if I agree to it, then my horse is locked in your farm for that period of time, in addition to sharing my winnings with you, I agree to share my winnings with everybody else on the farm, and they agree to the same. So if you have a farm with 100 horses and I stable my horse on your farm, I now have a financial interest in 100 horses. So it's another way to build a micro community with shared rooting interests in a fandom. And that's basically how the game works.
Matt Zahab
Dan, I have about 6 trillion different angles. I'd like to take this. I'm going to go back to some of the just questions before we get into some of the more macro stuff. Just a couple of micro questions. So, just to clarify, give or take 20,000 horses, new horses every single year. So that means every single year, 20,000 new NFTs are being minted. For the Silks community, there's only one horse. This isn't like Sorare, where, for example, there might only be ten Ronaldo's and ten Messis, while there's hundreds of insert average player name X, who plays for Team Y, in Game of Silks, 20,000 new horses are minted. One person can own one horse, is that correct?
Dan Nissanoff
That's correct. Except that in Sorare, which is our comp. So there are only three companies doing what we're doing. Sorare is doing it in European soccer and now in baseball and basketball. And Rainmakers, which is a Draft Kings product, is doing in an American football gull and UFC fighting. The difference between Game of Silves and Sorare is that Sorare defines the rarity for the game. So they'll create it in Boppy at the rarest level and at the most common level, and the players decide at what level they want to play. In our game, we sell you a one of one the most rare asset, right? A one of one NFT you can decide, do I keep that as a one of one, as a rare NFT? Or do I fractionalize it and make it less rare and less valuable by sharing it with other people. It's your choice, not our choice. And so in our game, we have players that will never sell their horses. They want to own them outright. And then we have other players that want to build a syndicate. And so you'll see, it all over the place. But anybody has an opportunity to get any horse in the initial mint, they can buy it in the mint, or they can buy it in the secondary market from another player. And any horses that are not sold when a race goes, when the entries come in, we auction off. And I didn't give you data on our game, I'll just give you a brief data. We announced the game in February of last year. We built an organic community of about 25,000 people in a year. In May of last year, one year ago, we started the sale of our avatars, which you need to play the game, and then followed by our land and our horses. There have been over $10 million in transactions in the first year. Over 3000 people have invested an average of $3,000 a person in the game before the game is even launched. And in the heart of the bear market, our assets have appreciated by over 100% in an environment where the market has been basically crumbling and most NFT projects have lost most of their value. If you would have bought an avatar, you would have gotten a free piece of land. You would have paid .15 ETH last year in May. That combination of assets is worth depending on what you got, a minimum of 0.3, as much as 0.5, depending on what you actually received. So, yeah, you've at least doubled your money in an environment where most people lost a lot of their capital, but that's how they game works. Yeah, and I should also mention that we have the largest players in the industry as our strategic partners. NYRA, the largest horse racing company in North America. They own Saratoga, Belmont, and aqueduct, and Fox Sports which owns the largest broadcasting channel for Horse racing in North America. They're both our strategic partners through NYRA Bets, which is their ADW or advanced deposit window for gambling. And then the Jockey Club recently signed a major deal with us to provide us with the data to power the platform. So lots of industry partners, we have a lot of strategic partners that we are in negotiation with internationally that we expect to announce in the coming months as we begin to look at the international markets and how we're going to grow there. So lots of exciting things coming down the pipeline.
Matt Zahab
Ton yeah, tons on the go. I love that. Dan, we ought to take a quick break, give a huge shout out to our sponsor of the show, and that is PrimeXBT, longtime friends of cryptonews.com and longtime sponsors of the Cryptonews Pod. We love PrimeXBT as they offer a robust trading system for both beginners and professional traders. Doesn't matter if you're a rookie or a vet, you can easily design and customize your layouts and widgets to best fit your trading style. PrimeXBT is also offering an exclusive promotion for listeners of the Cryptonews Podcast. After making your first deposit, 50% of that first deposit will be credited to your account as a bonus that can be used as additional collateral to open positions. The promo code is CRYPTONEWS50. That's CRYPTONEWS50 all one word. CRYPTONEWS50 to receive 50% of your deposit credited to your trading account. Again, CRYPTONEWS50 all one word to receive 50% of your deposit credited to your trading account. Now back to the show with Dan. Dan, before we get into sort of more on the intersection of Gambling X Fantasy X Blockchain, couple more questions about sort of the nitty gritty of Game of Silks as a whole. How do you guys obtain the data? To track the bloodline, the training, the races, the outcomes, everything. I assume that's a partnership with NYRA or one of your other massive partners or the Jockey Club or the North American Thoroughbred Association, whatever the case may be, but you guys are tracking a shit ton of data that's continuously real time being updated to the blockchain, which is then dynamically intertwined with your NFTs. How do you guys pull this off?
Dan Nissanoff
It's a great question, Matt. I'll tell you that it's largely being provided through our industry partners. It's all highly proprietary data that is accumulated through many sources in the industry and assembled and then integrated directly into our game. I will tell you that originally when we developed the concept, we were going to crowdsource the data. We were going to use the same methodology that's used to validate transactions on the blockchain to authenticate the data. So we were going to use our community to provide that information. But as a result of, I think, the momentum and success of the business and the interest in the horse racing industry to really help us elevate the sport through this platform, we were very fortunate to be able to save a lot of the effort and have it all centralized. So it is one of the centralized components of our platform right now.
Matt Zahab
Interesting. Yeah. Again, that's just so much data so they can't be easy to do. So always love to see that. I'd love to discuss more about the intersection of gambling, fantasy and blockchain. How do you see sort of the niche of fantasy sports and blockchain evolving? Because, again, we've seen some really good examples with obviously Topshot, which isn't so much fantasy, but you have Rainmaker, like you discussed, you have Sorare, and of course, you have yourselves Game of Silks, the big three at the moment. Me personally, I think this is one of the most no brainer easy and efficient. Obviously it's not easy and efficient. But I think it can be some of the easiest and most efficient ways to onboard the masses to Web3. It just makes so much sense with that synergy between blockchain and fantasy and then adding, of course, gambling and sports on top of that. But how do you sort of see this sort of trifecta landscape playing out in the long term?
Dan Nissanoff
I think that we're in the midst of an evolution in gaming. If you look historically at traditional video, video gaming, you had a publisher publish a title, build a community around the title, and then the community played the game and created the value in the franchise. The value of the franchise never ignored to the benefit of the player other than the fact that they were able to play a game and enjoy it. You could improve your character, you could buy skins, but you were not able to monetize your investment in the development of your character. That's all changing. The public has realized that they're the ones creating the value of the game. It's community that makes value. Without community, you don't have a game. And so you're seeing an evolution in how that's taking place. Right? The public is now saying we want to own our assets and as we invest in them, we want to benefit from them. So if we create a character and we improve that character and want to settle it, we want to be able to do that. What you're seeing is the convergence of investing and gaming in what traditionally in Web3 was called play to earn gaming. Now that also sits at the fringe of gambling. So it's really the convergence of gambling, gaming and investing, all of which is really kind of very closely aligned. There's a very subtle difference between playing poker and investing in stocks. Right? Some people would argue that the stock market is gambling. Right? Where does the line get drawn? And I think you're going to see it even more blurry as people begin to recognize that I can have fun gaming, but I can also make money and so I can do this professional if I want to. You saw that with poker, right? You saw that with golf. You know, golf became a professional game because people wanted to be able to monetize the investment in becoming better golfers. You saw that in poker. Poker was, prior to 2001, a game played by old men in smoky casino rooms and nobody thought about it. And all of a sudden online poker came about. Poker Stars launched in 2001 and you started seeing the beginning of fandom. You started seeing people that were great players becoming recognized for that shows forming and people seeing it as an aspirational sport where anybody could become a poker millionaire. And that's in fact, what happened in 2003 with Chris Moneymaker, and then that took poker to the moon. And now you have hundreds of millions of players around the world playing the game, mostly young people. And that is the same thing that happened in fantasy, right when DraftKings and FanDuel came to the market in 2009, 2011. They took a game that was played in people's homes, using newspapers to settle contests, and really brought it to the forefront of the world and created a scalable platform where tens of millions of people wanted to play the game. They gave a new lens to the sport. We're seeing the same thing in online gaming. I think the future of online gaming is there is going to be a monetary and a monetization component to every game. You will be able to play games, invest in those games, and sell your assets at a later date and be able to monetize them. So I think that's the future.
Matt Zahab
It just seems yeah, it's so ripe. Are there any other industries like, again, you're going after a whole sort of sporting sector or industry right now. Are there any others that you see in the sports lens that are very ripe? Obviously we have football/ Soccer, european football soccer, whatever you want to call it that's Sorare has a nice stranglehold on. You have, again, it's not truly fantasy and not truly gambling. It's more so just trading cards. But you also have NBA Topshots. Nothing's really happened with hockey. Candy Digital is doing baseball, but again, not so much fantasy. Are there any other sports or sectors of the sporting industry that you think are right for this disruption and right for a blockchain partnership?
Dan Nissanoff
I think when you look at kind of the first generation of products who write, I think Topshot, when they came out, they came out as a collectible platform. I think they've realized that the utility of collectibility at least today, is limited, and so they've had to create gamification of their assets. Right? So today on top shot and NFL all day, they've created collecting games. They're not quite fantasy, but they reward you for assembling collections no differently than back in the day. You'd go to McDonald's and you'd buy a big mac and they'd give you a game card, and you would try to collect all the pieces on the monopoly game card, and when you got all of them, you got a reward. That is exactly what Topshot is what Dapper Labs is doing today by gamifying the collectibility. Rainmakers and Sorare are taking DFS daily fantasy sports and essentially turning it into a slightly different game by allowing you to own the actual players that you need to form the game. Now, one of the interesting things to note is that it isn't gambling. So traditional fantasy was carved out from gambling by federal and state laws in the United States because it was considered a game of skill, and it was the only thing you could really do back in the day because you couldn't gamble legally. What happened with Sorare and DraftKings and Game of Silks is we don't require an entry fee, so you're not risking anything. When you look at other horse racing type games on the blockchain. The most notable one is ZED RUN, which was a very early entrant into the category. ZED RUN is a gambling game. It's a peer to peer, decentralized gambling game. It's a slot machine. You buy a horse, they use an algorithm to determine who's going to win the race. You pay an entry fee. It's like a sit and go poker tournament, and the winners are paid out by the money that the other people put in for that competition. In our game, and in Sorare and in Rainmakers, there is no entry fee. So you're not gambling. Right? You're buying an asset. And that asset has a utility. It can be used to play a game. So that's very different than gambling. In terms of other sports, I know that there have been people looking at traditional car racing. There was, I believe, an F1 game that came to market at some point. So there's breadth in that market. Hockey will probably become a sport that either FanDuel or sorry, not FanDuel, either DraftKings or Sorare will enter. We're pretty vertical. We're going to stick with horse racing as our core sport. There is so much room for us to grow internationally that I don't think we have to focus on another sport anytime soon. One of the challenges in traditional sports is you don't have a big enough rookie class to create a scalable audience like you do with horse racing. With Sorare and Rainmakers, they have to create thousands of cards of each player to build an audience that can play the game. We don't have to do that because there are enough horses to create a massive community, but one to one ownership.
Matt Zahab
Again, just so interesting and intrigued, Dan. I mean, obviously I have my bias because I'm a sports guy, I'm a horse racing guy, but this does seem like it's just so ripe for disruption. I have a question in regards to the scalability of this. And again, there's not a doubt in my mind you guys are going to scale the shit out of this thing. But when I first think of the people I see at the track or when I first think of the clientele and the demographic who does enjoy horse racing, I just feel like it's a bunch of older dudes, right? Like, when you go to the track, it's like it's and again, I'm I'm not trying to paint any wrong picture for all the, you know, SJWs out there, don't come shoot me, don't come trying to take my neck off. But it's like, have you ever been to a track? Unless you're going to the Derby or for us Canadians, unless you're going to the Queen's Plate or one of the Marquee races where you do have some younger and more established clientele, you got a lot of old dudes at the track. With that being said, how open are these old dudes to trying something like this, which I assume is the demographic? Probably not so much. And I doubt that that is your target market. So the caveat to that would be, how do you get the gamblers, the people like myself, who like to sports bet, how do you open them up and get them to now join this ecosystem in this blockchain economy and horse racing game that's on the blockchain, it can't be easy. But when it's done, I feel like floodgates open. Gonzo. Party starts. Train has left the station. No sign of returning.
Dan Nissanoff
Yeah, I think it's a good question, and I think the answer to that is just again, look at poker. When online poker came about, the same question was asked. How do you get young people to play a game that's basically played by old people? If you walked into a casino in 2000, all you would see is older men playing poker. That's no longer the case. I will tell you, we have done almost no advertising. Our growth in the last year has been almost completely organic, which means people found us, they engaged, and then they told their friends. So all of our community today is organically grown. I can tell you Anecdotally, because we're a Web3 product, we obviously don't know enough about our community because you don't have to disclose who you are, but when you do join our game, you can't get paid unless you fully KYC. So we are learning more and more about our community. I can tell you, Anecdotally, that about a quarter of them come out of the horse racing industry. I think you're going to see more of them coming out as they begin to realize, wow, I can use my knowledge here to create real value. So as a horse racing guy, if somebody said to you, let's go out and find some horses to buy and invest in, you would use your knowledge to do that if you could afford to do it. And it would be really fun and provide you with a whole new way to enjoy the game, the sport. About another quarter of our consumers come out of Web3, right? They're Web3 people. They like NFTs, they like the game. They understand the utility of our platform and our assets, and they're investors. And then about half of our audience are people that just found us that had never been to a racetrack before, that all of a sudden got addicted to horse racing through our game. And we're seeing that as the most common doctor right now. New young people that love the game, that came into the game as owners as opposed to as spectators. And it's a whole different experience when you go to the track, and I'm going to challenge you, Matt, to do this, you're going to end up owning a horse that's racing in your backyard. You're going to go to the track and you're going to want to meet your horse and you're going to want to watch your horse every time they race. Okay? And that's the feeling we're creating for everybody. We already have people. I would say that half of our community have reached out to the real owners already. They literally call the farms. They call the owners they're like, hi, my name is so and so. I own your horse in this game. And I'd love to learn a little bit more about the horse, your plans for the horse, and just stay in touch. And you know what? They love it. And the reason they love it, the real owners love it, is because somebody cares. When you own this horse and nobody cares, it's not a great feeling. You're the only line on a racetrack, right? You go to watch your horse race and the only people that care, they care for two minutes because they bet on your horse and after that, they forget about it. But if you've got a community of 100 people that collectively own this digital asset that want to follow your horse, you now have fans, and fans are the core to the game.
Matt Zahab
That's a very underrated point there. I've probably bet on horses. Yeah. I'm not even going to say how many times in my life, but I've definitely you know.
Dan Nissanoff
How many of those horses do you remember?
Matt Zahab
Honestly, besides a Derby or Belmont race or a Queen's Plate race? Literally, not one I can't remember.
Dan Nissanoff
And we're going to make every horse relevant. And that's the beauty of what we're doing. That's how we're going to literally take this sport and elevate it to where it deserves to be. It was 50 years ago, probably the most attended board in American history.
Matt Zahab
You must have been to a couple of derbies.
Dan Nissanoff
Oh, yeah. I was at the last two Derbys.
Matt Zahab
How electric is it?
Dan Nissanoff
All I can tell you is being in a crowd of 150 to 200,000 people dressed to the nines, watching it's like it's surreal. You have to do it. It's unbelievable. And it's not just one rings, it's three days of really a lot drinking, eating, socializing, gambling. It's a lot of fun.
Matt Zahab
I think next year, I think the boys and I are going to have to book a trip and do it up. It's too much fun.
Dan Nissanoff
We gave away two tickets to all expense paid trip to the Derby, starting line suites. If you owned an avatar in our game, you could enter a sweepstakes and we had two people in our community win it, which was fun.
Matt Zahab
Wow. What's the most electric race you've ever been to? If someone were to be like, Dan, what's the craziest thing you've ever seen horse racing, what would that be?
Dan Nissanoff
That would be last year's race at the Kentucky Derby where Ritz Strike won. I was right there, and I can tell you our suite was probably 200ft from the starting gate, elevated. So I saw him come out of the starting gate. He was the last one to come out. He was literally the last horse in the race. And he passed us, and then the horses went around the track and on the return, they had to pass us again to get to the finish line. And this horse, literally, out of nowhere, started weaving and bobbing within the crowd. And it was like a video game. And it was surreal. I was like, what the hell is going on? I don't understand it. It was crazy. You just have to watch it again. And I've watched it probably a dozen times, and every time I watch it, it's like reliving the moment. It's crazy. Yeah.
Matt Zahab
Dan, what an episode, man. This was too much fun. I need to get involved in Game of Silks. Obviously, I do my research before every show, and I was honestly a little surprised that I wasn't too cognizant of this and that I haven't been involved. Yeah my word I will get involved after this. Love betting on the Ponies love blockchain. Love you and the team. Wish you guys all the best. This truly was a great episode. I learned a ton and had a blast. Thank you so much for coming on. Before you let us go, can you please let our listeners know where they. Can find you and Game of Silks. Online and on social?
Dan Nissanoff
Sure. So our website is silks.io. That's S-⁠⁠I-⁠⁠L-⁠⁠K-⁠⁠S IO. You can read our white paper, read our gameplay document. You can buy an avatar, a starter pack, which includes an avatar in a two year old horse. Right from our platform, you can go on OpenSea. We have multiple collections there. If you type in Silks, you'll see them. And then finally, portal.silks.io is the entry point to our game, into our metaverse. Our alpha is live, and within the next few months, we'll be releasing all of the functionality that I've described on the show to where we'll have a full MVP up and running for the first season.
Matt Zahab
I love that. Dan, what a treat, man. Really appreciate you coming on. Would love to meet you in person one day. And hopefully I'll be seeing you at the derby next year. We'll be dressed to the nines. Have a blast. But I really appreciate it. Thank you so much and can't wait for round two.
Dan Nissanoff
That'll be great. And I'm happy to spend some time with you on a zoom call, walking you through the game and showing you kind of how everything works, if you'd like.
Matt Zahab
Would love that, folks, what an episode with Dan Nissanoff from Game of Silks, again go check them out. silks.io as always, I will include all of the links in the show notes. Huge shout out to Dan and the team for making this happen. What a fun episode. Super interesting. The intersection of sports racing, gambling, fantasy blockchain. What a treat. All of us love those things. If you guys enjoy this one, I hope you did, please do subscribe. It would mean the world to my team. And I speaking to the team. Love you guys so much. Thank you for everything you do. Would not be here without you. Justas ask my amazing sound editor appreciate you, bro. And to the listeners, love you guys. Keep on growing those bags and keep on staying healthy, wealthy and happy. Bye for now and we'll talk soon.
---