Crypto 2020: Staking Market Growth and Dangers
Disclosure: Crypto is a high-risk asset class. This article is provided for informational purposes and does not constitute investment advice. By using this website, you agree to our terms and conditions. We may utilise affiliate links within our content, and receive commission.
Staking is set to grow in 2020, with analysts expecting more PoS projects to come online in the new year. The growth, however, could come with significant dangers.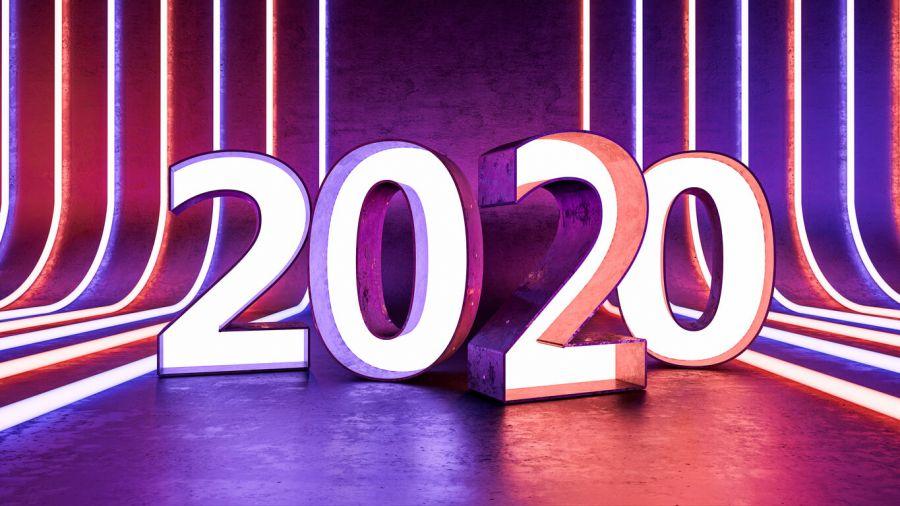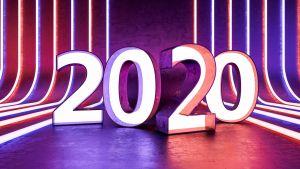 Proof of Stake has become fashionable. Towards the tail end of 2019, a growing number of crypto-exchanges and platforms added support for proof-of-stake (PoS) tokens, as well as for staking services that invest PoS crypto on the behalf of users.
At the same time, the number of proof-of-stake digital assets grew, as did the amount of value staked in them.


Such growth is set to continue in 2020, with analysts expecting more PoS projects to come online in the new year. Not only that, but they expect the market for staking services to expand, in terms of the amount staked in PoS cryptocurrencies and also the number of staking services being made available.
Proof of growth
"Given the wide variety of Proof of Stake blockchain projects coming to market in 2019/2020 and the burgeoning related infrastructure, it is reasonable to expect the overall market for staking and related services to grow," explains Stuart Young, a researcher at blockchain analytics firm Smith + Crown. "Live networks that are part of this trend include both layer 1 networks such as Tezos, Decred, Cosmos, and Algorand, as well as applications such as Livepeer."
Tezos and other PoS coins mentioned are already live, but a number of PoS launches are due for this year. Also, the market is waiting when Ethereum will complete its much-anticipated switch to a proof-of-stake consensus mechanism, while Cardano and Tron will also be switching to new PoS mechanisms.
Also speaking to Cryptonews.com, BitGo's CTO Ben Chan is another expert that expects the staking market to grow, although only if two conditions are met.
The first condition is the success of the Ethereum 2.0 rollout. "Here, there are 2 considerations – whether or not ETH 1.0 holders will convert to ETH 2.0 during phase 0, and how long it takes to get ETH 2.0 to be operational," he explains.
On top of this, Chan also highlights the ability of alternative layer 1 PoS platforms to gain adoption and maintain market cap.
"Outside of a small few PoS platforms, largely BTC/ETH have been the assets of choice by investors today," he adds. "New PoS platforms like Tezos, Cosmos and Polkadot will have to change this in order to grow market capitalization and by extension the staking market."
And as Stuart Young points out, this increase in value will invite a corresponding growth in third-party staking services.
"Further, 2019 saw a wide variety of 'Staking-as-a-Service' companies including Staked and Bison Trails that simplify the process for non-technical cryptoasset holders, as well as accessible exchanges such as Coinbase and Binance expanding into staking as a part of their broader product offering," he says.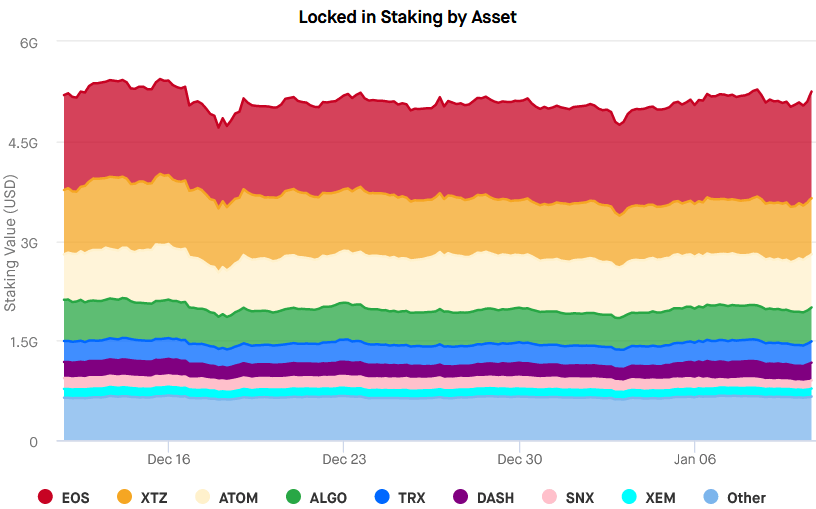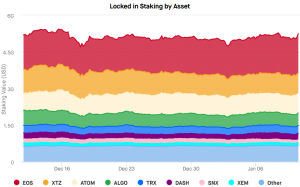 Learn more: With Ethereum, Staking Activity Volume 'Will More Than Double'
Security at stake
This trend is set to continue in 2020. However, some commentators have suggested that the growth in staking could come with significant dangers.
"In 2020, there will be more places to put your money than money to be put to work, driving down the real median staking yield further, making staking less profitable and undermining the security of a large number of PoS networks," predicts Lawrence Lundy, the head of research at Outlier Ventures.
He adds, "This power-law dynamic will mean staking operators and individuals will focus on the most profitable networks crowding out the long-tail of PoS token networks."
On top of this, there's a possibility that the staking market will witness consolidation in 2020, in the sense of the market being increasingly dominated by a smaller number of big service providers, such as Binance and Coinbase. Ben Chan warns that such consolidation could be risky.
"Yes, it can be dangerous," he says.
"Over-consolidation would mean a less even representation of participants in each ecosystem. Depending on the protocol, from a security point of view, this increases centralization and points of failure."
Yet even if big players enjoy some natural economic advantages over smaller rivals, Stuart Young explains that these advantages might not result in complete consolidation.
"On the other hand, given the relatively low barrier to entry for new validators and staking services, who can leverage existing cloud computing platforms, a variety of competitors may emerge that differentiate based on cost, uptime guarantees, and governance features," he adds. "Further, crypto-native investors who have previously experienced the downsides of overly-centralized networks may also be hesitant to stake with a large provider."
A stake in the future
Assuming the truth of predictions that the staking market will grow in 2020, the question arises as to what it might look like in the following years.
One thing that's likely to occur is that, as the market matures, platforms are likely to begin offering a growing range of additional services, on top of the more basic service of staking, say, Tezos or Ethereum in their respective chains.
"I do think this will eventually happen," says Ben Chan. "More major exchanges will help customers gain staking rewards in stage 1, and in the later stages, allow governance features and the choice of validators, as BitGo custody does today."
Stuart Young agrees although he doesn't go so far as outlining what future staking services might look like.
"A key trend in the staking market to date is large exchanges, such as Coinbase and Binance, expand into retail staking services that abstract all of the technical complexity and offers a more 'full-service' set of product offerings to users," he says.
"Given the early success of such programs, particularly Coinbase's Tezos staking service, such platforms may expand their offerings in order to capture more aspects of and revenue from the lifecycle of staking."
---