Check out These Dozens of Crypto Christmas and New Year Gift Ideas
Disclosure: Crypto is a high-risk asset class. This article is provided for informational purposes and does not constitute investment advice. By using this website, you agree to our terms and conditions. We may utilise affiliate links within our content, and receive commission.
We are just days away from one of the biggest holidays of the year in the Western World, known for the bright, colorful lights, colors red and green, the decorated trees, cookies, and gifts. It's well-known that holidays are commercialized to the max. Gifts are a major part of almost any holiday, and Christmas sees trillions (yes, trillions) of dollars spent globally for those special things that'll make loved ones happy.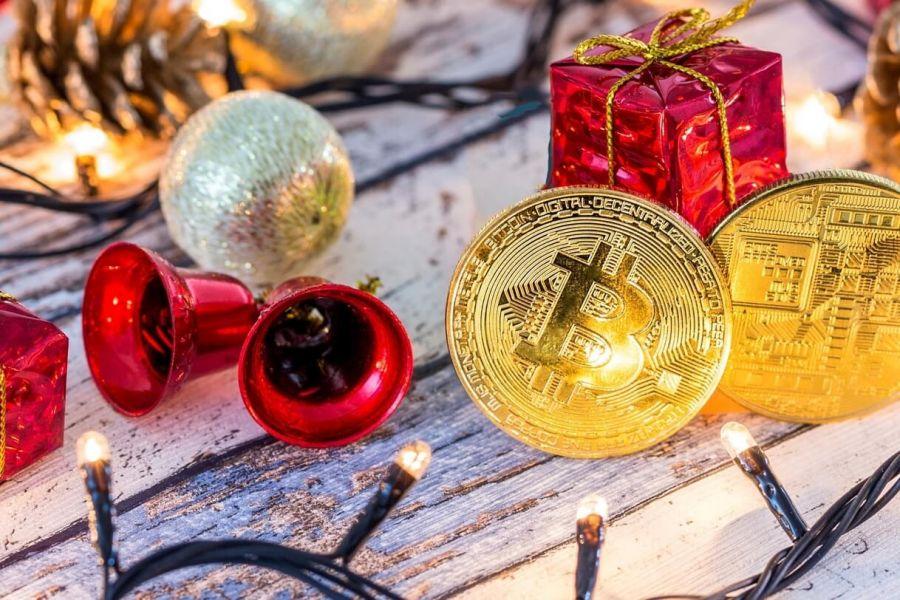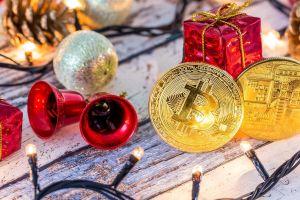 Buying presents is tough enough. Add some crypto to the mix and you may have a veritable puzzle on your hands. Whether you're good at purchasing gifts or not, and whether you know anything about crypto or not, we've come up with a list that might make that shopping choice a lot easier.
Traditional Crypto Gifts
There are some gifts which have quickly become traditional, and for a good reason – they are excellent and very useful gifts. For starters, the best course of action might be to buy somebody more crypto, or even their first one (a few). How about investing in stablecoin? Or you can do some research into altcoins and choose those you'd like to invest in, or simply get your family members and friends to stack sats by starting it for them. Purchase something nice on a crypto rewards site, and give both the purchased items and the gained sats to your friend/family member.
You can also give to a crypto-friendly charity in the name of a friend or a family member, and we've written about some great ones in our Black Friday article.
Another excellent choice is purchasing a good hardware wallet to keep those sweet digital coins safely. As we've discussed last year, Ledger, Trezor and KeepKey are among the most popular options, and we've also talked about certain alternative options as well. Hardware wallets are a pricier option, but one worth investing in. A couple more things we've also mentioned last year are blockchain phones, such as the Exodus and Finney smartphones, and crypto collectibles– all excellent gifts.
To help your gift receiver not forget their wallet password or seed phrases, thus loosing access to their coins, Safe Seed Mnemonic is something to consider. We've also reported on a long-term seed word and other valuable data storage option in the form of a solid metal capsule, called Cryptosteel Capsule, which can store information in up to 123 characters.
Also a traditional gift, Bitcoin mining equipment might help to those looking to obtain a greater share of the hashrate ahead of the Bitcoin halving.
Clothes
These are always a useful and convenient gift to give to somebody, and we've gathered a number of different items for you to take a look or at least get inspired by.
Dresses, Leggings and Skirts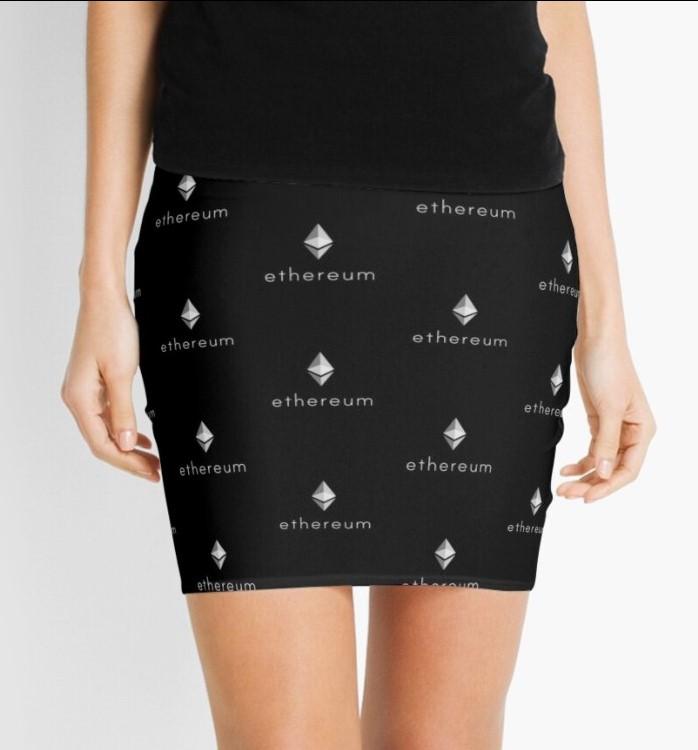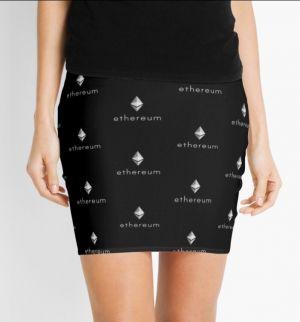 Granted, there aren't many options available when it comes to women's clothes, but more styles are appearing every day. Check out these comfy, casual and reasonably priced dresses on Redbubble, but also leggings and miniskirts.
Shoes and Socks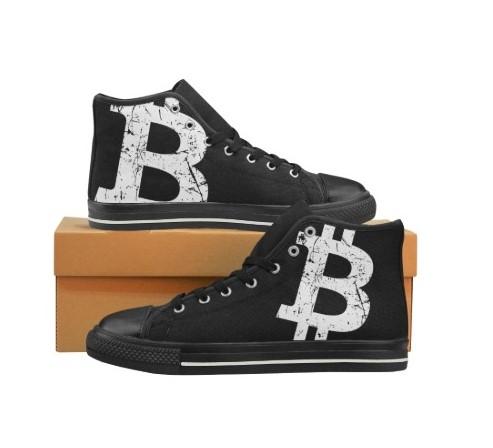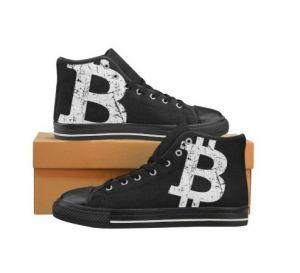 Shoes are another common and very useful option, and you can't go wrong with a little crypto twist. Here are some shoes for up to USD 125. While there, you can also buy some crypto socks to go with the sneakers or boots. Another good news is that Nike's blockchain-compatible sneakers CryptoKicks are in the works, and who knows, maybe for next holiday we'll be able to purchase those.
Shirt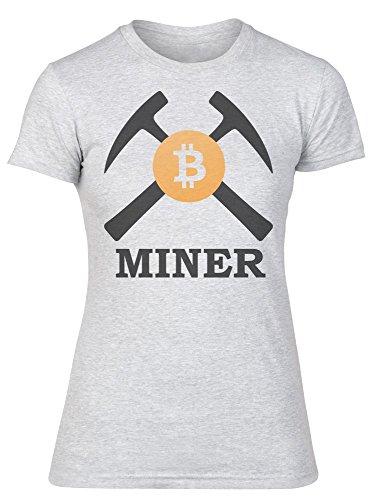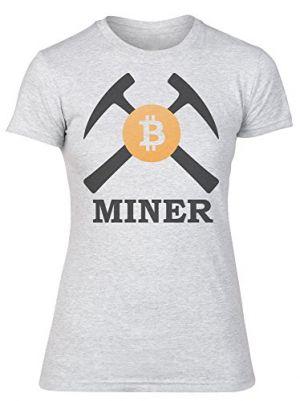 The internet is full with moderately-priced shirts for both man and women, and we can't deny that they are one of the most useful gifts out there. Whether for indoor or outdoor usage, one needs a shirt. Check out some of these shirts, for example, that go up to USD 40, and come in a variety of prints. Another great choice for shirt and crypto merch shopping is a store aptly called BitcoinShirt.
Hoodie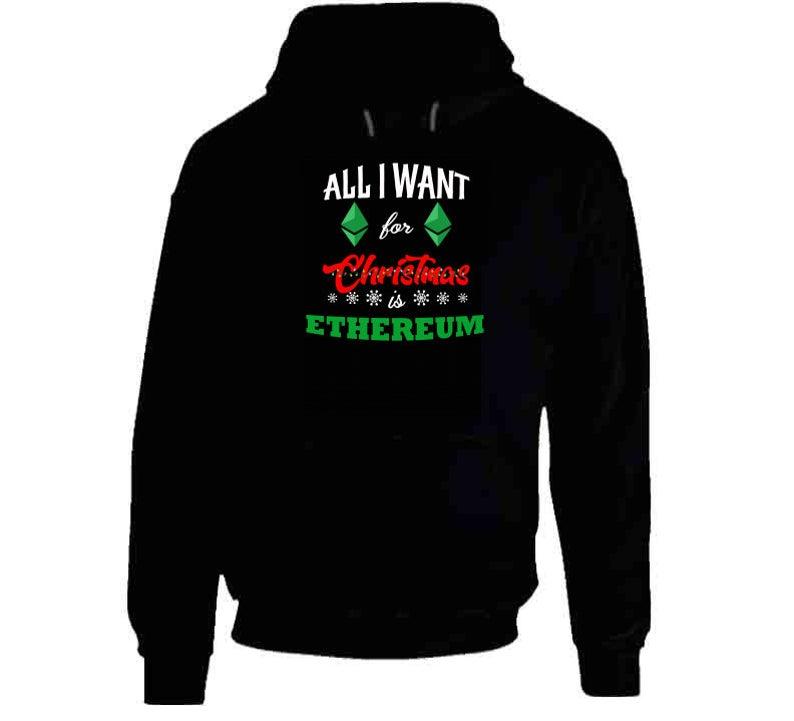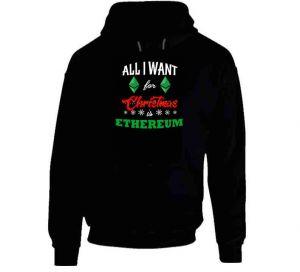 Hoodies are also an excellent solution to your gifting worries. They're soft, they're warm, they look good, and they're crypto-themed. How about this hoodie that says "All I Want For Christmas Is Ethereum"? It's available on Etsy for USD 34.99. Or you can get one of those well-known hoodies – crypto exchange Binance has some quite recognizable ones. There's no official merch, as they're an exchange, but CZ-inspired clothing is everywhere. Here's a hoodie for USD 27 on Amazon, for example.
Sweaters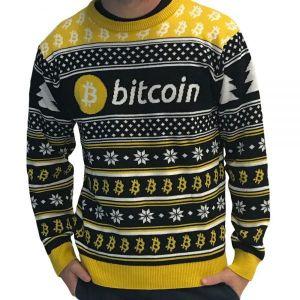 Your crypto-uncle is more of a jumper person? Well, here's a whole bunch of 'em in various colors and designs and, yes, crypto motifs. Each is fully-knit and costs USD 60, while the site, HodlMoon, ships worldwide. You can of course pay with crypto in the ShapeShift integrated checkout.
Caps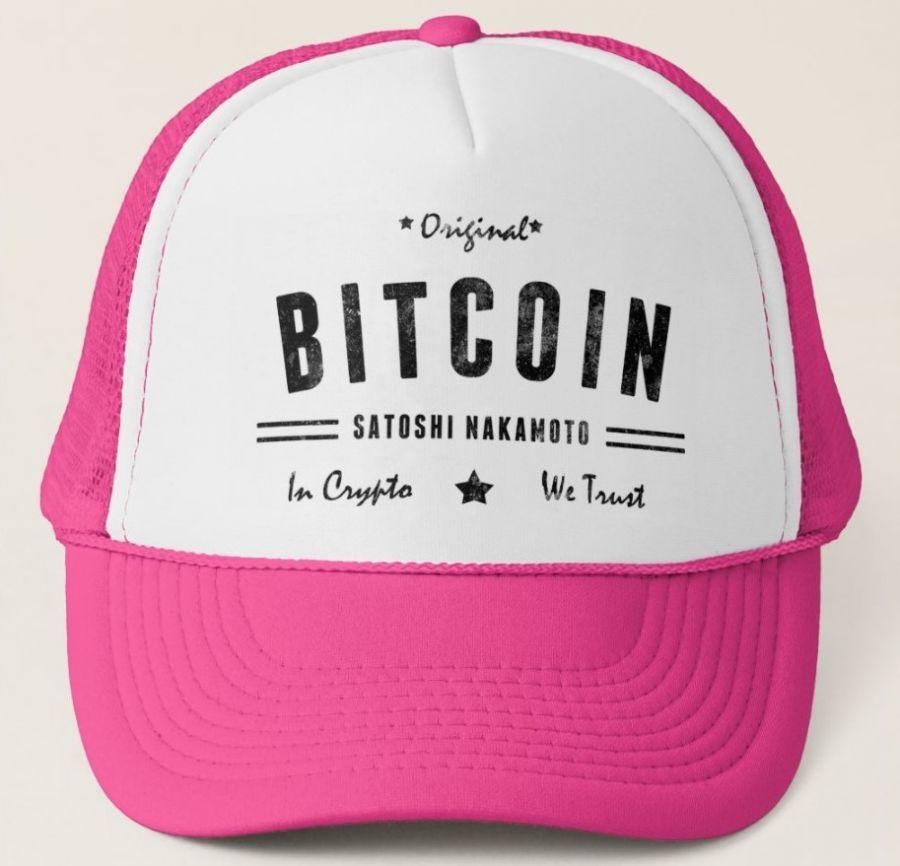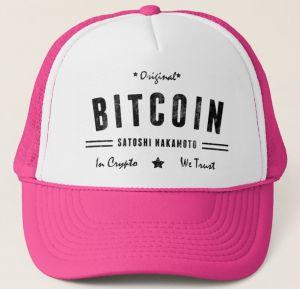 Now that you got some clothes, a hat is in order. This is another item available in many online stores and Zazzle is one of those you might want to check out. There's a variety of hats and caps here for up to USD 20, in different prints, crypto motifs, and colors, and you're likely to find something your loved one would like.
Cap-Sac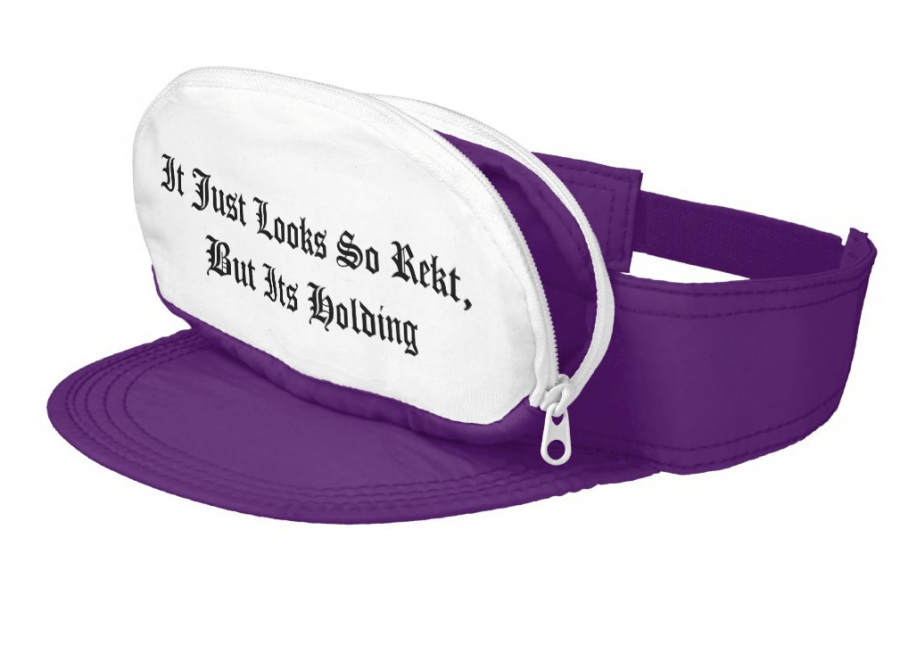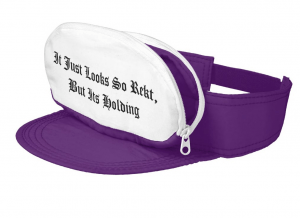 There's an option to create your own fanny pack for head. You read it well. It's advertised as an item that "provides the hands-free convenience of a fanny pack with every single fashion mistake of 1987." What more would one want? A crypto symbol on it? You got it. Neon colors? There's six available. And it's machine washable.
Bitcoin and Blockchain Neckties and Bow Ties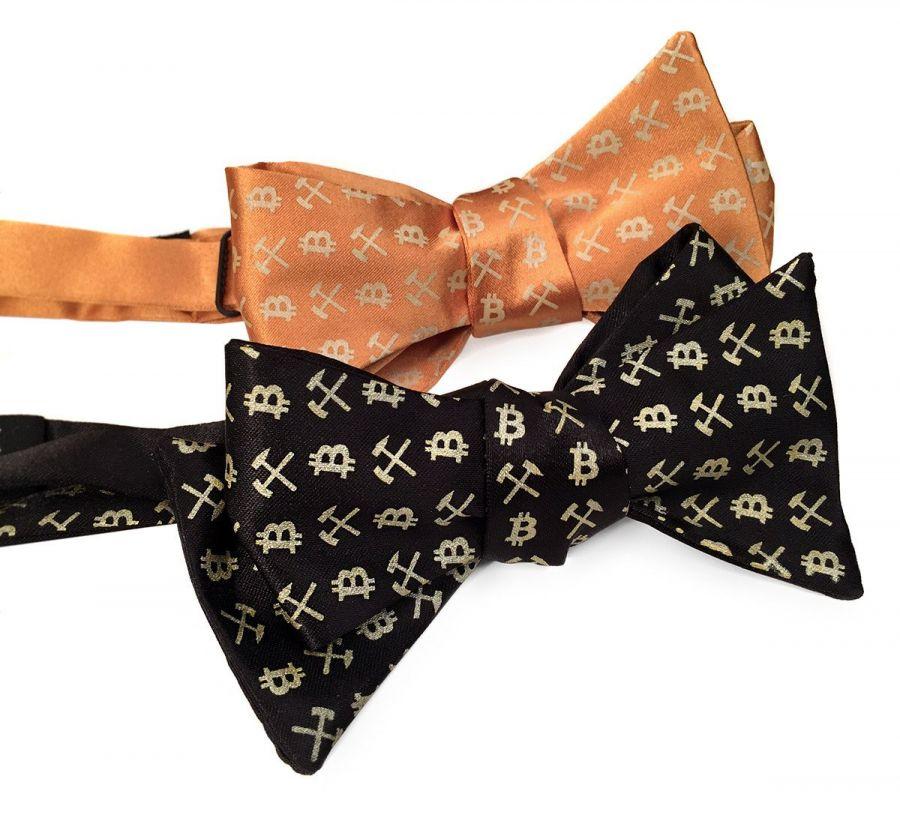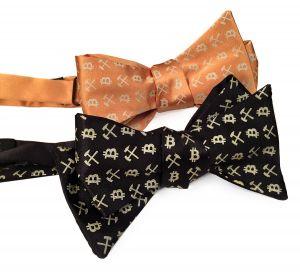 It's time to dress up. There's a Bitcoin necktie for all occasions. 'Nough said. Not enough, as Cybetoptix Tie Lab also offers Bitcoin bow ties, pocket squares, and scarfs, as well as blockchain neckties, bow ties, pocket square and scarfs. They're fun, elegant, and quite unusual.
Blockchain Pashmina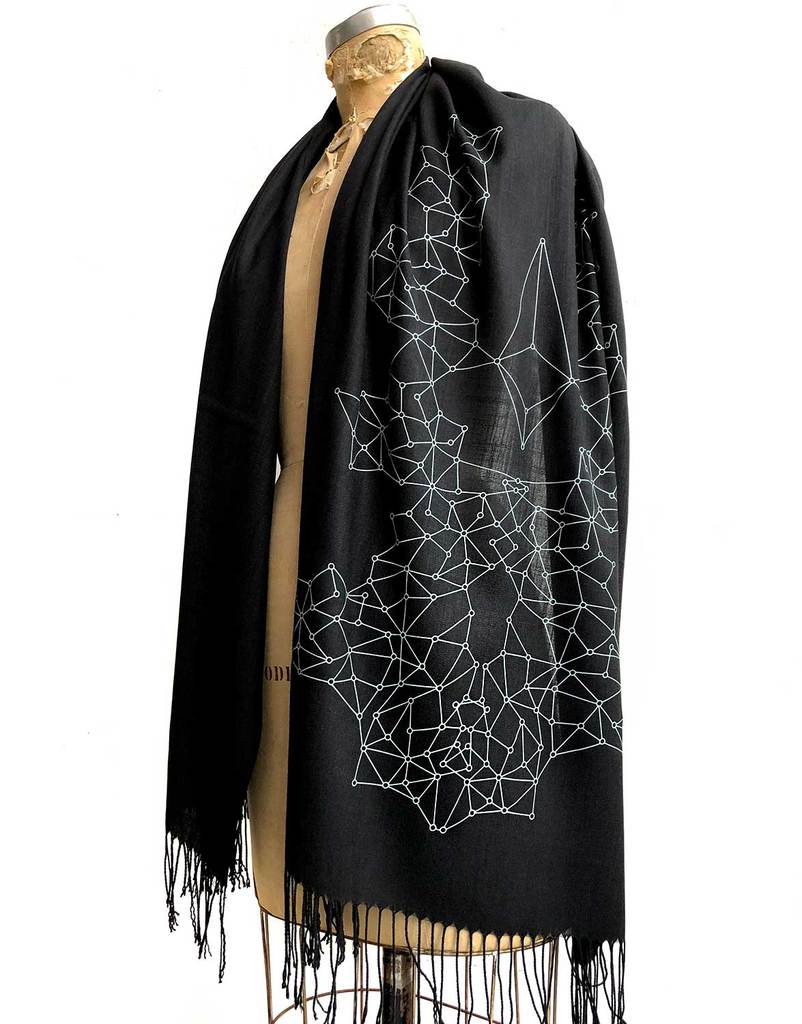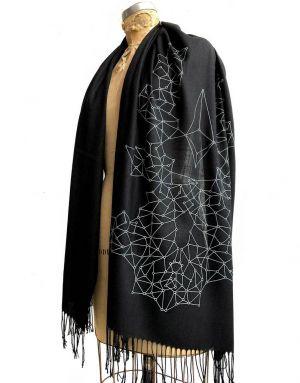 Here's another beautiful and unusual gift, regardless of gender. There are four colors available for USD 44.
Apron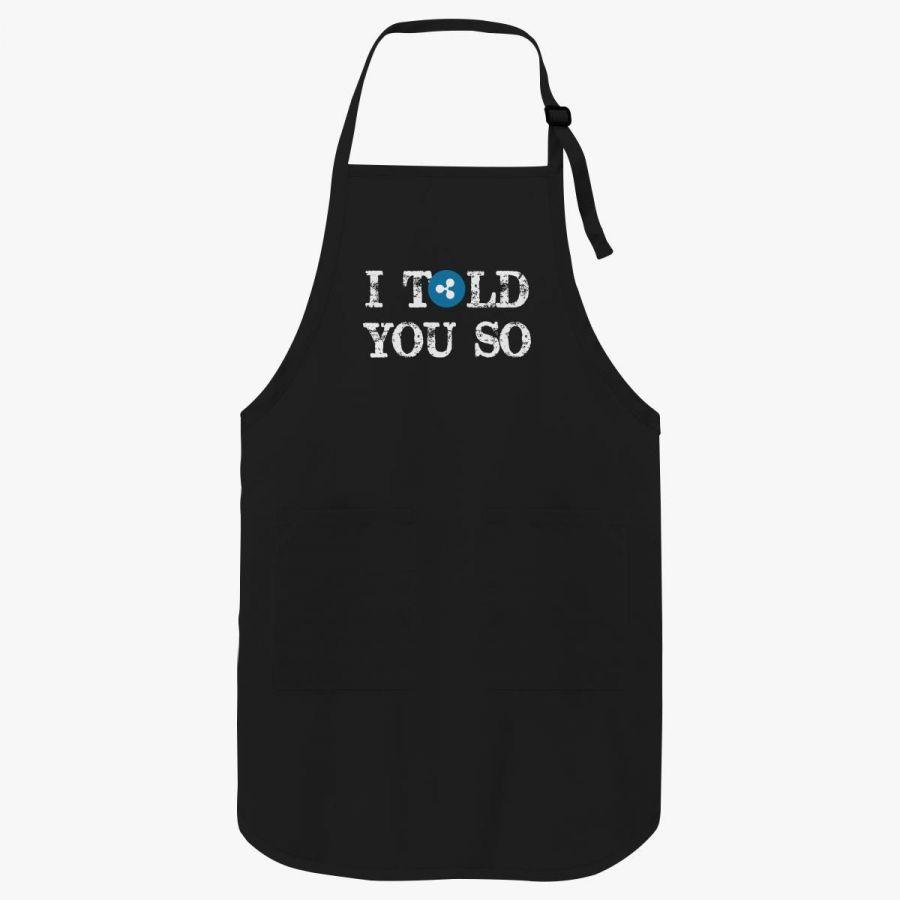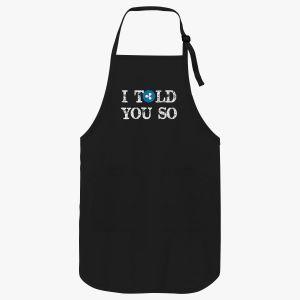 For all the chefs out there and those that think they are, as well as for all barbecue aficionados, get them a crypto-themed apron, or even customize one.
Swimsuits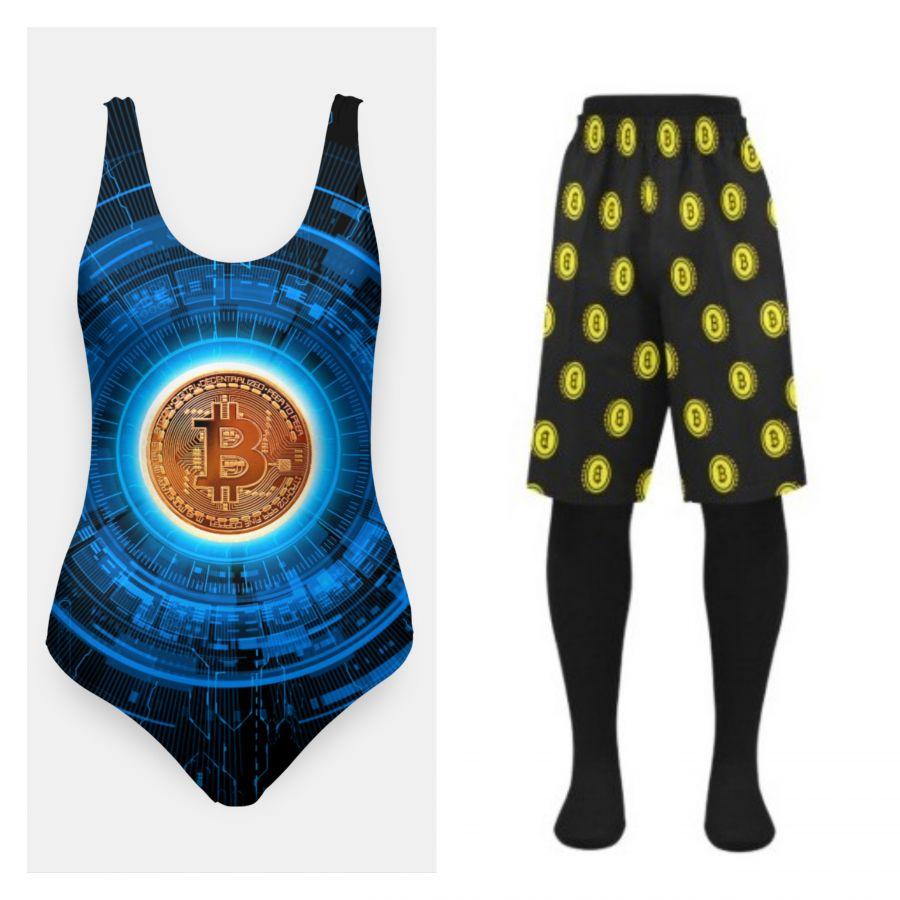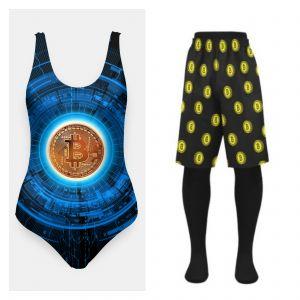 Though not as popular as other items of clothing yet, meaning less variety (especially for women), you can most certainly find some. Check out these men trunks or this one for USD 30-40, and this women's one-piece for USD 28.45.
Baby and Kids Clothes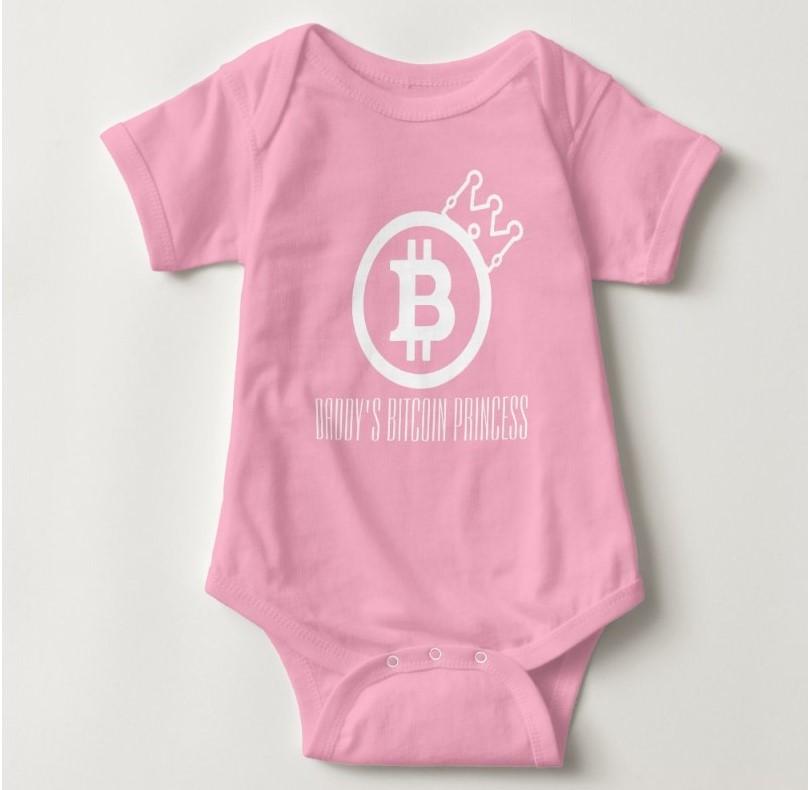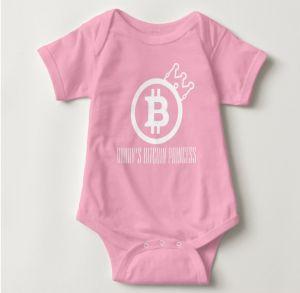 There are more and more baby, toddler and kids' clothes to choose from online every day. Here are some on Etsy, on Amazon, on Spreadshirt, on Zazzle – and they're all reasonably priced.
Pet Clothes and Accessories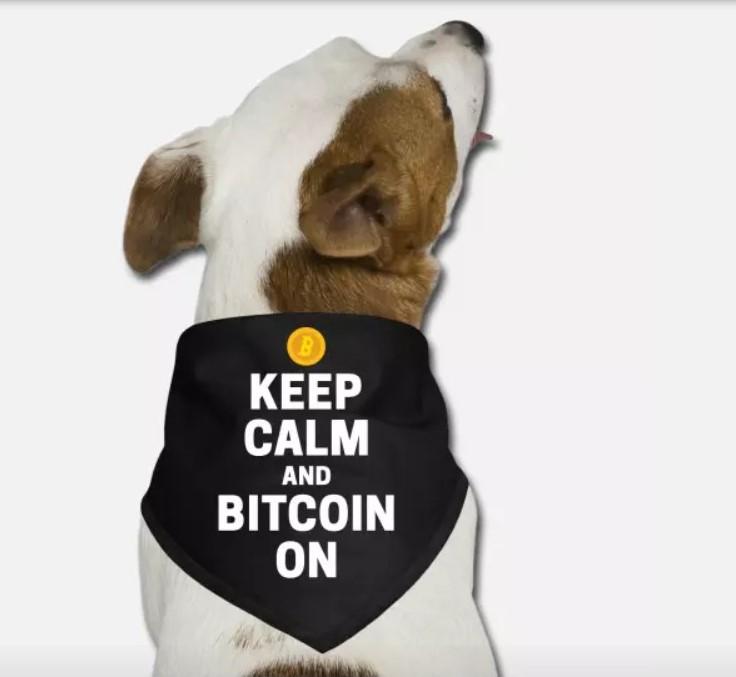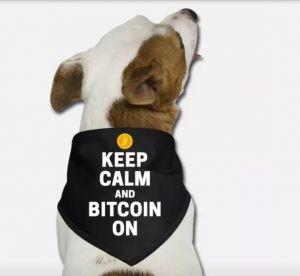 Now that all humans are well dressed, it's only right that the animal family members get a crypto gift too – perhaps this bandana, or a clever bone-shaped tag. There are many shirt options for dogs as well. We're not saying that you can't dress your cat in a shirt, but do remember that they're far less forgiving than dogs.
Accessories
If clothing is not really the type of gift you find interesting, there's plenty to choose from when it comes to crypto accessories. You can find them online easily.
Watch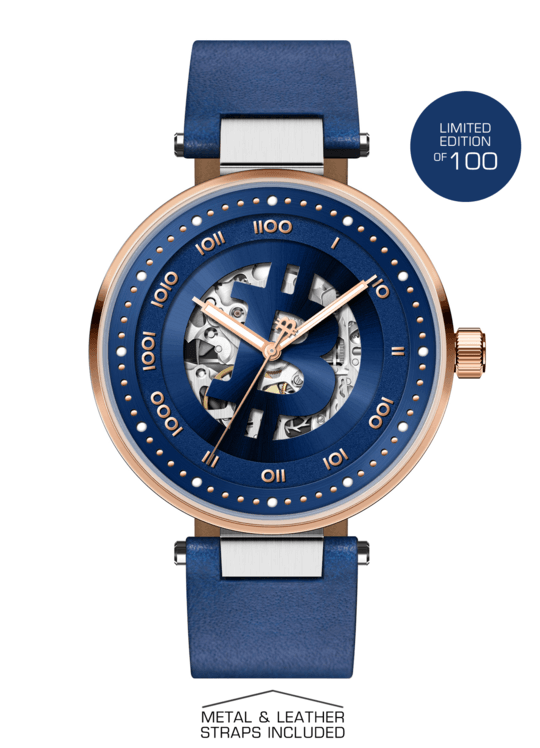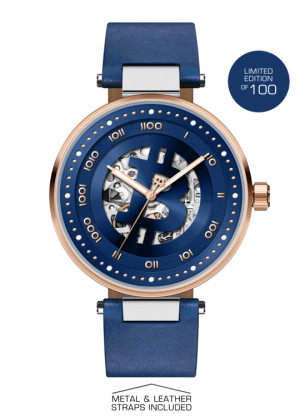 For all pricey watch lovers in your family, here are some limited edition watches from Cryptomatic, many of which are sold out already. Cryptomatic watches are protected by an International Limited Lifetime Warranty from the date of purchase against manufacturing defects, their site says. If you can't afford one of these, worry not, as you can find much cheaper but quality options on Amazon and other sites as well.
Jewelry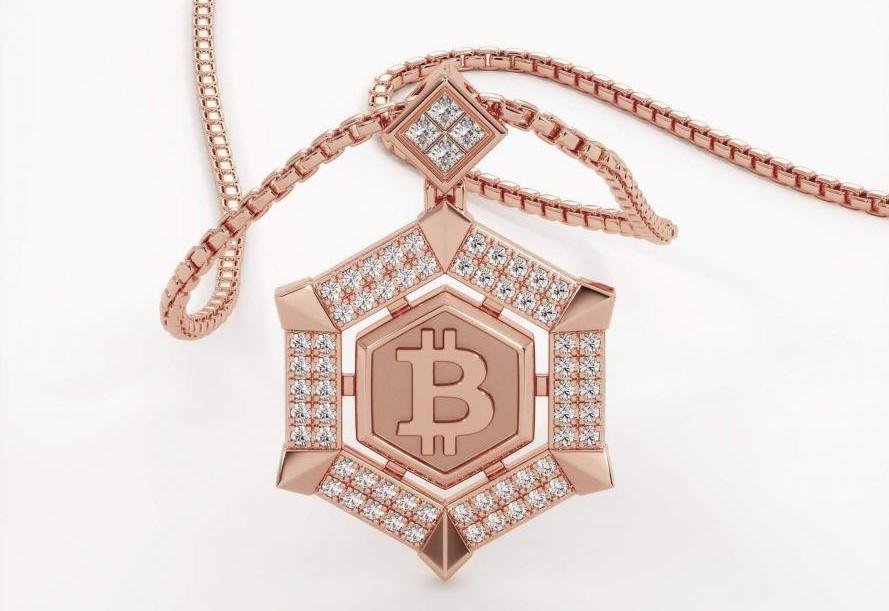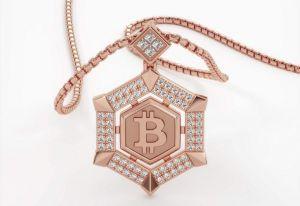 The internet is a treasure trove of cheap, inexpensive, and semi-expensive crypto jewelry. Any part of themselves your cousins want to decorate, you'll find something for them online. Here is some clever and pretty jewelry on Etsy, on Amazon, on Cafepress, or on Zazzle.
And for those who have more crypto/fiat to spend, Crypto Jewelry has a wide range of body decorations, including rings earrings, pendants, bracelets as well as accessories such as brooches, cufflinks, and tie clips – and more is being designed. The one on the photo is presented in three kinds of gold (white, rose and yellow) and in two colors of diamonds (classical white and rare black).
Fragrance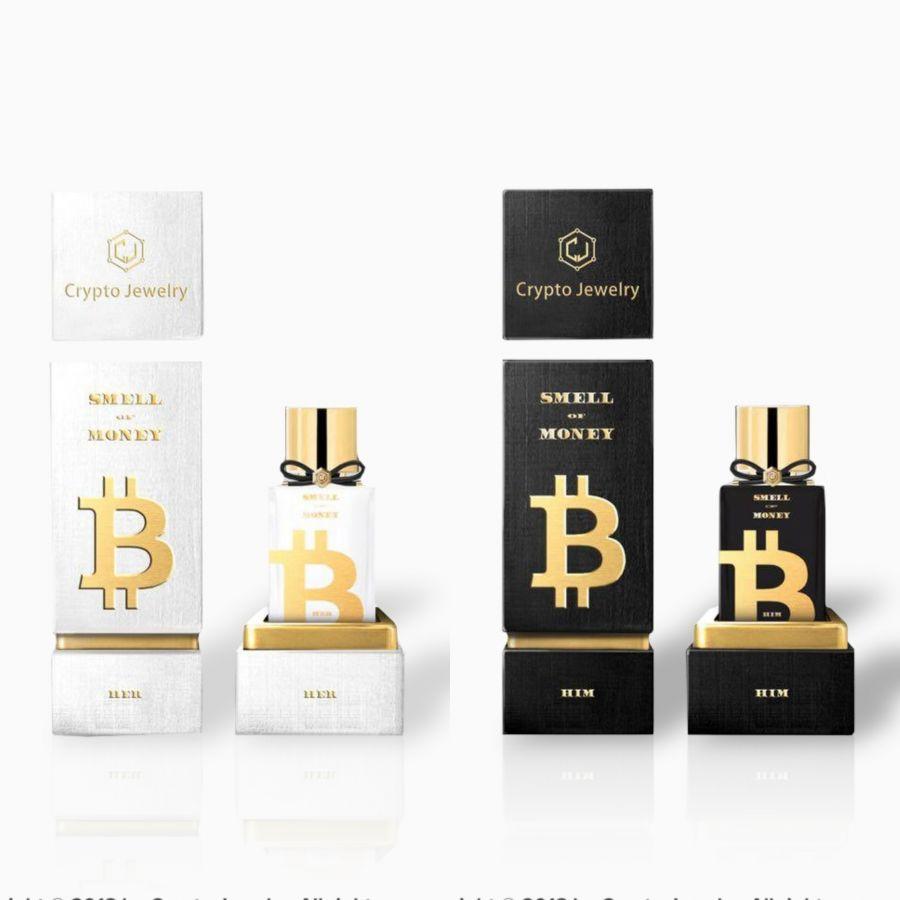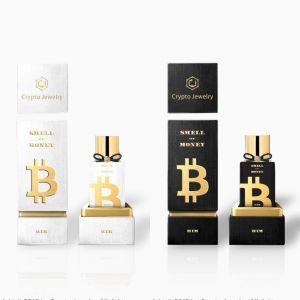 Also sold by Crypto Jewelry, "Smell of Money" For Him and "Smell of Money" for Her is available for USD 95 for a 100ml bottle. It's an exclusive fragrance created with the French perfume making traditions, its makers say.
Enamel Pins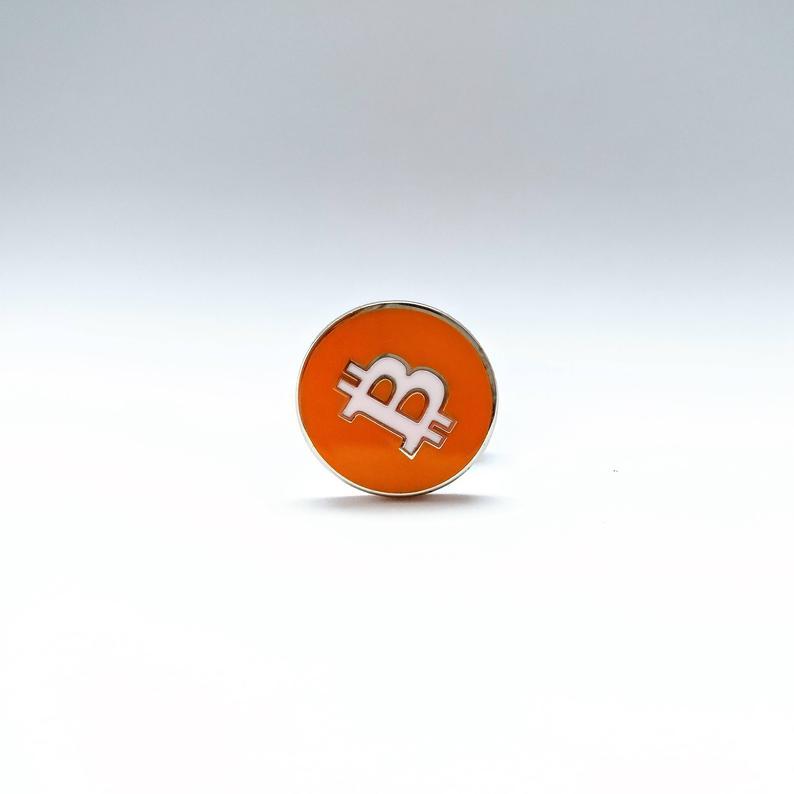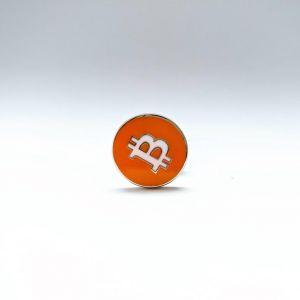 Pins have always been fun to wear on the backpack, bag, jumper, jacket – well, anything really. For a gift, take a look at these handmade enamel pins that cost less than USD 10, as they have very small imperfections. This seller offers Bitcoin, Ethereum, Monero and Neo badges.
Backpack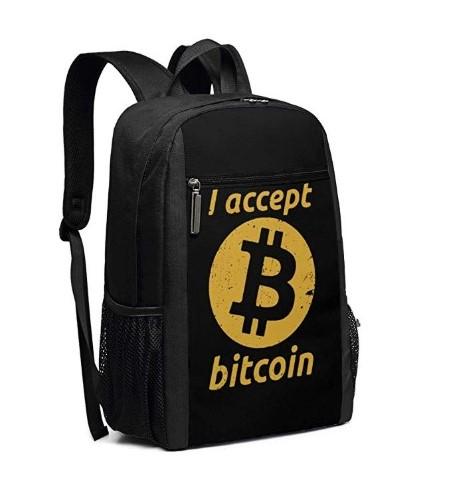 For man, women, adults or kids, backpacks are a great present! Here's an example available on Amazon for USD 35, but there are many other crypto backpacks to choose from to make sure the recipient will like it.
Bitcoin Headphones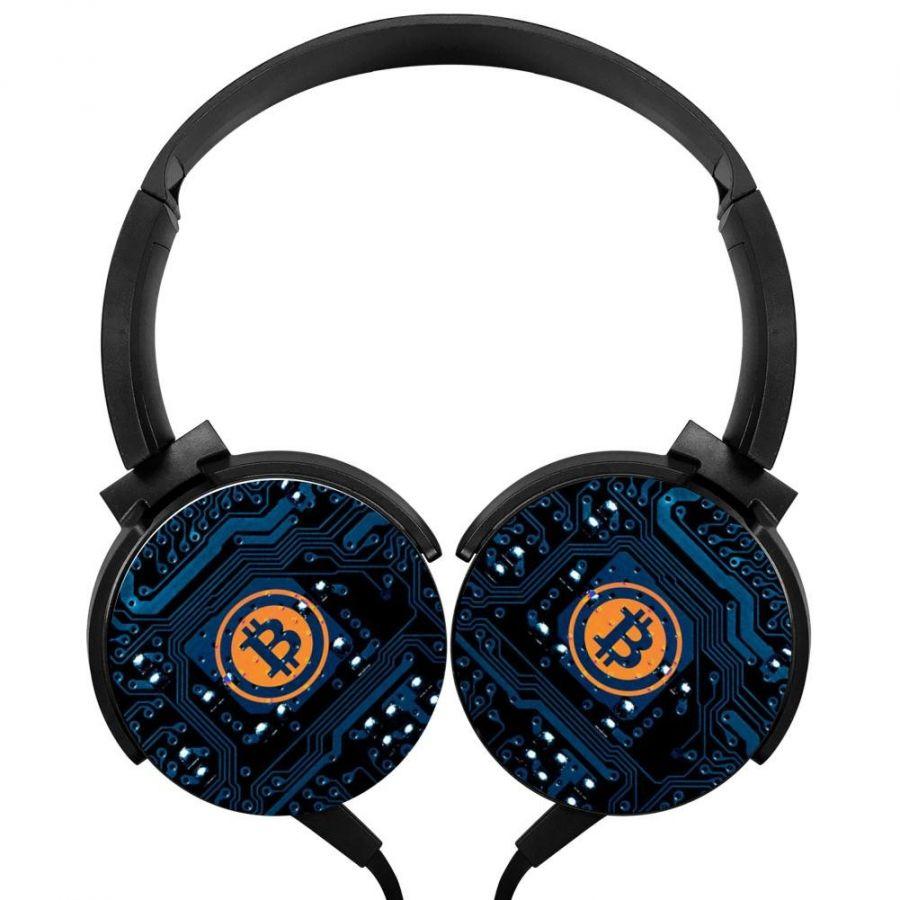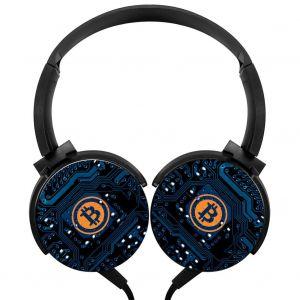 As with backpacks, there are quite a few options available when it comes to headphones, for example on Amazon, and we're sure more will pop up every day. The ones on the photo are "PjNnt BitCoin Bass Stereo Wired Headphones" with rotating shaft design for USD 25, and they can be customized.
Phone Case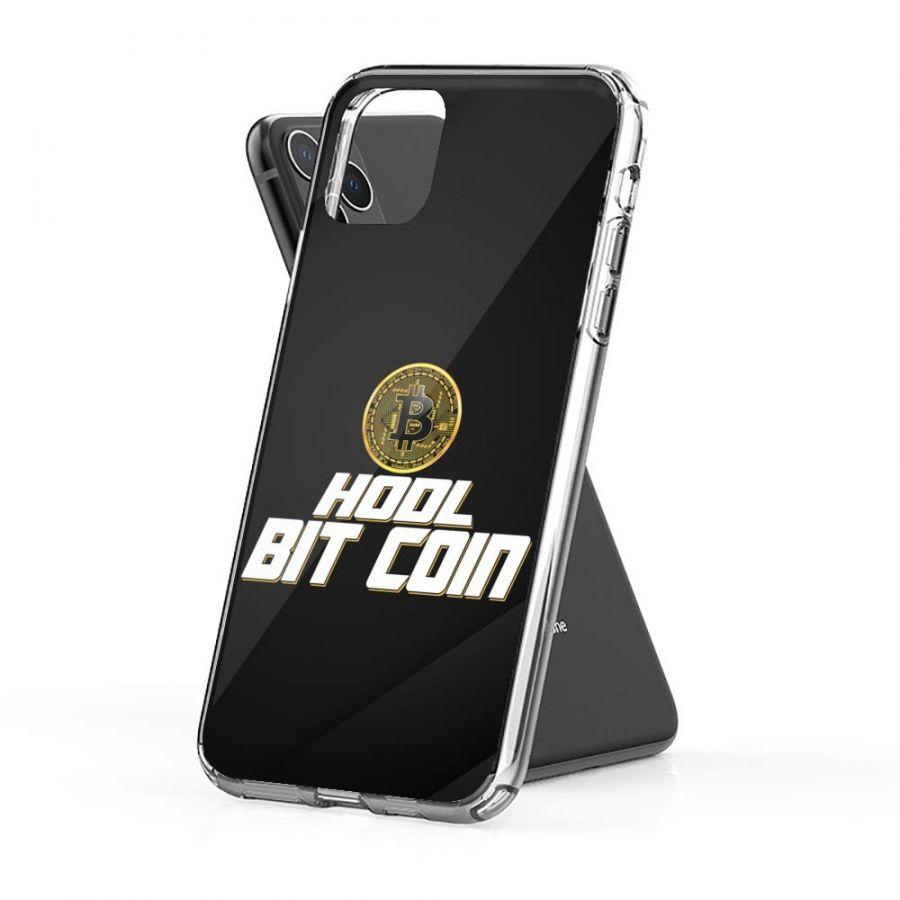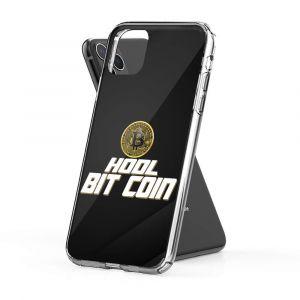 We mentioned blockchain phones already, but even if you don't want to buy a phone, you can get your friend a great phone case for Christmas, crypto-themed of course, whether they have an Android phone or an iPhone. You can find easily find some inexpensive cases on Amazon, for example.
Teddy Bear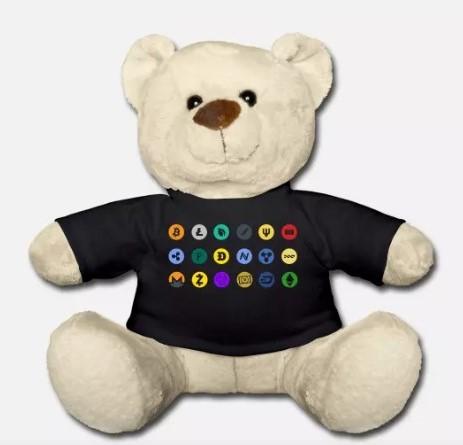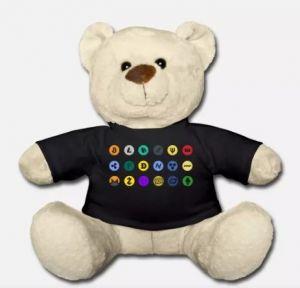 A child or an adult, here's a contemporary twist on a classic toy – a Teddy Bear in a crypto shirt, and there are many other crypto symbols available as well, for about USD 26.
Home Décor and Other Home Stuff Too
After all people and animals have been cryptoed up, it's time to crypto the flat up!
Magnets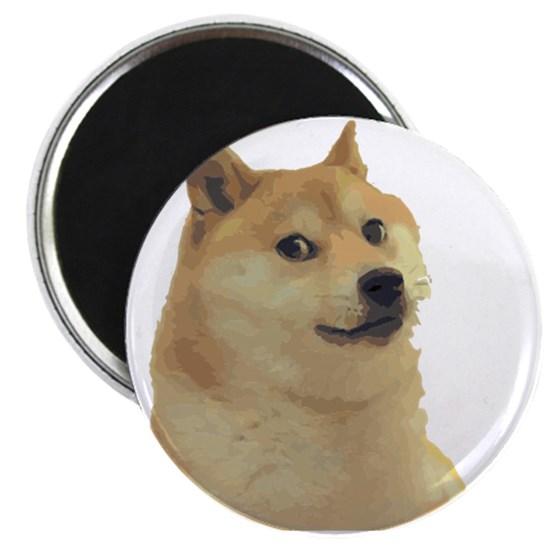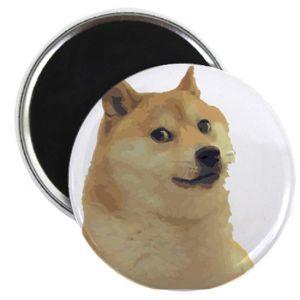 You can make someone's house / flat very crypto. And it's only right that we start from the fridges and gift others with some magnets for decoration.
Crypto Art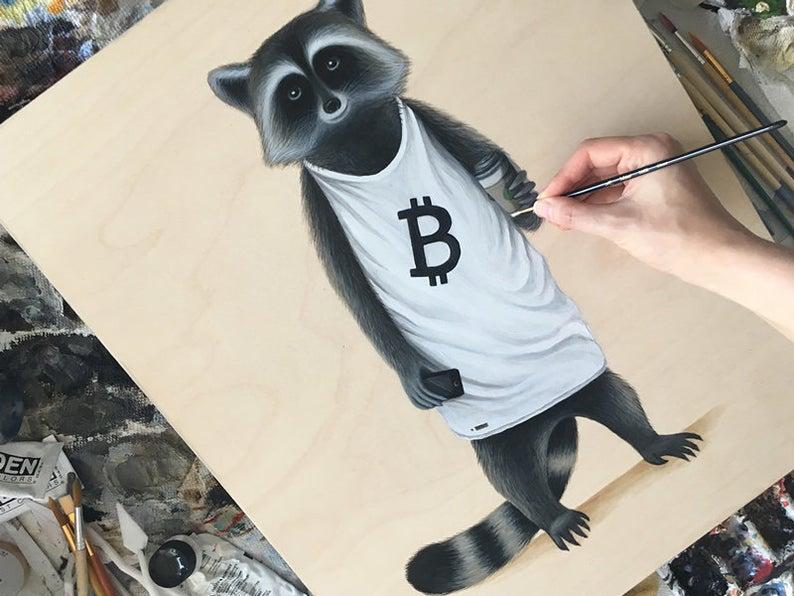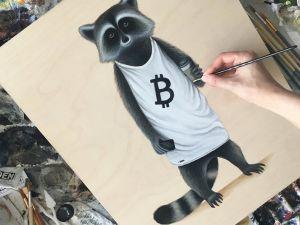 Here's a Bitcoin Raccoon Print for USD 26. Because it's a lot of fun. There's also another type of Cryptoart – one that serves as a piggy bank that merges BTC cold storage with art, and your aunt can keep her Bitcoin there. It comes in three sizes for her convenience.
Personalized Ceramic Ornament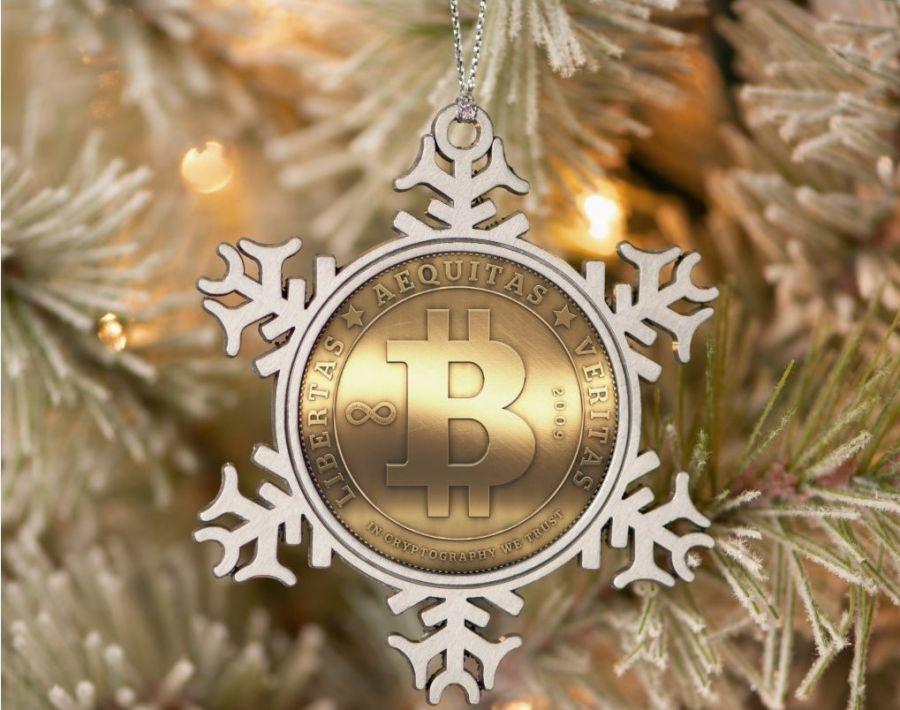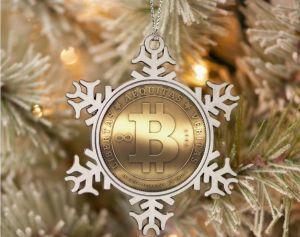 Clear. Simple. To the point. And very holiday! One of the places where you can make this happen, in seven different shapes, is Zazzle, and it'll cost you about USD 17 per ornament. Or you can just choose one of many already prepared ones.
Crypto World Clock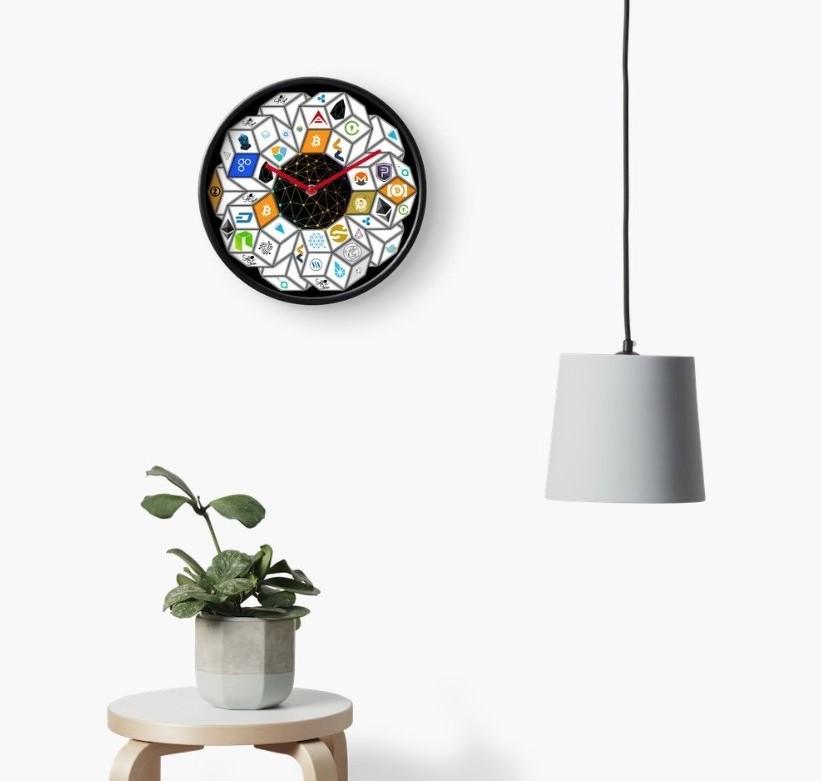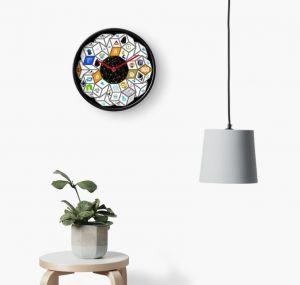 Look at this one! This'll certainly be fun to have on the wall. You can chose black or white frame, and black, white, red or aqua hand color, and it costs c. USD 30. There are a few others to choose from by the same creator. Ironically, it's not digital.
Lamp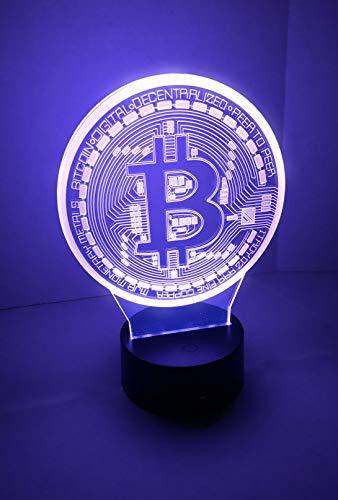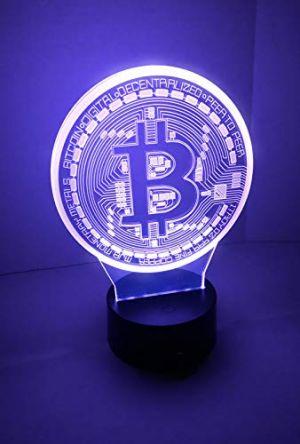 Lamps are not just a source of light, but also have a decorative purpose. Here's one with a clear statement as well. This battery- or micro-USB-powered Bitcoin LED lamp comes in four colors for you to choose from.
Pillow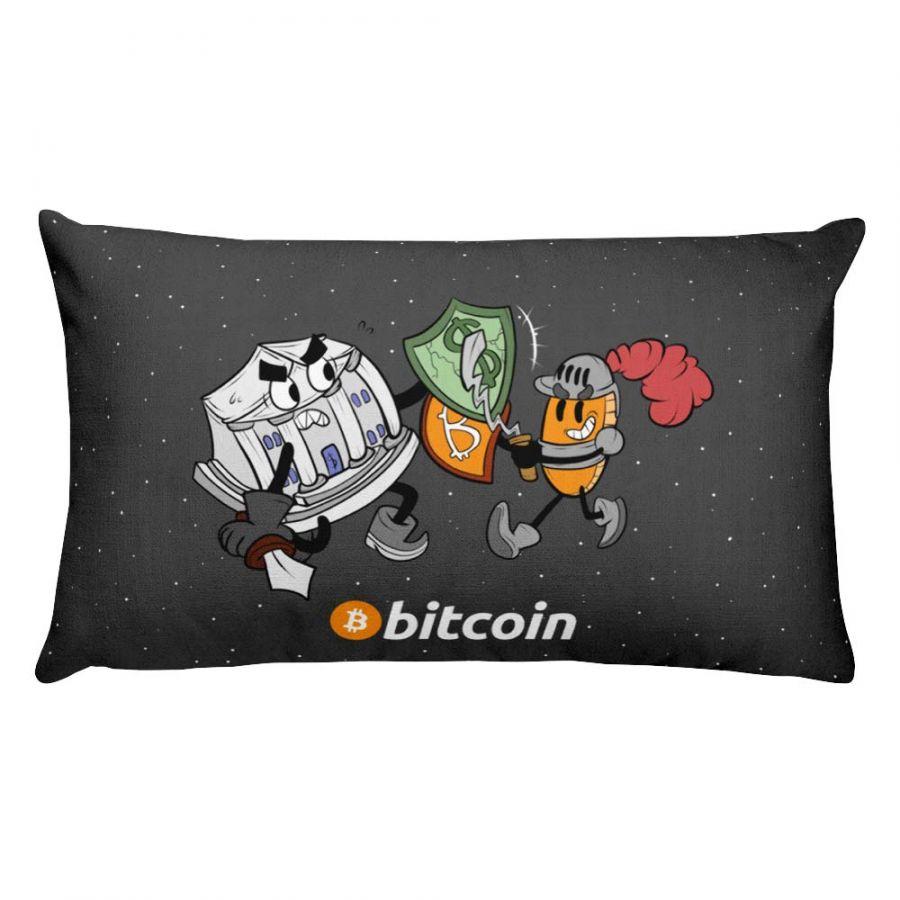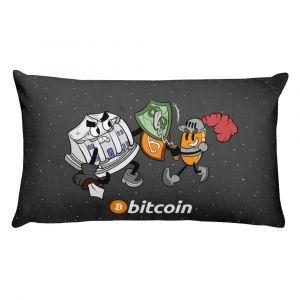 Crypto pillows are a fun gift for anybody, and you can find some on BitcoinShirt for USD 30.
Mining Farm Carpet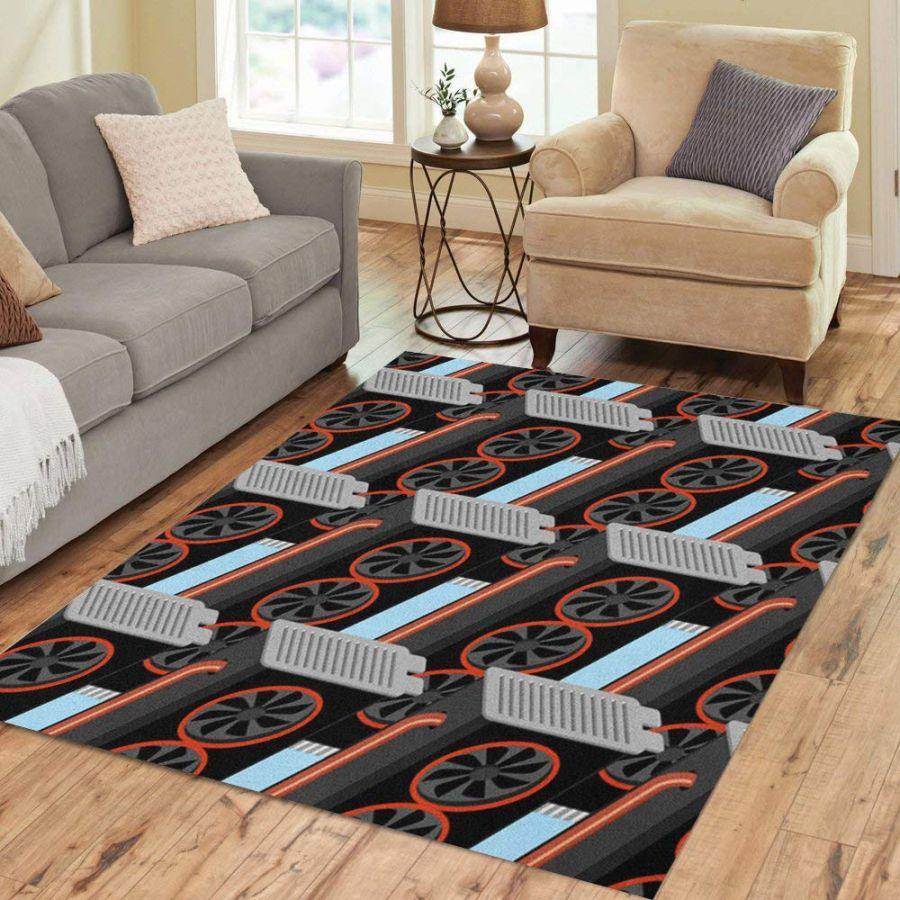 Another gift for our mining friends. Here's a fun carpet for about USD 40, though you can find other crypto-inspired carpets on Amazon too.
Doormat / Bathroom Rugs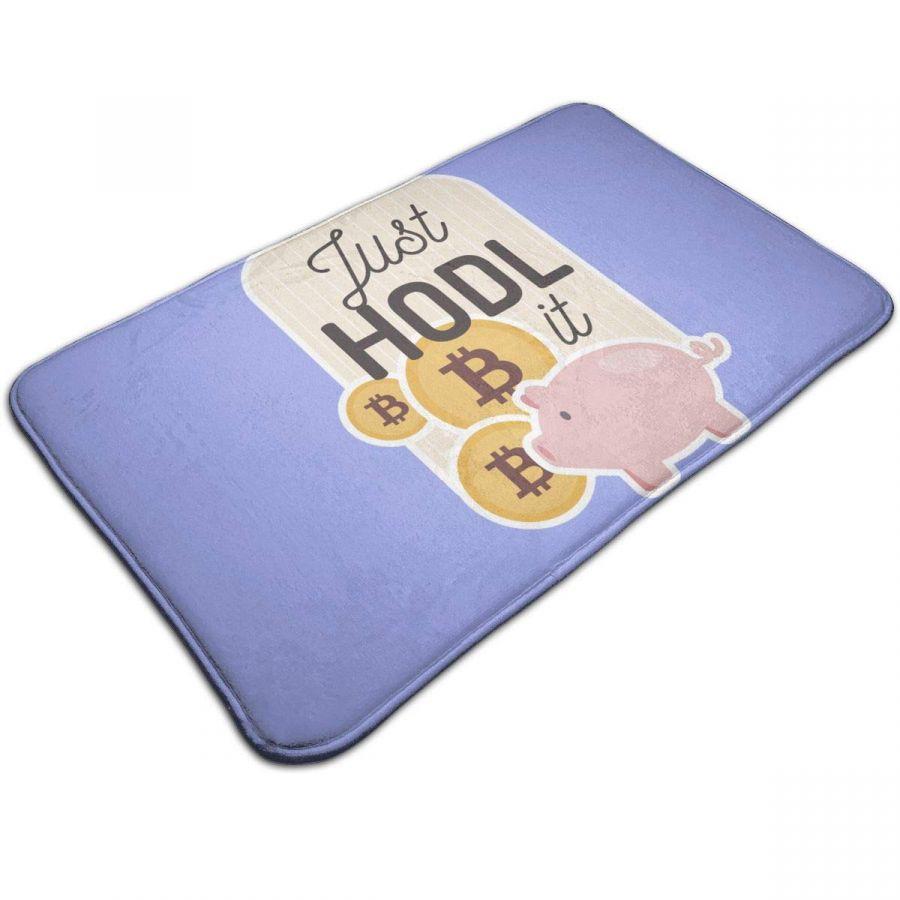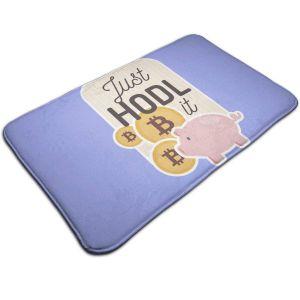 Speaking of carpets, a mat for your door, kitchen or bathroom is also a nice gift idea, welcoming all who visit the crypto-fan's home. Or you may prefer this BTC one, and you'll find various other designs online too.
Curtains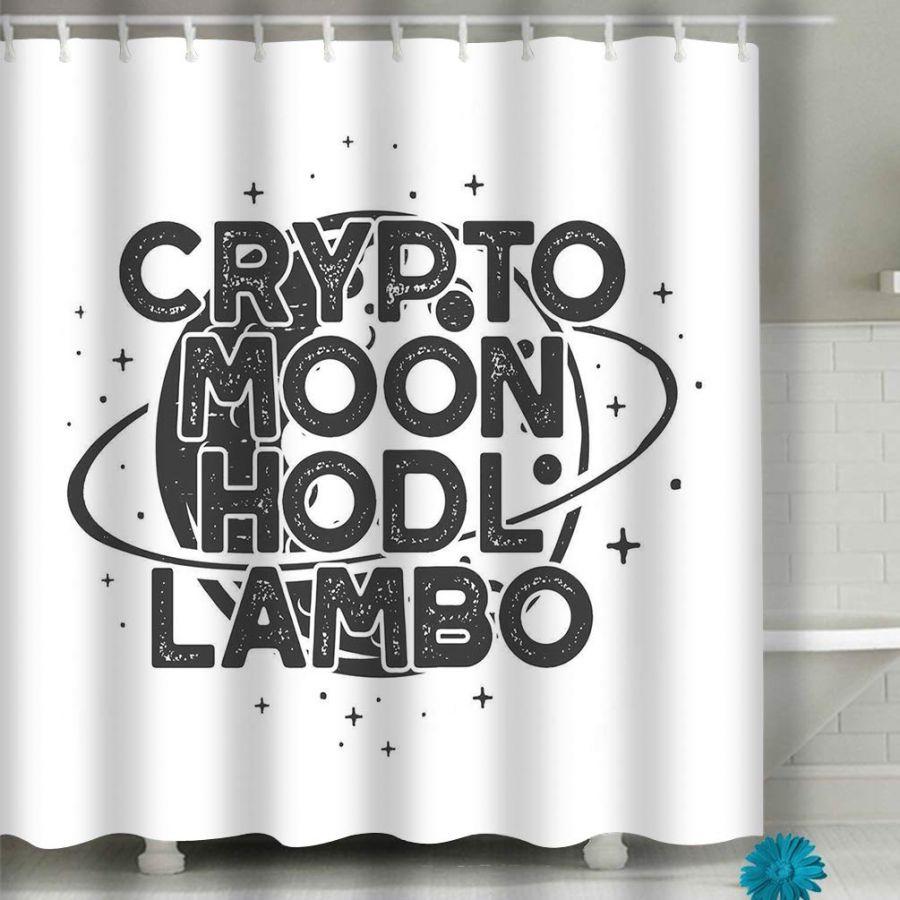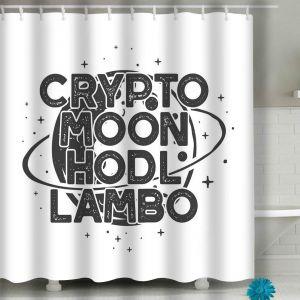 There's a gift for any room in your crypto-loving godparents' house. This Hodl shower curtain is a nice idea, and you can find curtains for bedroom and living room too.
Kitchen Paraphernalia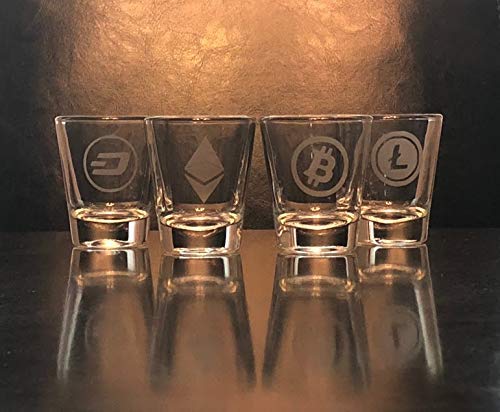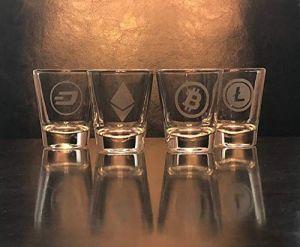 The Crypto Lion is another site where you can find a whole bunch of interesting stuff for a small price, such as these contemporary ceramic mugs, or how about this white 'Keep calm and HOLD one'? A classic. Or if you're in need of some glasses, Amazon's got you covered with various pint glasses, rocks glasses, and shot glasses. Or you can get your friend a frying pan or one of many other kitchen objects by a maker called Satoshi.
Concrete Coasters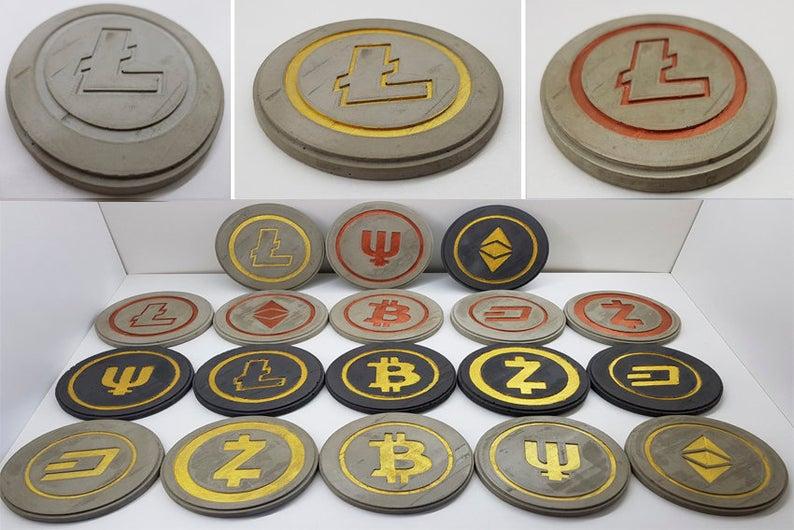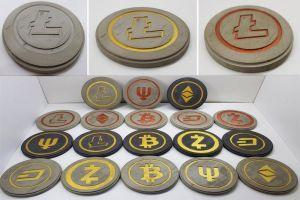 What? Your guests are coming and you don't have anything to put beneath that crypto glass you bought? How about these handmade coasters? They are less than USD 5 each or you can get a set of six for up to USD 25.
Cosmetic Bags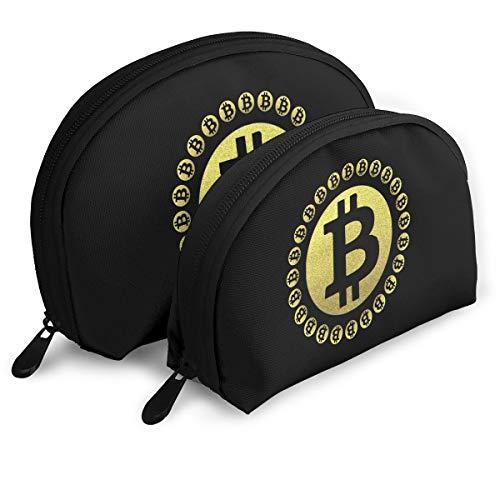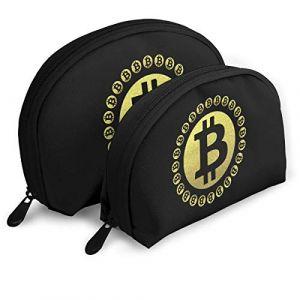 Here's another very useful item, good for home use or for traveling. The ones on the photo, for example, cost USD 21.75, and the site claims they are water proof as well.
Toilet Paper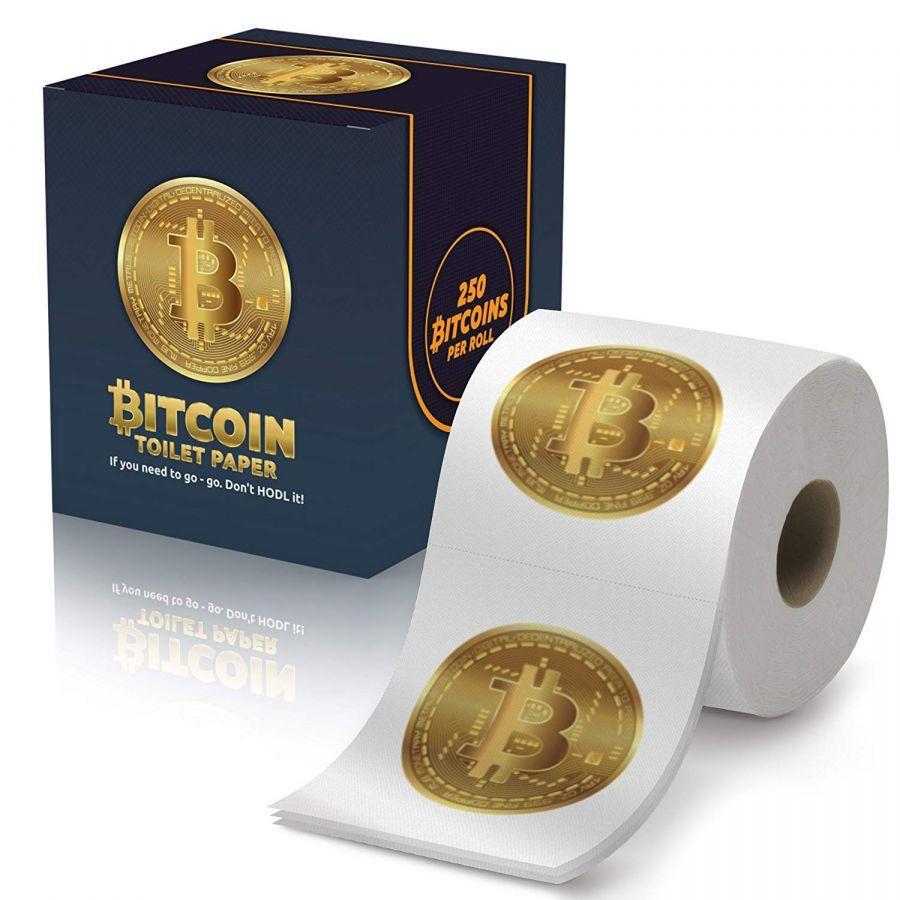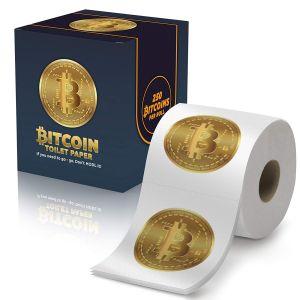 I say make everything crypto! You get 250 three-ply sheets in a roll. You can get this roll on Amazon or on the Crypto Lion for less than USD 4.
Stickers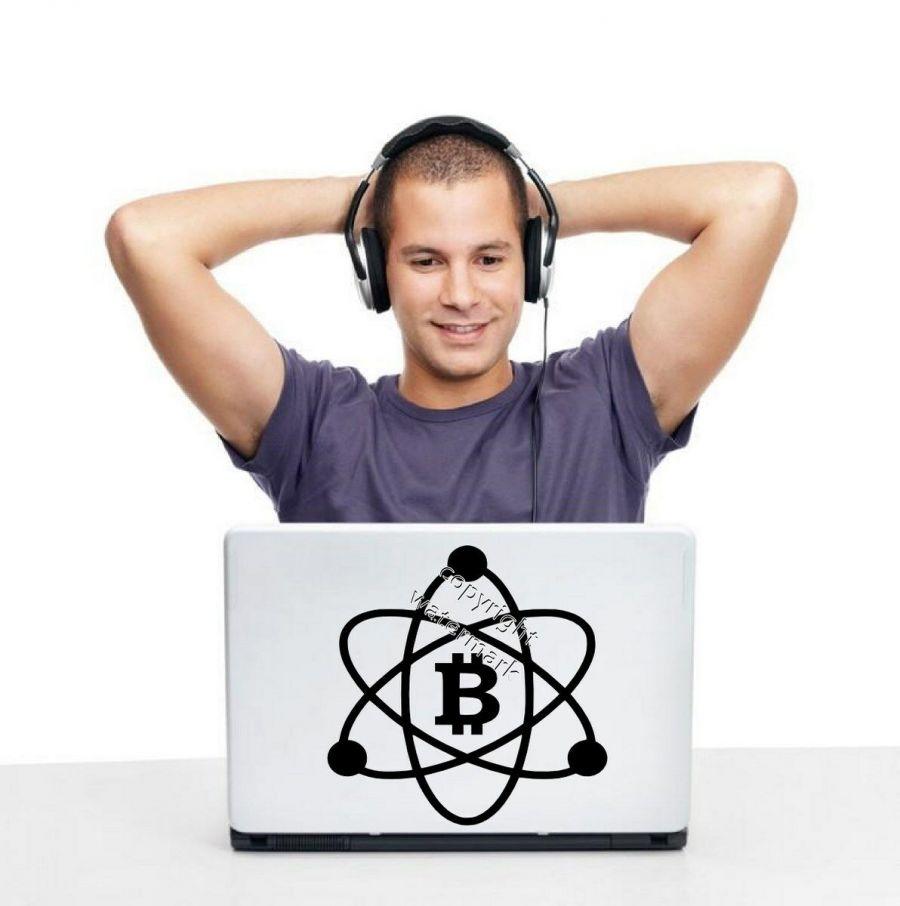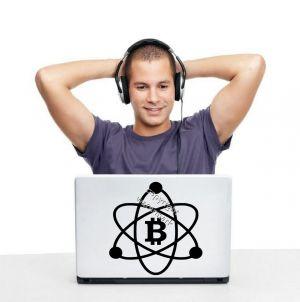 Another excellent option is buying stickers for your crypto loved one and let them decide which surface they'd like to decorate with it, for example their laptop or PC or wall, or anything else really. There are quite a few of them for you to choose from, such as this BTC one.
Outdoor Crypto Gifts
Even crypto fans go out. You can see them in the wild all the time. Though their 'wilderness' is digital so…
Hand Fan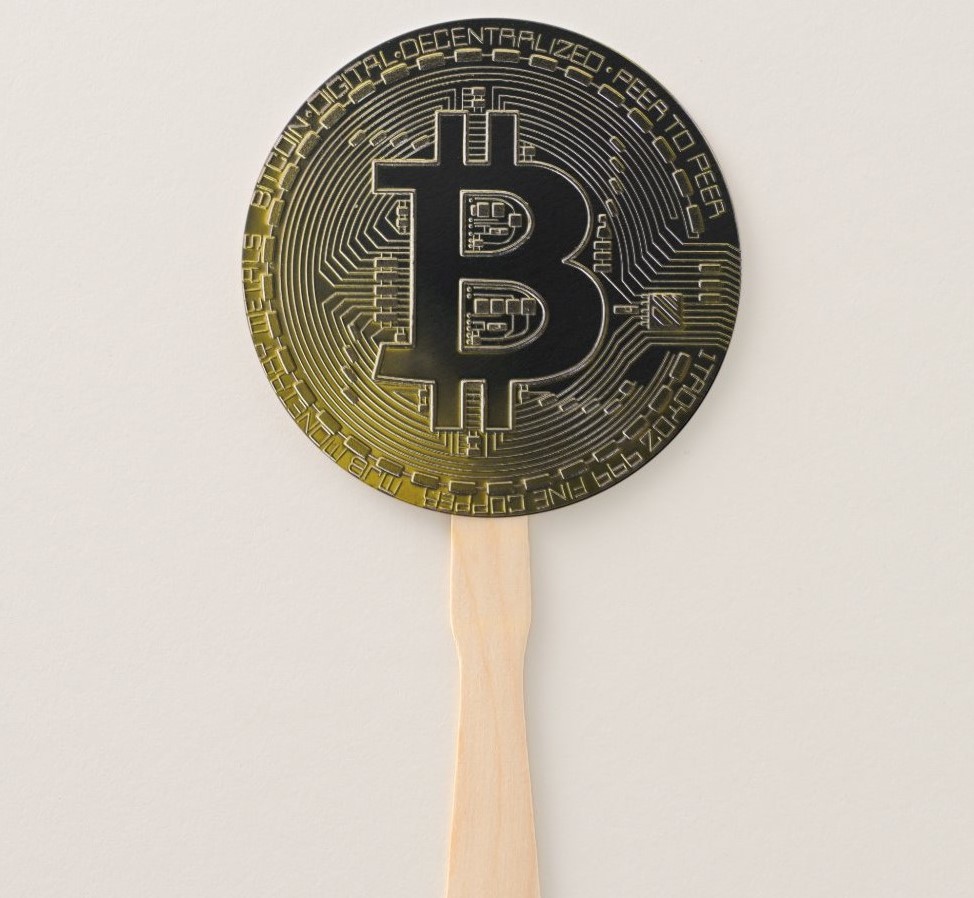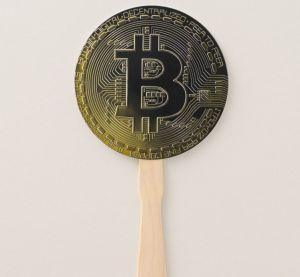 But for when they're actually outside, how about getting them these Bitcoin hand fans to keep them cool. You can also personalize them, and you get a set of 10 for USD 30.
Crypto Miner Gnome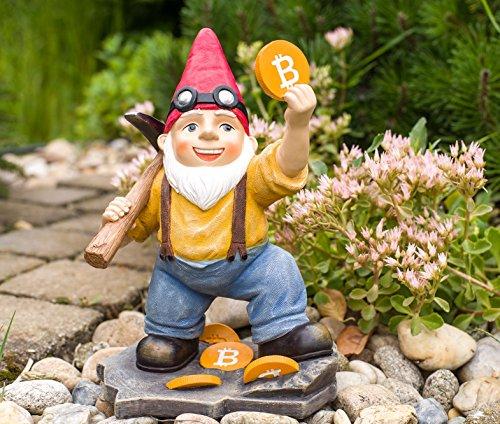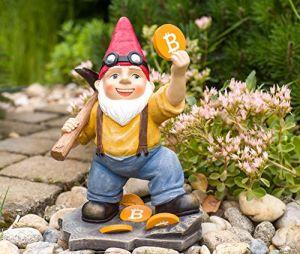 Though it can be kept indoors, this 11-inches (28 cm) tall gnome can stand in your family's garden or yard or anywhere where they'd like him to be seen by neighbors and unsuspecting passers-by. It's not only fun and cute, it's a great conversation-starter too.
Personal Vehicle Décor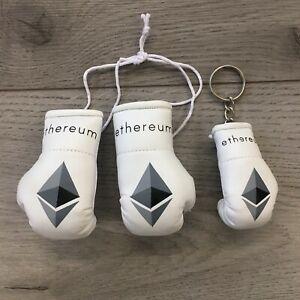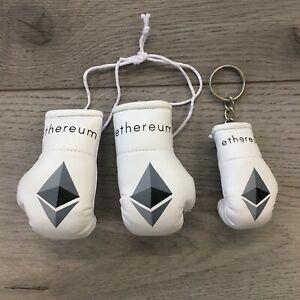 So many excellent options here. There is this license plate frame, or how about one of the many bumper stickers available online, for example on eBay or on Amazon? That's not all. Your sister's rear view more is completely crypto-less. We've got a solution for that too – these mini crypto boxing gloves, many of which come with a matching key ring, and which cost around USD 10. Depending on the country, you can also get personalized license plates, and then write on them anything cryptomaginable (for inspiration, here are some vanity plates we found before).
Miscellaneous
There are numerous other gift options that can't be easily categorized, and here are some of the most interesting.
HODL and Info Cards (QR reference)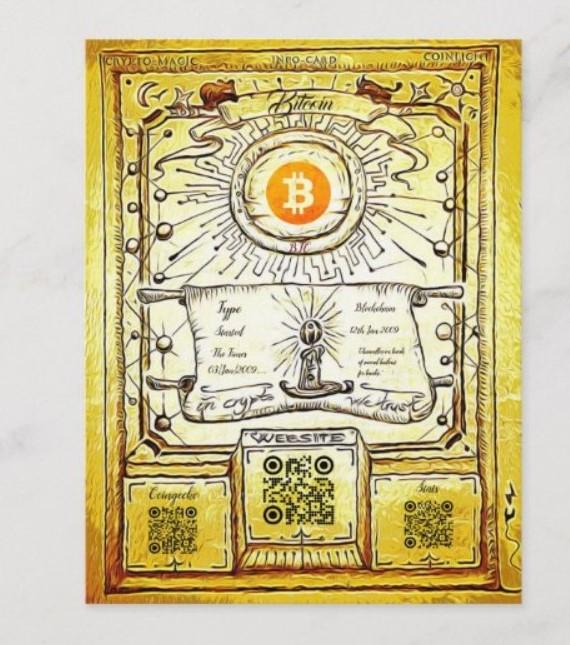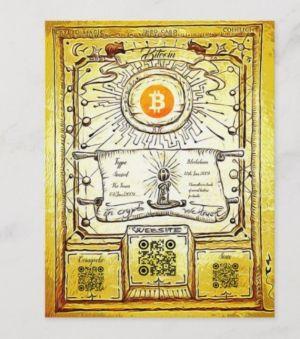 These cards, which are the size of a postcard, can be easily personalized to include a design and links that your favorite hodler prefers to have featured, and the recipients can add their own QR codes (by printing them out etc.) with their Bitcoin public address for easy scanning.
Casa Covenant


From life to death. This is one of the pricier gifts on the list, but can also prove to be quite useful, as the issue of inheritance always hangs over the heads of BTC owners. Sharing private keys with others is dangerous and if you don't, and you die, them Bitcoins are gone forever. Casa Covenant is a Bitcoin inheritance service and protocol that will enable owners to pass on their BTC to another person. You can buy as a gift one of the three available plans, which cost USD 34, USD 150, and USD 420/month, respectively.
Fireproof Document Bag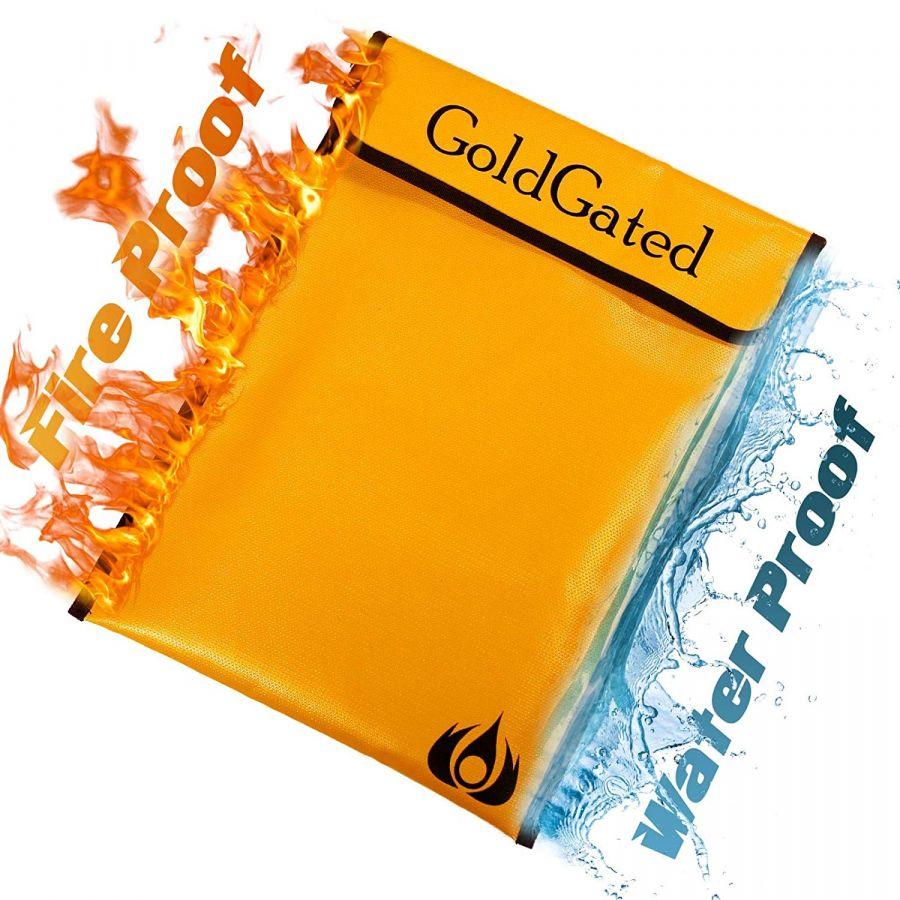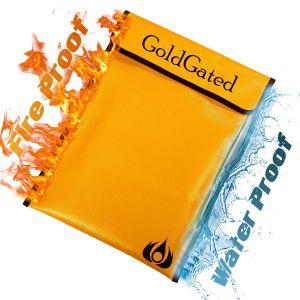 We talked in the beginning about how to keep seed phrases safe, but for those who can't afford the more expensive products yet, here's a nice solution – fireproof document bags. They come in many sizes and styles, and cost from around USD 10 to USD 40. For example, the GoldGated one in the photo above costs USD 13.56 and there's plenty of room to keep your other important documents in it too. There are great many more to choose from so take your time picking.
Decentralized Land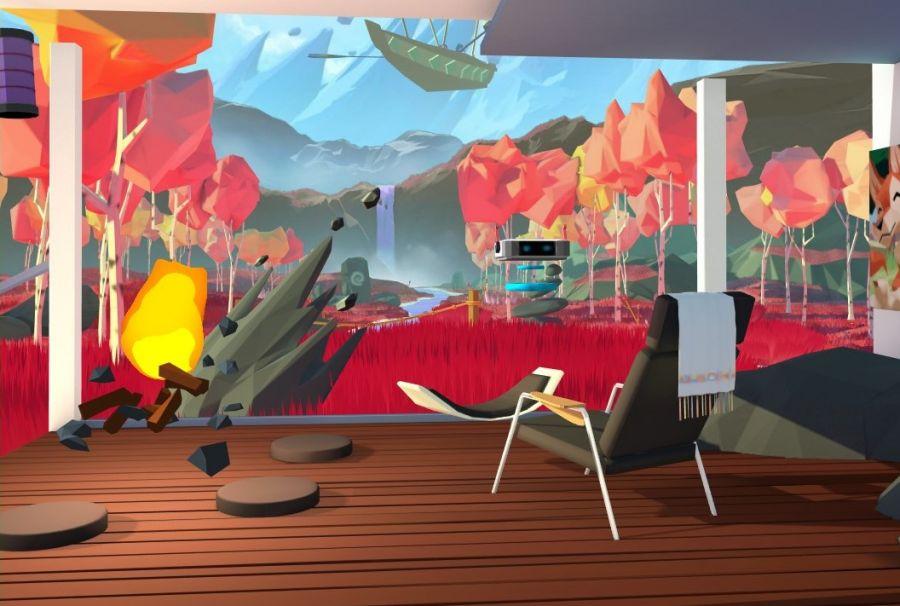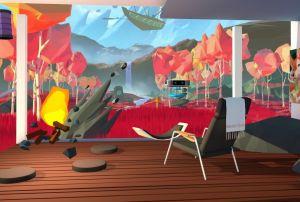 Here's a gift for those who want to be landowners, but also live in a virtual world, Decentraland is a blockchain-based virtual reality platform built on the Ethereum blockchain, where users buy non-fungible plots of digital LAND with MANA, Decentraland's native ERC-20 token, and build on it.
Crypto the Movie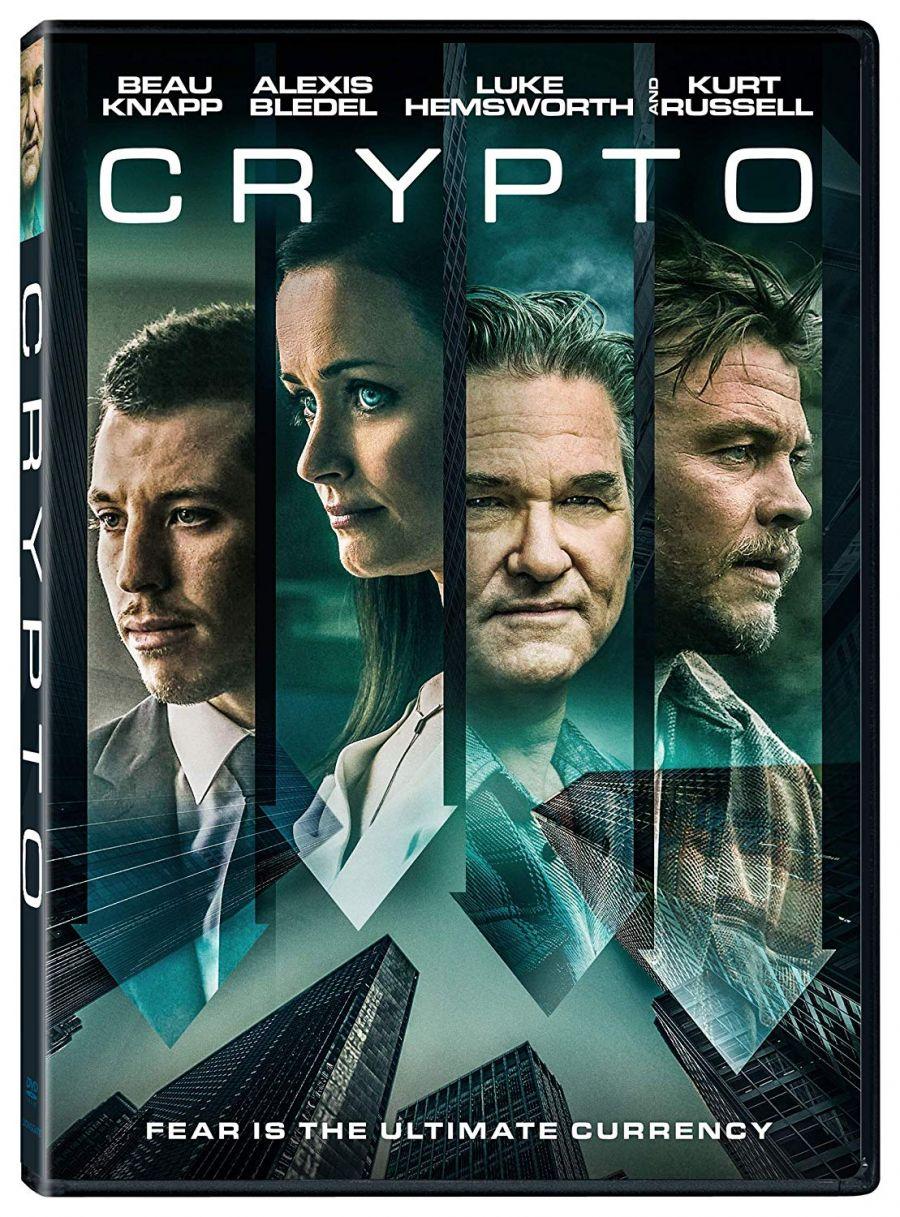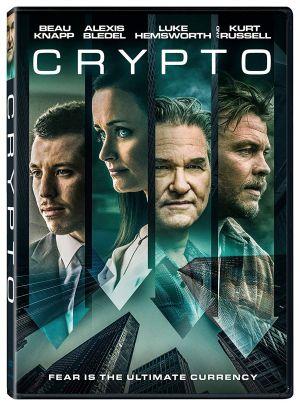 This is a 2019 movie about a young Wall Street banker who is drawn into investigating a tangled web of corruption and fraud involving cryptocurrency in Upstate New York, starring Beau Knapp, Alexis Bledel, Luke Hemsworth, Kurt Russel, and others, available on DVD, Blu-ray, Prime Video for less than USD 14. (IMDB rating – 5.6/10).
Travel on Crypto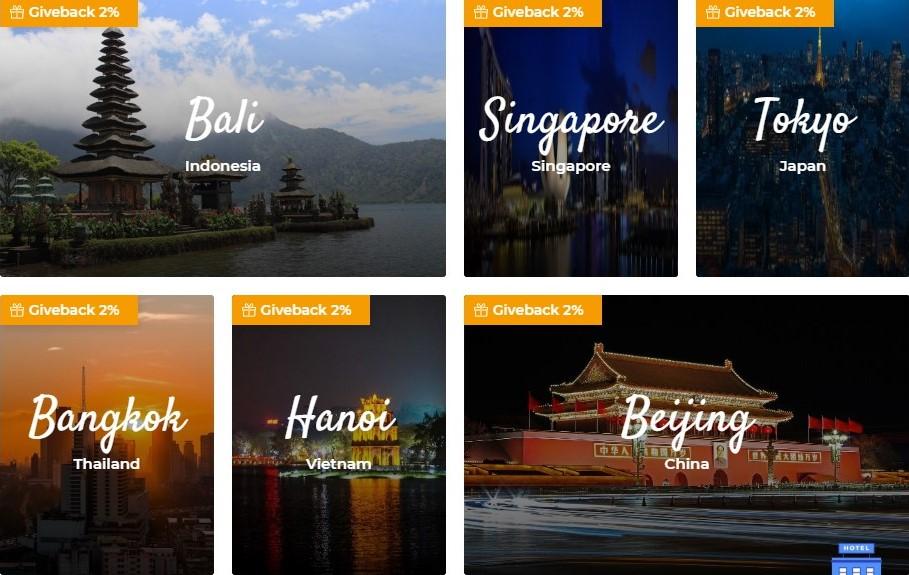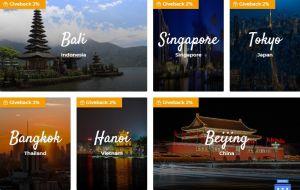 For your travel-loving loved one, here's a proper crypto experience. There are more and more airlines, hotels, hostels, restaurants, and so on, that accept crypto as payment. You can plan a vacation where you live off of crypo only. CheapAir, for example, offers cheap tickets and hotel bookings, and they accept Bitcoin payments via Western Union. Another option is Travala – a blockchain-based travel booking platform that accepts various cryptocurrencies for flights and accommodation booking across the world.
Wrapping Paper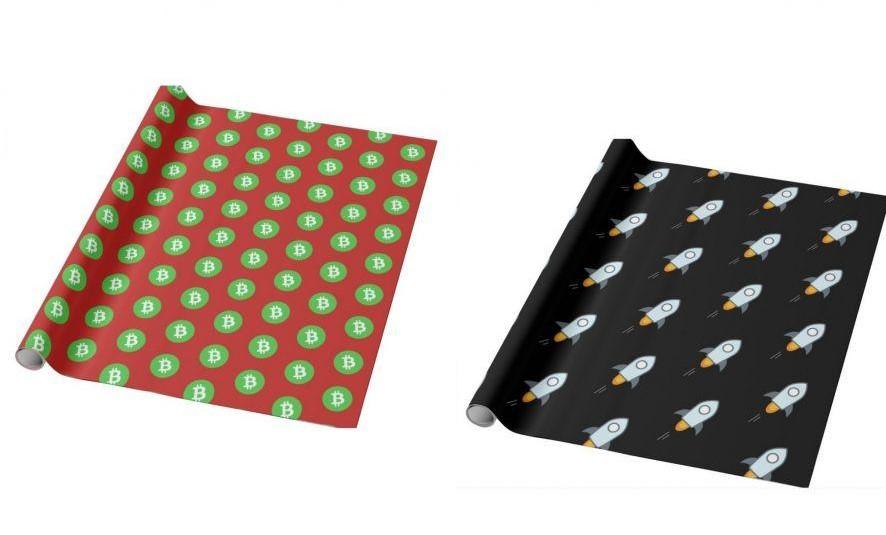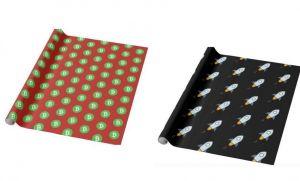 But what do I wrap all this crypto goodness in, I hear you asking. If you have some extra coins, you can even get crypto wrapping paper, though it's pricier than what we're used to spending on wrapping. Or you can personalize tissue paper for wrapping gift, such as jewelry. And there are gift bags to put it all in too.
---