Why the Bitcoin Price Rally is Stalling on Mixed Rates and Growth Outlook, DOJ Action – But Will Climb Again
Disclosure: Crypto is a high-risk asset class. This article is provided for informational purposes and does not constitute investment advice. By using this website, you agree to our terms and conditions. We may utilise affiliate links within our content, and receive commission.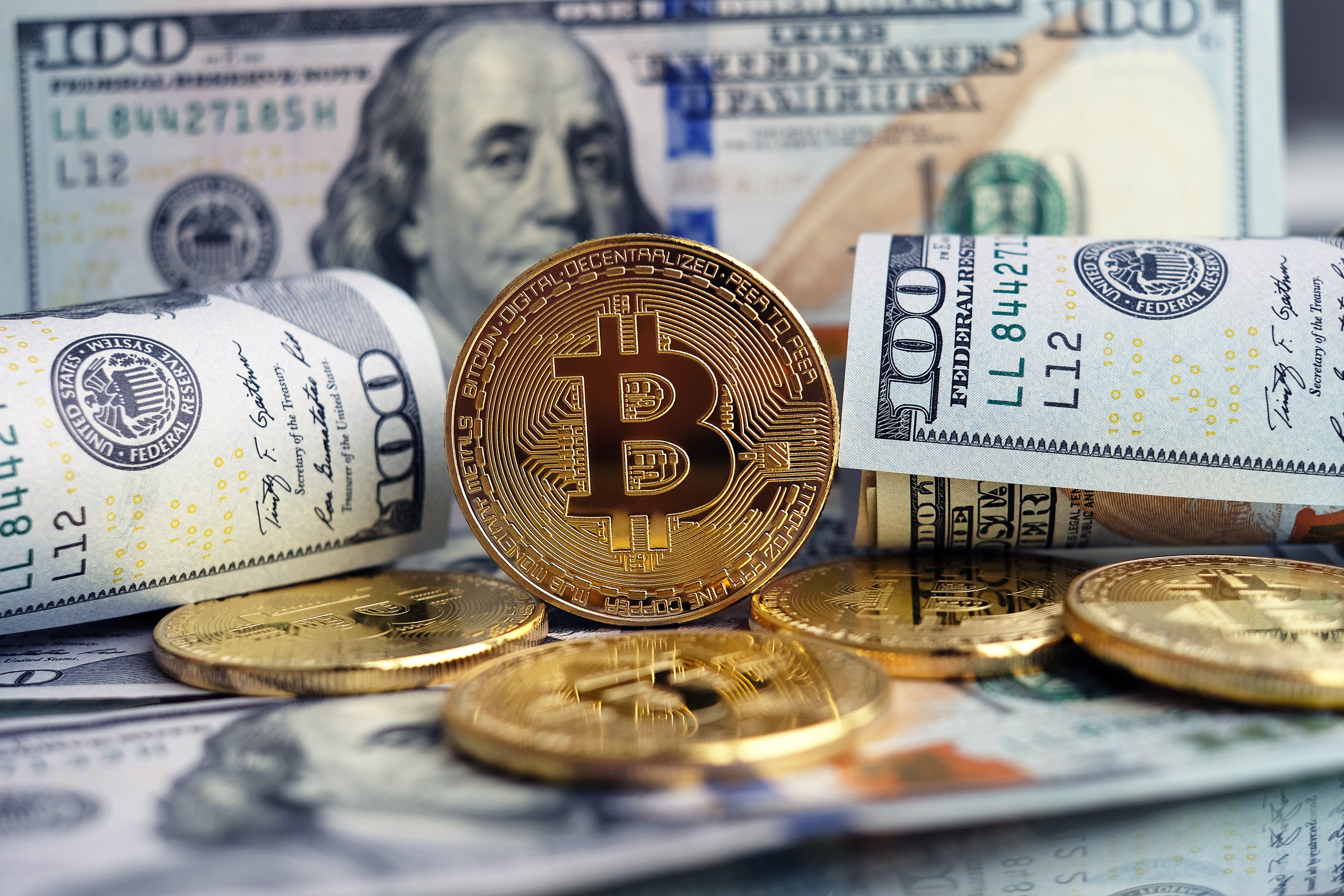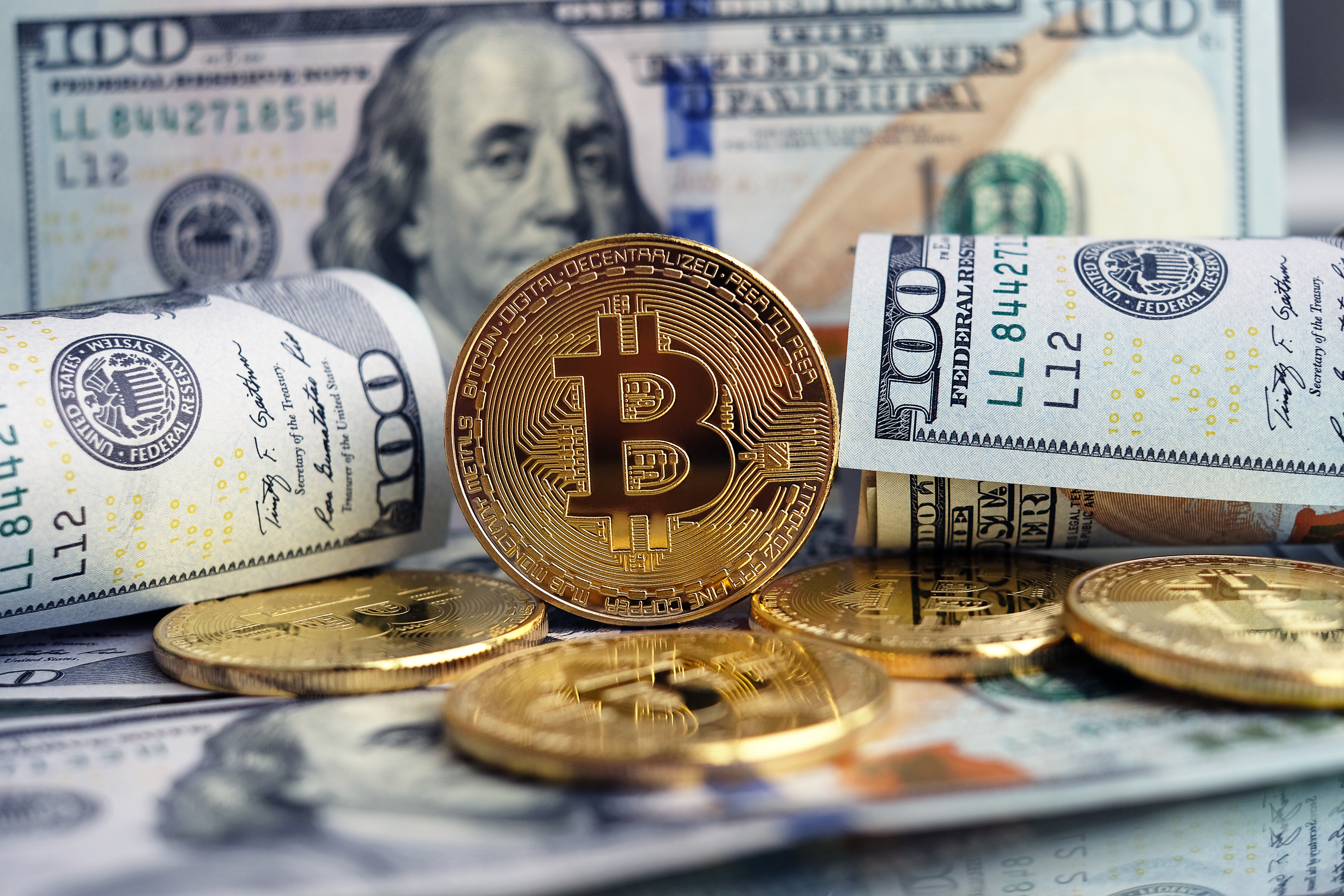 The bitcoin price is up 0.4% at $20,910, recovering somewhat from a $1,000 plunge after a crypto exchange co-founder was arrested on Wednesday, and weak US data pointed to an economic hard landing.
Although there was good news on wholesale inflation in the US yesterday, the shock retail sales figures reminded market participants that a recession is coming, if not already here.
That, combined with weak factory output data, capped off a week that sees US manufacturing
Slowing growth is bad for stocks – and that has rubbed off on crypto today. The S&P 500 is down 1% at 3,889 and the Nasdaq off 1.08% to trade at 10,836.
Bitcoin price can break free from current resistance zone bby pushing above $22,500
Bitcoin and all other crypto assets have been highly correlated to other risk assets such as stocks over the past 12 months, so what happens in equities spills over into crypto.
The bellwether crypto asset is currently battling in an area of resistance it can break free from at around $22,500 (see chart below).
Next up is the $30k region then an even stronger area of resistance between $34.7k and $48.8k.
But we may be getting ahead of ourselves, as it is still not clear whether the bitcoin rally is for real.
For now, though, the bitcoin price is firmly above the 200-day moving average for the first time since December 2021, after briefly touching the MA200 in March last year.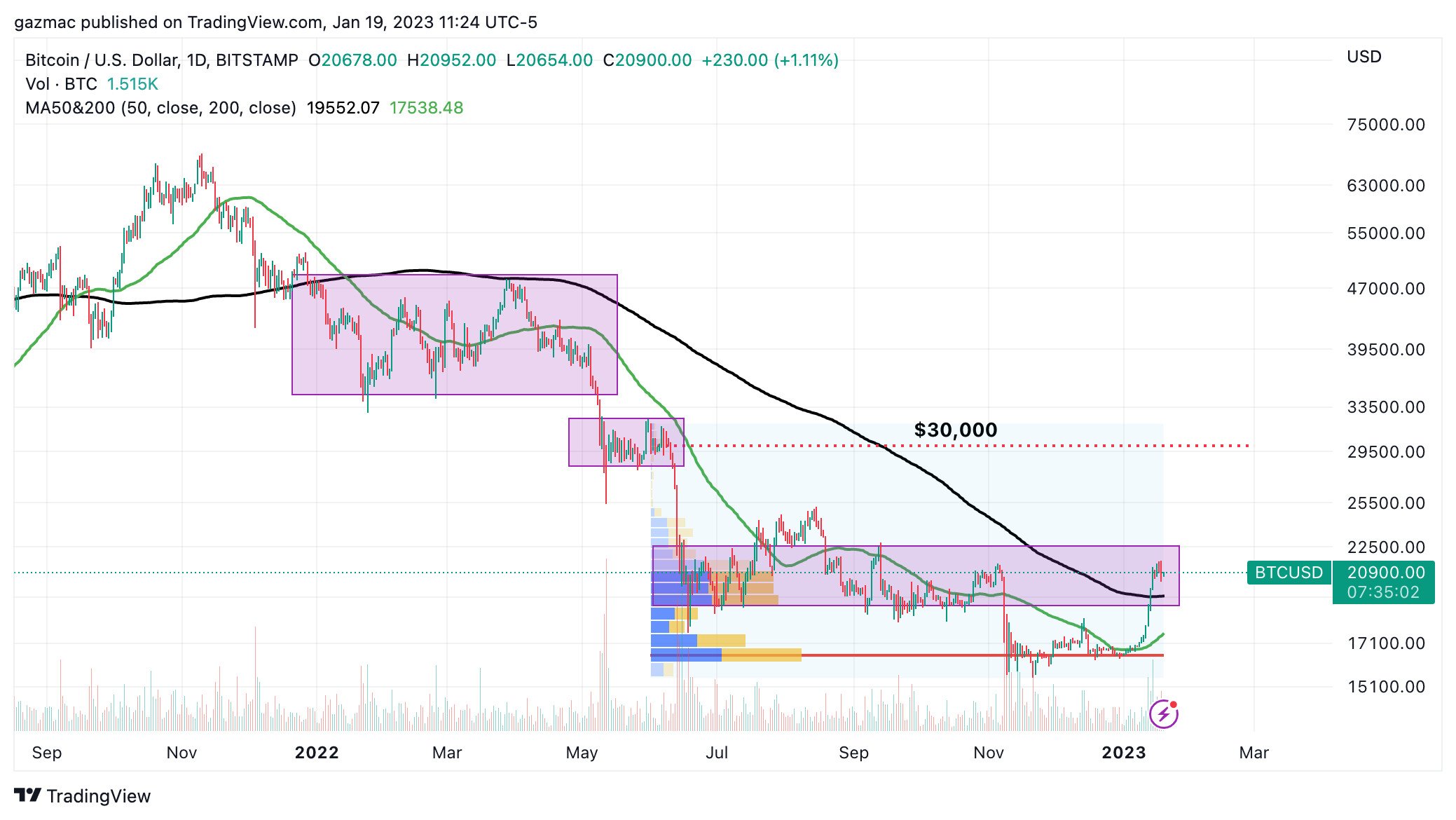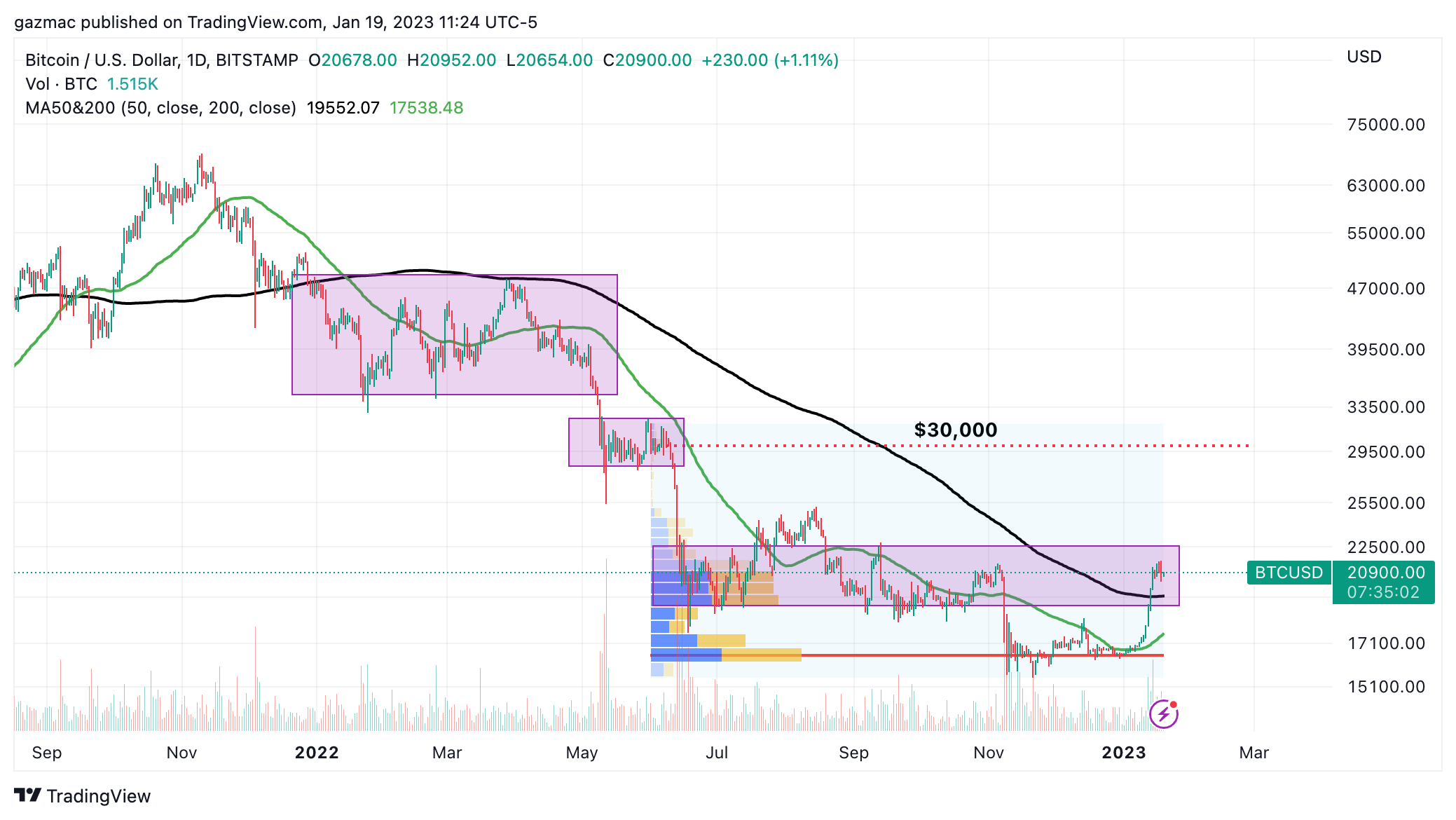 Genesis bankruptcy fears, debt-ceiling drama, ECB talks tough on rates – adds to uncertainties for crypto
As if all that wasn't enough for markets to worry about, yesterday brought the news that crypto lender Genesis was preparing for bankruptcy and Digital Currency Group, its owner, was suspending its dividend.
Then today the US debt ceiling was hit, forcing the Treasury to use so-called special measures to avoid a default.
Elsewhere, he European Central Bank (ECB) signalled it would be staying the course on raising interest rates, regardless of whatever the Fed does, further knocking crypto prices, have stalled.
Christine Lagarde, the president of the ECB, indicated that the eurozone's central bank will continue to hike even though there are signs inflation if softening across the bloc.
This comes after concerns surfaced at the December ECB governing council meeting about stubborn underlying inflationary pressures.
So even if the Fed might start to ease up on rates, that won't be the case in Europe.
Higher interest rates hurt growth stock sector like tech as it eats into future earnings, thereby undermining valuations. Crypto, for whatever reason, behaves like a high-risk tech stock.
DOJ raid is good for combating crime but the announcement was all theater
Add to that the anti-money laundering enforcement action taken yesterday by the US Department of Justice and it is easy to see why crypto market sentiment took a turn for the worse yesterday.
The DOJ arrested Anatoly Legkodymov, the co-founder of the Bitzlato exchange, on suspicion of laundering illegal gambling and drug money.
DOJ action is good to see but speaks to US authorities feeling the need to make a show after being asleep at the wheel on FTX
Despite all of these headwinds, the near-term outlook for crypto is probably such that the stalled rally could quickly take a flight again.
Although there are fears of a hard landing for the US and other advanced economies, looming recession does have the corollary of providing the Fed with more leeway on interest rates.
Indeed, the worries about the Fed possibly over-doing it on rates is seeing the beginnings of a split open up on the FOMC rate-setting body.
Important shift in market sentiment across asset classes may be taking place
Marcus Sotiriou, market analyst at the publicly listed digital asset broker GlobalBlock (TSXV:BLOK) thinks an important shift in market sentiment may be underway: "This reaction from global markets could suggest that investors strongly fear a recession, as bad news for the economy led to bad news for markets."
He added: "If this psychology is sustained, it will be an important regime change, after persistent inflation was the primary driver for asset prices in 2022."
But the outsized role the DOJ has had in the weakening on the bitcoin price is, perversely, what provides a strong argument for more upside ahead.
Bitcoin fell $1,000 from $21,400 to $20,500 when the first DOJ announcement was made, but when the actual news landed, it was nowhere near as bad as the market feared.
In fact there seems to be a gap opening up between the US and Europe on crypto regulation, and interest rates too.
The US is playing catch up on crypto regulation. Other regions, such as Europe, are taking a more considered and sober approach.
Europe, to some extent, got ahead of the curve with the establishment of the MiCA (Markets in Crypto Assets) regulatory framework, expected to be fully in force next year or possibly sooner.
Sensible crypto regulation is coming in South Korea, Thailand, Germany…if not in the US
Timo Lehes, co-founder of Swarm Markets, commenting on the DOJ action said: "Announcing big enforcement actions on TV as if they've just nailed the Dillinger Gang might make for good politics, but it isn't an especially productive approach.
"Other regulators such as BaFin in Germany take a more forward leaning approach to regulating the sector and don't seem quite as keen on boastful 'gotcha' press conferences.
He continued: "By all accounts Bitzlato is small fry in the greater scheme of things in crypto and the DoJ has failed to act on numerous bigger scandals in the past year.
"While cracking down on illegal activity is to be lauded, this isn't going to be how crypto becomes a normalized part of the financial ecosystem.
"That will come with measured regulatory frameworks and positive working relationships between regulators and crypto market innovators."
In South Korea, regulators also show signs of a getting to grips with crypto regulation in a more thoughtful and sensible fashion than seen in the US's jumble of competing regulatory agencies.
GlobalBlock's Sotiriou notes: "The SEC of Thailand, for example, issued new regulations this week on custodied cryptocurrencies… Furthermore, South Korea's financial regulator is now developing tools that can allow crypto risks to be monitored."
Time to start accumulating a diversified portfolio of crypto assets
You may be considering buying bitcoin as part of a dollar cost averaging strategy but don't forget the smaller caps. Like in equities, is is in these under-researched areas of the market, especially in presales, that the risk-reward profile is best.
Sustainable play-to-earn games platform Meta Masters Guild is one such coin and it has raised almost $700,000 in its barely week-old presale.
Another is Fight Out, which is using Web3 technology to transform fitness apps and gym workouts. It has raised $3m and its app will be up and running by Q2 this year and it plans to fit out a network of 20 gyms, helped by elite combat sports athletes.

---