Why Dogecoin and Shiba Inu Prices Pump Signals Meme Coins Are Back - Time to Buy?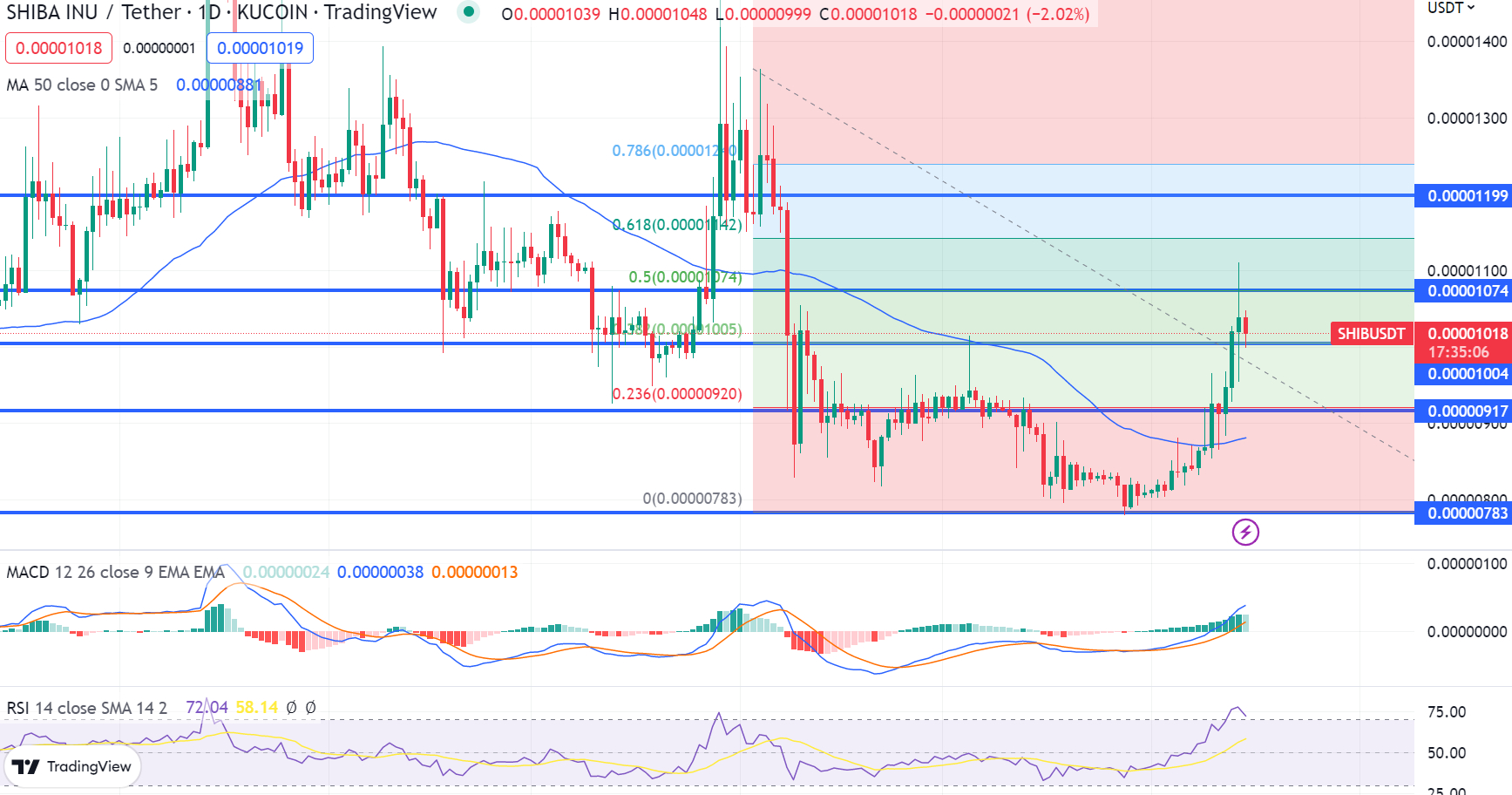 Dogecoin and Shiba Inu prices have been on a rollercoaster ride lately, with prices skyrocketing in a matter of days. This is an indication that meme coins are back in the limelight and investors are taking notice. The recent pump in Dogecoin and Shiba Inu prices signals that meme coins are gaining traction once again.
These coins offer investors the chance to capitalize on their favorite memes and trends, providing an alternative to traditional investments. With more people becoming familiar with cryptocurrencies, meme coins have become increasingly popular as they offer a way to make money while having fun at the same time.
The recent surge in Dogecoin and Shiba Inu prices shows that investors are excited about these new opportunities, indicating that meme coins may be here to stay for the long haul.
DOGE Is Back! The Best-Purchased Cryptocurrency Of 2021 Returns With A Bang
According to WhaleStats, the leading wallet tracker for cryptocurrencies, significant whales have started investing in Dogecoin on Binance Smart Chain once again. Dogecoin is the largest meme coin by market capitalization and the original.
The aforementioned portal recently tweeted that Dogecoin has been among the top 10 tokens sought after by BSC whales over the past 24 hours.
In the past few days, DOGE has experienced a significant surge in its price, rising from $0.08022 to $0.09160. This 14.20% growth, however, was almost completely reversed due to recent events. Nevertheless, the original meme-based cryptocurrency has still managed to increase in value by 22% within the past six days.
The price of DOGE, just like other altcoins, has seen an increase due to the surge in prices of Bitcoin over the past few days. It was able to almost reach $22,000 which is a remarkable feat for any cryptocurrency.
As of now, the top 100 investors on BSC possess a collective amount of DOGE that is far lesser than 1% in comparison to their total portfolio. To be precise, it amounts to $7,349,835 which is the equivalent value of the meme currency.
Dogecoin Price
Dogecoin's current price is $0.0850, with a 24-hour trading volume of $842 million. In the last 24 hours, Dogecoin has dropped 2%, but has gained nearly 20% in the last seven days. CoinMarketCap now ranks #9, with a live market cap of $11 billion.
DOGE is likely to encounter immediate resistance at $0.090, and a bullish crossover above this level could expose Doge to levels as high as $0.1050. On the downside, the DOGE coin's immediate support is at $0.075; a bearish breakout of this level could expose DOGE to the $0.065 level.
Watch The Whale Move: What Happened When SHIB Unveiled To Metaverse?
An unprecedented number of SHIB tokens have been moved by a crypto whale just before the launch of the Shiba Inu-related metaverse. This has caused quite a stir in the crypto space and is likely to have a major impact on its launch.
Whale Alert, a platform for tracking whales, revealed that an enormous number of SHIB tokens (3.32 billion) were transferred from one unidentified wallet to another, amounting to a worth of nearly $30.48 million.
The addresses used in the transactions don't relate to any cryptocurrency exchanges, so it is highly unlikely that this move has anything to do with purchasing or offloading the hyped-up meme coin.
Recently, Shiba Inu announced a major SHIB token transfer. This was in addition to their aim of introducing a new metaverse, at the upcoming South by Southwest (SXSW) festival in 2023 at Austin, Texas.
For the upcoming exhibition, WAGMI Temple, one of the 11 locations in Shiba Inu's metaverse, will be showcased through a virtual reality (VR) tour. This platform is showcasing Dogecoin (DOGE) competitions.
Shiba Inu Price
The current Shiba Inu price is $0.000010, and the 24-hour trading volume is $492 million. Shiba Inu has decreased by nearly 3% in the previous 24 hours after surging over 20% in the last seven days. CoinMarketCap now ranks #16 with a live market cap of $5 billion.
SHIBA is currently facing an immediate resistance level of $0.000010, and a bullish breakout of this level could expose SHIBA to the next resistance level of $0.000011.
SHIB's immediate support is at $0.000010, and a bearish break of this level could expose SHIB's price to the $0.000009 level. The 50-day moving average indicates a bullish trend above the $0.000009 level, so look for buying opportunities today.
On the plus side, a breakout of the $0.0000107 level will provide an additional buying opportunity.
Don't Miss Out On These Coins That Could See Up To 3x Gains Ahead
With the current bullish sentiment, the cryptocurrency market is experiencing an upward trend. Amidst this movement, it's beneficial to monitor Shiba Inu and Dogecoin along with a few other coins for higher returns.
Paying attention to these markets can help you make better decisions for your portfolio.
Tamadoge (TAMA)
Tamadoge is a groundbreaking P2E meme coin with a high potential for growth. It attracted massive attention from investors when it was first released, likely due to the presale which exceeded its $19 million target before schedule.
Tamadoge is an online game that provides users with the exciting opportunity to discover; traverse a virtual world called the Tamaverse while raising NFT-based Tamadoge pets. Players can enjoy extra benefits by leveling up their pets using items available in the in-game store. Every rank-up also earns them Dogepoints as rewards.
As a player accumulates more Dogepoints, their position on the Tamadoge leaderboard improves and they become eligible for larger portions of rewards from the pool.
Tamadoge's presale reached its full capacity, raising millions of dollars. Shortly after, it was listed on the OKX exchange and the TAMA token sky-rocketed in value - peaking at $0.197, more than six times its listing price of $0.03.
Currently, TAMA is trading at $0.014, and a bullish bounce-off above this level could push TAMA's price up to $0.01680.
Meta Masters Guild (MEMAG)
The presale for Meta Masters Guild, a mobile-focused gaming guild that will create a mix of Web3 and play-to-earn games, has begun. Its Ethereum-based games will include playable NFTs and incentives that can be exchanged for MEMAG, the company's native token, which can then be staked and sold.
It will be released in seven stages, with the first delivering one MEMAG for $0.007. Even before MEMAG goes public, this price will eventually rise to $0.023, representing a 228.5% increase for early investors. When the platform's first game (Meta Kart Racers) is released in the second quarter of this year, Meta Masters Guild is expected to grow quickly.
Furthermore, if the global economy and market improve, the native coin may benefit greatly.
FightOut (FGHT)
The FightOut (FGHT) platform works in the same way as a personal trainer, except that workout time is pre-paid with the FGHT token. All activities are tracked and can be used to improve one's metaverse avatar's metrics.
The FGHT presale is going well, with nearly $2.90 million already raised. The current selling price of 60.06 FGHT for $1 (FGHT can be purchased with ETH or USDT) is expected to rise as the sale continues.

Visit FightOut Now
---