Why are Crypto Prices Pumping This Week? 5 Best Crypto to Buy Before 2023
Disclosure: Crypto is a high-risk asset class. This article is provided for informational purposes and does not constitute investment advice. By using this website, you agree to our terms and conditions. We may utilise affiliate links within our content, and receive commission.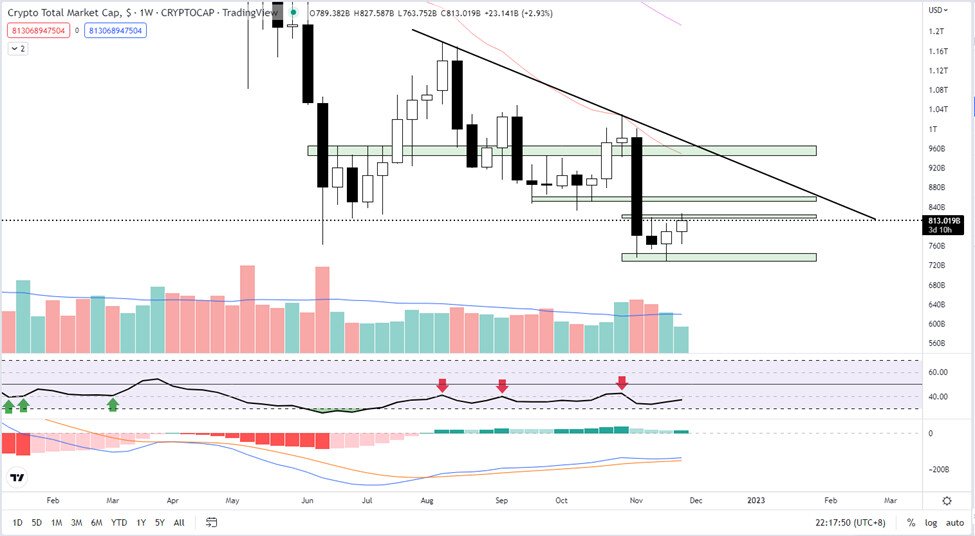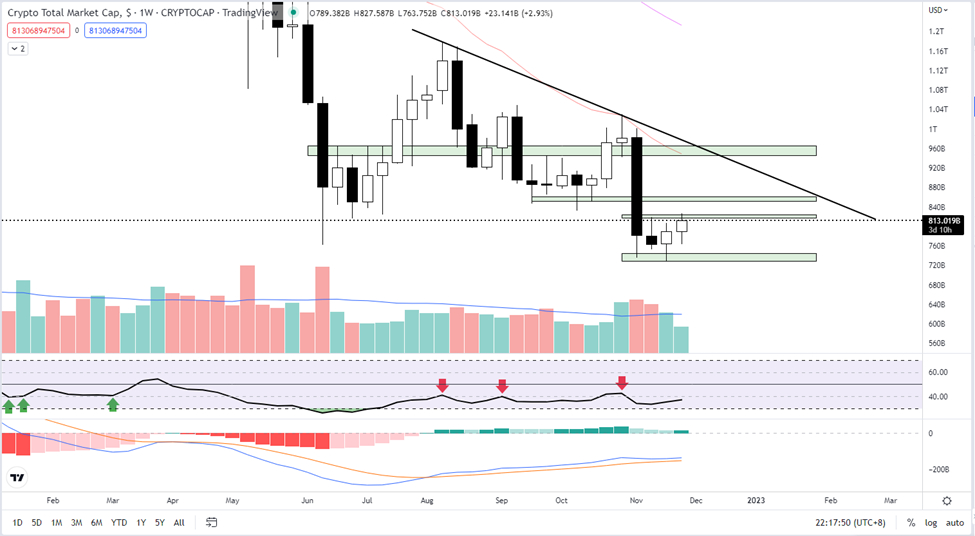 There has been a resurgence in the cryptocurrency market for the past two weeks, with Bitcoin, Ethereum, and the crypto total market cap currently up 3.81%, 6.94%, and 2.84% respectively this week. But just how high is this short-term bullish rally going to go?
Cryptocurrency Total Market Cap Technical Analysis and Prediction
Currently, at $813 billion, the crypto total market cap is trying to break out from a 4-week range of $727 billion to $824 billion. With the move for the past two weeks not confirmed by volume, a market correction might be imminent. Here's why.
RSI
RSI40 has been showing a lot of significance this year with the area previously acting as both support and resistance. As of writing, the crypto total RSI is at 37.19. Traders should assume that a reaction around this area is highly likely.
MACD
Recently, the volume has been slowly decreasing and the moving averages are trading close to each other. If this continues, traders should look out for a possible bearish crossover.
Support and Resistances
There are several key levels to look out for in the crypto total market cap charts. If the price successfully breaks out from the range of $727 billion to $824 billion and RSI40, the next target is breaking $850 billion to $860 billion. RSI50 must also be reclaimed. If the price goes further, traders should look for the EMA20 and the descending trendline for the next possible resistance.
Cryptocurrency Market Fundamental Analysis
Powell's speech
After Federal Reserve Chair Jerome Powell implied that the central bank would decelerate its rate-hiking campaign, stocks rallied broadly. The S&P 500 rose 3.09%, the Dow Jones Industrial Average gained 2.18%, and the Nasdaq Composite advanced 4.41%. The Russell 2000, which is made up of smaller companies, rallied 2.72%.
Powell's comments gave investors hope that the central bank is done raising rates and could even lower them if needed. That optimism led to price increases in shares of large technology companies, which had been seen as at risk of a slowdown if the Fed continued to raise rates. The optimism spread to the cryptocurrency markets in turn.
Powell said in his speech at the Brookings Institution in Washington D.C. that the time to moderate the pace of rate increases may come as soon as their December meeting.
140 points & hitting the Trendline: (1) over last 3 months, every speech given by Powell generated a same-day 3.5% move–three down, one up. (2) this firework move upward hit the downward trendline connecting ATH, Mar & Aug Top. (3) if it is broken, then bear market is in doubt. pic.twitter.com/KxU2PZCh29

— Master WU (@MasterPandaWu) November 30, 2022
A 43% Drop for the S&P 500?
In a blog post, trader Jon Wolfenbarger said he believes that a major bear market selloff is due to happen soon due to ongoing Fed rate hikes going into a recession, and that the S&P 500, which the crypto market is closely tied to, could fall by as much as 43% when the market bottoms next year. Wolfenbarger suggests that risk-averse investors who want to wait out the bear market until the next bull market starts can buy safe and relatively high-yielding Treasury bills and floating rate notes.
He further adds that ETFs, such as the SPDR Bloomberg 3-12 Month T-bill ETF BILS and the WisdomTree Floating Rate Treasury Fund ETF USFR, would be suitable for this purpose.
Another good idea is to diversify one's portfolio and when investing in cryptos, choose some lower cap coins and coins in presale that have strong fundamentals.
The Uncertainty of the Bear Market
In a world where a single tweet could possibly pump or dump the market, it's essential to do your research and invest in coins that are backed by a solid team, utility, and funding. We have rounded up a list of 5 different cryptocurrencies that fit these criteria and are due to take off in 2023.
Dash 2 Trade (D2T)
Dash 2 Trade is a trading intelligence platform that helps investors get real-time analytics and social trading data. The D2T token pays for monthly subscription fees to use the Dash 2 Trade platform, which operates on Ethereum. The sale has so far raised more than $7.6 million dollars. Early next year, it will be listed on BitMart and LBANK Exchange giving early investors an opportunity to make some money back from their investment.
RobotEra (TARO)
Non-fungible tokens are an integral component of any play-to-earn ecosystem, and RobotEra uses them to great effect. In the game, you're tasked with rebuilding planet Taro, and part of that includes creating your own NFT-tied robot companions as well as the land that they can construct home bases on. Robot companions are essentially digital helpers that can assist players in multiple ways throughout their journey on Planet Taro. Creation tools provided by RobotEra enable users to design and craft their own custom robot companion, which can then be traded in the marketplace.
Calvaria (RIA)
Play-to-earn (P2E) games often have issues both recruiting new gamers and retaining current ones. By having a free-to-play component, Calvaria allows people to learn about cryptocurrency gaming with no risk or investment attached. This approach lets gamers play for fun while still getting every feature that the P2E version offers. An additional benefit is that they will be able to compare their earnings in real-time against other players who bought the NFT deck of cards – giving insight into what could've been earned.
Calvaria is not only attracting new crypto gamers but also incentivizing them to stick around for the long term. This is essential in building value for the $RIA token. By playing the free version, players will fall in love with the game and will be more likely to switch to the paid version once they understand how it works. They are also more likely than average players to keep playing and investing so they can increase their own NFTs' values.
IMPT.IO (IMPT)
IMPT is a blockchain-based platform that makes buying and selling carbon credits much easier. IMPT was created with the Ethereum blockchain in order to make the carbon credit market accessible to more people.
By integrating with a shopping platform and using NFTs to make it easy to buy and sell carbon credits, IMPT makes it easy for interested individuals and businesses to get involved in carbon offsetting, creating a snowball effect that encourages other individuals and companies to do the same.
IMPT is the native token of the project and investing in it is the best way for anyone to get involved. The digital asset is currently available for presale. In less than three months, over $13.4 million has been raised via presale stage 1 at a price of $0.023 per token, with the next stage seeing an increase to $0.028 .
IMPT is a great coin for investors interested in environmental, social, and governmental (ESG) investing. It allows investors to profit while also helping the environment.
Lucky Block (LBLOCK)
The Lucky Block (LBLOCK) project is the latest crypto initiative with a focus on lottery and gambling. The online casino offers a wide range of games from over 100 game providers, including poker, slots, and live casino games. LBLOCK describes itself as a platform where everyone is a winner, and they intend to implement a global lottery system via blockchain protocols.
Lucky Block makes it easy for users to fund their accounts using a credit or debit card. The company plans to add Google Pay, Apple Pay, and other payment options in the near future as well. Lucky Block also has great customer service, which is a huge bonus. They're committed to helping customers 24/7 via email and live chat.
---