Which Crypto Will Give 1000% Gains in 2023?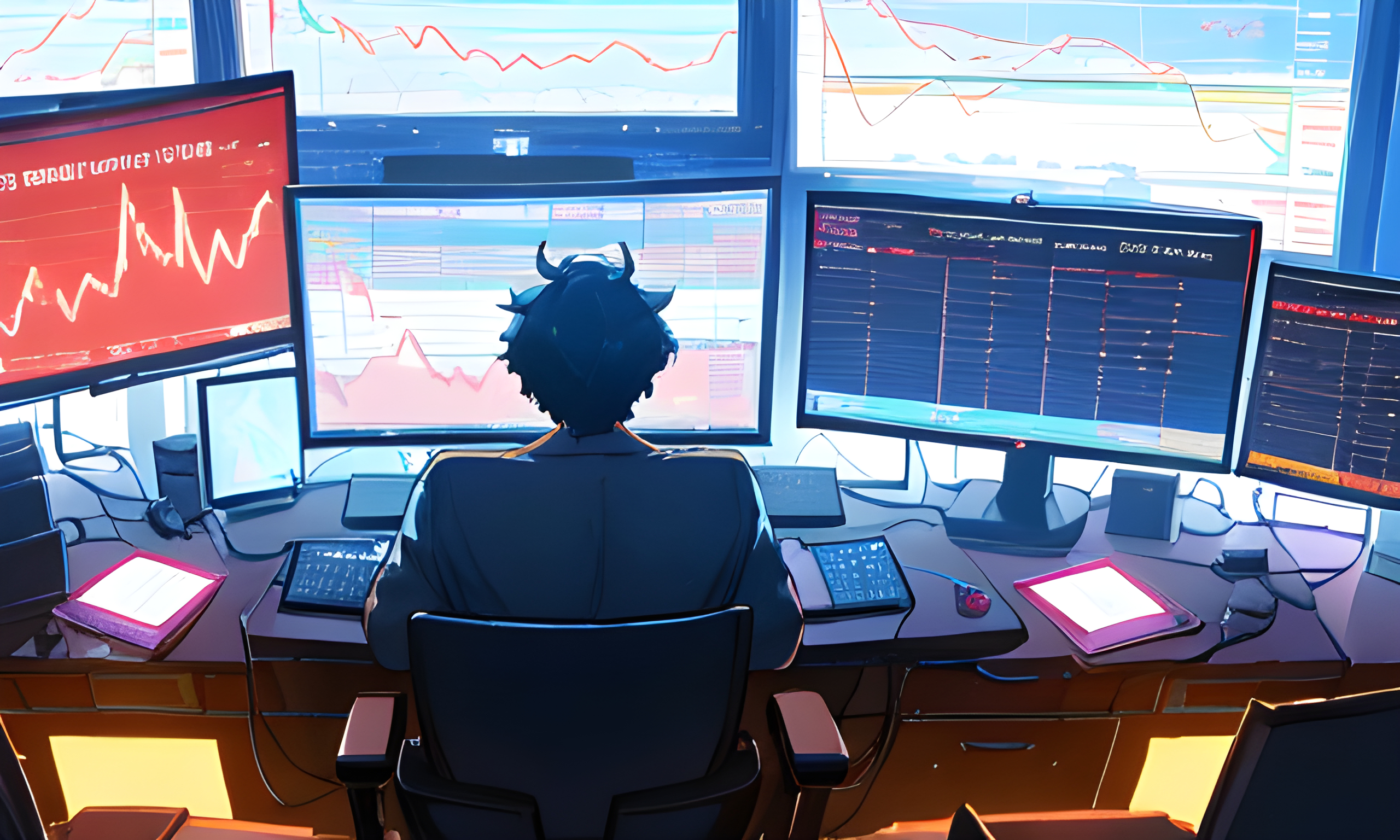 Image by Fareed Mindalano / Playground AI
After experiencing a notable 4.49% uptick yesterday, Bitcoin (BTC) is currently retracing and trading at $27,665, down 1.48% in the past day.
According to crypto analytics firm Glassnode's recent report, however, on-chain data shows Bitcoin could break $28,000 soon.
In the past 24 hours, Bitcoin reached $28,462.73 but volatility has prevented it from staying above $28,000.
As the crypto market holds its breath for Bitcoin's next major move, which crypto will give 1,000% gains in 2023?
Glassnode identifies metrics to watch like the Short Term Holder's unrealized profit/loss, recently at 1.0 and now 2.6.
The report says Bitcoin's trajectory depends on long-term supply trends. Long-term holders typically buy Bitcoin, though sometimes less.
With the equilibrium overstretched now, more investment is likely medium-to-long-term.
Bitcoin's ability to sustain a rally depends on global events. Interest rate increases in the U.S., U.K., and E.U. have been steady, correlating with stocks.
Similar investor strategies for stocks and crypto often mean similar market behavior. For $28,000 support and a robust rally, Bitcoin must decouple from stocks to grow independently.
Bitcoin achieving the $28,000 mark depends on its capacity to overcome significant barriers, including interest rate hikes and correlation with traditional stock markets.
If it can build its own momentum independent of external factors influencing investor sentiment, the premier digital currency will be well-positioned to establish $28,000 as a new support level.
While short-term corrections are inevitable, Bitcoin's long-term outlook remains extremely bullish, especially as institutional interest builds and mainstream adoption increases.
Whatever happens with Bitcoin, however, the fact is that the major cryptocurrency has seen most of its gains already, while other select cryptocurrencies hold the potential for exponential growth still. Cryptocurrencies such as WSM and ECOTERRA have the potential to surge by over 1000% in 2023.
Wall Street Memes and the Potential of Meme Coins and NFTs to Spread Virally
The cryptocurrency market is always full of surprises, and the impressive launch of the Wall Street Memes ($WSM) token on May 26 is a recent one. Its value has already surpassed its initial coin offering price due to strong demand.
The project managed to sell $100,000 worth of $WSM tokens in a matter of minutes after announcing the presale launch and has raised over $1 million to date.
The Wall Street Memes team previously generated significant profits from minting and selling 10,000 limited edition non-fungible tokens (NFTs) in under an hour last year.
Their established social media following of over 1 million users helped facilitate the quick sellout, demonstrating the power of community connections in crypto.
The goal in developing the $WSM token is for it to rise above Dogecoin, Shiba Inu, and all other meme coins, cementing its status as the leading community-driven cryptocurrency.
They believe their extensive reach and engaged following in finance and investing circles will propel the $WSM token to mainstream popularity and success.
Having already proven their ability to leverage social connections for financial gain with the launch of their 2021 NFT collection, the Wall Street Memes team is confident of $WSM's potential.
They expect the token to list on top cryptocurrency exchanges like Binance, where it would gain further visibility and interest.
The Wall Street Memes project originated from the "meme stocks mania" in early 2021 where groups of retail investors coordinated to drive up stock prices, squeezing hedge funds that had shorted the shares.
The movement demonstrated the power of decentralized individuals united by a shared goal. The creators now aspire to infuse that ethos into the crypto space through the $WSM token.
The team describes Wall Street Memes as "tokenizing the movement" of individuals empowering themselves financially.
They believe that purchasing the $WSM token is a way for people to symbolically push back against institutions and governments that generally favor the interests of whales and Wall Street elites over everyday individuals.
The team sees cryptocurrency as a means of democratizing finance and opening up opportunities to a broader range of participants.
While hype and buzzwords commonly used to promote digital assets are noticeably absent from the team's messaging, their vision, and objectives for the project shine through.
In line with their goal of empowering individuals, 100% of the $WSM token supply is allocated for the community. The team has reserved no portion of the tokens for themselves.
Half of the supply is available for purchase in the presale, 30% will be distributed as rewards to token holders, and 10% each will provide liquidity on centralized and decentralized exchanges.
Green Web3 Project ecoterra Onboards Big Brands, Raises $4.35 Million
Tackling the global waste problem through technology, the green cryptocurrency project ecoterra has built on its sustainability mission by including beverage giants in its recycling rewards system.
Coca-Cola, Carlsberg, Evian, and other brands have been added to ecoterra's database of scannable products, so people can earn crypto for scanning and recycling their bottles.
The upgrade shows the potential of how web3 projects and corporate brands can work together to benefit the environment.
The new brand integration significantly strengthens ecoterra's existing framework, which promotes environmentally-friendly behaviors through its Recycle-to-Earn model.
The project will facilitate recycling, allows offsetting carbon footprints, and track environmental impact using blockchain technology.
ecoterra's progress and promising vision have resonated with the crypto community. Its ongoing token presale has raised over $4.45 million so far, showing support for web3 projects focused on sustainability and climate change solutions.
With its low presale token price of $0.0085 and plan to list on major exchanges at $0.01 later this year, interested participants have a chance to earn significant gains if the project fulfills its potential.
ecoterra finds allies in environmentally-conscious users and businesses working to demonstrate ecological responsibility.
The initiative makes it possible to track and offset the environmental effects of individuals and corporations.
Their highly-anticipated Impact Trackable Profiles promise to attract sustainably-driven companies by granting visibility into green initiatives and potentially cultivating consumer trust.
The $ECOTERRA token powers the ecoterra platform, giving it inherent utility. A future staking program will allow token holders to earn rewards, adding further use beyond expected market valuation increases.
The total $ECOTERRA supply is capped at 2 billion, with half available in the presale. The project allocated 20% for platform liquidity, 10% for listings and marketing, and 5% for team members - significantly less than many crypto presale projects.
The team's restricted allocation motivates long-term thinking, focusing on $ECOTERRA price growth through platform development and adoption rather than short-term hype.
With a promise to positively impact the planet, drive recycling, and allow environmental footprint tracking, ecoterra is an interesting project demonstrating one potential intersection of cryptocurrency and climate-focused technology.
Looking Ahead: Memes, DeFi, Green Coins, and the Year of Impact
While Bitcoin seeks to establish $28,000 as a new support level, the broader crypto market offers emerging opportunities.
Projects like Wall Street Memes and ecoterra demonstrate the potential for substantial returns and real-world impact.
With a vision for empowering individuals and tackling environmental challenges using blockchain, these web3 initiatives could surge over 1000% in 2023 if they achieve mainstream adoption and success.
Wall Street Memes and ecoterra are tapping their social networks and brand collaborations to widely share their vision, ultimately looking to drive significant gains for those who support them in their early stages.
---