What the Latest US Inflation Numbers Mean for the Bitcoin (BTC) Price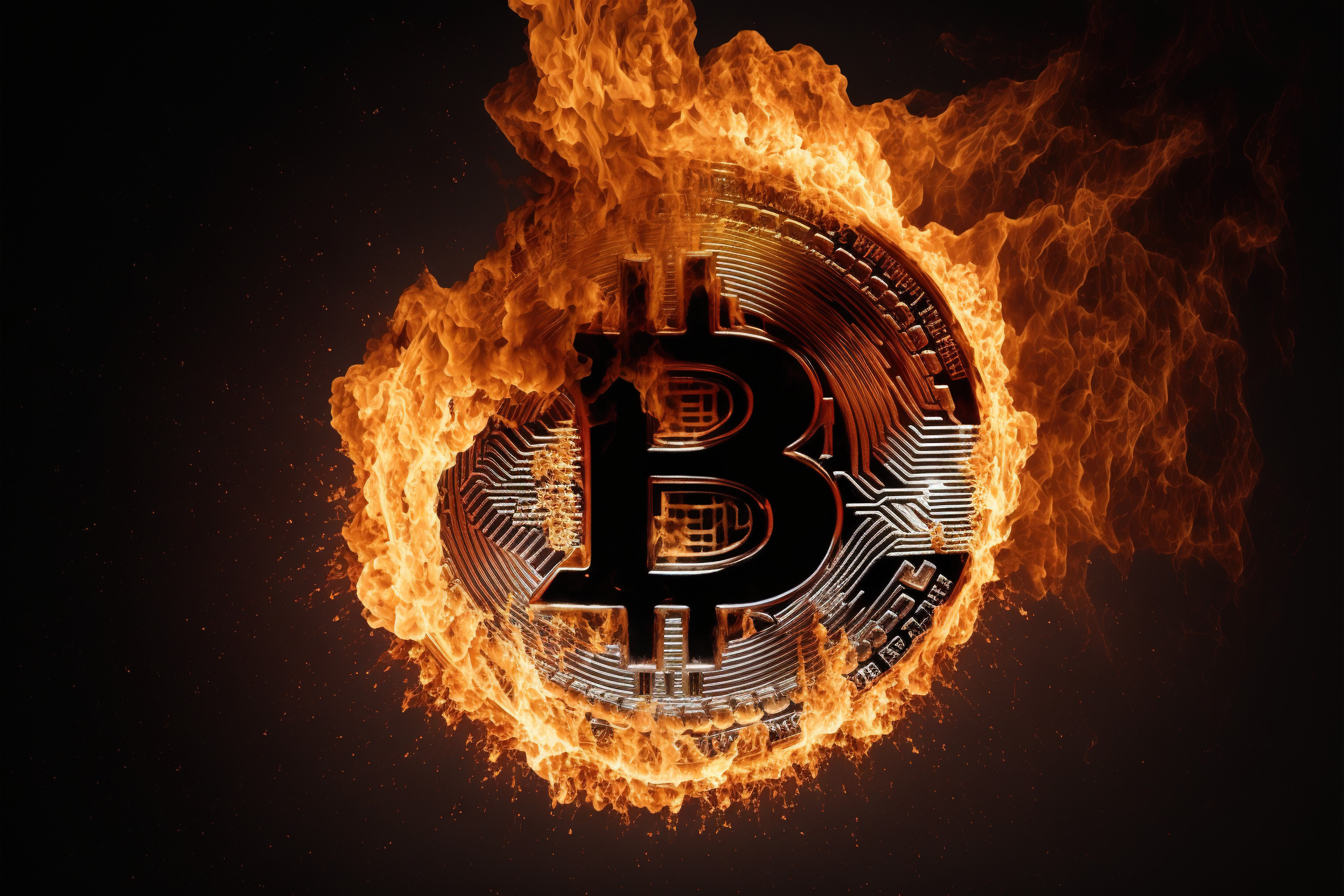 The latest US Consumer Price Index (CPI) inflation numbers were just released and Bitcoin (BTC), which rallied at the time to hit session highs in the $28,300s, seemed to like it.
According to the latest CPI report, headline inflation fell to 4.9% YoY in April, its first sub-5.0% reading in over two years.
That was a tad below the median economist forecast for a 5.0% YoY reading.
MoM price pressures came in at 0.4% as expected for both the headline and core inflation readings, while the YoY core inflation reading fell slightly as expected to 5.5% from 5.6% in March.
While the data demonstrated that US price pressures remain way above the Fed's 2.0% inflation target, continued progress back towards this goal in the last year since the YoY CPI rate hit 9.1% last summer is being taken as good news by the market, likely explaining Bitcoin's modest intra-day post-data pump.
Bitcoin has since seen a sharp reversal lower, dropping from above $28,000 to under $27,000 in a matter of minutes, perhaps as a result of US government movements of some of its Bitcoin holdings that were confiscated from Silk Road.
If the US government begins selling its BTC on masse, this could create significant, albeit short-term downside pressure on the Bitcoin price.
The latest Bitcoin price drop may well be algorithms trying to front-run a US government Bitcoin sale.
No More Fed Rate Hikes
Investors interpreted Wednesday's CPI data as lowering the likelihood that the Fed lifts interest rates by a further 25 bps at its June policy meeting.
According to the CME's Fed Watch Tool, the implied odds that the Fed holds interest rates for the first time in eleven meetings next month is around 95%, up from under 80% prior to the data's release.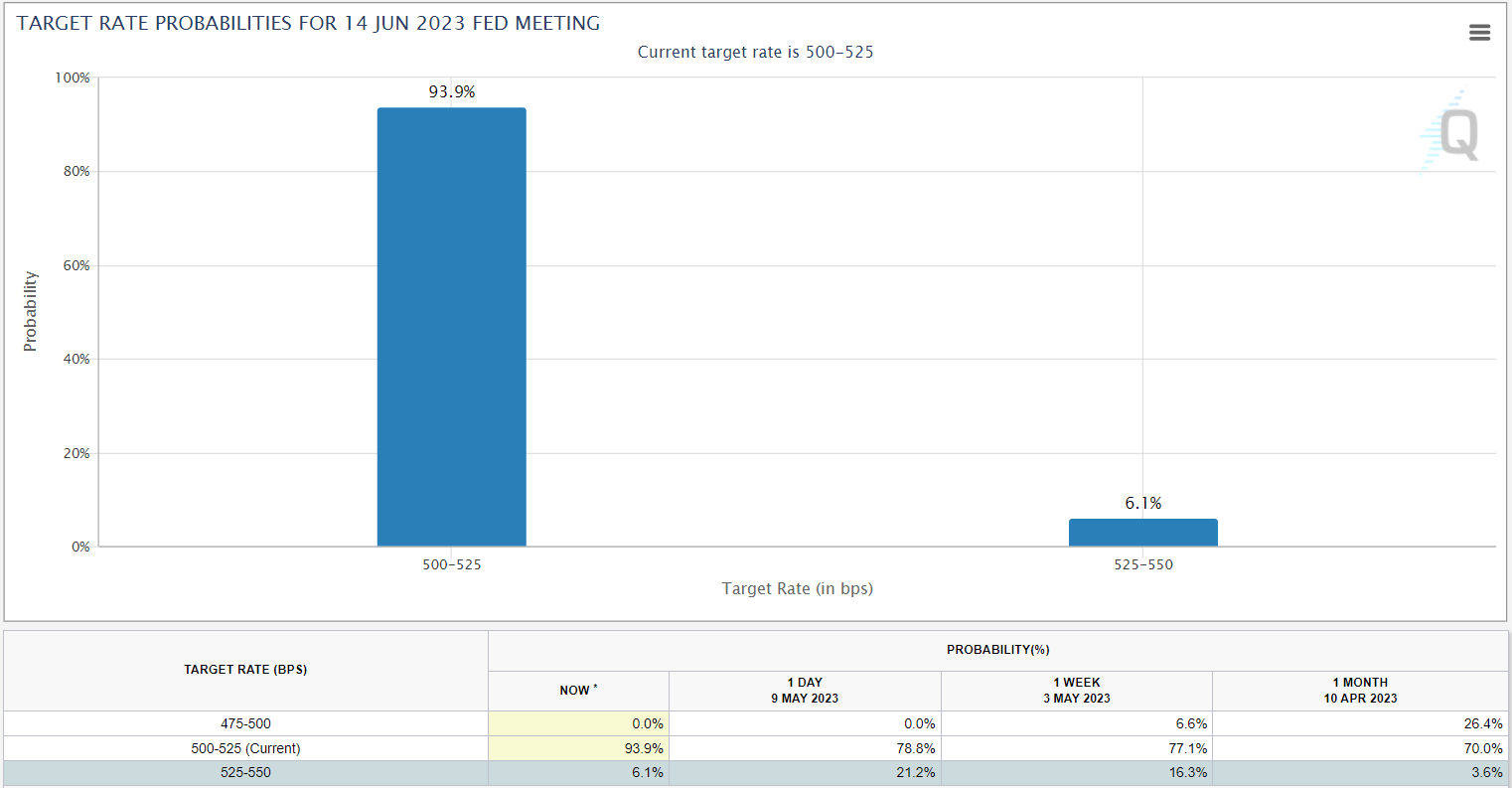 Markets also upped their bets on how many rate cuts the Fed will have embarked upon by the time December 2023 comes around.
As per the CME's Fed Watch Tool, implied odds that the Fed will cut rates at least 75 bps from current levels (i.e. from 5.0-5.25% to 4.25-4.5% or below) by December are currently close to 75%, up from around 55% prior to the latest CPI report.
Many economists expect that the delayed impact of the Fed's aggressive rate hiking cycle of 2022/early 2023, combined with the new headwind of a contraction in lending as a regional bank crisis bubbles, will have sent the US economy into recession in the second half of this year, and that the Fed will have to respond with rate cuts.
What Next for Bitcoin (BTC)?
The latest US data keeps alive the dominant macro narrative that easier monetary policy conditions are coming.
While Bitcoin, which appears to have lost short-term positive technical momentum, may well remain choppy in the coming days and weeks as concerns about a BRC-20 fuelled transaction fee spike keep investors hesitant, the cryptocurrency's longer-term bull market thesis should remain intact.
Easier monetary policy conditions tend to benefit Bitcoin, which has had a strong positive correlation to US liquidity conditions in recent history.
BTC/USD appears to have formed a pennant structure since its mid-March pump that could break either to the upside or downside in the near future.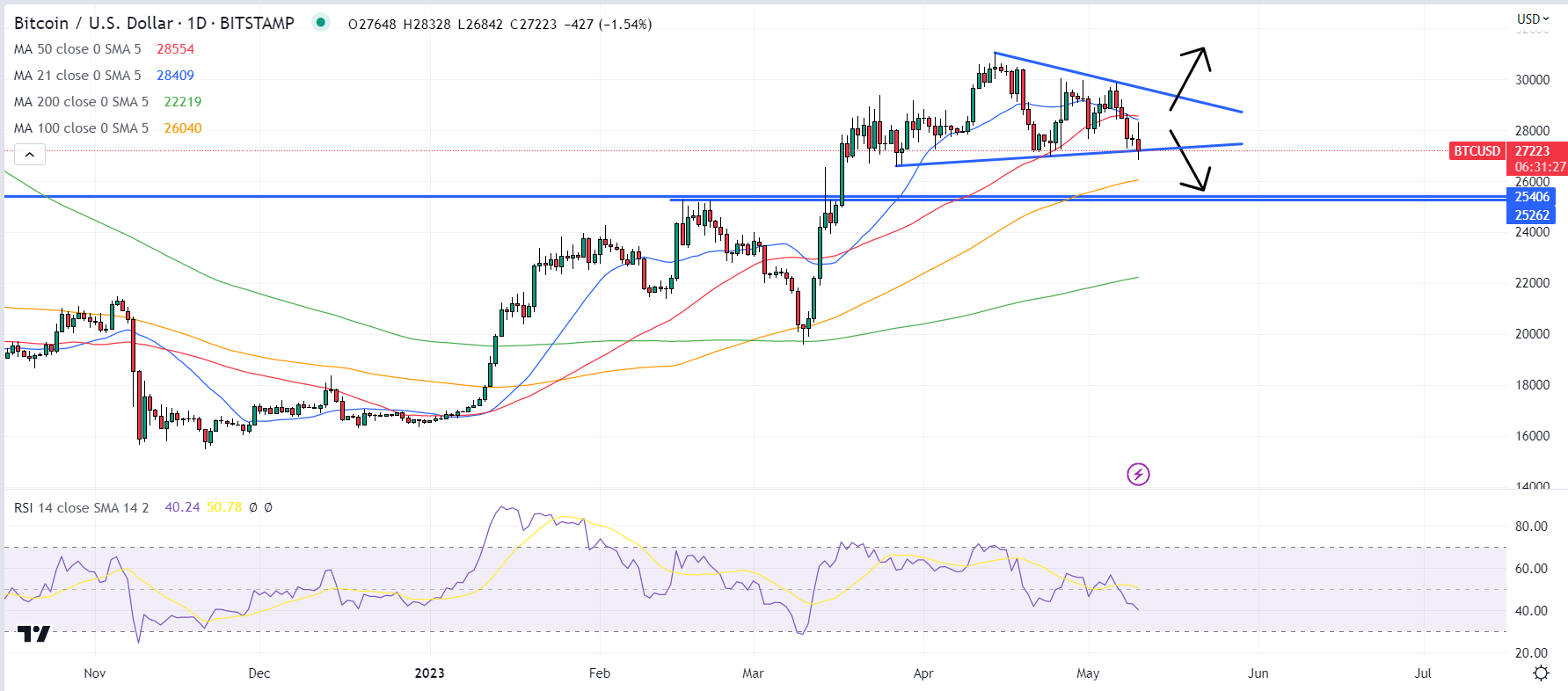 And with the cryptocurrency having recently lost its grip on both its 21 and 50-Day Moving Averages, some technicians have been predicting a near-term retest of key support in the $25,000s.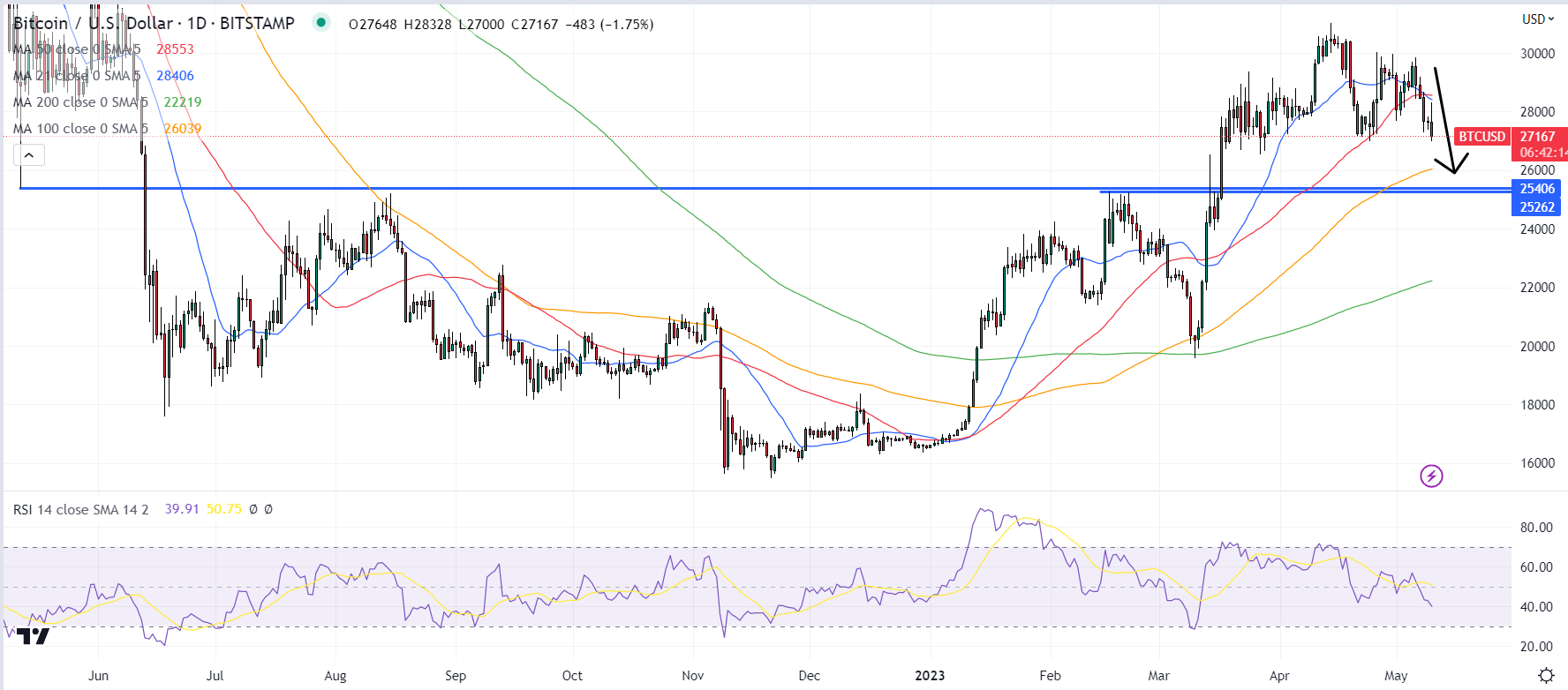 But even if Bitcoin did test these levels, the 2023 uptrend wouldn't yet be under threat.
Indeed, many think that Bitcoin is in the early stages of a new bull market cycle, with various on-chain indicators and longer-term market cycle signals suggesting as much.
Meanwhile, as long as the US bank crisis continues to bubble under the surface, that should underpin demand for "hard money" alternatives to fiat, like Bitcoin and gold.
---