US Arrests Two Suspects in Bitfinex Bitcoin Hack, Seizes USD 3.6B in BTC; LEO Skyrockets
Disclosure: Crypto is a high-risk asset class. This article is provided for informational purposes and does not constitute investment advice. By using this website, you agree to our terms and conditions. We may utilise affiliate links within our content, and receive commission.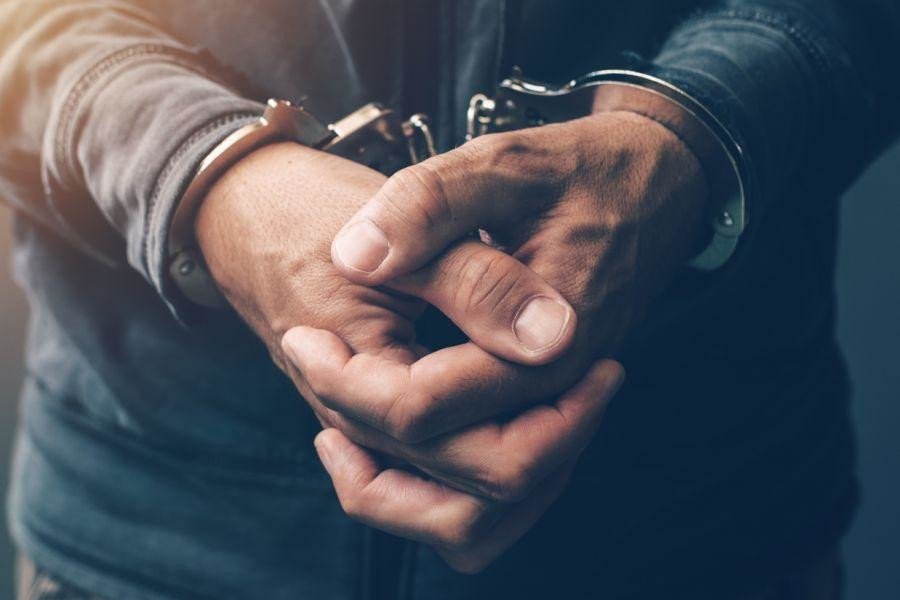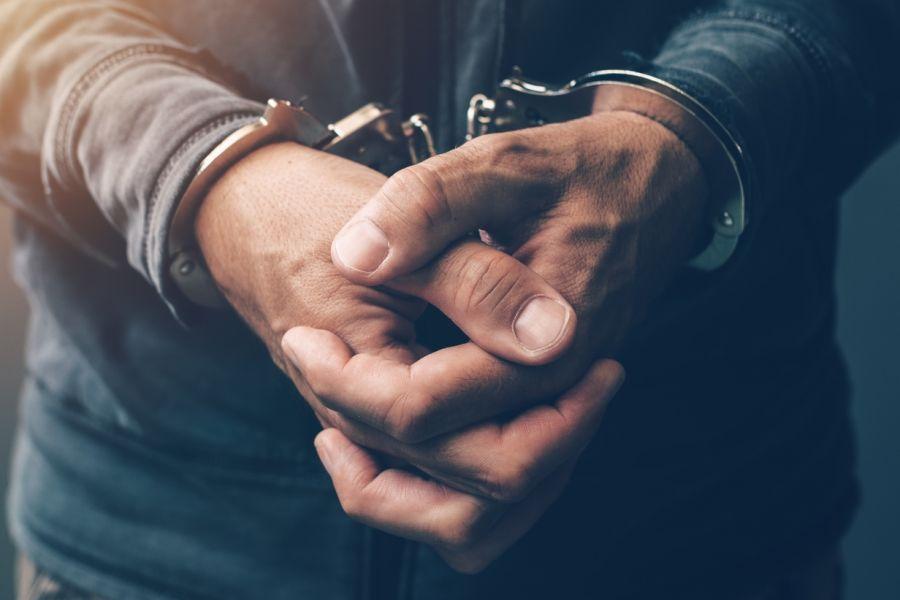 Two individuals were arrested this morning in Manhattan for an alleged conspiracy to launder bitcoin (BTC) that was stolen during the 2016 hack of Bitfinex, presently valued at approximately USD 4.5bn, the US Department of Justice (DoJ) said. BTC kept correcting its gains following the news, while Bitfinex's LEO token skyrocketed.
According to the department, thus far, law enforcement has seized over USD 3.6bn in BTC linked to that hack.
Per the DoJ, the suspects, Ilya Lichtenstein, 34, and his wife, Heather Morgan, 31, both of New York, are scheduled to make their initial appearances in federal court today at 3:00 PM local time in Manhattan.
They are charged with conspiracy to commit money laundering, which carries a maximum sentence of 20 years in prison, and conspiracy to defraud the United States, which carries a maximum sentence of five years in prison, the DoJ said.
According to the department, this is what happened:
Lichtenstein and Morgan allegedly conspired to launder the proceeds of BTC 119,754 that were stolen from Bitfinex.
Over the last five years, approximately BTC 25,000 were transferred out of Lichtenstein's wallet via a complicated money laundering process that ended with some of the stolen funds being deposited into financial accounts controlled by Lichtenstein and Morgan.
The remainder of the stolen funds, comprising more than 94,000 bitcoin, remained in the wallet used to receive and store the illegal proceeds from the hack.
However, special agents obtained access to files within an online account controlled by Lichtenstein and also accessed the private keys required to access BTC 94,000 (valued at USD 3.6bn at the time of seizure) stolen from Bitfinex.
"Today, federal law enforcement demonstrates once again that we can follow money through the blockchain, and that we will not allow cryptocurrency to be a safe haven for money laundering or a zone of lawlessness within our financial system," Assistant Attorney General Kenneth A. Polite Jr. of the Justice Department's Criminal Division, was quoted as saying in the announcement.
Per the DoJ, the suspects allegedly "employed numerous sophisticated laundering techniques":
Used fictitious identities to set up online accounts
Utilized computer programs to automate transactions, a laundering technique that allows for many transactions to take place in a short period of time
Deposited the stolen funds into accounts at a variety of virtual currency exchanges and darknet markets and then withdrawing the funds, obfuscating the trail of the transaction history by breaking up the fund flow
Converted BTC to other forms of virtual currency, including anonymity-enhanced virtual currency (AEC), in a practice known as "chain hopping"; and using US-based business accounts to legitimize their banking activity.
"We're pleased that DoJ has recovered a significant portion of the bitcoin stolen during the 2016 hack. We have been cooperating extensively with DoJ since its investigation of this incident began," Bitfinex said in an emailed comment.
The company declined to comment any further.
At 17:13 UTC, BTC traded at USD 43,009 and was down 1% in an hour, trimming all its daily gains. It's down almost 2% in a day.
Meanwhile, LEO, the native token of Bitfinex, ranked 24th by market capitalization, skyrocketed following the news, surpassing USD 8 and more than doubling, compared to its previous all-time high. The price is now up 62% in a day and 119% in a week.

LEO price chart: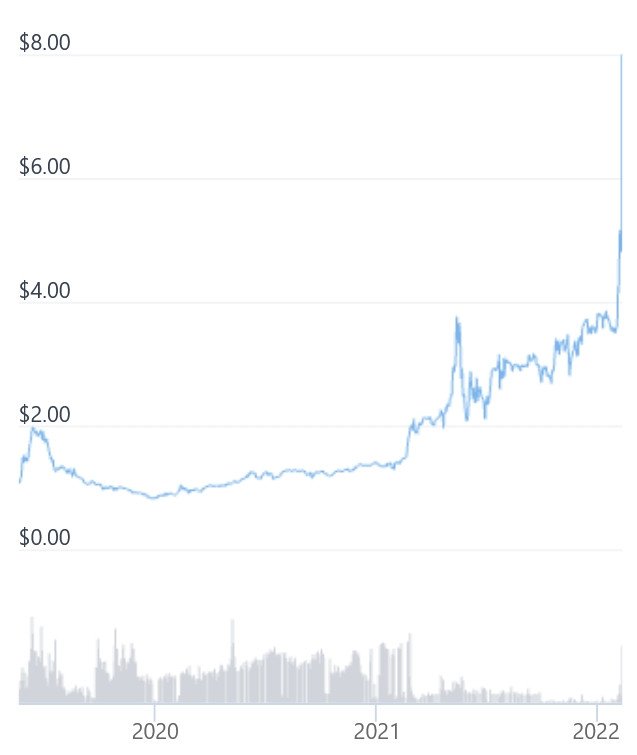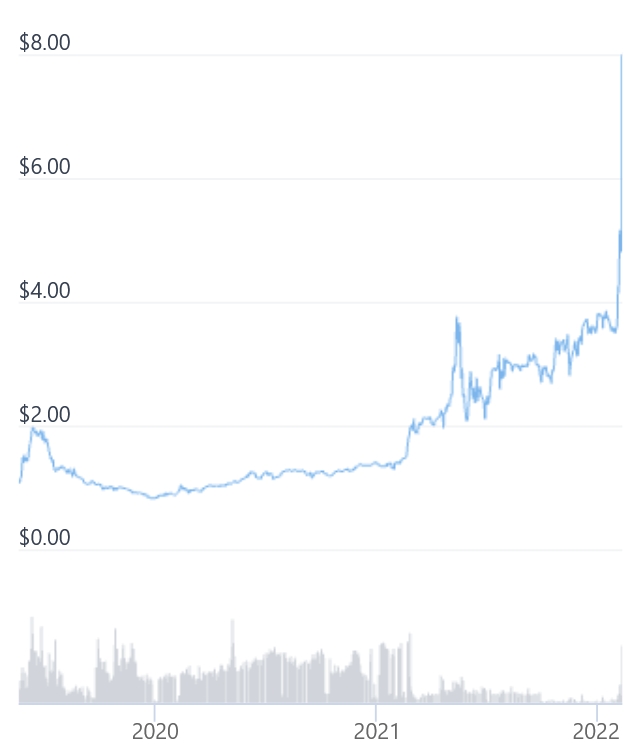 "If Bitfinex receives a recovery of the stolen bitcoin, as described in the UNUS SED LEO token white paper, Bitfinex will, within 18 months of the date it receives that recovery use an amount equal to 80% of the recovered net funds to repurchase and burn outstanding UNUS SED LEO tokens. These token repurchases can be accomplished in open market transactions or by acquiring UNUS SED LEO in over-the-counter trades, including directly trading bitcoin for UNUS SED LEO," the exchange said today.
____
Reactions:

if market reacts bad to this it's over. pvp mkt fully confirmed https://t.co/iblXnywRFm

— red (@redxbt) February 8, 2022
Why would any government bother mining #bitcoin when they can tax, license, permit and seize it? https://t.co/MWPOjL7Sud

— Steve Barbour (@SGBarbour) February 8, 2022
@TimDraper's DCA

— Tom Lombardi | Professor Degen (@tomlombardi) February 8, 2022
Something tells me law enforcement really digs crypto traceability pic.twitter.com/TQyMbVpF6d

— Maya Zehavi (@mayazi) February 8, 2022
https://www.twitter.com/ByzGeneral/status/1491097257613017091
The Bitfinex hack recovery is actually medium term bullish for crypto. The bad guys lost their coins. It's why 3 letter agencies are learning to like $BTC. It's a good day for the crypto security companies.

— Mike Novogratz (@novogratz) February 8, 2022
People forget that Bitfinex compensated everyone on the lost coins in the 2016 hack even before they had any hope to recover the lost Bitcoin. That's real customer service. The collaboration with law enforcement is also exemplary. I am bullish on Bitcoin and the industry!

— Gabor Gurbacs (@gaborgurbacs) February 8, 2022
https://www.twitter.com/finhstamsterdam/status/1491100908293586946

____
Learn more:
– US Government Is Now Top Bitcoin Whale. What Could Happen Next?
– Crypto Security in 2022: Prepare for More DeFi Hacks, Exchange Outages, and Noob Mistakes

(Updated at 17:49 UTC with more details about the LEO token. Updated at 18:18 UTC with a line that Bitfinex declined to comment any further. Updated at 18:33 UTC with an infographic by Elliptic)
---