Undervalued Meme Coin Nugget Rush Catches Investors Eyes With Its Cool P2E Features
Disclosure: Crypto is a high-risk asset class. This article is provided for informational purposes and does not constitute investment advice. By using this website, you agree to our terms and conditions. We may utilise affiliate links within our content, and receive commission.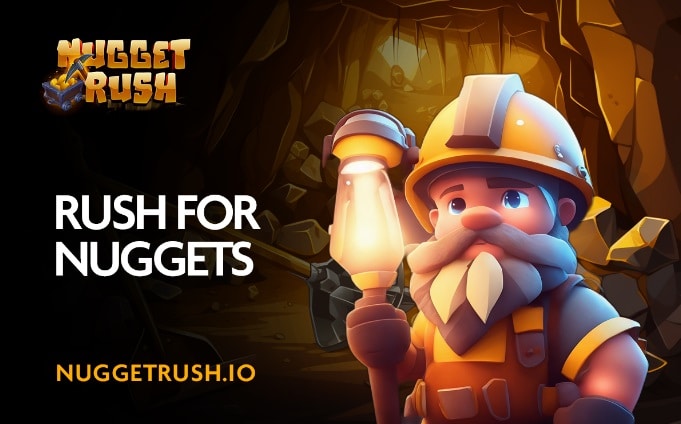 Disclaimer: The text below is a press release that is not part of Cryptonews.com editorial content.
TLDR
NuggetRush presents a P2E gameplay that rewards players with real-world assets
Investors and game enthusiasts stand to experience a hundredfold return by participating in NUGX's presale.
Rush Guild members enjoy access to restricted areas and high game levels.
In a digital landscape overflowing with memes and high-profit tokens, NuggetRush (NUGX) is currently paving a prosperous route. This undervalued meme coin has captured the eye of investors thanks to its play-to-earn (P2E) features.
As investors' interest in NUGX increases, this new DeFi project has witnessed an outstanding presale performance, resulting in a sale of over 18.6 million tokens in its presale.
Industry experts, however, speculate that this project will deliver a hundredfold of the current price on its official launch. Let's delve into the cool P2E features of NUGX that have led to a surge of interest among investors.
NuggetRush (NUGX): Redefining The Crypto Space With Innovative P2E Features

NuggetRush is a new DeFi project that combines elements of gold mining, cryptocurrencies, and small-scale mining.
Built on the Ethereum blockchain, NUGX allows numerous individuals to actively participate and enjoy the game while enjoying great rewards.
This project elevates the average investor's ability to enjoy exponential gains, increasing its potential of being ranked among the best cryptocurrencies to buy in 2023. NuggetRush is a meme coin that aims at creating an enticing and engaging gaming ecosystem for its community.
NuggetRush's engaging P2E features serve as bait for investors desiring the best cryptos to buy for financial gains.
A vital feature of NUGX is its P2E gameplay.
What is in it for the players you might be asking?
Players of this online game are permitted to move around the gaming area while looking for treasured minerals. For every choice the player makes and mining carried out, there is a chance for getting actual awards.
The gameplay is extremely interactive. To pinpoint possible areas that require excavation, the miners utilize underground scanning and soil tests. The sweet spot of this game is that virtual awards can be traded or exchanged for real-world assets like cash or gold.
Game enthusiasts can make enough cash by battling against each other as well as indulging in quests and tournaments. Another exciting part is that the RUSHGEM winnings are delivered directly to the players' addresses.
What is NUGX All About?

NUGX token is a powerful governance tool, allowing participants to contribute to developing the gaming ecosystem. This attribute has increased its chances of becoming the best cryptocurrency investment for high gains.
Also, members of the Rush guild are granted several privileges, which include unlocking more elevated levels of the game and access to places restricted to ordinary players.
Another enticing feature of NuggetRush is its commitment to a tax-free environment. Unlike other projects, NUGX does not levy any charges for any transaction conducted internally in its system.
And guess what?
There are no taxes with NUGX!
This zero-tax can strengthen NuggetRush's chance of becoming the best cryptocurrency investment in 2023. Investors can also make extra gains by participating in NUGX's non-fungible token (NFT) staking platform. This framework involves no active trading activity, welcoming early and seasoned investors into its ecosystem.
As investors' interest in NuggetRush increases due to these features, this undervalued meme has recorded an excellent presale performance. Individuals can make profits by buying NUGX tokens in its fast-selling presale.
At the end of the presale, participants immediately get a 100% profitability. This presale is structured in 5 rounds. Individuals seeking the best cryptos to buy at affordable rates can join current round 1, valued at $0.01.
The surge in NUGX presale demonstrates its potential to dominate the market in the future.
Conclusion
With NuggetRush, the undervalued meme coin, catching the eye of investors with its engaging P2E features, it becomes evident that the crypto market is filled with opportunities that can set anyone in the part of financial freedom.
The project's trending NFT staking platform, commitment to a tax-free ecosystem, and cool P2E gameplay enable participants to enjoy massive investment returns. The significant growth seen in the NUGX presale is enough evidence that this project is set to dominate the market in the future.
Visit NuggetRush Presale Website
---