This Market Could Predict Bitcoin's Next Move
There's a little-known correlation that may provide some clues as to where bitcoin is headed next, according to famous bitcoin bull Tom Lee, who still estimates that bitcoin can surpass USD 20,000 this year.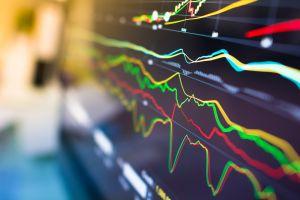 Lee, who serves as the head of research at Fundstrat Global Advisors, said that the performance of emerging market stocks has correlated closely with the price of bitcoin since the beginning of 2017.
Comparing the two markets, Lee, speaking on CNBC, said that "both really essentially peaked early this year, and they both have been in a downward trend."
"When emerging markets do well, it's because we're in a 'risk-on' environment, and when it does poorly it's because we're in a 'risk-off' environment," Lee explained, adding that he doesn't believe bitcoin will rise until traders with a 'risk-on' mentality are back.
Comparing the two charts below, a correlation can definitely be spotted, with bitcoin (bottom chart) peaking about a month before the MSCI Emerging Markets Index (top chart).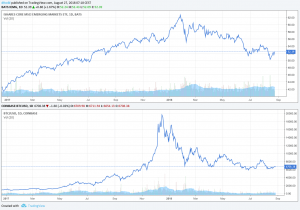 However, it could be argued that emerging market stocks have declined because their currencies have been in decline, such as the situation is with the Turkish lira. And as we have seen in both Turkey, and to an even greater extent in Venezuela, weaker national currencies tend to increase demand for bitcoin.
While Lee agrees with this, he explained that the majority of bitcoin trading is not taking place in emerging markets, but rather in countries like South Korea, Japan, China, the US, and Europe.
However, Lee now sees the markets finally turning to a point where both emerging market equities and bitcoin will be valued higher. Especially if the US dollar weakens going forward, Lee sees "big money and firepower on the sidelines" waiting to move into the crypto space, confirming his bitcoin price target for the end of the year.
Meanwhile, Changpeng Zhao, founder and CEO of Binance, a major exchange, has also reminded the explosive bitcoin price jump in the H2 of 2017. In either case, it doesn't mean that it will repeat this year, too.
_____
Watch Tom Lee discussing the Bitcoin market:
Fundstrat's Tom Lee may have found the next leading indicator for bitcoin from CNBC.
---