This Bitcoin Price Cycle to Be Longer, Expect Moderate Gains Near-Term
Bitcoin (BTC) may have already entered the fourth bullish price cycle in its history, with each cycle longer than the previous one. If true, only moderate price gains should be expected in the near-term, as the strongest gains are typically seen towards the end of the cycle, a new report from crypto analytics firm Coin Metrics suggested.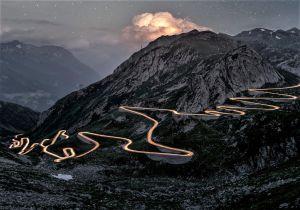 According to them, the previous cycles indicate a pattern of lengthening where each cycle takes longer to complete than the previous cycle — an expected result if cycles are driven by a new wave of adoption and awareness from a certain group of users, each bigger than the last.
"Bitcoin's price correction following the summer of last year has put the current cycle in line with the previous cycle that started in early 2015. If historical price cycles are reliable guide, we should expect further periods of only moderate price growth interspersed with brief periods of rapid growth and corrections," the analysts said.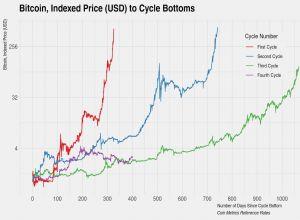 Further, the report also pointed to a statistic known as bitcoin's "estimated cost basis distribution," which reveals that a large majority of bitcoins in circulation are now owned by investors who have unrealized gains on a U.S. dollar-basis. The statistic, which was calculated using a bitcoin price of USD 8,687, said that 72% of bitcoins now had unrealized gains, up from only 50% a month ago.
"The current distribution shows that the vast majority of bitcoin has an estimated cost basis less than USD 12,000 and that at these levels, only a small increase in price is needed to dramatically improve investor sentiment," the report said.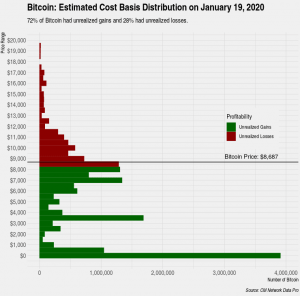 The bitcoin price cycles referred to by Coin Metrics has gained popularity in the community, with other analysts, including the legendary technical analyst Peter Brandt, also sharing similar charts, showing bitcoin may have entered its fourth parabolic phase.
At pixel time (12:42 PM UTC), BTC trades at c. USD 8,679 and is almost unchanged in a day. The price is up 1% in a week and 15% in a month. In the past 12 months the most popular cryptocurrency ralied 144%.
__
Learn more:
Will Bitcoin Halving Pattern Repeat Itself This Year?
Bitcoin to Surpass USD 20K, But Brace for a Surprise
How Good Is Mike Novogratz In Guessing Bitcoin's Price?
---