Tether Is Solvent, Says Law Firm, Community Is Not Convinced
Tether (USDT), the controversial, yet all-important cryptocurrency that is pegged to the US dollar, has passed a solvency test by Washington-based law firm Freeh Sporkin & Sullivan LLP (FSS). However, the crypto community is still not convinced.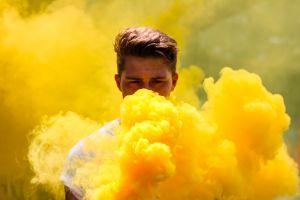 The so-called stablecoin has been under pressure since last year to allow a proper third-party audit of its US dollar reserves, as critics online have accused Tether of issuing more coins than they have backing for in the bank.
Although not a formal audit, but rather a snapshot of the company's bank balance, the report issued by FSS, a law firm founded by three former US federal judges, one of whom was a former FBI director, states: "FSS is confident that Tether's unencumbered assets exceed the balance of fully-backed USD Tethers in circulation as of June 1st, 2018."
This wasn't enough to convince the crypto community:
.
Tether claims that it's impossible to have a traditional audit performed at the moment, as major auditing firms simply don't want to take the risk of working with companies in the cryptocurrency space.
Despite the controversies surrounding the coin, Tether has been able to maintain its value of about 1 US dollar throughout its history. The coin is important to the entire cryptocurrency ecosystem, as many traders use it to move assets between exchanges and as a safe store-of-value during volatile times in the cryptocurrency market.
"Tether is the third-largest cryptocurrency by trading volume, behind Bitcoin and Ethereum, which are also used as liquidity. Thus, most exchange pairs are against Bitcoin, Ethereum or Tether," in an email to Weiss Ratings, a veteran firm dedicated to analyzing investments, subscribers said Juan M. Villaverde, an econometrician and mathematician devoted to the analysis of cryptocurrencies since 2012.
Tether chart: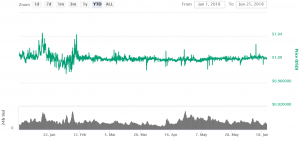 Additionally, Villaverde lists "some other critical facts" related to Tether:
Fact #1. Tether is the only "cryptocurrency" with trading volume that regularly exceeds that of its market cap.
Fact #2. This means the entire Tether supply changes hands regularly, sometimes more than once a day. In economics, we call this the "velocity of money."
Fact #3. This is important to know because it tells us that Tether is used for trading A LOT. It's one of the main sources of liquidity in the crypto markets.
Fact #4. Liquidity is the lifeblood of a market. It's what makes prices stable, and seamless trading possible.
Fact #5. The consequences of hanky-panky could be far-reaching.
"What happens if Tether does turn out to be fraudulent? Or what happens if a major government determines that cryptocurrencies like Tether are being used by exchanges to avoid regulations? What if this large source of liquidity suddenly evaporates?" Villaverde asked.
According to him, while it's hard to say what exactly might happen "if that liquidity rug is pulled from under the market's feet", this type of liquidity event has a silver lining: "It can help expose all sorts of shenanigans that went by unnoticed before."
---