Tesla Buys USD 1.5B Worth of Bitcoin, Might Accept BTC as Payment (UPDATED)
US-based major electric car manufacturer Tesla said it invested an aggregate USD 1.50bn in bitcoin (BTC) and expects "to begin accepting bitcoin as a form of payment for our products in the near future." (Updated at 13:35 UTC: updates throughout the entire text. Updated at 14:03 UTC with liquidation data, comments, and Google Trends data. Updated at 15:37 UTC: updates throughout the entire text.)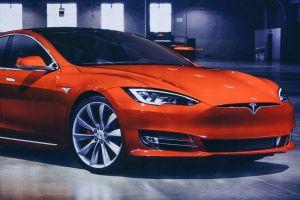 In a filing with the US Securities and Exchange Comission, the company said that, in January 2021, it "updated investment policy to provide us with more flexibility to further diversify and maximize returns on our cash that is not required to maintain adequate operating liquidity."
According to Tesla, they may acquire and hold digital assets from time to time or long-term. The company said it ended 2020 with USD 19.38bn in cash and cash equivalents.
"We believe our bitcoin holdings are highly liquid. However, digital assets may be subject to volatile market prices, which may be unfavorable at the time when we want or need to liquidate them," the company said.
As for the accounting, the car manufacturer said that the cost basis of the digital assets will not be adjusted upward for any subsequent increases in their quoted prices on the active exchanges. "Gains (if any) will not be recorded until realized upon sale," they added.
For 2020, Tesla reported a consolidated profit of USD 862m on about USD 31.5bn in revenues, compared with USD 24.6bn revenues and USD 775m loss in 2019.
Following the news, BTC hit its new all-high of USD 43,878, per Coingecko data. At the time of writing (15:36 UTC), BTC trades at USD 43,560 and is up by more than 15% in a day and 32% in a week. It's up by 345% in a year. Also, Tesla shares jumped by 3% in the first hours of trading today. As reported, Tesla was one of the two companies from the S&P 500 list that outperformed BTC in 2020.
Meanwhile, in the past four hours, almost USD 713m worth of BTC short positions were liquidated, according to bybt.com data. Also, crypto exchanges such Kraken, Gemini, Binance, and Coinbase reported technical issues as traders rushed on these platforms following Tesla's news.
Last week, Tesla founder Elon Musk said that BTC is on the verge of getting a broad acceptance by the "conventional finance people."
"Elon Musk shilling DOGE and then buying bitcoin resembles the mouth-watering BTC price predictions of Guggenheim's Minerd — he shared a bombastic USD 400K target, the price erupted and the fund could only buy half as much BTC, so then he said everything was overbought. Sure, we love it when big names embrace digital assets, but we love it even more when you [do your own research] because Bitcoin has never been about entertainment," Antoni Trenchev, Co-Founder and Managing Partner of major crypto lender Nexo, said in an emailed comment.
"Tesla and Bitcoin — the archetypes of volatility — inevitably meet again because they are tools that came about because of frustration and courage, to paraphrase the old saying. Frustration at the way things are, and courage to make sure that they do not remain as they are," he added.
Meanwhile, according to Dermot O'Riordan, Partner of Eden Block, an European venture capital firm specializing in blockchain technology, "now it seems all of Wall Street is in bed with [the crypto] industry - if they weren't paying attention before, they are now."
However, Messari Founder and CEO Ryan Selkis, said he's now focused on "what's next?"
"Bitcoin and Ethereum have seemed like inevitable growth stories since the COVID fiscal spending surge, DeFi summer, and ETH 2.0 launch. I'm spending much more time thinking about what the future has in store for [centralized exchange / decentralized exchange] tokens, on-chain lending, asset management, cross-chain infrastructure, NFTs, Web 3 assets, algorithmic stablecoins, and other new applications we haven't yet imagined," he said in his newsletter today.
____
Other reactions:
___
Learn more:
1,400+ Firms Flock To Learn About Bitcoin, But 'There Is No Playbook'
Elon Musk Deconstructs Money, Prompting Bitcoiners to Ponder the Meaning
Bridgewater's Ray Dalio Sends Stronger Bitcoin Signal
Corporate Treasuries Caught Between an Inflation Rock and Bitcoin
MicroStrategy CEO On Buying Bitcoin While Trillions 'Melting' In Treasuries
Bitcoin Snowball Is Expected To Hit More Institutions in 2021
Bitcoin Wheel Cannot Be Stopped
Morgan Stanley Exec Says Bitcoin is Coming for the US Dollar
Sovereigns Will 'For Sure' Fight Against Private Crypto - Paul Tudor Jones
Bitcoiners Bristle as Musk-fuelled Dogecoin Rocket Re-enters Top 10
---