Morgan Stanley Exec Says Bitcoin is Coming for the US Dollar
The mainstream financial media is getting bullish about bitcoin (BTC)'s long-term prospects, claiming that the token is "starting to make progress on its ambition to replace the United States dollar as a medium of exchange."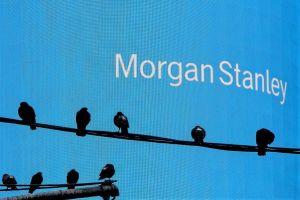 Until recently, most economic experts have dismissed talk of BTC edging out the dollar in any scenario as distinctly fanciful. But the token's latest rally appears to have convinced not only the usual BTC cheerleaders, but more conservative financial analysts that bitcoin may one day outshine the greenback on the exchange scene.
In an opinion piece for British national daily newspaper the Financial Times, the Chief Global Strategist and the head of the Emerging Markets Equity team at Morgan Stanley Investment Management, Ruchir Sharma, wrote that "there are reasons to think [the latest] bitcoin rush has deeper roots."
Sharma, who reportedly manages some USD 20bn in assets under management, also added that "the dollar's reign is likely to end when the rest of the world starts losing confidence that the United States can keep paying its bills."
And Sharma added that efforts to regulate BTC out of existence or simply resort to "money printer go brrrr" tactics to power fiats like the USD through the impending global recession could ultimately prove futile.
He opined,
"Bitcoin's surge may still prove to be a bubble, but even if it pops, this year's rush to cryptocurrencies should serve as a warning to government money printers everywhere, particularly in the United States."
And the writer ended with a particularly BTC-bullish flourish that will likely bring joy to long-term crypto HODLers, concluding,
"Do not assume that your traditional currencies are the only stores of value, or mediums of exchange, that people will ever trust. Tech-savvy people are not likely to stop looking for alternatives, until they find or invent one. And stepping in to regulate the digital currency boom, as some governments are already considering, may only accelerate this populist revolt."
USD vs BTC chart: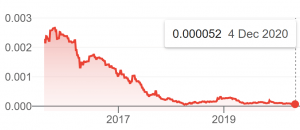 Meanwhile, John LaForge, Head of Real Asset Strategy at another banking giant, Wells Fargo, said that "most investors have heard of cryptocurrencies, but few have ever bought or used one."
"They attract lots of attention, but not necessarily lots of investment money. The entire cryptocurrency market is worth roughly USD 560 billion, which is about one-fourth the size of the S&P 500 technology company with the largest market capitalization," he said in a report, published yesterday.
According to him, cryptocurrency investing today is a bit like living in the early days of the 1850's gold rush, which involved more speculating than investing.
However, he admitted that "cryptocurrencies could become investment-worthy one day, though."
"Over the past 12 years, they have risen from literally nothing to USD 560 billion in market capitalization. Fads don't typically last 12 years. There are good reasons for this — reasons that every investor should hear," LaForge said, adding that, in 2021, the bank will be discussing the digital asset space more — its upside and downside.
At the time of writing (09:19 UTC), BTC trades at USD 18,027 and is down by around 6% in a day and in a week, trimming its monthly gains to 16%. The price rallied by 144% in a year.
___
Learn more:
Did Ray Dalio Just Say You Should Buy Bitcoin?
This Bitcoin Cycle Is 'Right On Track' With 'Striking Similarities'
Crypto in 2021: Bitcoin To Ride The Same Wave Of Macroeconomic Problems
Goldman Sachs Strategist Warns of 'Real Concerns' Over US Dollar
Fiat Will Be a Passing Fad In the History of Money - Deutsche Bank Strategist
Influential Historian Urges Joe Biden to Bring Bitcoin Into Financial System
_
(This article was updated at 09:54 UTC to add a USD vs BTC chart.)
---