Bridgewater's Ray Dalio Sends Stronger Bitcoin Signal (UPDATED)
After admitting that he might be wrong about bitcoin (BTC) and suggesting that BTC may be a good asset for one to diversify their investment portfolio, Ray Dalio, American billionaire investor and founder of major global investment firm Bridgewater Associates, just sent an even stronger signal that this major asset manager is eyeing the most popular cryptocurrency. (Updated at 17:47 UTC: updates throughout the entire text).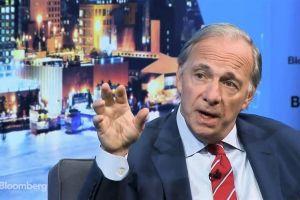 "Believe me when I tell you that I and my colleagues at Bridgewater are intently focusing on alternative storehold of wealth assets and expect Bridgewater to soon offer an alt-cash fund and a storehold of wealth fund in order to better deal with the devaluation of money and credit that we consider to be a major risk and opportunity, and Bitcoin won't escape our scrutiny," Dalio said in his newsletter to clients today, adding that he believes that "Bitcoin is one hell of an invention."
According to popular crypto researcher Hasu, who was the first to share excerpts from the newsletter, Dalio challenges the idea that Bitcoin is as scarce as people think, since there is an unlimited number of "Bitcoin-like assets". More innovative coins can probably carve out their own demand, and arguably we are already seeing that today.
"Though Dalio knows about the ability to hold coins in cold storage, he's still concerned about the ability to shield them against cyber attacks and hold them securely. He warns that increasing digitization also increases systemic risk," Hasu added.
The researcher said he fully agrees with the statement that Bitcoin's Achilles heel is its lack of privacy.
"[...] Bitcoin looks like a long-duration option on a highly unknown future that I could put an amount of money in that I wouldn't mind losing about 80% of," according to Dalio.
However, he stressed that he's not an expert in Bitcoin and is "eager to be corrected and learn more."
Some other key statements by Dalio:
Because there aren't many of these gold-like storehold of wealth assets that can be held in privacy and because the sizes of their markets are relatively small, there exists the possibility that Bitcoin and its competitors can fill that growing need.
It seems to me that Bitcoin has succeeded in crossing the line from being a highly speculative idea that could well not be around in short order to probably being around and probably having some value in the future.
Since the way Bitcoin works is fixed, it won't be able to evolve and I presume that a better alternative will be invented and pass it by.
Meanwhile, in the same newsletter, researchers at Bridgewater highlighted three challenges for BTC:
Bitcoin remains an extremely volatile asset, and its future purchasing power remains a fundamentally speculative proposition.
Bitcoin still faces meaningful regulatory tail risks. While greater regulation might help Bitcoin gain broader institutional acceptance, it could also trigger selling by some of its largest existing owners who prioritize a lack of public oversight around the asset.
While there have been improvements, current levels of liquidity still constitute real structural challenges to holding bitcoin for large traditional institutions such as Bridgewater and its clients.
However, the researchers expect that the infrastructure around Bitcoin and cryptocurrencies more generally will continue to evolve and mature.
"In addition, the new paradigm that we are living in, with many government bonds no longer offering the same return or diversification characteristics and currencies facing greater risk of depreciation, could propel development of alternative storeholds of wealth faster than might otherwise have been the case," they said.
According to them, future challenges for BTC may also come from quantum computing, regulatory backlash, "or issues we haven't even determined yet."
"Even if none of these materialize, Bitcoin, for now, feels more to us like an option on a potential storehold of wealth," they concluded.
At the time of writing (17:44 UTC), BTC trades at USD 32,243 and is up by almost 7% in a day, trimming its weekly losses to almost 9%. The price is up by 19% in a month and 264% in a year.
____
Learn more:
Ray Dalio Trashes Cash as Store of Value, Avoids Questions on Bitcoin
Response to Ray Dalio: Banning Bitcoin Is a 'Game of Whack-a-Mole'
Bitcoin Rallies Above USD 17,000, Ray Dalio In Doubt
Did Ray Dalio Just Say You Should Buy Bitcoin?
Did This USD 140B Manager Just Write a Guide For a Bitcoin Hodler?
BlackRock Has USD 235bn in Alternatives And Now It's Coming For Bitcoin
Bitcoin Snowball Is Expected To Hit More Institutions in 2021
---