Telegram Token 'Could Be Worth USD 29.5 Billion'
Telegram's much-anticipated Gram cryptocurrency could be worth USD 29.5 billion by year's end, with reports claiming investors could be in for a bumper return. The company last year issued a two-round initial coin offering (ICO), garnering USD 1.7 billion from over 100 investors.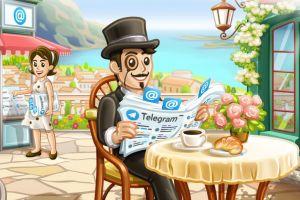 Russian-language media outlet The Bell states that rough forecasts based on calculations made by HASH Crypto Investment Bank, a subsidiary of Qiwi, a major Russian e-payment company, have shown that the "rational cost" of a single Gram unit is now USD 5.9. That figure is 4.4 times as high as the USD 1.33 per unit price second-round investors paid last year.
The Bell says that Telegram may "provide investors with the same assessment" of the Gram's future worth.
The Gram is set to operate on Telegram's own platform, named TON. As previously reported here, the TON network is said to be 90% complete – meaning the Gram may see the light of day as early as next month.
Cryptonews.com also previously reported that Telegram is hoping to launch the Gram in Asia – with Russian experts saying Japan is the company's most likely number one target. And per media outlet The Block, "sources familiar with Telegram have confirmed" that "the project is actively working with firms to get the Gram listed on Asian exchanges such as Huobi, Binance and OKEx."
Readers may recall that Huobi Japan officially opened last month, and is now trading with regulatory Financial Services Agency (FSA) approval after completing a takeover and re-brand of the FSA-listed BitTrade exchange last year.
Binance was founded in China, but has since relocated following September 2017's regulatory crackdown. The company maintains a strong presence in Japan, as well as a host of other Asian countries, while Hong Kong-based OKEx also has multiple Asian branches.
The Block also claims that "Telegram is also working on potential partnerships with e-commerce, retail, and other online services leading up to its native messenger app store launch."
According to its initial whitepaper, the TON blockchain platform aims to solve one of blockchain's most challenging issue of scalability by developing an entirely new blockchain that should be able to process millions of transaction per second, citing the use of terms such as "infinite sharding" and "hypercube routing." However, some projects are already implementing technologies that help blockchain scale. For example, blockchain project Zilliqa (ZIL) has recently launched its mainnet, heralded the first ever successful implementation of a scaling technology called sharding on a blockchain.
According to the latest publicly available data, in March 2018, Telegram had 200 million active users.
---