Team Proof-of-Work Educates Lawmakers at Bitcoin Mining Hearing in US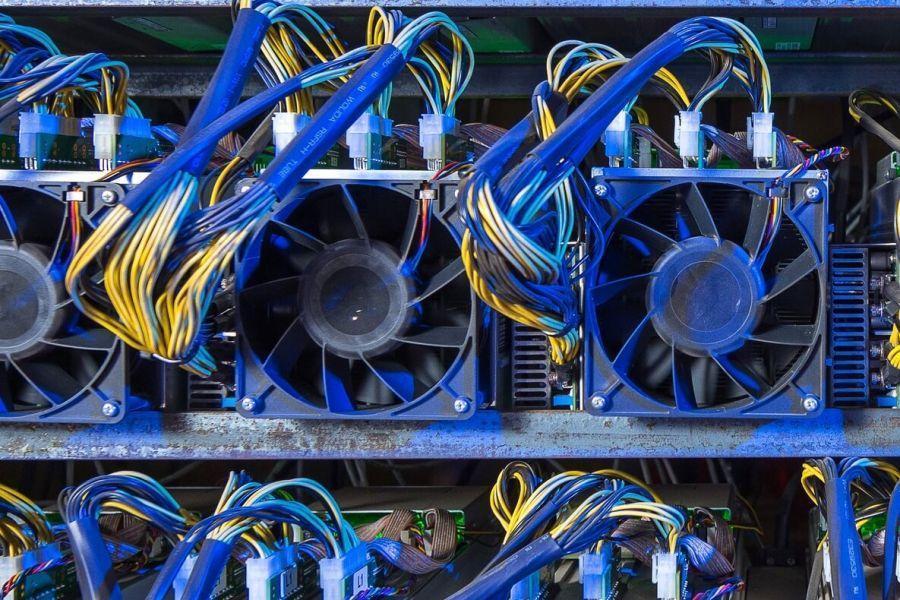 Questions ranged from whether Bitcoin (BTC) could potentially transition to a proof-of-stake (PoS) consensus mechanism, to whether crypto mining can be considered "wasteful," as lawmakers in the US House of Representatives discussed the energy impact of crypto mining during a hearing on Thursday.
Among the issues discussed, and where witnesses disagreed with each other, was the issue of whether proof-of-work (PoW) as a consensus mechanism for blockchains can be considered wasteful.
According to Cornell Tech Professor and Chainlink Labs (Chainlink is using PoS) Chief Scientist Ari Juels, proof-of-work blockchains are an "unnecessary" use of energy, given that proof-of-stake exists as "a perfectly viable alternative."
However, according to Brian Brooks, CEO of the blockchain infrastructure provider Bitfury and a former Comptroller of the Currency, crypto mining does not fit the definition of waste in its most basic sense.
"The measure of waste in an economic activity is whether the activity is producing value that other people are willing to pay for," Brooks said. He added that bitcoin, as the most valuable cryptocurrency, is therefore "clearly not wasted, it's an asset that large numbers of people are willing to pay for."
Moreover, he explained that while proof-of-stake is "a valuable innovation," the two systems serve different purposes in the crypto ecosystem, with only proof-of-work being able to offer what he called "a truly trustless system."
"Proof-of-stake has at its core a dependence of trust of who the stakeholders are," Brooks said.
"Decentralization is what crypto is all about, and Bitcoin was the original and most decentralized of all of the blockchains […] It's not just about replacing forms of money in financial transactions, what it's about is replacing the concept of networks generally," the former regulator said.
Further, Brooks also argued that PoW systems not only benefit the cryptocurrency network they secure, but also contribute to technological advancements in other areas of the economy.
"Bitcoin mining is not the only place where low-voltage ASIC design is used, nor is immersion cooling only used in Bitcoin mining. And yet because of the economic incentives created by Bitcoin mining, those energy-saving innovations were developed and are now being used in other parts of the economy," Brooks said.
With the exception of Professor Juels, other witnesses at the hearing generally spoke in favor of proof-of-work, with Soluna Computing CEO John Belizaire and Jordan Ramis PC shareholder Gregory Zerzan both stressing how crypto mining can help stabilize electric grids.
Unlike traditional data centers, flexible mining facilities connected to the grid can scale up or down their operations at the request of the grid operator, the two explained, noting that this can help keep grids balanced.
"The question for regulators isn't about how much energy Bitcoin uses, but about what kind of energy it uses. We believe that Bitcoin miners can be partners in the important work of decarbonizing our economy," CleanSpark, a US-based Bitcoin mining energy technology company, said in an emailed comment.
According to them, Bitcoin mining is also leading to the development of new energy infrastructure by allowing for a faster payback on renewable energy projects such as solar and wind.
Commenting on the hearing, members of the crypto community seemed unimpressed by the level of the discussion.
"Congress is trotting out the "chief scientist" of Chainlink to bash Proof-of-Work," the Bitcoin proponent and chief strategy officer at the Human Rights Foundation, Alex Gladstein, said.
Despite the rosy portrayal of proof-of-stake, however, some users on Reddit's r/CryptoCurrency forum said the testimonies still helped them better understand the energy use in Bitcoin.
"Bitcoin mining is not destroying the environment but accelerating green energy production by providing a stable baseline when demand is low," one user who was worried about Bitcoin's energy use wrote.
Expressing disappointment ahead of the hearing over who was invited to testify, Nic Carter, Co-founder of Coin Metrics and General Partner at Castle Island Ventures, said that he "won't be tuning into the hearing" since no major US-based mining firms were invited to participate.
It is "telling that the committee specifically avoided them," Carter said, adding that Brooks' testimony was the "only bright spot" in the hearing.
____
Reactions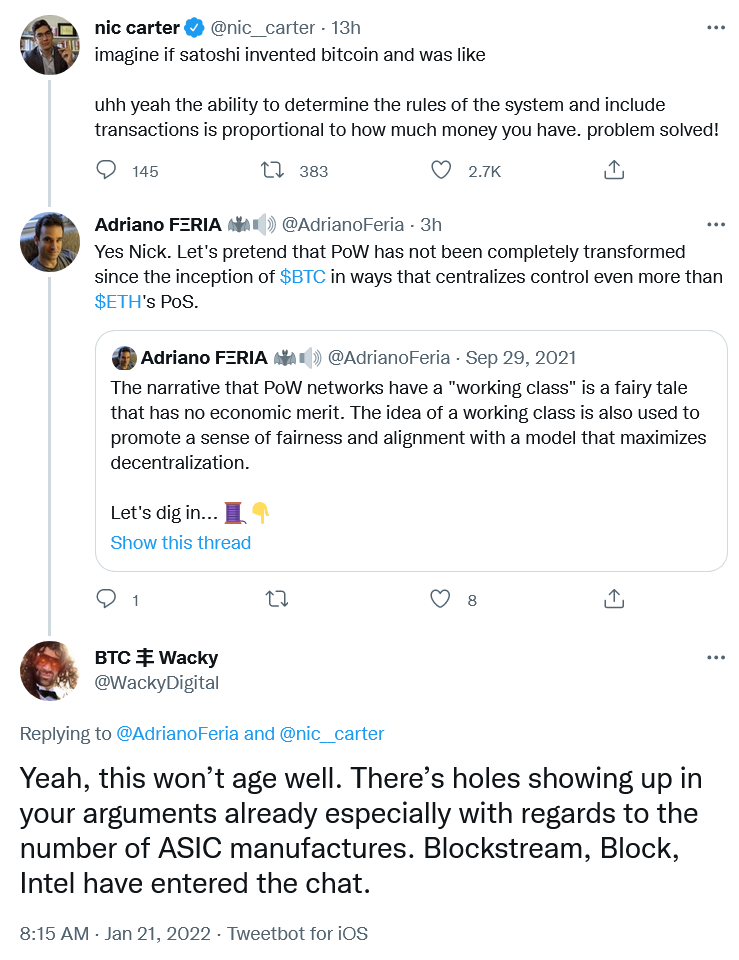 ____
Learn more:
- Watch Mining Hearing: Bitcoin Is More Energy-Efficient than Banks, Bitfury CEO Tells US Lawmakers
- Proof-of-Hypocrisy: Securities Regulator Calls for Bitcoin Mining Ban in EU, Promotes PoS

- Bitcoin & Crypto Miners Must Take Note as Davos Chiefs Say 'Nobody Can Hide' from ESG Standards
- Misleading Memo for US House Hearing on Bitcoin & Ethereum Mining Includes 'Basic Errors'
- How and Why Crypto Suffers from Unfair Treatment by Regulators, Politicians & Media

- Bitcoin & Crypto Mining in 2022: New Locations, Technologies, and Bigger Players
- How Bitcoin Mining Might Help Nations With Domestic Energy Production

- A Closer Look at the Environmental Impact of Bitcoin Mining
- Bitcoin Miners Adapt Fast As EU Mulls 'Climate-Friendly Cryptoassets'
---