Taboo Token Price is Up 267% in 7 Days - What is TABOO and Should You Consider Buying It?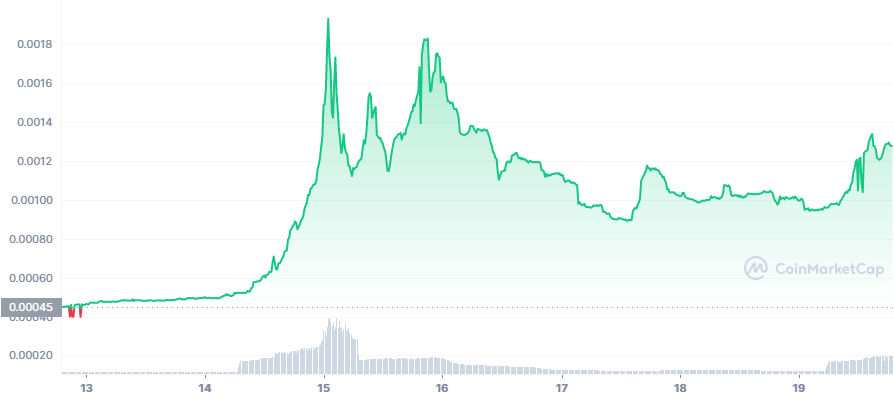 Taboo Token price rally continues uninterrupted even as most crypto assets trim weekly gains in the wake of the United States Justice Department enforcement action on Wednesday that saw the founder of a little-known exchange, Bitzlato arrested and extradited to the US to answer to charges of money laundering. TABOO is up a whopping 267% in a week, which brings its total monthly cumulative gains to 361%.
Despite this explosive rally, Taboo Token price is down 74% in a year. Therefore, there is room for growth as investors look forward to a potential move to the all-time high of $0.0639 in November 2021.
Taboo Token Price Gets the Green Light, Is This the Start of a Bull Market?
Taboo Token price changed the course of its trend alongside other cryptocurrencies in the market in late December. Although not official, TABOO's bottom may have come in with support at $0.0002, paving the way for a seemingly unstoppable bullish move.
For the first time since August, Taboo Token price traded highs around $0.0023, after bulls 'ate' one more zero. However, the rally took a brief breather on Wednesday, possibly to seek more liquidity while allowing sidelined investors to tap into the uptrend.
For now, bulls must push beyond a resistance highlighted by the 200-day Exponential Moving Average (EMA) at $0.001292. A successful break and hold above this hurdle would open the door to the next recovery phase, as traders eye possible take-profit targets at $0.0025, $0.005, and $0.0011, respectively.
Long orders in Taboo Token price are still viable in spite of the colossal recovery this month. As observed with the Moving Average Convergence Divergence (MACD) indicator, buyers would keep holding the reins as long as the MACD (line in blue) holds above the signal line (in red). Notice the momentum indicator above the mean line, implying that the path with the least resistance is to the upside.
About Taboo Token
Taboo Token is an innovative marketplace that aims to promote personal growth, by inspiring community members to be confident, happy, and ready to explore their taboo fantasies.
To achieve this goal, the project aims to innovate the world of media by pushing for quality and not quantity. Users within this ecosystem are rewarded for their contributions using blockchain technology. According to a Medium post about the crypto project, "Taboo provides the highest quality and exclusive SFW, NSFW to XXX exclusive media from content creators."
Taboo Token engages users with an NFT marketplace and media platform while utilizing various layer 2 solutions protocols with the lowest fees yet supporting speedy transactions. Taboo boasts a market cap of $12.5 billion and ranks 817th, up 24% in 24 hours.
Its trading volume has been skyrocketing as investors accumulate TABOO tokens. CoinMarketCap shows the volume at $1.4 million after exploding 636% in 24 hours.
Taboo Token Price Is Bullish but These Altcoins Offer a Better Risk/Reward Ratio
Investors looking for new additions to their portfolio may be interested in newer cryptocurrency projects with the potential to rally. The selected tokens listed here are moving toward their first exchange listings, although Dash 2 Trade (D2T) debuted on two leading exchanges this month.
Meta Masters Guild (MEMAG)
Investors with an interest in play-to-earn (P2E) crypto gaming platforms may direct their attention to Meta Masters Guild, the first mobile-focused web3 gaming guild. In this new ecosystem, users are rewarded for playing the games they enjoy in addition to a wide scope of contributions they can make to generate more revenue. Investors are buying MEMAG in a presale that has raised $651k so far.
FightOut (FGHT)
Fight Out is introducing a revolutionary move-to-earn (M2E) app and gym network in 2023, designed to enhance the fitness experience for enthusiasts. Using cutting-edge technology, users can earn rewards for their workouts and compete against other members. FightOut's presale has raised $3.05 million and is selling out fast.
Calvaria (RIA)
Calvaria is a crypto project aiming to be a frontrunner in the race to bridge the gap between the "real world" and crypto. The team hopes to be competitive within the Web2 gaming market by creating two game versions, allowing both crypto and non-crypto users to benefit unlike before. Calvaria's presale has raised $2.84 million, far ahead of the first exchange listing.
C+Charge (CCHG)
C+Charge is a blockchain-based network that aims to create a comprehensive ecosystem for electric vehicle charging. It allows users to earn carbon credits by charging their EVs and democratizing the carbon credit market. The C+Charge presale is selling out like a hot cake, with $320k raised as investors scoop up the CCHG token.
Enjin Coin (ENJ)
Enjin Coin price is slightly in the red, after losing 1.4% in 24 hours to trade at $0.4135. The token appears to be slowing a two-week push that saw its value grow by 64.8%. Enjin Coin price uptrend may be taking a hiatus alongside the crypto market and would soon rebound to highs above $1.00.
Dash 2 Trade (D2T)
Dash 2 Trade aims to bring the same expertise to crypto markets by providing accurate trading signals and social analytics on on-chain data to maximize their profits at all times. D2T is trading at $0.0135, down 8.3% in 24 hours.
Related Articles:
---