Storm is Coming: "EOS is Not a Blockchain"
One of the largest projects in the crypto space EOS is not a blockchain, claims Whiteblock, a blockchain testing company based in Los Angeles. While the EOS community is working on their official response, some were quick to point out that the research was commissioned by people closely related to the Ethereum platform, the rival of EOS.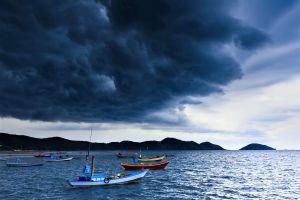 Whiteblock has quietly been testing the EOS software over the past two months. The tests were commissioned by a group of companies, including ConsenSys, the blockchain software firm founded by Ethereum co-founder Joseph Lubin.
An initial interpretation of the data from Whiteblock has now led the testing company to several conclusions about EOS that raised roughly USD 4 billion in a year-long ICO and now is the 5th largest digital asset by market capitalization:
EOS is not a blockchain, rather a distributed homogeneous database management system, a clear distinction in that their transactions are not cryptographically validated.
EOS token and RAM market is essentially a cloud service where the network provides promises for computational resources in a blackbox for users to access via credits. There is no mechanism for accountability due to the lack of transparency on what Block producers are able to create in terms of computational power.
EOS throughput is significantly lower than EOS initially claimed in marketing materials.
EOS suffers from consensus failures and lacks Byzantine Fault Tolerance, which means that bad actors are theoretically able to process false transactions, form cartels.
According to the report, "EOS block producers are highly centralized and users can only access the network using block producers as intermediaries. Block producers are a single point of failure for the entire system."
Whiteblock added that they are planning to conduct a livestream of their benchmark test of EOS later in November for interested participants to watch.
However, some claims in the report are not necessarily accurate. For example, an undisclosed source, an EOS dapp developer, told the Next Web that Whiteblock's interpretation of how EOS validates transactions was particularly "weird" and that claims that EOS doesn't use cryptography are not true.
Not surprisingly, the cryptoverse is divided over the findings, with the EOS camp quickly pointing out that the research was commissioned by some of the leading Ethereum developers. As is well-known, EOS is among Ethereum's main competitors in the smart contracts space. For example, Everipedia, the new initiative that aims to challenge the online encyclopedia Wikipedia, has decided to ditch their plans of launching on the Ethereum blockchain in favor of EOS.
On Reddit, a discussion is also going on about the new findings, with some pointing out that just a handful of people does indeed have an unproportional voting power when choosing EOS block producers (BPs).
Responding to a question of who really holds the decision-making power on the EOS blockchain, reddit user WassaWassaBitconneee wrote:
"The handful of wallets that hold 90% of the supply, and thus have absolute authority over the BP selection..."
"So like every blockchain," user senzheng replied.
Back on Twitter, the Bitcoin camp has is own take on the issue:
____
EOS price chart: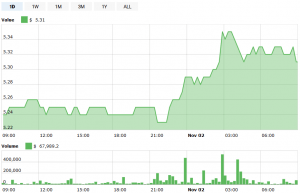 ---