Stablecoins Seen as Most Important Development in Crypto
Supported by rapid growth in the decentralized finance (DeFi) field this year, stablecoins are now seen by industry players as being the most significant area of development for the crypto industry, a new report on cryptoassets from the Cambridge Centre for Alternative Finance has found.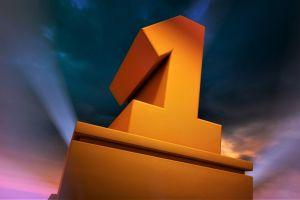 According to the report, titled the 3rd Global Cryptoasset Benchmarking Study, stablecoins are seen by service providers as important in Asia-Pacific, Europe, Middle East & Africa, North America, and Latin America & the Caribbean.
Meanwhile, decentralized finance more broadly was stated as the second or third most important area for future development in most regions, the same survey of cryptoasset service providers found.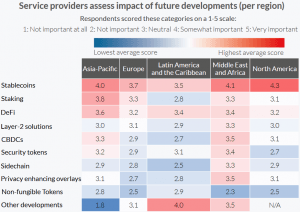 'Service providers' were defined in the report as "entities active in one or more of the
payments, custody and exchange segments."
Further, the report also looked at how views on what will be most important in the future varied between the small and large companies surveyed.
And judging from the findings, the smallest service providers place an even greater importance on the development of stablecoins than the larger companies do, although both groups overall ranked stablecoins as having the biggest impact, ahead of things like staking, central bank digital currencies (CBDCs), and security tokens.
As reported, "DeFi yields/interest rates are clearly a vacuum sucking in a lot of stablecoins" - since May, the total market capitalization of stablecoins has doubled, hitting USD 20bn in September.
Top stablecoins by market capitalization: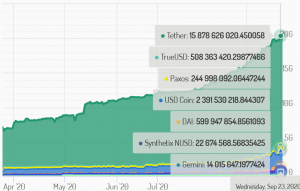 Meanwhile, explaining why DeFi was ranked lower than other areas in terms of impact of future developments, the report called the DeFi space "still largely experimental," while also adding that "most DeFi applications cannot be considered meaningfully decentralized by any measure." (Learn more: Why DeFi Isn't Always As Decentralized As You Might Think)
"The majority of these applications are still dependent on kill switches, centralised oracles, or some other centralised support or maintenance," the report said, although it noted that a "stated core objective for many developer teams is to focus on increasing decentralization over time." The report also pointed to the recent emergence of DeFi protocol governance tokens as a step towards making these protocols "less dependent on centralized control."
Also, the recently hot field known as non-fungible tokens (NFTs) were in four out of the five regions surveyed considered to have the smallest future impact, with only companies in the Asia-Pacific region saying "other developments" had even less importance.
___
Learn more:
Bitcoin Strongest In North America, Asia More Open to Stablecoins, Altcoins
Stablecoins Might Be Better Than Bitcoin For Payments, But Maybe Not For Long
Over 100 Million People Hold Bitcoin, Altcoins Globally - Report
---