Is $SPONGE the Best Crypto to Buy Today? New Meme Coin SpongeBob Might 100x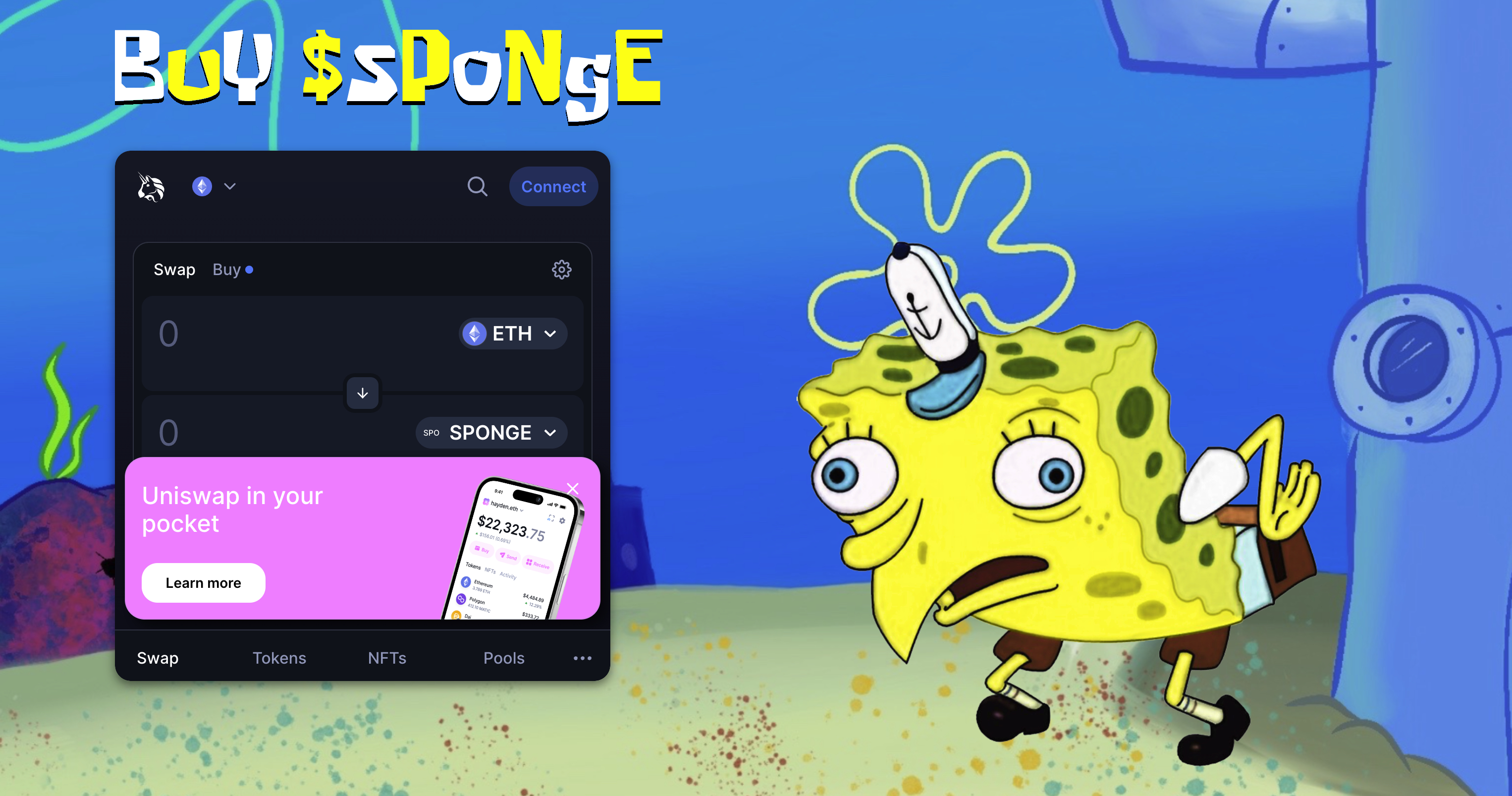 The crypto community are ablaze with excitement as meme coin fever sweeps through the markets following Pepe coin's jaw-dropping 10,000% rally.
As traders race to find the next skyrocketing sensation, market interest is surging into Spongebob ($SPONGE) posting an immediate +150% rally upon launch.
Designed to capture the squeaky-voiced hilarity of our favorite Bikini Bottom dweller and boasting an impressive $2.13m in liquidity - don't miss out on the next moon-shot.
How Meme Coin Create Millionaires
As April drew to a close, substantial profits made from the remarkable Bitcoin and Ethereum rallies followed a natural cycle - first rotating into altcoins, and then finally rotating into meme coins to supercharge profits.
Meme coins surge on market excitement, and their explosive growth is based on their ability to connect with the whimsical heart of a trader.
This can be seen in the absolutely eye-watering growth behind Pepe Coin (+580%) and Wojak (+870%).
Similar pumps saw Wall Street Bets (+150%), Turbo Coin (+165%), and Bob (+195%) all generate lucrative gains in a matter of hours and days.
However, for those traders that missed out on these monumental gains - all is not lost.
Spongebob token is already unlocking viral growth after being picked up by a number of Alpha influencers that have catalyzed an explosive entrance for the latest meme coin on the block.
At the rock-bottom day one price of $0.00006812 - it's easy to scoop a quick bag of this sure-fire winner, and if you are reading this article today, then don't miss your chance to get in day one of the launch.
Alpha Influencer Traction Posts +150% Opening Hour
With some of the biggest Alpha-finding influencers in the space spotlighting $SPONGE as the next meme coin to explode, volume has flooded in to an impressive $1.03m in a matter of hours.
At this rate, $SPONGE is likely to surpass $BOB's $10m in trading volume before sunset.
As virality takes hold, this coin has every chance to skyrocket much like the previous meme coins before it.
$BOB saw a meager opening day of only +71% despite unlocking huge traction on Twitter.
Spongebob has already outperformed this, and seems set to exceed even the highest-performing meme coin of this season - Wojak, which took two days to grow +150% (before going on to hit an ATH +1,250% later).
If $SPONGE continues on this path, it could be set for an eye-watering 100x return – stay tuned in the Spongebob telegram for the freshest project updates.
Assuming $SPONGE embarks on a +1,250% skyrocket - the price would be at $0.000918.
If you invest just $100 in $SPONGE, you could see it moon-shot in the days to come if other meme coins are anything to go by.
Click below to invest in Spongebob today.
Disclaimer: Cryptocurrency projects endorsed in this article are not the financial advice of the publishing author or publication - cryptocurrencies are highly volatile investments with considerable risk, always do your own research.
---