Smash Hit Meme Coin $SPONGE Pumps 67% Higher on Bitget and Gate.io Listings Excitement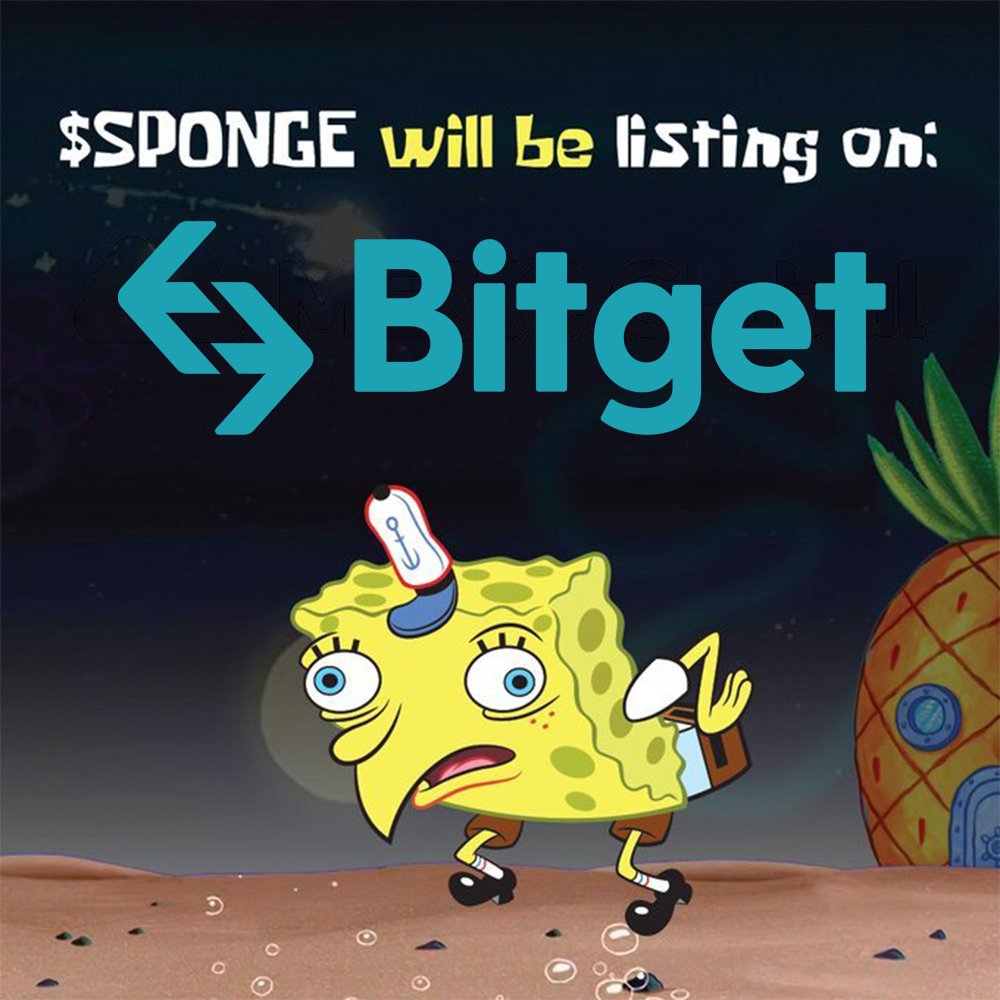 Thursday May 11th 2023 – Much talked about meme coin $SPONGE lists on Bitget and Gate.io today Friday May12th at 10:00 am UTC.
One week old $SPONGE will now be available to trade on eight exchanges, a feat that blows out of the water all other meme coins.
Despite weakness in the bitcoin market where it is down 4% this morning, $SPONGE shows admirable strength, at one stage in the run-up to the latest CEX launches, up up 67% as buyers move in.
CoinMarketCap declares $SPONGE to be the seventh-best gainer in the past 24 hours, beating the likes of Dogecoin and Shiba Inu, both down more than 2%.
Pepe down 51% but $SPONGE is climbing higher – Trends at No.1 on Dextools
Pepe, which $SPONGE has ambitions to flip, is in the red today alongside its larger meme coin peers. Pepe is suffering as market participants rotate into new meme coin launches in search of the best alpha opportunities.
The frog coin is down 31% and looks increasingly like it could be caught in a self-reinforcing drawdown.
Key to the sturdy price support for $SPONGE as it closes out its first week of trading is the influx of new buyers it continues to attract, the vast majority of whom are continuing to hold the coin, even if some have sold a portion of their holding to recoup their initial investment.
$SPONGE is here to stay.
The meme coin with global appeal continues to feature among the trending coins on Dextools, where it is currently placed No.1, with bitcoin in No.2 position.
There are now 11,780 holders of the token and with the addition of two more centralized exchanges today, where the number of holders is not transparent, we can certainly more than double that overall figure.
Bitget and Gate.io are both in the top ranks of exchanges globally. Gate.io is ranked ninth and Bitget thirteenth on CoinMarketCap. They both have 24-hour trading volumes well in excess of $800 million.
Also, combined Bitget and Gate.io command a weekly visitor number of 5.2 million, providing a sizable increase in brand awareness for $SPONGE.
Crypto date site CoinGecko says Bitget has the seventh-highest visitor numbers among all exchanges.
Deposits on Bitget begin today at 10:00 am UTC and the startup event for $SPONGE starts at 7:00 pm UTC on Gate.
$SPONGE price is up 781% this week and 67% so far today
$SPONGE trading volumes are spiking, up 182% in the past 24 hours. Across decentralized and centralized exchanges trading volume is more than $31 million.
Meanwhile, in these still early days for the hot meme coin, $SPONGE is up 781% in seven days, according to CoinMarketCap, and 51% today.
$SPONGE is currently priced at $0.0007751, up 67%
Bulls are charging forward, helped by the carnage seen elsewhere in the crypto market, and among erstwhile meme coin favorites of the past 48 hours.
For instance, Milady Meme Coin is down more than 51% at the time of writing.
The present alignment of events can be seen as fortuitous for $SPONGE, as it helps shine an even brighter light on the outstanding returns being made now and its future potential.
The informal team at $SPONGE probably doesn't want to knock other projects and coins, but it should be noted that it is on days such as this, when the market has blood on the floor, that the diamonds in the dust sparkle.
$SPONGE has the pro backing to make its own luck
However, it isn't just good fortune. Coins make their own luck, it could be said. In other words, as has been previously remarked, the strength of the various elements that have been pulled together to drive the coin forward are showing their worth.
A top marketing company, digital asset-focused venture capitalists and experienced and agile engineers who have quickly brought $SPONGE to market in flawless fashion and rolled out its social media channels, have all worked in unison to help $SPONGE live up to its mission statement as the world's No.1 community token.
The industry relationships that have delivered eight exchange listings in no time at all, stand in contrast to Pepe, which took three weeks to bag its first CEX.
It might be added that the knockback from Coinbase regarding a possible listing of Pepe likely speaks to the lack of trusted business relationships that exist between the parties and/or their third-party intermediaries. $SPONGE may fare much better in those negotiations.
$SPONGE is building the No.1 meme coin token community
All told, then, $SPONGE token holders are in good hands, and the proof of the pudding is in the scaling.
$SPONGE today has nearly 40,000 Twitter followers and more than 20,000 on Telegram. The Discord server is also a vibrant space with hundreds online at any one time.
At the last count, there were 3,139 on Discord, which is also the place to be if you want to sign up to be eligible for the $SPONGE airdrop – see more details below.
That's the sort of organic growth many projects and businesses would die for. It won't be long before there are double those numbers, as community engagement deepens, in turn feeding faster growth.
Newly listed on MEXC, $SPONGE is up 279% there – more big listings soon
In addition to Bitget and Gate.io, the other exchanges listing $SPONGE are MEXC Global, Poloniex, LBank, CoinW, Toobit, BTCEX.
More top exchanges are very likely to be watching developments with $SPONGE closely as they search for projects that have highly active and engaged trading communities to drive fee revenue.
Key to moving up the exchange listing food chain is trading volume growth, and today $SPONGE is demonstrating exactly that.
Expect to see more big-name exchanges listing $SPONGE soon.
MEXC, where $SPONGE started trading yesterday, has returned 279% for its market participants.
$SPONGE is making waves
The top-performing meme coin is making waves, among Twitter influencers and New York's glitterati.
It turns out that on Twitter a little while back Elon Musk tweeted about SpongeBob. There are hopes that his past love of meme coins and his fondness for Spongebob will rub off on $SPONGE.
New York magazine giving a huge shoutout to $SPONGE also helps sprinkle the gold dust in all the right places.
And $SPONGE is widening its reach by forming partnerships with other coins.
Love Hate Inu, which has recently finished a $10 million presale and will be listing on major exchanges soon, has joined the $SPONGE airdrop efforts.
Join the Discord to sign up for the $SPONGE airdrop
If you are a $SPONGE holder, you are eligible to sign-up for the airdrop.
All you need to do is click the link at the airdrop sign-up page on Discord and then share your Discord, Twitter, email and wallet addresses.
Once all four are connected, you are eligible for the airdrop.
Airdropped tokens will be awarded for three criteria:
Engagement on Discord – you need to achieve 'highly engaged" status.
Amount of $SPONGE purchased
Amount of $SPONGE traded on Uniswap (CEX volume cannot be seen by the $SPONGE systems so not included)
The scores will be reset every week.
The cutoff date (snapshot) for eligibility is yet to be released, which means to be eligible for the airdrop there is no time to lose in becoming a $SPONGE holder.
From 10 am UTC you can buy $SPONGE on seven centralized exchanges. Buyers can also purchase on the decentralized exchange Uniswap directly on the $SPONGE website, at sponge.vip.
---