Shiba Inu Price Strengthening on Upcoming Shibarium Layer 2 Beta Launch
Disclosure: Crypto is a high-risk asset class. This article is provided for informational purposes and does not constitute investment advice. By using this website, you agree to our terms and conditions. We may utilise affiliate links within our content, and receive commission.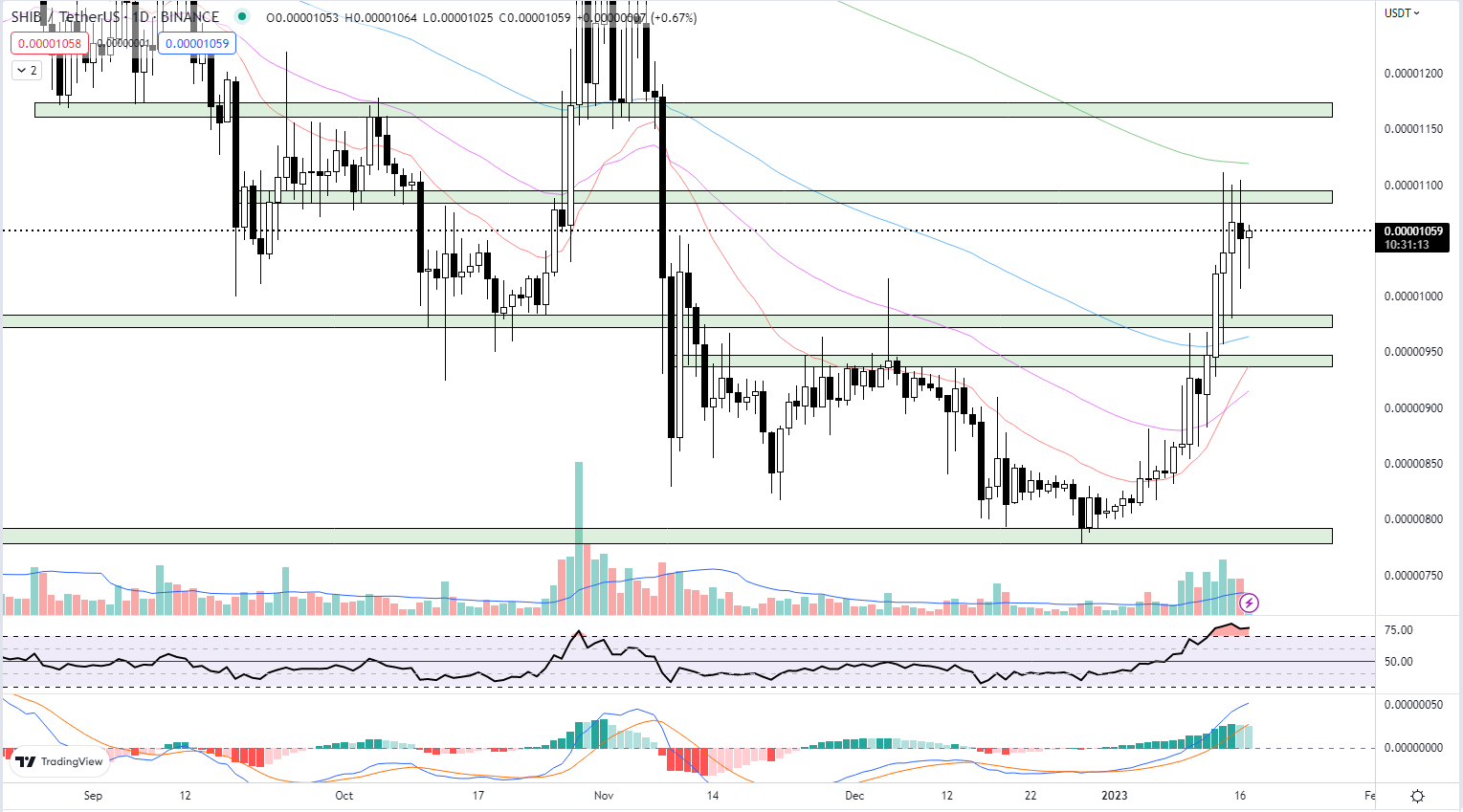 Meme crypto Shiba Inu's price rallied more than most coins in the top 20 over the past week as the team announced that its Layer 2 network, Shibarium, is set to enter beta launch soon. The developers of the project insist that Shibarium has not been designed as a tool to manipulate the Shiba Inu price, but instead as a platform for achieving the vision and mission of their community.
The idea with the new platform is that the community will be able to develop their own projects on their own terms and conditions.
🍖 Introduction to Shibarium: Shiba Inu's Layer 2 Network — Rejoice #ShibArmy! Shibarium Beta is about to be launched, and through this article we want to introduce some basic concepts in order to provide clarity to the community.

Read more: https://t.co/xWyPaVlQQ4

— Shib (@Shibtoken) January 15, 2023
The Jan. 15 announcement on the project's blog noted that Shibarium aims to provide faster transaction times, lower fees, and an expanded development framework for the Shiba Inu Ecosystem.
"This layer aims, as a protocol, to work on top of existing blockchain networks, allowing for faster, cheaper, and more private transactions to be processed off-chain, while still relying on the security of the underlying blockchain," the team wrote in the blog.
According to the developers, Shibarium's protocols are versatile and can be applied to various sectors such as the Metaverse, Web3 innovation, and gaming. Shiba Inu sees the potential for its technology to address some of the scalability and performance issues currently faced by blockchain networks.
As the beta launch approaches, it's worth keeping an eye on the Shiba Inu price and how it might be affected by this new development.
Shiba Inu (SHIB) Price Prediction and Technical Analysis
Shiba Inu (SHIB) has been gaining attention in the crypto space due to its recent price movements and developments. In this Shiba Inu price prediction article, we'll take a closer look at the technical indicators of SHIB and analyze its current market performance.
The 20-day EMA for SHIB is currently at $0.00000938, the 50-day EMA at $0.00000915, the 100-day EMA at $0.00000964 and the 200-day EMA is at $0.00001120. With Shiba Inu's price trading at $0.00001059 as of writing–which is above the short to long-term EMAs, the bias for Shiba Inu according to the EMA is bullish. The price's next target is to break out from the 200-day EMA at $0.00001120.
Another important indicator to consider is volume. The volume of SHIB is currently at 2.589T, and the volume moving average is at 5.28T. With the daily volume of SHIB currently below the volume moving average, this is an indication that the cryptocurrency might be consolidating before its next move.
The relative strength index (RSI) of SHIB is currently at 76.20, indicating that it's in the overbought territory. This suggests that SHIB may be currently overvalued and may experience a correction in the near future. Traders are advised to keep a close eye on volume confirmations in relation to its price action and to look out for potential divergences.
The MACD for SHIB is currently at 0.00000052, the signal line is at 0.00000027 and the histogram is at 0.00000025. The MACD and the signal line are currently above the histogram, indicating that SHIB is in a bullish market trend.
The current price of SHIB is at $0.00001059 and has an immediate support at $0.00000971 to $0.00000984, and an immediate resistance at $0.00001083 to $0.00001095. If Shiba Inu successfully breaks out from its immediate resistance, the next possible target is at $0.00001160 to $0.00001174 for a potential 7% move to the upside.
Overall, the technical indicators for SHIB suggest that the coin has been in an uptrend, but may be currently overvalued and may experience a correction in the near future. However, the high volume and the bullish trend indicated by the MACD suggest that there is still market interest and potential for further price appreciation in the medium to long term.
Shiba Inu Alternative- TAMADOGE https://t.co/K1t3kqn2XR #BestMemecoin #Coinbase #Cryptoupdates #Cryptocurrency #DigitalCoins #Eth #memecoins #P2Egames #potentialcoinin2022 #ShibaInualternate #TamaCoin #Tamadoge #TrendingNews #USDT #Dogecoin

— Maira sheikh (@mairasheikh93) August 9, 2022
Although meme coins such as Shiba Inu are more unpredictable than most and the price could continue to raise, traders are advised to be very cautious. It's important to keep an eye on these indicators, as well as on market news, to stay informed if you choose to take a position in SHIB. And as always, never invest more than you can afford to lose.
Shibarium: Shiba Inu's Layer 2 Network
As with all layer 2 networks, Shibarium's layer 2 allows "off-chain" transactions, which will remove the barrier of the high cost of gas in the Ethereum network and make using cryptocurrencies or NFTs for everyday transactions more feasible.
Layer 2 blockchain networks sit on top of existing blockchain infrastructure, allowing for more efficient and cost-effective transactions to be conducted away from the primary blockchain while still preserving the security provided by the base layer.
This approach allows for faster and more private transactions to occur, as well as reducing the load on the main blockchain network. Reducing the pressure on blockchain networks is especially important to maximize user experience in metaverse and gaming applications.
The Shiba Inu team also emphasized that BONE has been selected as the token of choice for gas transactions and incentivizing validators and delegators in the layer 2 protocol. They have set aside 20 million BONE from the total supply of 250 million to reward these parties in the upcoming years, chosen through a decentralized autonomous organization (DAO) process with the participation of the Shiba Inu community.
The launch of Shibarium is expected to further bolster the fundamentals of Shiba Inu's three ecosystem tokens: Shiba Inu (SHIB), leash (LEASH), and bone (BONE), which together command over $5 billion in market capitalization. The development team is currently evaluating potential gas fee rates for the blockchain network, which are expected to be significantly lower than the current fees on the Ethereum mainnet.
In addition to the other tokens, a forthcoming TREAT token will be launched to incentivize liquidity pools on ShibaSwap, a decentralized exchange that uses SHIB and provide users with low network fees and better rewards strategies, the developers said in the post.
---